If you've ever dreamed to play the guitar but haven't had a chance to get into this craft, with the online lessons presented in this
review, you will be able to start practicing already today, spending as much time on it as you can afford.
...
Read more
...Read less
X
This site is a free online resource that strives to offer helpful content and comparison features to its visitors. Please be advised that the operator of this site accepts advertising compensation from certain companies that appear on the site, and such compensation impacts the location and order in which the companies (and/or their products) are presented, and in some cases may also impact the scoring that is assigned to them. The scoring that appears on this site is determined by the site operator in its sole discretion, and should NOT be relied upon for accuracy purposes. In fact, Company/product listings on this page DO NOT imply endorsement by the site operator. Except as expressly set forth in our Terms of Use, all representations and warranties regarding the information presented on this page are disclaimed. The information which appears on this site is subject to change at any time. More info
Learn and master DVD Guitar Course
Master the Guitar Together with 15,000 Users
Learn & Master Guitar course is suitable both for total novice guitar players and for users with more advanced levels. It has a wealth of features that make it an attractive solution for a great number of users worldwide. One of the vibrant features of the course is that it includes a unique student support forum with over 15,000 users who regularly share their ideas and experience on how one can improve their skills along the course while making observable progress. For people who haven't been lucky to be born in a family of musicians, the option to go on the forum and ask knowledgeable people advice can be quite helpful. The best part of it is that the author of Learn & Master Guitar course, Steve Krenz, goes online frequently, too, and readily answers students' inquires helping them to proceed with the course. With Learn & Master Guitar course, you can create your own profile, track your development process, as well as upload there your own recordings and see other users' activity.
For Students of All Levels
People who have learned to play some guitar and already reached an intermediate level will certainly be able to move beyond that by mastering new topics, styles, and techniques along each stage of the course. By following the tips and recommendations given by Steve Krenz, you'll not only be able to gain some pretty new knowledge about music and scales on the whole, you'll also get access to a wealth of practical tasks and lessons across all genres and styles that will help you learn to play the guitar by ear and master your playing skills further on. With detailed and comprehensive instructions that each course comes supplied with, you'll surely succeed in your attempt to become a good guitar player and will soon start playing rock, jazz, blues, funk, and country like a pro.
Watch and Read
As opposed to many online courses providing users with only video presentations, Gibson's Learn & Master Guitar course supplements its video with an e-book, so users can practice the exercises and learn to play their favorite songs. It also includes the number of additional exercises helping you to get ready for the upcoming lessons. Overall the course combines some of the most successful practices to allow students to self-train and develop their skills in the most effective way.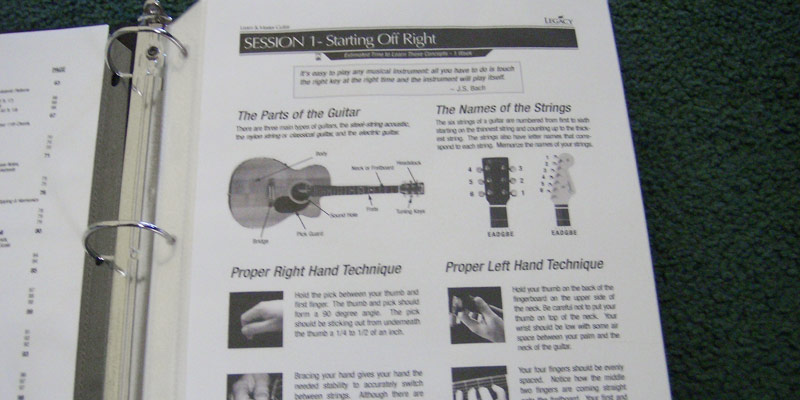 ---
Learn and master DVD Guitar Course
Coursera Guitar Lessons: Essentials
They Will Help You
Coursera is the most popular and authoritative project in the field of open education which cooperates with the world's leading universities and has over 16.7 millions of paying users today. All courses are delivered by leading faculty members and qualified staff. With Coursera, you'll watch video lectures delivered only by world-class professors, will have a chance to learn at your own pace and will be able to solidify your knowledge through multiple tests and interactive exercises provided at the end of each class. Coursera lessons can help anyone, from beginners to advanced users, to learn new techniques and apply their knowledge in practice. What adds to the popularity of Coursera greatly is that it provides financial support to customers who cannot afford to pay course fees. All you need to do to apply for it is to fill in a simple bank application on the Financial aid section. Many students around the world appreciate this option a lot.
Get a Certificate
People need proof for everything, this is the realm in which we all live in today. With Coursera courses, though, you will be able to obtain an electronic version of Certificate on the account of completing the lessons, which will prove that you've gone through the course successfully. You will find this Certificate on your personal Accomplishment page, from where you will be able to print it out and use it as a physical document. Adding the electronic Certificate to your LinkedIn profile page may also be quite useful, as many HR managers now access candidates by the skills they find out there.
Flexible Schedule
Despite the fact that this course has certain deadlines (students are supposed to complete the course within 180 days), it is still quite flexible and allows you to go to the previous lesson at any point if you happen to fall behind the course. Once you pay the course fees, all materials and tutorials presented through the course will be accessible to you during the full term of 180 days.
---
Coursera Guitar Lessons: Essentials
Guitar tricks Learn to play Guitar with ONLINE Guitar lessons
Anyone Will Learn to Play
Guitar Tricks course, which is based on the concept of lesson sequences, provides students with one of the easiest and most effective way of learning the guitar at home. It comprises multiple lessons, all being linked in a special step-by-step system that keeps students alert and motivated all along the course. To cater to the needs of beginners who've just got into playing the guitar, the course has a clear and user-friendly interface and delivers lessons in a strict structure walking students through the very basics to the more advanced playing techniques. This way, on completing the full course, not only will you know well what parts the guitar consists of but you should also be able to reproduce many popular songs played by such famous bands as The Beatles, The Rolling Stones, Eagles, and many others. With the handy guide that you'll find on the site, learning and mastering chords won't be an issue for you, even if you held guitar for the first time in your life.
Choose Your Own Schedule
With Guitar Tricks online guitar lessons, students have an opportunity to learn at their own pace and on their own schedule. It is also possible to revise the learned material at any particular point by going back to a session that you want to re-take. The beauty of Guitar Tricks course is that while coming back to the same session over and over again you don't run a risk of getting yourself in a humiliating position with the rest of the crew being far ahead of you. You work on your own schedule and there's no chance you may fall behind it.
Guitar Tricks online guitar lessons offer a rich library containing over 11,000 comprehensive lessons and more than 700 classic and modern songs. You will be taught by the leading instructors and guitar players from all over the world and you will know exactly what to do to progress and improve your skills. All lecturers are interesting and easy-to-follow, so you'll never get bored of them and will feel inspired till the end of the course.
From Beginners to Advanced Easily
Besides video lessons, the course provides a large number of songs and tutorials, specially crafted to suit students with different skill levels. Such a variety of lessons gathered in the program of one course enables both beginners and advanced users to improve their skills in different areas of study. If you need to, you can also get yourself a personal instructor who will give you plenty of helpful recommendations while comfortably guiding you through the course and teaching you things you want to learn.
---
Guitar tricks Learn to play Guitar with ONLINE Guitar lessons
Guitar-Pro Guitar Software
Choose What You Like
With the Guitar-Pro Software, you can learn to play any style you like - from classic and blues to rock and jazz, - set up to 70 various parameters, and configure your score layout the way you prefer. All of that allows you to get professional paper printouts and do it in less than a couple of minutes. With the Guitar-Pro Software, a user can edit notes both on the tablature and on the standard score, as well as compose background music for other musical instruments. The library of the software allows you to use up to 2,000 transcriptions of popular songs and you can always get more by getting a full paid subscription. The biggest advantage of the Guitar Pro is that it enables users to try to play different genres and styles before they decide what they like better and that it contains one of the richest as yet collection of music played at all times.
Share Your Experience and Success
Once you register with the Guitar Pro, you will have an option to upload your recordings as well as listen to the music composed by other users on the blog, read comments, and improve your skills while learning from the experience of more advanced players. On this blog, you yourself may share your music and get the feedback from professionals telling you what parts of it could be improved. In order to allow guitar players to access lessons even on the go, the producer of the software offers users to download a Guitar Pro mobile app which is compatible with iPhones, iPads and Android-based devices.
Feel Free to Ask Questions
On the website, you'll find the Support page containing a contact form allowing you to send your inquiries directly to the software team and a search bar to enter your questions online. If you opt to do the latter, in most cases you'll get up to 40-50 posts related to the question you've asked and will have more chances to pick out the most relevant. There you'll also find the list of the promoted articles consisting of practical tips and common recommendations for the use of the software.
---
Guitar-Pro Guitar Software
Zzounds eMedia Guitar Method Deluxe Tutorial Pack
Study at Your Own Pace
The eMedia Guitar Method Deluxe Tutorial Pack is a modified and expanded version of the previous CD-ROM, comprising over 350 guitar lessons, 50 videos, and 70+ popular songs. Some other features of the software include a digital metronome, an automatic tuner, an animated fretboard, a variable-speed MIDI as well as many contemporarily styles and genres that you can master and advance. The MIDI feature allows you to customize songs by slowing them down or speeding them up so that they would play at the tempo that you can easily reproduce. While showing the music fingering as you play a song, the animated fretboard makes it easy for players to work on difficult parts of songs. For beginners, this feature may come in especially handy. The eMedia Guitar Method Deluxe Tutorial Pack is a perfect solution for users of all ages with different levels and experience, which can help develop and fine-tune their skills. Like all similar software, it doesn't put you in a strict time frame and you can move from one lesson to another at the comfortable pace for you.
Better Than Just a Teacher
A lot of people don't opt for software solutions only because they believe these lessons aren't going to be as effective as those they could have with a teacher. It's not quite true, however. With this expanded guitar CD-ROM containing a variety of instructions and full-motion videos with close-ups and split-screens, you will be able to adapt the best playing technique of the world's guitar virtuose and award holder, Kevin Garry, whose name is known to the world of guitar players and bands as the name of one of the best music teachers to take lessons from.
On Track of Your Progress
One of the features we especially like about this guitar software is that it features a digital recorder. Using it you can record your play and compare the sounding with the one from the video. By doing so regularly, you should be able to start to recognize soon the bits that sound not as good as the original ones and improve your technique by moving in the right direction. The opportunity to store previous recordings will help you to stay on track of your constant progress.
---
Zzounds eMedia Guitar Method Deluxe Tutorial Pack
Infographics
---
What Are the Best Online Guitar Lessons?
Online guitar lessons are the best way for beginners to learn the instrument without getting a teacher. Tailored for users with different skill levels, most of the lessons contain the information both first-time users and experienced guitar players will find useful. The obvious advantage of signing up for a course online is that you can not only find a course suitable for your level but also fit it in your schedule. And unlike many of the online lessons found on YouTube, these courses are delivered by teachers qualified to do that.
For this review, we've rounded up the best 5 online guitar courses out there. Depending on your needs, schedule, experience, and skills, you can choose from courses designed for beginners which usually come complete with step-by-step instructions, video presentations, and practical tips from teachers, to more advanced courses bundling more practical tasks with a focus on different styles, genres, and technique. At the end of a course, you may get a certificate proving that you've completed the course and can play the guitar proficiently. Not all of them offer that, but some of them do. Hopefully, you'll find a suitable course from our selection and learn to play the guitar in a short while.

If you and your friends are going to form a band and play your own music and songs, you will probably need a music keyboard, too.
DISCLOSURE:
We are a professional review site that receives compensation from the companies whose products we review.