With today's technology and the Internet, learning English can be as easy as ever. Thanks to the proliferation of online and electronic
English courses, learning English can be done almost anywhere, at almost anytime, at your convenience. We have compiled five of the best online and electronic English courses geared towards those living in an English-speaking country. All of these options provide lessons and learning resources geared towards those willing to learn and advance English, with some options available in a person's native language. Read on for an analysis of five of the best online learning resources for learning English.
...
Read more
...Read less
X
This site is a free online resource that strives to offer helpful content and comparison features to its visitors. Please be advised that the operator of this site accepts advertising compensation from certain companies that appear on the site, and such compensation impacts the location and order in which the companies (and/or their products) are presented, and in some cases may also impact the scoring that is assigned to them. The scoring that appears on this site is determined by the site operator in its sole discretion, and should NOT be relied upon for accuracy purposes. In fact, Company/product listings on this page DO NOT imply endorsement by the site operator. Except as expressly set forth in our Terms of Use, all representations and warranties regarding the information presented on this page are disclaimed. The information which appears on this site is subject to change at any time. More info
Rosetta Stone Learn English (American)
Opt for Experience
Do you want to learn from experienced teachers and use the most innovative ways of learning foreign languages? Then, Rosetta Stone software is what you need. Being on the market for more than 20 years, having NASA as a corporate client, and having won the Best Language Learning Software award five years in a row, Rosetta Stone knows for sure what you need to succeed in learning American English. The main principle used at Rosetta Stone is a fully immersive curriculum that allows you to learn language from the very basics and find out more complex grammar structures and vocabulary in a natural way. The main language course consists of 20 units that teach you to communicate on numerous topics including work, study, travel, hobbies, entertainment, and much more. In addition to the basic course, the developers of Rosetta Stone offer you to make your learning process more entertaining and interactive with the following options:
Phrasebook includes useful expressions that you might need during travel and that will come in handy when communicating with natives;
Audio lessons are a real catch for those who are always in a hurry and don't have time to study in calm home atmosphere. You can download audio lessons to study something new or revise what you've already learned on the go;
Reading is a great way to learn a new language so Rosetta Stone offers you dozens of stories to expand your vocabulary. Moreover, you'll broaden your horizons by discovering new literature;
One of the skills every English learner wants to achieve is perfect pronunciation. And the Rosetta Stone software offers you to practice English sounds with the TruAccent application. All you need is to listen and repeat what you've heard and you'll sound like a native soon;
When you're confident about your level, it's time to try Live Tutoring option and practice with native speakers to improve your level and overcome a language barrier.
Choose the Best Option for You
The Rosetta Stone software is available in three options which are CD, instant download, and online subscription. These options differ in price and services they offer. Both CD and instant download allow you to use all the materials of the learning program including TruAccent Speech Recognition and Adaptive recall functions. Also, by choosing these options, you'll be able to learn with Rosetta Stone even if you don't have the Internet access. Although online option implies that you need to be connected to the network all the time, you get more functions to use. Thus, besides all the options available in CD and downloadable versions, you'll be able to use specially created mobile application for convenience of learning on the go, access the software from any device (be it your PC, tablet, or smartphone), get constant updates, use a phrasebook and live tutoring with native speakers. So, define your learning goals, decide how much time you're going to spend on learning English, and choose the option that meets your needs best.
Learn English Wherever You Are
One more pleasant feature of Rosetta Stone is that it is available on all mobile devices. The software syncs with your tablet and smartphone automatically so you can learn English wherever and whenever you want.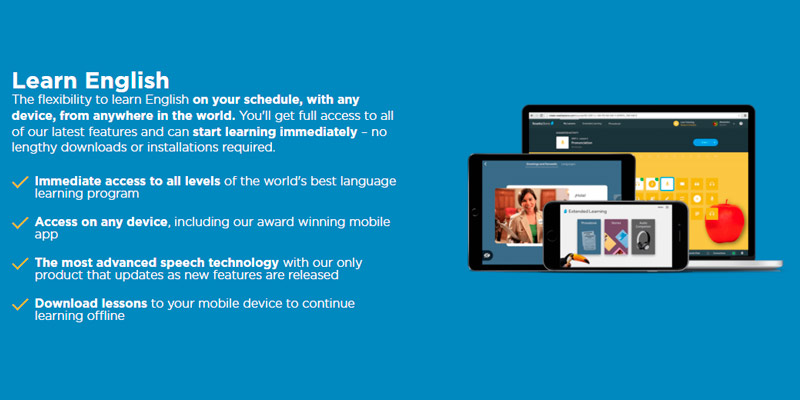 ---
Rosetta Stone Learn English (American)
Rocket Languages English Course
An Excellent Value for the Money
The Rocket English is the best value for the money on the market. For less than $40, it will help people to understand English in-depth and learn how to speak English fluently. Of course, you won't be able to achieve advanced ability in English, yet you'll learn all the language basics. The course uses the VARK way of teaching English - a visually, aural, reading, kinesthetic model. It includes reading, writing, listening, and speaking exercises so that you can comprehensively study the English language. However, the course really shines in its audio-based approach. It works best for those who prefer audio learning, and if you gravitate towards visual learning, then Rocket English might be not the best option for you.

All the lessons are well-structured and easy to follow. Each of them lasts for about 20 minutes, which means you can knock a lesson off while commuting or having a lunch. The audio materials will help you with practical language skills and everyday conversations, while grammar lessons will explain the mechanics of the English language. Overall, the lessons are fascinating and even funny.
The best part about this course is that it's available to users anywhere on the Earth. This is an online course that offers online classes that you can visit as long as you have the Internet connection. So, if you're a busy person looking for a flexible learning schedule, this basic course might be the best bet. It's extremely affordable, flexible, and comprehensive.
What Does it Offer?
Rocket English boasts a friendly team that is ready to give you 24/7 online support. You can access teachers, native speakers, and other English learners who can swiftly answer your questions. It's like having your personal tutor "on demand" who can help you when you get stuck, which is extremely important while self-teaching.
The course has some "tricks" to keep students motivated:
The personalized

dashboard

is very useful for tracking your progress. Here you can see your progress through the course and receive some recommendations based on your learning style.

Quizzes

can also help you track your progress. Though they are rather limited.

The rating system

will show you how many words and phrases you already know.
Your

points

and

leaderboard

will definitely keep you more motivated throughout the course.

Rocket record

is actually a voice comparison tool that allows you to listen and pronounce English phrases and words. You can record yourself and then share these recordings with native speakers. It's an excellent tool for mastering pronunciation and accent.
Flexible Payment Options
After paying just $39.98, you'll get 24/7 lifetime online access to the whole course via the dedicated app or desktop computer. Still, if you don't want to spend this amount of money right now, you can get a special plan and pay $8 for the next 6 months. The total payment will make $48.00 then.
The course includes as many as 30 interactive audio lessons, 32 language and culture lessons, 124 hours of total lesson time, 3223 phrases with voice recognition, and a Survival Kit as a bonus. You can be sure that the course will take you from beginner to intermediate, and after completing it, you'll reach a good conversational level.
---
Rocket Languages English Course
Magoosh English Online Course
Certify Your English Skills
For those who have immigrated to an English speaking country, the need for passing an English fluency exam should already be well known. The Magoosh English Online Course is known as one of the best preparatory English courses for passing an English fluency exam. With nine different exam preparatory courses available, including courses for GMAT, TOEFL, ACT, SAT, and IELTS, the Magoosh English Online Course should have the necessary tools for helping you to prove your English fluency.
Most of these exams are known for being difficult to pass, but the Magoosh English Online Course can provide you with extensive study and online tools for helping to properly prepare for these fluency exams. Whether you are taking the GRE, ACT, or SAT courses for entering university, or the LSAT, Praxis, or IELTS exams for moving up in your career, you should be able to find the right course to fit your exact needs.

Nine Different Exams Covered
One of the things that helps set the Magoosh English Online Course apart from all other online English courses is the number of different courses that it can help you prepare for. The different courses that are covered including the following:
GRE

GMAT

TOEFL

SAT

ACT

Praxis

LSAT

MCAT

IELTS
With this range of courses covered, you can use the Magoosh English Online Course to help prepare for the exam which will help lead you to success.

Prove Your Proficiency
Magoosh Online English Course is not a standard course meant for improving English proficiency at all levels. Instead, it is a preparatory tool meant for helping those who already have some proficiency in English to prove it through passing English certification exams. For those who need a course that is geared towards lower levels, you might need to look for a course better geared for this task. However, those who need to pass one of the aforementioned exams should find an extremely valuable resource in this course.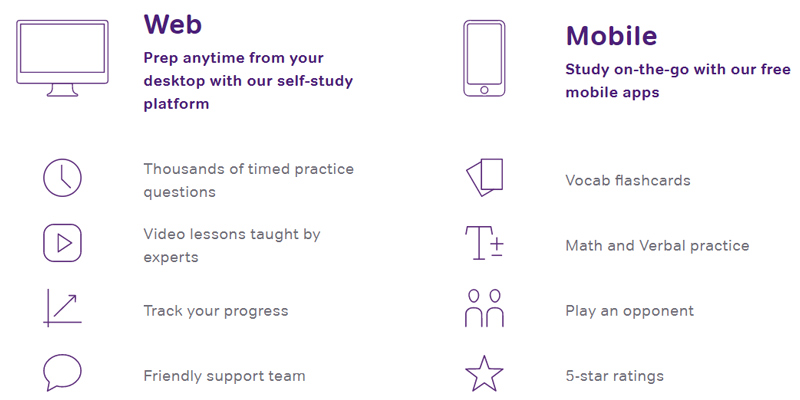 Additional Info
---
Magoosh English Online Course
Pimsleur Method Learn English
Time Tested Method of Learning English
Many English courses that can be found online often don't cater to those who are native speakers of a specific language. Often, course material and lessons are taught in rudimentary English, making it difficult for those with a low level of English to accurately follow along with the lesson. However, the Pimsluer Method Learn English course has courses available for Spanish speakers, meaning that you can now have access to an easy and effective method of learning English.
The Pimsleur Method Learn English course is one of the most well-known language methods in the world. Developed decades ago by Dr. Paul Pimsleur, the Pimsleur Method has evolved over the years to be one of the most successful language study methods, used by millions of people to learn many different languages. With this specific course, tailored for Spanish speakers, you will have access to hours of audio lessons taught in the Spanish language that cover almost all levels of English. Regardless of your current level of English proficiency, the Pimsleur Method can help increase your levels of English for everyday use.

Tailor-made for Spanish Speakers
Finding an English course made for Spanish speakers can often be a difficult prospect, but with this method, you will have access to courses for all levels of English, with lessons made for Spanish speakers. With the lessons taught in Spanish, you will find it easy to follow along with the course while effectively improving your level of English.
Hours of Lessons For All Levels
Each level for the Pimsleur Method Learn English course provides 30 different daily lessons, all at a length of 30 minutes. This allows students to complete a lesson each day, which can in turn help to move up a level in English proficiency each month. Along with the audio lessons, many other materials are used to enhance each lesson, including flash cards, conversation practice, and interactive games. Regardless of your specific level of English, the Pimsleur Method Learn English course can help you improve your English for everyday life.
---
Pimsleur Method Learn English
Colanguage English Online Teachers
Personalized Instruction
Although many online courses can provide good language instruction to students, many of them are missing a key ingredient to success. Colanguage English Online Teachers gives you something that most other courses do not. Instead of just an online course with limited interaction, this course provides you with a private tutor who is able to tailor lessons precisely to your needs in learning English. Along with the ability to find the best tutor for your needs, you are also given the option of setting up a flexible schedule for learning, which means that you don't have to worry about fitting your lessons into a limited time slot.
The flexibility and private instruction of this course is second to none, with highly qualified English teachers providing personalized instruction along with a schedule of your own choosing. With having a live tutor, you are able to practice your English with someone who is patient and willing to help you improve your English skills in all areas.

Online Lessons Through Skype
Colanguage English Online Teachers provides you with highly qualified instructors, all of which have many years of experience in helping students master the English language. Along with other course material provided through the website, this course can provide personalized instruction through Skype lessons on your computer. With many different tutors available, you can help setup a convenient schedule for learning with someone who is eager and effective at helping you maximize your English skills.
Pay As Much As You Want
Not only does this course provide you with the convenience and flexibility of setting your schedule with a live teacher, you also have flexibility in regards to price. Since each teacher sets their own price for lessons, this gives you the choice to choose the teacher that is most affordable for your budget. For those who need this kind of payment flexibility, Colanguage English Online Teachers remains the best option available.
Additional Info
---
Colanguage English Online Teachers
Infographics
---
What Are the Best Ways to Learn English?
Finding the time to learn English can be difficult for most people, due to various factors. Sometimes work and home schedules can conflict with any free time that could be used for learning a language. Other times, it can be nearly impossible to connect the free time in your own schedule with classes, especially those that are held in a group setting. Although group lessons in a live setting certainly have their advantages, they are probably the least flexible option, especially for those who have families and careers. However, there are options available other than looking for a classroom setting. Online and electronic English courses have exploded in popularity in recent years, with many of them geared towards those who already live or will soon live in an English speaking country. These online and software based courses can help provide the convenience and flexibility that most other methods of learning simply can't match. With being able to learn at home, or even while away from home, using these methods can allow you to work your lessons into your own schedule.