Do you want to learn English but easily get bored by traditional grammar books? Or maybe you don't have enough time to visit English
classes? Then, English courses online are the best solution for you. Look through the 5 best options we've reviewed below and make the right choice.
...
Read more
...Read less
X
This site is a free online resource that strives to offer helpful content and comparison features to its visitors. Please be advised that the operator of this site accepts advertising compensation from certain companies that appear on the site, and such compensation impacts the location and order in which the companies (and/or their products) are presented, and in some cases may also impact the scoring that is assigned to them. The scoring that appears on this site is determined by the site operator in its sole discretion, and should NOT be relied upon for accuracy purposes. In fact, Company/product listings on this page DO NOT imply endorsement by the site operator. Except as expressly set forth in our Terms of Use, all representations and warranties regarding the information presented on this page are disclaimed. The information which appears on this site is subject to change at any time. More info
Rosetta Stone Learn English (American) Online
OPT FOR EXPERIENCE
Do you want to learn from experienced teachers and use the most innovative ways of learning foreign languages? Then, Rosetta Stone software is what you need. Being on the market for more than 20 years, having NASA as a corporate client, and having won the Best Language Learning Software award five years in a row, Rosetta Stone knows for sure what you need to succeed in learning American English. The main principle used at Rosetta Stone is a fully immersive curriculum that allows you to learn language from the very basics and find out more complex grammar structures and vocabulary in a natural way. The main language course consists of 20 units that teach you to communicate on numerous topics including work, study, travel, hobbies, entertainment, and much more. In addition to the basic course, the developers of Rosetta Stone offer you to make your learning process more entertaining and interactive with the following options:

Phrasebook includes useful expressions that you might need during travel and that will come in handy when communicating with natives;
Audio lessons are a real catch for those who are always in a hurry and don't have time to study in the calm home atmosphere. You can download audio lessons to study something new or revise what you've already learned on the go;
Reading is a great way to learn a new language so Rosetta Stone offers you dozens of stories to expand your vocabulary. Moreover, you'll broaden your horizons by discovering new literature;
One of the skills every English learner wants to achieve is perfect pronunciation. And the Rosetta Stone software offers you to practice English sounds with the TruAccent application. All you need is to listen and repeat what you've heard and you'll sound like a native soon;
When you're confident about your level, it's time to try Live Tutoring option and practice with native speakers to improve your level and overcome a language barrier.

CHOOSE THE BEST OPTION FOR YOU
The Rosetta Stone software is available in three options which are CD, instant download, and online subscription. These options differ in price and services they offer. Both CD and instant download allow you to use all the materials of the learning program including TruAccent Speech Recognition and Adaptive recall functions. Also, by choosing these options, you'll be able to learn with Rosetta Stone even if you don't have the Internet access. Although online option implies that you need to be connected to the network all the time, you get more functions to use. Thus, besides all the options available in CD and downloadable versions, you'll be able to use specially created mobile application for convenience of learning on the go, access the software from any device (be it your PC, tablet, or smartphone), get constant updates, use a phrasebook and live tutoring with native speakers. So, define your learning goals, decide how much time you're going to spend on learning English, and choose the option that meets your needs best.
LEARN ENGLISH WHEREVER YOU ARE
One more pleasant feature of Rosetta Stone is that it is available on all mobile devices. The software syncs with your tablet and smartphone automatically so you can learn English wherever and whenever you want.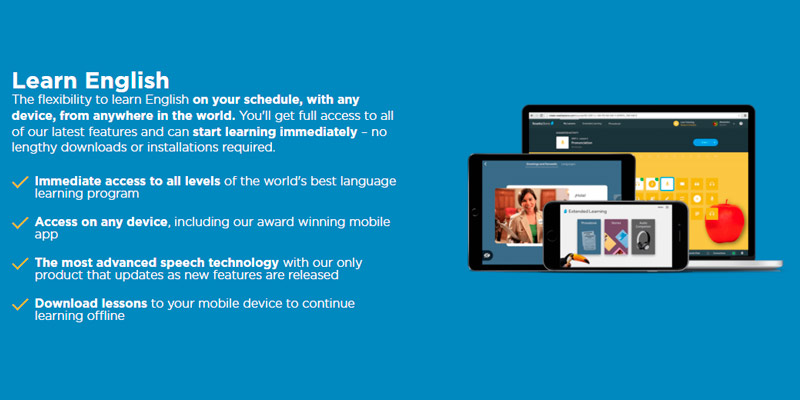 ---
Rosetta Stone Learn English (American) Online
Magoosh English Online Course
Your Key to Success
Knowledge is a key to success, and the Magoosh online courses can help you improve your English level and get tons of new opportunities. Do you want to enter a college or a graduate school? Sign up for GRE, SAT, or ACT course and increase your chances for success. Have you already decided what career is right for you? Maybe passing LSAT, MCAT, or Praxis is just what you need. And those interested in applying for MBA degree will definitely find GMAT courses useful.
If you are a non-native speaker dreaming about studying or working in the US (or any other country where English is an official language), the Magoosh online courses will also help you get ready for IELTS or TOEFL exams. Boasting a variety of courses, the Magoosh service will definitely make your educational dream come true.
Everything You Need for Quality Preparation
With a successful student in mind, the Magoosh team has done its best to make your education effective and convenient. Test preparation experts have developed over 100 million practice questions so that you could be aware of what to expect during your exam. Moreover, the Magoosh service gives you an opportunity to recall the material you might forget and acquire deeper knowledge of specific topics. It has become possible due to an extended library of educational videos. What is more important, you can track your progress and compare your results with the achievements of other students. This very option allows you to understand your strong and weak points as well as focus on confusing topics.
Each course has 2 or 3 plans of different duration and price, so you can choose the one that meets your requirements best. You also create your own schedule and decide when exactly to use the Magoosh services. You can even practice on-the-go thanks to the Magoosh applications for smartphones. On top of that, you can always consult support team if you have some questions or difficulties.
Be on the Ball with the Magoosh
The great advantage of the Magoosh is its blog, or to be more specific, blogs. The Magoosh team has prepared blogs for each exam, where you can find a lot of useful articles that can help you understand the structure of an exam, find out more about the scoring system, get ready for possible challenges, and even overcome your fears. Choose the Magoosh online courses and become more confident in yourself.
Additional Info
---
Magoosh English Online Course
Babbel Learn English Online
ENGLISH AS A SECOND LANGUAGE
If you're not an English native speaker and want to learn this beautiful international language, the Babble service might interest you. Babble is a European platform for learning English as a second language and it is a really simple way to change your level from starter to advanced gradually. Even if you already have some level, you can improve it with Babbel. So, what can this service offer you? As Babble is oriented on users for whom English isn't a mother tongue, your study is carried out in one of the six languages. Once you open the home page of the Babbel service, you will be asked to choose among German, French, Italian, Spanish, Portuguese, and Swedish. As soon as you choose the language, you'll be offered to pass a short test to determine your level - either as a starter or advanced student. For starters, Babble offers very simple explanations ensuring that everyone can learn the language effectively. The course is divided into lessons that provide step-by-step learning. And numerous repetitions of learned words and phrases allow you to memorize them fast and effectively. Each lesson starts with vocabulary section where you learn several words on a separate topic, for example, greetings, and learn how to apply them in communicative situations. All the dialogues prepared for your practice are vocalized, so you can not only learn new words but also practice their pronunciation right ahead. What we liked about vocabulary part of this service is that every word is explained – its meaning and common situations for usage. Moreover, you'll get a lot of tips that will come in handy during your communication with native speakers. Thus, with Babbel, you learn the language as well as the culture of another nation.
IMPROVE YOUR LEVEL
If you are not a beginner and want to increase your level, you can choose a separate course to take. Babbel offers you grammar, business English, oral comprehension, written comprehension, cultural course and more. There is no need to explain what grammar course will teach you. It is a comprehensive course that takes you from grammar basics such as pronouns to verb use in all the tenses. The course of business English will come to your liking if you need English for work. Here, you'll learn how to communicate on the telephone and via e-mail. You'll expand your knowledge of rules of formal communication during presentations, meetings, negotiations, business travel, etc. The business English course also includes a lot of useful information on different business spheres like public relations, marketing, accounting, human resources, journalism, sales, logistics, etc. Even if you don't need all this information for your work, taking the course of business English can increase your level. There is also a special course with set phrases and idioms that will be appreciated by advanced learners.
TRY BEFORE YOU BUY
One of the best things about the Babbel service is that you can take several trial lessons for free to access its features and to decide whether to purchase the whole package or not. This way, a student can take one lesson of the general course and each first lesson of additional courses for free. All you will need to do is register on the site, pass a short test to determine your level, and answer a couple of questions regarding the purpose of learning English. Once you finish the first trial lesson, you'll be offered to pay for the further usage. By this time, you should already understand whether the Babbel service is right for you.
---
Babbel Learn English Online
Colanguage English Online Teachers
Find Your Teacher
With the Colanguage Online courses, you have a chance to find an ideal teacher for you! The Colanguage team consists of about 150 professional teachers who want to share their knowledge with learners all around the world. To find your tutor, you just need to use "Find a Teacher" option on the site. Every tutor has a mini CV where you can find out some information about his/her teaching experience, languages he/she speaks, and the cost of one lesson.
Once you find a person you believe can become your tutor, request for a free class via Skype. This trial class gives you a chance to get acquainted with your teacher, explain him/her what you expect from your lessons, what results you want to achieve, and create your schedule. A personal tutor is no longer a luxury! So if you want someone to guide you through the world of English, provide you with educational materials (printouts, videos, exercises, etc.), and check your progress, choose the Colanguage courses.
If You Want to be a Polyglot
The majority of teachers who collaborate with Colanguage are polyglots. And using this very service, you can learn not only English but other languages as well. You can also practice German, Italian, French, Spanish and other languages pronunciation with native speakers. However, if you need to get just basic grammar and vocabulary knowledge, you can use "Online language courses" option. You can get A1/A2/B1/B2 levels in Bulgarian, Croatian, Dutch, French, German, Italian, Slovak, Turkish, or Vietnamese. Each course includes free lessons that will help you understand the basics of a language. To check how well you've learned the material, you can do exercises at the end of every lesson. However, keep in mind that you should register to get an access to the exercises.
Build Your Career With Colanguage
The Colanguage service can appeal not only to students but also to those who feel confident to share their English, French, German, or other language knowledge with others. If you're one of them, just sign up to join the creative Colanguage team.
Additional Info
---
Colanguage English Online Teachers
Lingualia English Course Online
Benefits of a Personalized Approach
Admit, when you know for sure what your goal is, it's much easier to achieve it fast and effectively. Understanding this, the Lingualia team has developed a great number of courses to meet your specific learning needs. Be sure, Lingualia will offer you that very course you're looking for. Just take several steps:
Select your level. You can choose from beginner, intermediate, or advanced levels. For those who don't know their level exactly, "I'm not sure" option exists;
Decide how much time you want to spend on learning English a week by choosing one of eight options;
The software also needs to know why you want to study English. Depending on your goal, Lingualia will select one of the courses that can help you find a job, pass exams, improve communication skills, enjoy English books and movies;
Having analyzed your answers, the system creates the most optimal course for you.
Start Your Course
Once your personal course is ready, you can start it immediately. Each course has a strict structure so that you can obtain knowledge systematically. No matter what level you choose, your course will consist of 10 units, 5 lessons each. The lessons consist of three parts that are Theory, Practice, and Checkpoint. Theory part allows you to learn new vocabulary on a specific topic, several grammar rules, and pronunciation aspects. Also, you'll read and hear some dialogues, watch a video, and will be able to practice writing, using the words and grammar you've just learned. In the Practice part, you will use the freshly-learned material for doing exercises, while the Checkpoint section will help you reinforce obtained knowledge. When you finish all these stages, the Lingualia software will sum up your progress and show you colorful diagrams.
Learn English With the Maximum Comfort
The beauty of most online courses is that you can study whenever and wherever you want, and Lingualia isn't an exception. Here are several things that make using Lingualia extremely convenient:
You can install it both on your PC and smartphone;
Your progress syncs automatically, and you can continue your lesson on another device from the point you've stopped;
You plan your schedule by yourself and study at your own pace.
---
Lingualia English Course Online
What Are the Best English Courses Online?
It's difficult to underestimate the importance of the English language in the modern world. People speak it all over the globe. Knowing this language is a must if you want to apply for a prestigious university or get a well-paid job. Even for native speakers, there's no limit to perfection. So, if you want to start learning the language or improve your level, online English courses will make your dream come true. Although all of them can help you develop your language skills as fast and effectively as possible, they differ in methods they use, tasks they offer, and target audiences they address. Online courses can be free, paid, or give a free trial. Whatever subscription you choose, you'll be able to study in the comfort of your own home or even on-the-go, since the only thing you need to use online services is the Internet access. Choose one of the courses represented in our review, and improve your English in an interesting, effective, and convenient way.