Iogear

GW3DHDKIT

Wireless 3D Digital Kit with Full HD 1080P and 5.1 Channel Digital Audio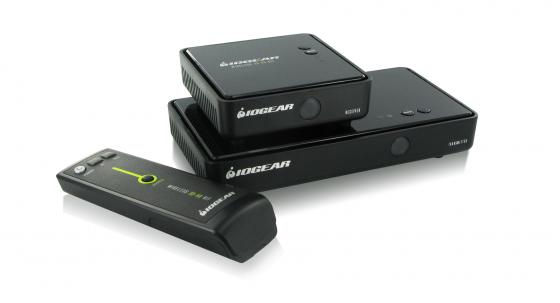 General Specifications
Create a completely customized setup in minutes, and wirelessly transmit your favorite movies, sports and videos within the home, through walls, doors and ceilings. IOGEAR's Wireless HD Digital Kit takes wireless home entertainment and 2 HDTV set-ups to the next level of connectivity, flexibility, convenience, and decor. It's capable of streaming uncompressed Full HD 1080p with 3D content support along with wireless 5.1 digital surround sound audio up to 100 feet* away, with no latency.
Key Specs
What customers say about "Key Specs"
This transmitter works great. it shows picture in 1080 HD. it is great for sending a cable picture from one tv to the other without cable lines.
I had my reservations about the accuracy of reviews, I thought that it wasn't possible to accomplish a 1080 picture without getting down and dirty running cable through crawl spaces and drilling holes in 2x4's or walls. No need, this thing actually works as advertised.
Signal is great on cable 1080 and 3d signal.
This product was very easy to setup. The range, even through walls is exceptional.
It works fine if they are pointing right at each other.
Details
HDMI, Mini-USB, IR blaster cable port
5.1 channel digital audio with 3D support, 5.1 digital surround sound audio
Blu-ray players, DVD players, DVRs and more, TVs, Blu-ray players, DVR / Set-top boxes, DVD players, PC's, Laptops
3D support, AES encryption, Wireless 3D support, Create a floating HDTV in almost any location such as bedroom, bathroom, family room, living room, den, loft, kitchen or patio, No software or driver installation needed, 128 bit AES encryption, Built-in IR allows the user control over their source devices that are hidden away in a different location
2xPower adapter, IR Blaster Cable, USB connector, HDMI cable, 2x Power adapter
What customers say about "Details"
Set up easy, does what I wanted to control remotely located TV without unsightly wiring .
It is easily setup and with the remote IR function it is easy to control the products attached to it from another room.
This is an easy way to share hdmi devices in multipule rooms in your house. Picture and sound is great.
I find this product to give an excellent pic with great sound through an outside wall to my TV outside! Very pleased...
This product is able to cast a full HD signal with properly sinced sound across a room flawlessly. Top notch product.
Warranty / Certifications
People who viewed this item also viewed
Iogear GW3DHDKIT Wireless 3D Digital Kit with Full HD 1080P and 5.1 Channel Digital Audio
VIDEO
Iogear GW3DHDKIT Wireless 3D Digital Kit Video Review