How about turning your TV set into a full-on PC? It's now possible if you use a micro pc stick - a small HDMI dongle that, however,
is performing enough to serve as a full-scale computer. We have shortlisted the best micro pc sticks so that you can pick the most suitable one!
...
Read more
...Read less
X
This site is a free online resource that strives to offer helpful content and comparison features to its visitors. Please be advised that the operator of this site accepts advertising compensation from certain companies that appear on the site, and such compensation impacts the location and order in which the companies (and/or their products) are presented, and in some cases may also impact the scoring that is assigned to them. The scoring that appears on this site is determined by the site operator in its sole discretion, and should NOT be relied upon for accuracy purposes. In fact, Company/product listings on this page DO NOT imply endorsement by the site operator. Except as expressly set forth in our Terms of Use, all representations and warranties regarding the information presented on this page are disclaimed. The information which appears on this site is subject to change at any time. More info
Intel CS125 (STK1AW32SC)
Compact Power
This device boasts an impressive performance yet it has a really miniature and elegant black plastic casing. There are special ventilation holes in the casing through which the air moves and, therefore, the hardware is cooled. Despite being the size of a chewing gum stick, this microPC stick is rather powerful in terms of its hardware. It has a cutting-edge Intel Atom X5-Z8300 quad-core CPU, each core clocked at 1.44GHz. Intel's Turbo Boost technology can increase the power of the CPU by raising the operation frequency up to 1.84GHz. The RAM capacity is 2GB (DDR3 type). Of course, like other microPC sticks, this one has an integrated Intel HD Graphics GPU, which is enough to play videos, browse the Internet, and perform other basic tasks. Moreover, we've found out that the combo of the CPU and GPU even allows you to play simple arcade games by just plugging the stick to a TV or monitor. No need to say, browsing web pages is a real pleasure since you have the whole huge screen for it! Actually, this tiny device turns any HDMI TV into a functional computer. The total memory capacity of 32GB gives you enough space to store most important files and access them at any moment.
Interfaces for All Types of Connections
This microPC stick has lots of ports and interfaces that ensure the ultimate connectivity. If you wish to expand the memory capacity, use a micro SD card slot (the device can read any micro SD card with the maximum capacity of 128GB). You can set a wireless connection via Bluetooth; it allows you to connect different peripherals without any wires or cables. Going online is simple thanks to the WiFi adapter. Moreover, there are 2 USB slots: 1 USB 2.0 and 1 USB 3.0. Thus, you can connect an extrernal hard drive or a flash drive. No need to mention, USB peripherals (mouse and keyboard) can be connected, too. Don't forget that USB 3.0 ensures a lightning-fast data transfer. Copying a movie will take seconds!
In all, this is a really helpful microPC stick that you can use in many ways: turn your TV into a Smart TV, use it as a computer, or carry it with you for making awesome presentations and have a real computer at hand.
More Products to Consider
If you need to type a lot and don't want to mess with cables, use one of the Bluetooth keyboards from our review.
Additional Info
Last updated price

$

288.97

Stock
In stock
ASIN

B01AZC4NHS
---
VIDEO
Intel Compute Stick Review (Cherry Trail model)
What customers say about this product
The speed of the processor isn't going to knock your socks off by any means but it seems to do an adequate job of performance.
I mounted an old 32" 1080P TV to the wall and plugged this into the HDMI port. I then bought a Logitech wireless keyboard and mouse combo. this is perfect for my needs an came with Windows 10.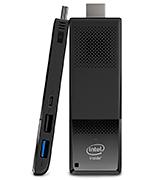 Intel CS125 (STK1AW32SC)
Azulle Quantum Quantum Access LAN Fanless
Performance
As most other stick computers of this kind, Quantum is equipped with Intel Atom Z3735F CPU clocked at 1.33 GHz. It is self-evident that this processor has 4 cores and it's very often used both in mini PCs and tablets. The memory capacity is also quite typical: 2 GB RAM and 32 GB storage. It's more than enough for this pretty powerful compact stick PC that is capable of streaming HD videos, surfing any websites, working with offline and online (i.e. cloud) documents, and so on.
Interfaces and OS
Quantum Access stick computer comes with a pre-installed Windows 10 Home OS that makes this portable device almost as functional as your desktop PC. That's the only stick computer having a LAN port, so if you want to use a lag-free Internet - use this kind of connection. Of course, Wi-Fi adapter is also included, so you can go online wirelessly as well. Note that there's a Bluetooth support for pairing your wireless headphones or headset with this micro PC stick. It goes without saying that connection of a wireless keyboard/mouse is no problem too. Unlike some other similar devices, Quantum has a single USB port, so you might need a USB hub to connect all the peripherals you want.
Design and Package
The casing of this micro PC stick is made of black plastic, so the device looks like most of its counterparts. The stick computer is rather small, so if you need to make presentations at business meetings or during trips, this small device will be truly helpful. And its abilities are not limited just to presentations; you can insert this stick to your TV and turn it into a really functional media center. The unit is powered through the micro USB port. As far as the shipping package is concerned, this micro desktop comes with a power adapter and an HDMI cable (male-female).
Last updated price

$

0.00

Stock
May be out of stock
ASIN

B018GWVOGC
---
VIDEO
Mini PC Stick WITH Ethernet? Azulle Quantum Access LAN
What customers say about this product
Storage memory used up very fast, suggest micro SD card for additional storage.
The device comes with a LAN port so that connected to my high-speed FIOS network made web browsing simple and fast
Azulle Quantum Quantum Access LAN Fanless
Lenovo Ideacentre Stick 300 (90F20000US)
Performance
Lenovo is one of the leading manufacturers of high-tech devices and computers in particular. Their micro PC stick has been released quite recently. The device is one of the leading devices of this kind in terms of performance and hardware. The gadget has a quad-core Intel Atom Z3735F CPU that runs at a frequency of 1.33GHz. RAM capacity is sufficient - 2GB. Built-in Intel HD Graphics GPU with Bay Trail technology that boosts the video performance for better image quality and for launching some games. Also, the storage is rather big - 32GB, so you can keep all your most important files right there.
Interfaces and OS
Lenovo IdeaCentre(TM) Stick 300 is almost a fully functional PC. This tiny portable computer has a pre-installed Windows 10 (32-bit version), which gives you a full scope of capabilities. You can install programs you need, use MS Office, watch videos, browse the Internet, and so on. This is a small PC that is always at hand no matter where you are. Lenovo micro PC stick has a WiFi adapter (802.11 b/g/n) that allows you to go online. You can connect peripherals (like a keyboard, mouse, headphones, etc.) via Bluetooth. You can connect different gadgets through a USB slot. For example, you can connect a printer - the necessary driver can be easily installed on Windows 10 OS.
Design and Package
Lenovo mini PC stick looks great - the casing is made of matte black plastic and the dimensions of the whole unit are as follows: 4.7x0.6x1.5 inches. Fingerprints are less visible on a matte casing; moreover, it's rather scratch-resistant. In fact, this small dongle is smaller than some cutting-edge mobile phones. Most interfaces are placed on the right side of the stick and only a card reader is on the left one. The package is rather full: apart from the device itself, you will also get an AC adapter, a micro USB cable, an HDMI cable, and a user manual that we recommend you to read before you start using the micro PC stick. Of course, you need some peripherals for a fully functional use of the device - you can pick a wireless keyboard and a mouse for the utmost convenience.
Last updated price

$

299.99

Stock
In stock
ASIN

B014644NPI
---
VIDEO
Lenovo Ideacentre Stick 300 review
What customers say about this product
You will love it. It's great on speed for internet and watching movies.
Very fast win 10. support 4 k. good Wi-Fi
Lenovo Ideacentre Stick 300 (90F20000US)
ASUS Chromebit (CS10)
Performance
ASUS engineers have chosen a quad-core ROCKCHIP RK3288 CPU for their Chromebit CS10 micro PC stick. The CPU outperforms other devices in terms of the maximum frequency it works on - 1.8GHz. RAM capacity is 2GB (DDR3 version) which is a sufficient result for Chrome OS this gadget has. Chromebit CS10 uses Mali-T764 GPU that can handle nearly all your requirements - you can surf the web, watch online videos, create and edit documents, etc. The storage space is rather small - 16GB, but Chromebit comes with 100GB of free Google Drive cloud storage (free for 2 years). Therefore, Google ensures the top safety of your most precious files.
Interfaces and OS
The very name Chromebit hints at Chrome OS that this micro PC stick has. Chrome OS has been developed by Google in order to provide the maximum performance for web browsing and for all kinds of online activities. As a result, Chrome OS is very fast and boots within just 5 seconds. Chrome OS is for people who work with Google cloud services such as Google Docs, Google Sheets, Google Drive, and thousands of apps. No need to mention, you can browse the web, watch movies and series, listen to music, and even play games (available in Chrome Web Store). The device has such necessary ports as USB and HDMI, though it has no card reader (which some customers find rather disappointing). In general, most owners use either Bluetooth connectivity (CS10 supports Bluetooth 4.0) or a USB connection, so the absence of a card reader isn't a problem.
Design and Package
ASUS micro PC stick is a very compact device that has a streamlined casing made of smooth matte black plastic. As a result, no fingerprints will be seen on the casing. The dimensions are 4.8x1.2x0.7 inches, so you can always carry the PC stick in your bag or pocket. The package includes only the most important items such as a USB-microUSB cable, an HDMI cable, a power adapter, etc. And we've already mentioned a 2-year license for Google Drive storage; the term starts once you've redeemed the Drive offer.
Additional Info
Last updated price

$

189.99

Stock
In stock
ASIN

B0181JTPCU
---
VIDEO
Asus Chromebit Review - $85 ChromeOS PC on a HDMI Stick - YouTube, Web, Benchmarks
What customers say about this product
I use it primarily as a media device and it plays 1080p 60fps streaming video perfectly. The ARM processor (RK3288) is exactly the same as in my Asus Chromebook Flip. Same clock speed (1.8Ghz) but with only 2GB ram instead of 4GB.
Works great, on the tip opposite of the HDMI connector is a USB port. You can use this to plug in a dongle I use a Logitech K400 and use the chrome browser to play Netflix, Hulu, and shows from my Plex server.
ASUS Chromebit (CS10)
ANDROSET Android TV Dongle
Performance
Androset has equipped its micro PC stick with the fairly new quad-core CPU ROCKCHIP that operates at a frequency of 1.6GHz. The unit has RAM capacity of 1GB, which some users might find insufficient but it isn't so - Android OS requires a lot less power than Windows. The GPU is Mali-400. In general, this mini PC stick can cope with a lot of tasks: web surfing, document editing, watching videos, listening to music, and even playing Android games. You can watch even Full HD movies - the hardware is performing enough for that.
Interfaces and OS
This micro PC stick from Androset runs on Google Android 4.2.2 Jelly Bean operating system, which is quite functional and, moreover, requires less powerful hardware than Windows. Also, Jelly Bean is very configurable - you can install nearly all apps available on Play Market. Of course, you can install video streaming apps like YouTube or Hulu and enjoy watching your favorite videos, movies, and series online. The device can even stream 3D movies online. No need to mention, going online is simple thanks to WiFi 802.11 b/g/n. Finally, you can connect any Bluetooth peripherals because this micro PC stick also has a Bluetooth adapter.
Design and Package
The casing of the device is made of matte plastic, which means all fingerprints will be nearly invisible. This micro PC is quite big (compared with its competitors in our micro PC stick review): 4.05x2.4x1.5 inches. This device has 2 small WiFi antennas on both sides. A full-sized USB port is placed on the back side of the mini PC sticks, so connecting all kinds of devices is very comfortable. A microUSB port is also there. The package of this micro PC stick includes an HDMI cable, an OTG cable, a USB cable, and a power adapter. Finally, we should tell you this device is offered in various specifications; for example, you can get the one without external WiFi antennas and the one with a handy remote.
Last updated price

$

0.00

Stock
May be out of stock
ASIN

B00L4G66J8
---
What customers say about this product
The processor speed is good for video streaming and 1 GB ram looks okay.
It has an sdx slot. It has two USB ports. I use one to plug in my 1tb storage device and the other for a wireless mouse/keyboard combo.
ANDROSET Android TV Dongle
What is a Micro Pc Stick
Today, there are lots of different mini computers that are really compact so that people can carry them around anywhere they go. However, engineers have made it possible to turn any modern TV or computer monitor into a fully functional personal computer using a small HDMI dongle that easily fits in a pocket of your jacket. These gadgets are called mini PC sticks and they are portable, easy-to-use, and yet performing enough. Once the micro PC stick is installed, your display turns into a huge and convenient computer screen. This tiny device allows you to work with documents, watch your pictures, contact your friends and business partners, watch movies online or offline, and so on. In general, a small HDMI dongle can quite efficiently substitute for a PC. Of course, micro PC sticks allow you to go online wirelessly (via WiFi) and connect peripherals (via Bluetooth). This small gadget is the best way to save up and get both a computer and a media streaming device.
However, any micro PC sticks usually have a single USB port and that's why you should also get one of the best USB hubs from our review.
If you need a small media player, we recommend considering our shortlist of streaming media players.
What Features to Compare
The first and, probably, the most important feature for any kind of computer is its Performance. It's a key issue for mini PC sticks as well because the scope of tasks you will be able to fulfil on such a device depends on it. What determines the performance? The following hardware: CPU, RAM memory and, to a certain extent, a GPU. Of course, a central processing unit (CPU) is the most important one - it's a true heart of a micro PC stick. Most such devices are equipped with small yet performing CPUs that have several cores, so the unit can process loads of data at the highest speed possible. Next, RAM capacity is crucial, because it determines the multi-tasking of a micro PC stick. The higher RAM capacity a mini PC stick has, the more simultaneous tasks you will be able to perform. If you want to use a micro PC stick for entertainment - watching movies online or offline and so on - you should know what type of graphics processing unit (GPU). All mini PC sticks that come with Intel CPU have an embedded GPU (Intel HD Graphics), which is good enough for all kinds of entertainment except, probably, for the newest PC games. Micro PC sticks with others CPUs have different GPUs like Mali, PowerVR, etc.
Next, you should be aware of all Interfaces a mini PC stick has. For example, most devices have at least one USB slot via which you can connect a USB hub, a flash drive, an external HDD, etc. Some micro PC sticks also have HDMI slots and even slots for memory cards (mostly microSD). Of course, a mini PC stick should provide sufficient Networking opportunities and that's why they have WiFi and Bluetooth support. Keep in mind that the type of supported WiFi signal is rather important - 802.11 a/c ensures the highest speed. Next, be reasonable in the choice of the operating system (OS) a micro PC stick runs on. It usually depends on the CPU: if a mini PC stick has Intel CPU - it has Windows OS, if a CPU is MediaTek or ROCKCHIP - a micro PC stick has one of Android versions or a ChromeOS. Each OS has its pros and cons, so think twice before making a choice.
All micro PC sticks are small and portable but they are different in Design. Thus, choose the device you will be able to carry in your pocket without any inconvenience. In the end, check the Package of every device - the fuller it is, the fewer items you might need to buy separately.