As technology marches on, devices get more and more sophisticated and one day you may find out that an HDMI cable you have doesn't
fit new gadgets anymore. That is exactly when an HDMI adapter will come in handy.
...
Read more
...Read less
X
This site is a free online resource that strives to offer helpful content and comparison features to its visitors. Please be advised that the operator of this site accepts advertising compensation from certain companies that appear on the site, and such compensation impacts the location and order in which the companies (and/or their products) are presented, and in some cases may also impact the scoring that is assigned to them. The scoring that appears on this site is determined by the site operator in its sole discretion, and should NOT be relied upon for accuracy purposes. In fact, Company/product listings on this page DO NOT imply endorsement by the site operator. Except as expressly set forth in our Terms of Use, all representations and warranties regarding the information presented on this page are disclaimed. The information which appears on this site is subject to change at any time. More info
ivanky FBA_IVANKY-DP01
Best Quality of HDMI Connection
Want to show your family, friends, or colleagues some photos, a funny video, a work presentation, or even a movie? You don't need to do any long downloads, buy expensive brand-name accessories, or read extensive manuals because the ivanky FBA_IVANKY-DP01 will do all the work for you. The Mini DisplayPort to HDMI adapter offers stellar quality at a reasonable price!
The IVANKY-DP01 adapter is an ideal travel partner for anyone who often needs to give presentations. It's pocket-sized and very lightweight. But despite its travel size, the adapter isn't flimsy. It features a nylon braided jacket that boasts 15000+ bend lifespan and a long-lasting aluminum casing. Thanks to this, you can transport it safely wherever you need.
As to its tech specifications, it can transfer video at up to 1920 x 1080 (Full HD) with 3D effect. This means you can stream content from your phone in high resolution and enjoy bright saturated colors with no blurs on the big screen. The sound transfer is going to be flawless too, thanks to the 24K gold-plated metal connectors ensuring quality and stable audio signal.
So if you need an HDMI adapter that can provide you with uncompressed audio and high-quality video, the ivanky FBA_IVANKY-DP01 is one of the best options. It is compatible with both Mac and Microsoft-using devices, and is perfect for multitasking.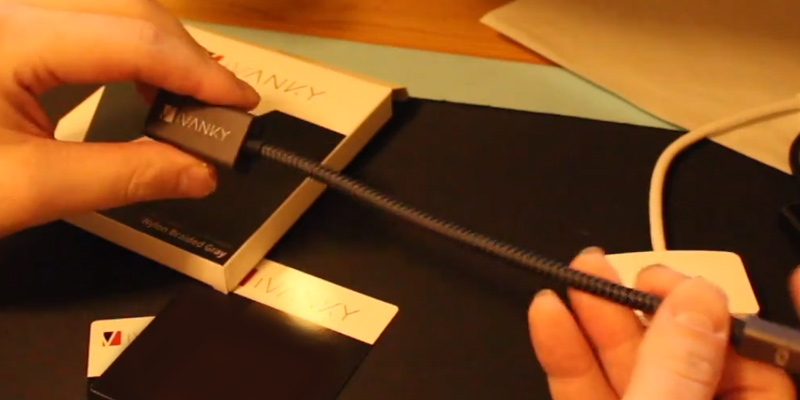 Last updated price

$

9.99

Stock
In stock
ASIN

B01N6M2VN4
---
ivanky FBA_IVANKY-DP01
VicTsing VS1-VC38BVT-VD
From HDMI to VGA in Full HD with No Compression
Tired of watching movies and playing games on a small PC monitor and want to experience your favorite entertainment on the big screen? For that, you'll need a solid HDMI to VGA adapter that ensures good quality, which is exactly what you get with the VicTsing VS1-VC38BVT-VD.
The gadget transfers data in a reliable way thanks to the built-in active IC chip that converts signal from digital to analog with no loss or compression. You get Full HD resolution and a crisp bright image. No details will be lost and the quality will always remain excellent without any blurring or fuzziness.
This is a simple way to link your devices like laptops, PCs, and even some phones to your LCD monitor or flat screen LED TV. Note that the gadget doesn't support Apple devices as they have no corresponding port and it has compatibility issues with some of the Sony products. It works great with all other tech, though. The 24K gold-plated metal connectors offer speedy data transfers with no compression or loss, just what you need in a signal converter. Your films will look as good as they do in a movie theater and the games will run smoothly, dropping no frames.
The VicTsing VS1-VC38BVT-VD is a wonderful way to stream video and audio from your computer to a TV and more. Its IC chip ensures that the image looks identical to the source in terms of quality but much larger and with even more detail. See for yourself just how easy to use it is and find out what else it can do!
Last updated price

$

0.00

Stock
May be out of stock
ASIN

B016HL4CAY
---
VicTsing VS1-VC38BVT-VD
AmazonBasics L51G
Connect Your MacBook to a Huge Screen
Are you a proud owner of a MacBook, Macbook Pro, or an iMac with a constant headache because of the incompatibility between your high-end laptop and the outdated projector at work? Or maybe you just want to stream video from your Mac to the TV in HD? Either way, you can make your life easier with the AmazonBasics L51G, a DisplayPort to HDMI adapter with great characteristics.
This little gadget supports video resolution up to 1920 x 1200 (a great match for devices with 16:10 aspect ratio), letting you view films, shows, and photos with deep colors and high detail. Your children will absolutely love watching cartoons with this adapter as their favorites will look better than ever on a big screen with extra brightness and contrast.
The white casing of the gadget is a very stylish design choice, though, this means that you should keep it away from anything that might leave stains. Of course, you're not too likely to put any food near your high-tech laptop or TV anyway so just make sure to remind your kids to do the same.
The converter works equally well with Mini DisplayPort, Thunderbolt, and Thunderbolt 2, offering HDCP protection, which lets you play Blu-ray disks so you can rewatch the classics and see new movies on your TV. It even supports 3D mode so you can get the full cinema experience right in your living room.
The 0.75 ft AmazonBasics L51G will be an invaluable tool to conduct work presentations, show your relatives photos and videos, and watch films and cartoons on the big screen. The multifunctional gadget is sure to impress and deliver the highest quality possible.
Last updated price

$

0.00

Stock
In stock
ASIN

B00NH13K8S
---
AmazonBasics L51G
Importer520 Adapter
Stable Full HD Connection with Extra Sturdiness
Tired of weak cables that break off or disconnect at the slightest movement? Never want to lose signal in the middle of a heated sports game again? The Importer520 HDMI to DVI adapter has got you covered.
This converter has screws made to be extra sturdy specifically for these issues. The metal is tough enough to ensure that nobody can accidentally pull the cord out. No longer will you have to worry about rowdy pets or curious kids leaving you with no signal and a damaged cable.
Of course, the bulky extra-sturdy casing needs some space and the model is quite wide but it shouldn't be an issue on big flat-screen TVs. And that's exactly the kind of device you should be using this gadget with as it supports resolutions up to 1920 x 1080 which is more than enough to blow your mind with deep colors, crisp images, and beautiful video. And that is precisely what you get with the Importer520 HDMI to DVI adapter thanks to its ability to transfer data with no loss and render video and games with no visual glitches, frame drops and static interference. 
Ever wanted to play your favorite games on a huge screen? The Importer520 will make it possible given that most modern video cards and TVs have HDMI and DVI ports.  Link your devices with this connector and get high picture quality with absolute connection stability. And consider getting a flat screen LED TV to take full advantage of this stellar quality in high resolution.
Last updated price

$

4.40

Stock
In stock
ASIN

B0035B4LJM
---
Importer520 Adapter
Twisted Veins FBA_ACHRA3
The Most Convenient Converter for 4k Ultra HD
Want to mount your new huge flat-screen television on the wall but the cables are getting in the way? In that case, you need the Twisted Veins FBA_ACHRA3, an HDMI angle adapter that lets you route the pesky wires whichever way you want, making it easier to position your monitors and TVs without having to knock holes in the wall to accommodate the tangled cables.
While this may seem like a simple piece of plastic, the gadget is compatible with 4k UHD resolutions so it can be used with even the best TVs and monitors capable of transmitting video and images in 4096 x 2160 with no quality loss. The 24K gold-plated metal connectors will make sure that your signal is stable with no fuzz or blurring. They are essential to keep the image sharp and detailed so you can take full advantage of the benefits provided by the cutting-edge 4K UHD technology.
The Twisted Veins FBA_ACHRA3 is a 90 degree HDMI adapter, so it won't stick out too far and hamper any of the other cords you might have connected to the device. Also, with the size of only 1 x 0.5 inches, it's very compact and easy to hide if you'd like your TV to look sleek. 
All in all, what better way is there to get a 100% clear ultra high resolution signal on your TV without sacrificing the space-saving wall mount? The Twisted Veins FBA_ACHRA3 not only offers uncompressed audio and 4k UHD video, there's a special bargain here for you. Buy just one product and get a set of three devices that you can use on your TV, computer monitor, or laptop.
Last updated price

$

4.33

Stock
In stock
ASIN

B00DDULUIA
---
Twisted Veins FBA_ACHRA3
What Is an HDMI Adapter?
Many newer tech devices come with a variety of ports for image, data and sound transfer. Unfortunately, though, many of them omit HDMI ports, and this can be a problem especially if you often make presentations and need to output them on a big screen. The easiest way to solve this problem is to get an HDMI adapter. HDMI adapters are available in many different variations so you can choose the one that will allow you to link up the gadgets you need depending on the types of ports. The majority of HDMI adapters are small in size and can be connected at an angle. This adds flexibility to the way how you can position connected devices.
Having chosen an HDMI adapter, you might want to consider purchasing some additional accessories. Take a look at iPhone docks that will come in handy during presentations and save you from a discharged battery. And if you want to achieve an ultra-high picture quality, get yourself one of these amazing 1440p monitors.