Want to have Wi-Fi in a yard next to your house? Or your phone doesn't show all 4 bars on the second floor of your house? Then
grab a Wi-Fi extender and expand the boundaries of your wireless router's signal.
...
Read more
...Read less
Access and Data Protection
X
This site is a free online resource that strives to offer helpful content and comparison features to its visitors. Please be advised that the operator of this site accepts advertising compensation from certain companies that appear on the site, and such compensation impacts the location and order in which the companies (and/or their products) are presented, and in some cases may also impact the scoring that is assigned to them. The scoring that appears on this site is determined by the site operator in its sole discretion, and should NOT be relied upon for accuracy purposes. In fact, Company/product listings on this page DO NOT imply endorsement by the site operator. Except as expressly set forth in our Terms of Use, all representations and warranties regarding the information presented on this page are disclaimed. The information which appears on this site is subject to change at any time. More info
TP-LINK RE650
Covers an Entire Stadium
The TP-LINK AC2600 is all about its ridiculous coverage area. Using the 4 external built-in antennas, the model extends the WiFi coverage by up to 14,000 square feet. Naturally, with a range like that, this is one of the very few models on the market and the only extender in this review that will be able to cover a large office or the largest houses. The antennas do not just create a signal that is equally strong and reliable but also minimize dead spots, so you will be receiving a stable and solid signal in any corner of your house or the office.
While we're still on the subject of coverage, it wouldn't hurt to mention the Beamforming technology. Just like most high-end and middle-of-the-road routers and extenders from TP-LINK, AC2600 utilizes the latter technology to further improve and extend its already ridiculous range. As some of you may already be aware at this point, Beamforming works by detecting the direction of the WiFi connections and focusing the wireless signal towards them. This way, it helps strengthen the wireless performance of your office or place of residency.
Speaking of things that are always present in TP-LINK products, this WiFi extender is also compatible with the TP-LINK Tether application. Using the latter, you will be able to set up and manage your wireless network. With its intuitive user interface, you'll get to quickly assign guest privileges, schedule the network, and manage the device.
Long-Term Investment
Aside from the range, the model in question is defined by all of the network technologies. For instance, there's the usual MU-MIMO, a technology that allows the extender to communicate with multiple devices simultaneously over the same WiFi band. This type of communication is particularly great at maximizing the performance of every device involved, regardless whether they're running at the same time or not.
There's also the far less common Intelligent Processing Engine, a solution that works by balancing the demands of every device in order to keep every WiFi connection as fast and smooth as possible. It sounds like one of the most complicated technologies but, in reality, the engine simply directs the WiFi traffic to dedicated processors. After that, the engine just leaves it to the model's powerful dual-core CPU to take care of everything else.
Finally, we would like to give some attention to the simplicity of the setup. The extender utilizes a couple of LED lights. The blue one symbolizes a weak connection and the red one indicates a bad one, so it won't be difficult to find the perfect spot for the device.
Taking all of the above into account, the TP-LINK AC2600 (RE650) is easily the best WiFi extender on the market for people who would like to cover the largest possible area with a strong and reliable wireless signal. It's a bit more expensive than most but the range makes it a great long-term investment.
Additional Info
Last updated price

$

96.06

Stock
In stock
ASIN

B01MR90E3A
---
What customers say about this product
Improved WiFi performance greatly. Perfect speed for my needs.
Easy to set up and good signal strength. Amazing size for me. Very small than my old.
It extends my home wifi range perfectly.
TP-LINK RE650
NETGEAR EX7300
Smart and Seamless Roaming
We really aren't the biggest fans of the term "smart" as it pertains to technologies and electronics. Especially considering the fact that the term has been thrown around so much lately that it is beginning to lose most of its meaning. That said, this is still the word we would use to describe AC2200, the mesh WiFi extender from NETGEAR.
There are a couple of reasons for that. First, there's the device's Smart Roaming system. As the name suggests, the technology will allow you to freely roam around the home without worrying about being disconnected at one point or the other. It does so by automatically handing off your connection between the router and the extender.
By the way, it doesn't have to be a house. As the model boasts a coverage area of up to 10,000 feet, this is an equally suitable device for an average office. It may not give you enough range to cover the largest office out there but the extender will most certainly be able to keep the most sizable house connected via a strong wireless signal.
Another point in the extender's favor is the universal compatibility of this model. Simply add it to your network and sync to the existing router. AC2200 is compatible with just about any router, gateway, or rented ISP gateway.
Improved Communications
One thing that we always liked about NETGEAR's network solutions and the model is no exception is the ability to combine all of the visible WiFi networks into a single entity. This way, you can have it all under one WiFi name and security password, which is a lot more convenient than what you'd usually get from a different company.
Of course, the WiFi extender isn't devoid of the usual technologies that aren't inclusive to NETGEAR. For instance, the device incorporates MU-MIMO, a technology that improves the router's "communication" with multiple devices over the same WiFi band. In layman's terms, the technology maximizes the performance of every device connected to the network.
There's also the Smart Connect, a system that operates in a different way but brings the same solution to the table. Again, without diving into the technical mumbo-jumbo, this technology intelligently chooses the most optimal WiFi band for every device connected to the network. Thanks to the latter, you won't end up in a situation where one gadget is pulling more data than necessary and the other isn't getting enough.
But, considering what it has to offer bandwidth-wise, the WiFi extender should be able to cover all of your devices, with a 5 GHz channel that offers a maximum speed of 1733 Mbps and a 2.4 GHz channel that caps at 450 Mbps.
Again, we don't really care that much for the "smart" title when it comes to consumer electronics, but the NETGEAR AC2200 deserves it more than any other WiFi extender. The model isn't just impressive from a technological standpoint but also much more convenient and practical than most of its peers.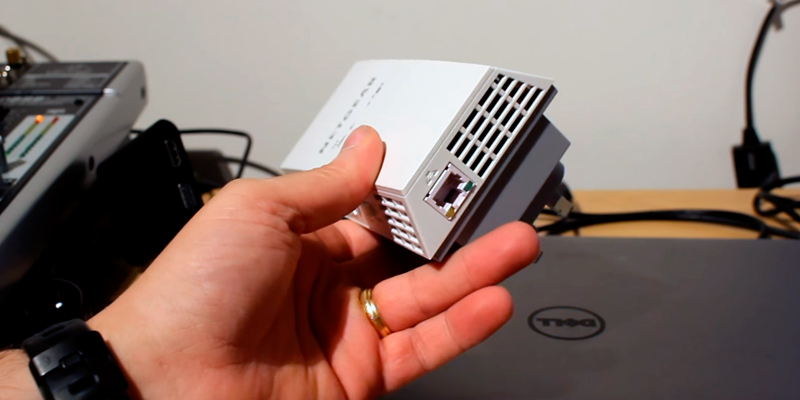 Additional Info
Last updated price

$

149.99

Stock
In stock
ASIN

B01D6JEMWS
---
What customers say about this product
The speed went from 2-14 Mbps in the kitchen before and now is around 70 Mpbs but has also improved the speed everywhere else in the flat.
In use, this extender has been rock-solid. It gets better 5g reception than other extenders I've tried without being a full-sized device.
The unit looks sheek, low profile and contains good hardware. The UI looks easy to use.
NETGEAR EX7300
NETGEAR EX3700
Effective Extender in a Compact Body
The NETGEAR AC750 provides a reliable solution for your average households looking to extend the range of their wireless coverage. Equipped with 2 external antennas, this model will be more than enough to expand the coverage area of the WiFi router so that you'll be able to enjoy the strongest possible signal in any corner of your home.
It may not be the most impressive option on the market as far as speed and range are concerned but we actually like it quite a lot. For the most part, it is the device's practicality and convenience that makes the case for the extender.
By practicality and convenience, we mean a couple of things. First, there's the size of the model. Since the whole thing adds up to precisely 7 x 5.6 x 3.9 inches in overall dimensions, this wireless solution device from NETGEAR is noticeably more compact than the bulk of its competition. You can just plug it in directly into a wall outlet and its small and discreet frame will effortlessly blend into your home décor.
Another thing that makes this WiFi extender really convenient is its compatibility with NETGEAR's WiFi Analytics application. Before you install the extender, you can use the latter to test the strength of the wireless signals in all rooms throughout your house. This way, you will be able to identify where the coverage is at its weakest.
After you set the booster up, run the WiFi Analytics program again. Now, you can apply its analytical prowess to check how and how much your network speed has been able to improve.
Establish a Pecking Order
Like we've said earlier, it isn't the most impressive extender in terms of the coverage area. But it should be able to eliminate virtually every dead spot in your average house. And if you put the app to good use, you might even be able to extend the wireless signal all the way to your backyard.
As far as speed is concerned, the dual-band booster will be able to provide combined speeds of up to 750 Mbps. It should be enough to cover the needs of every member of your family. Of course, we all have different needs bandwidth-wise, and the engineers at NETGEAR recognize that.
Using the Fastlane technology, you will be able to establish one high-speed connection that will allocate the specified bulk of the traffic to a single device. The technology is particularly suitable for streaming HD content and online gaming.
All in all, if you happen to live in an average house that is neither too large nor too small and would like to expand the coverage area of your WiFi, this extender from NETGEAR is the best bang for your buck.
Additional Info
Last updated price

$

26.00

Stock
In stock
ASIN

B00R92CL5E
---
What customers say about this product
Worked great, easy to use, fast speed, great range. Simple as can be.
This one looks good and has a small size surprisingly. Connecting this to my existing wifi network was easy.
The NetGear app can be used easily to test the strength of your existing, and new, wi-fi signal in various areas of your house/business.
NETGEAR EX3700
TP-LINK RE220
Two-Step Setup
TP-Link home networking solutions seldom come up short. When you're basically sharing the Wi-Fi market with Netgear, you have a certain delivery obligation that you have to meet to maintain the name. On that note, let's discuss the TP-Link RE220. Belonging to the company's budget bracket, this is not its biggest, baddest product. No, those will cost you much more than ~30 bucks. Still, medium-sized households and even small offices (we're talking less than 1200 square feet here), will be easily covered by this device. Between its three internal antennas, this unit easily eliminated dead spots, keeping the entire premises covered with a stable, flawless connection.
That being said, despite the antennas being internal, the device is not that compact, measuring around 4.3 x 2.6 x 2.2 inches, meaning that the extender can make accessing neighboring sockets a little difficult. On the upside, the unit looks pretty good, with the chequered pattern and its elegant housing easily fitting modern offices and upscale settings.
Admittedly, aesthetics are not that important when we're talking about Wi-Fi extenders. No, what's important, besides the specs and the tech behind those specs, is easy and convenient deployment. On that front, the two-step setup has you covered. First, you press the WPS button on the front and the device should easily connect to the network without any effort on your part. Second, when that's necessary, you relocate the unit to a better location, keeping the Wi-Fi coverage optimal. Using the smart signal indicator light, you'll be able to easily find that optimal location.
OneMesh Network
When we're talking about TP-Link extenders, we're always talking about the OneMesh tech, the tech that lets you establish OneMesh networks and enable seamless roaming. We're also talking about the High Speed mode, using one dedicated Wi-Fi band as this backhaul and another dedicated band as this access point that maximizes the device's bandwidth.
Of course, not unlike all TP-Link home networking solutions, the model is also compatible with the Tether app. Using this app, you can enforce bedtime, secure the network (monitoring and controlling the gadgets/devices connected to the network), switch between different modes, and more.
Bottom line, mid-sized premises capping at 1200 square feet cannot go wrong with the TP-Link RE220. Even the least tech-savvy people will easily be able to install and manage this extender.
Additional Info
Last updated price

$

19.99

Stock
In stock
ASIN

B07N1WW638
---
TP-LINK RE220
JZORI AC1200
No-Name Brands Deserve Some Love Too
Wi-Fi range extenders that come without a TP-Link or Netgear name backing them up are not that common, especially when we're talking about decent, above-average devices, not something that will stop working within the first few months. The JZORI AC1200 lands among these rare exceptions though. Because the product does not have a huge brand behind it, you can extend the Wi-Fi network around fivefold without paying more than 50 bucks.
Depending on obstructions, this device covers at least 1300 square feet, stretching the wireless network so that medium-sized living spaces and even small offices can enjoy a network without any dead spots. Even those hard-to-reach areas like upstairs rooms and room corners where the signal is usually the weakest will be covered 100%. Plus, the device boasts complete 360-degree coverage, meaning that you can choose practically any socket around the house (as long as this socket is not more than 1300 feet away from the farthest point) without worrying that the signal will somehow dodge that point.
Unlike its big-brand competition though, this wireless network-extending solution does not quite enable seamless, hassle-free setup. In fact, even experienced users will have to deploy some time and effort towards that goal. Still, assuming that you're not allergic to effort, you should be able to establish and manage this device without facing considerable challenges.
Two LAN Ports Too
On the pictures, the device looks a little bulky but, measuring at 6.1 x 2.7 x 2 inches, the unit is really not that large, especially considering that the "6.1-inch" part covers the 4 external antennas too. Furthermore, taking into account that the 5GHz band can transmit up to 900 Mbps, this device is actually quite compact. Its feature list is not that compact though. To name a few, the extender lets you switch between Repeater, AP, and Router modes.
The first mode will let you extend existing networks' Wi-Fi coverage. The second mode will enable covering wired networks to wireless networks. The last mode will lend you the means to create an instant private network and let multiple gadgets/devices share it. Before concluding the review, we would be remiss not to mention that the extender comes equipped with two LAN ports, so you can establish two wired connections and have the two share a considerable 1000 Mpbs band.
In other words, as long as you're fine with the product's no-name brand, the ZORI AC1200 makes a pretty convincing case.
Last updated price

$

0.00

Stock
In stock
ASIN

B08B63LXHZ
---
JZORI AC1200
What Is a Wi-Fi Extender?
Nowadays you can get a Wi-Fi signal almost anywhere in a city: malls, offices, cafeterias, hotels, shops and even in public transports. The connection there may understandably vary from good to no signal at all. But even at your own house, you are not safe from getting into a dead spot, where you cannot pick up even a single bar from your Wi-Fi router. Concrete walls, reinforced panels, weak output signal – these and many other things may become a barrier for the Internet access.
Wi-Fi extenders are the excellent solution to cover your entire house with a stable signal. As it comes from the name, they extend the existing Wi-Fi coverage by taking a signal from a router and retransferring it to the nearby area. In some cases, an extender simply boosts your router with additional antennas, in others, it creates a new network with a common router as an access point.
But right before we'll go further into details, you might want to take a look at our review of the best wireless routers with a thorough guide on how to get a Wi-Fi router best suited for your needs.
What Features to Compare
Designated Area

First of all, think about where you are going to use. Wi-Fi extenders sometimes are called repeaters and have a designated area of use. You can find models that are recommended but not limited to small houses or offices. The device amplifies a signal so that it could reach the farthest corners of an apartment, like when you have thick concrete walls in your building with a router's signal cutting through only one or two of them. For a cottage or an office, you might require a more powerful extender. In that case, we recommend taking a closer look at a Wi-Fi repeater that has adjustable external antennas with the gain power at 3 dBi or higher. If antennas are detachable, they can be replaced with more powerful or directional antennas in the future, but in most cases, you can simply point them in the required direction.
Bandwidth and Maximum Speed

Without a doubt, bandwidth and maximum speed are important as well. You want to buy an extender to get better coverage and speed in the first place, right? If those numbers mean nothing to you, just try to buy an extender with the same maximum speed as your Wi-Fi router. Check them in a manual and in contract to your ISP. Search for numbers like Mbps or Mb/s. Below, we've compiled devices that range from 300 up to incredible 1300 Mbps, so that you could choose the one that would suit your ISP traffic plan and walls layout best.
Setup and Controls

Setup and controls are mostly done only once by connecting a device to your computer's Ethernet port to set a Wi-Fi password. Normally, extenders work right away, but sometimes they have a CD with a special software to program an extender. Basic options like resetting or turning the device on-off usually have designated buttons on the body. If you prefer gaming but your family loves watching online video or downloading large files, an ordinary extender might not be enough, as the streaming video and big files take a lot of Internet traffic and can cause lags. Therefore, you might want to get an advanced model with an option to prioritize connections.
Design

As for the design, most of the time, extenders are simply plugged into a socket and look like compact boxes with or without antennas. However, there are models that have an external power cord and can be placed on top of the shelf or just sit on your table. That way you will always have them within hand's reach.

Data Interfaces

Finally, take a look at the supported data interfaces. There're repeaters that have output LAN ports to connect them to other devices that have no Wi-Fi module, like a TV or desktop PC. Some extenders work with a power-line technology. It allows you to transfer Internet signal via the electrical wiring of your house. You will need 2 or more of such power-line adapters. After they've been plugged in the sockets, one of them will pick up a signal from the router via Ethernet cable or Wi-Fi, while the other one can receive it and retransfer further to other devices. Please note, that in most cases Internet signal can't pass through electric transformers or power monitors.
You might also come across such specifications as supported network standards or access protection protocols, however, they are mostly interoperable only with many routers, so you might need this info only if you are going to install very specific routers in your office and need to protect confidential data. Still, common routers, extenders, and adapters are designed in accordance with Wi-Fi standards which oblige manufacturers to have the means for data protection. Set passwords, keep them to yourself and worry not - your information will be safe and sound.
Now, let's take a closer look at the Wi-Fi extenders we've selected for you.