A window cleaning robot is a safe alternative to using ladders. It's a small unit that uses a built-in computer and numerous sensors
to create the ideal cleaning path for your very window. You just need to attach soft mops, plug a robot in, put it on your window, and press start to get your windows squeaky clean. This intelligent robotic solution can integrate into your everyday life, making it easier. Just kick back and relax!
...
Read more
...Read less
Hobot 298
Sprays and Cleans
Hobot is a Taiwan company that focuses on the development of home robots and is currently one of the leaders in a window cleaning marketplace. The Hobot 298 is the latest release by the brand, which is definitely the most advanced and effective model out of all Hobot's window robots.
This window cleaner machine brings revolutionary bio-mimicry technology into play. It carries a detachable water tank and an ultrasonic water spray nozzle which turns water into a 15um mist and disperses it evenly on glass surfaces. The capacity of the water tank makes 1.35 oz, which enables the unit to clean a 430 sq. ft. area with water or detergent.
The robot uses the AI technology S2.1 and cleans windows in two steps - washes away dirt with detergent and then polishes windows with an attached microfiber cloth (the box includes three of them). Simply put, this automatic window washer does all the dirty work of glass cleaning for you.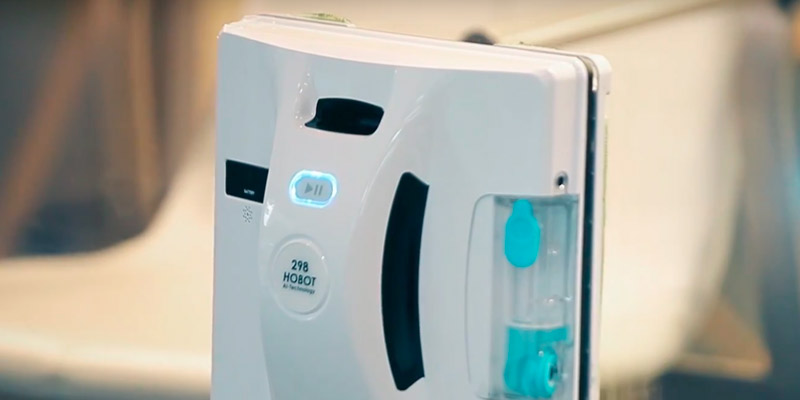 Easy Setup
All you need to do to set up the Hobot 298 is apply a cleaning cloth to the bottom of the unit, fill the water tank and plug it in. The unit has a very strong vacuum motor that easily attaches to the surface of windows (3 mm thickness or more) and neither loosens suction nor falls off of windows. The robot is designed with a 10-foot power cord and 20-foot extension cord, so it can climb as high as the length of the cords allows.
If you wish, you can set up the Hobot app and control the cleaner through it. The said app allows you to control the exact movement of the unit, choose any of three cleaning modes, start or stop the unit as well as increase/decrease the speed and amount of water which the Hobot 298 is ejecting.
To sum it all up, this cleaner with an automatic ultrasonic water spray takes all the guesswork out of window polishing. With the ability to spray a bit of window cleaning solution, it can remove even tough messes and caked-on dirt from both inside and outside of your windows.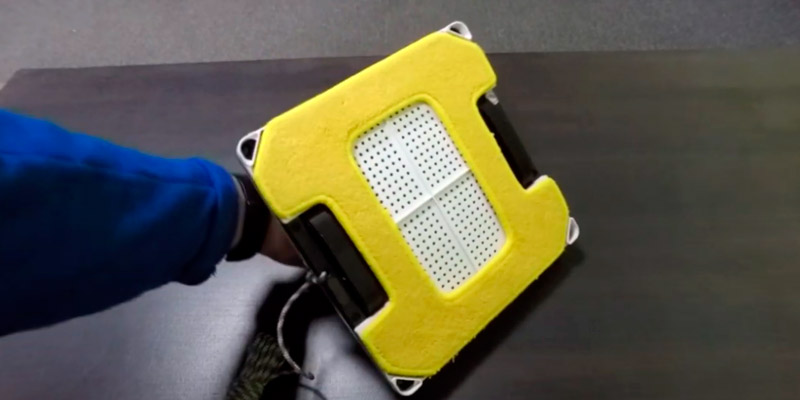 Additional Info
---
Hobot 298
Ecovacs Winbot 880
So High Tech
Being one of the best manufacturers of window robots, the Ecovacs company delivers innovative cleaning solutions to help you "live smarter and enjoy your life". And what we have here is one of the latest releases from the brand, which is now even more intelligent and functional. At a glance, it becomes obvious that it's a very high-tech device - it has a very elegant design with a white casing and silver handle with an On/Off touch button. With no gaudy details, it looks like something that only Apple could create.
Speaking about the heart of this cleaner, it's featured with an advanced chip and the Win slam 2.0 path planning technology that finds the most comprehensive, economical, and fastest way of cleaning. That is to say, the Winbot 880 automatically chooses the best cleaning path and then follows it, systematically traveling across the glass. Plus, it boasts the unique Edge detection technology with optocoupler sensors, so it deftly identifies the edges and changes the cleaning path without bumping or, even worse, falling. With that, it works equally well on surfaces with and without frames.
For enhanced grip and safety, it boasts a 2800PA suction power and attaches to the glass firmly. At the same time, despite such impressive power, it cleans at a relatively low noise level so you'll be able to use it at any time of the day without worrying about it disturbing your sleep.

Four-Stage Cleaning
Another highlight of this robot is that it's equipped with a new, ultra-strong 5 layer microfiber pad and high elastic squeegee. At first, the cleaning pad with some detergent loosens and absorbs dirt to some extent. Then, the main squeegee removes dust from the window, while another squeegee swipes the waterborne residue. Finally, the back of the cleaning pad wipes the surface dry, thus, preventing smudges and stains. The robot passes over the same area four times to deliver squeaky-clean results. Once it's done, the Winbot returns to the point where it started.
For easy operation, the cleaner comes with a remote control that also looks very simple and high-tech. It has no extra buttons to fiddle with - just start/stop, spot clean, and directional buttons. What is notable, the user-friendly interactive system with voice reports will inform you about real-time cleaning statuses and notify you about malfunctions. All this makes the Ecovacs Winbot 880 one of the most intelligent cleaners available for sale. It's unobtrusive and very effective.
Additional Info
---
Ecovacs Winbot 880
Mamibot W120-T
A Perfect Alternative
The Mamibot W120-T Window Cleaning Robot hit the market a few years ago and immediately became one of the best smart devices of IFA 2018. Being a bit more affordable than big names, it's a very intelligent cleaner that has quite a lot to offer to its users.

To begin with, it's made with a powerful motor and a strong fan that create enough vacuum to suck the robot to windows. Then it uses artificial intelligence to navigate your window and move in Z, N, or mixed Z- to- N patterns. Actually, it cleans the glass in the same way as traditional robotic vacuum cleaners navigate carpets and hardwood floors. That is to say, this window vac isn't limited to glass surfaces only and can be used for cleaning many other flat surfaces like marble walls, ceramic walls, smooth floors, and tables. It even comes with two pairs of cleaning cloths - the yellow one works best for sweeping windows while the gray one is for general cleaning.
We would like to stress that the Mamibot W120-T robot is perfect for cleaning windows on the outside of high-rise buildings. It has a solid anti-fall sensor and comes with a strong safety rope. When you clean windows outside, you should necessarily attach the said safety rope and connect the power supply correctly.
The robot works with windows of any thickness, as long as the glass is flat and hard. Also, it's suitable for both framed and frameless ones. When the window cleaner detects the frame, it buzzes and then changes the direction to continue cleaning. Once the machine finishes the work, it will return to the original place.
About Ergonomics
The Mamibot W120-T is a quite ergonomic device that weighs only 3 lbs and has a square shape to cover the maximum surface possible. Actually, it can clean up to 99% of windows. As mentioned, you can set the robot to move in N, Z, or mixed patterns depending on the type of windows you're going to clean. All the adjustments can be done via the remote or the iGLASSBOT app (available for iOS or Android phones) that you can download to your smartphone.
In case this robot somehow loses power, it's fitted with a UPS battery and can work for up to 20 minutes cordlessly. During that time, it'll continuously send you alarms. All this makes the Mamibot W120-T Covers a worthy competitor. It's very reasonably priced yet safe and versatile with its ability to clean various smooth surfaces.
Additional Info
---
Mamibot W120-T
Gladwell Gecko
Good Value
If you hate cleaning glass surfaces and need an affordable robotic cleaner that can make that job more enjoyable, we offer you to consider the Gladwell Gecko Window Cleaner. While being one of the least expensive robotic washers out there, it does a very good job cleaning windows and glass surfaces. So if you seek a better alternative to using a ladder, bucket and squeegee, this washer can be the best pick.

Admittedly, the Gladwell Gecko Window Cleaner might not cope with heavily-soiled windows perfectly, making you run it over the windows two-three times. Other than that, you should not have any issues. Just make sure to do a slight dusting of your windows prior to setting up a robot and you're good to go - the Gladwell Gecko Window Cleaner will get the job done for you.

For easy control, the unit comes with a remote control, allowing you to schedule the unit for cleaning. The remote is very intuitive and responsive. Also, the robotic cleaner has a backup battery just in case the power goes out. The battery can keep the robot stuck to the window for 10 minutes approximately.
Rich Set of Replacements
The Gladwell Gecko Robot is supplied with as many as 6 pairs (12 pieces) of the microfiber replacement pads, meaning it'll save you money on replacements in the long run. So, if you have lots of windows, wall mirrors, glass doors, shower stalls, and some other tender pieces of furniture, this cleaner may be a sound option. It has a rich set of microfiber pads and boasts an oval shape which makes it suitable for uniquely-designed windows and differently-shaped objects.
Although this agile, oval cleaner doesn't deliver "wow" results, it does a decent cleaning job on medium-dusty windows. And if you still have doubts, consider this: hiring a person one time to clean all the glass surfaces in your house will probably cost you as much as this robot, if not more, which makes it totally worth the price.

---
Gladwell Gecko
Sophinique X5 Smart
More Power
The Sophinique X5 Smart Glass Cleaning Robot is a decent budget-friendly product that is great for keeping window surfaces clean. It costs less than $200 but comes with a generous kit and can give higher-end models a run for their money when it comes to performance. Actually, it's powered by an advanced 80-Watt motor that delivers ultra-fast 3 min/10 sq.ft. speed, which is a bit faster than many other window cleaners on the market.
Designed with AI technology, it easily identifies window frames and any other obstacles to calculate the optimal path and deliver maximum cleaning efficiency to your windows. It can be set to move from top to bottom, from left to bottom, and from right to bottom. It cleans quite well in any setting, missing only corners due to the circular pads.
Moving on, we would like to stress that the robot X5 is compatible with all types of windows, flat walls, tables, floors, tiles, and ceilings. The extension cords allow it to work from about 20' away, making it suitable for cleaning some mighty tall windows. To be more precise, the extension cord is about 150 inches long, while the main cord is 100 inches long, which equals more than 20 feet in total. Good enough to reach the second floor.
Generous Set
The other thing that sets this multisurface robot above the competition is the generous set of extras included in the package. That is to say, the manufacturer thoughtfully provides the bot with 12 microfibers, washable dust bonnets with elasticized edges, as well as 2 additional rings that they attach to. To change the pads, you should gently pry the ring from the robot with your fingers. Basically, one pair of bonnets can clean 4 standard-sized windows before it needs to be washed. However, that will largely depend on how dirty yours are. Just like many other window robots, this one isn't recommended for particularly stubborn dirt. It's intended mainly for polishing.
Before cleaning, you should moisten both pads with some window cleaning solution, suction the bot onto the window, press the button, and wait a few seconds until it's gripped. Then, you can select a cleaning pattern either via your phone or a remote. The max available remote control distance is about 393 inches.
Overall, the Sophinique X5 is a good window cleaner for maintenance cleanups. It's very quick and agile, but it's definitely not something you will want to use for extra-dirty windows.

---
Sophinique X5 Smart
What Is a Window Cleaning Robot?
Whereas we can hardly surprise anyone with a robot vacuum cleaner and its benefits, a window cleaning robot is a fresh gizmo in the world of household appliances. It's a special robot designed for cleaning glass surfaces. It has an onboard computer and smart sensors that automatically scan the size of your windows or mirrors and then create an optimal cleaning path. Window robots clean very intelligently, avoiding any obstacles in their way. They are fitted with quite powerful motors that ensure enough suction to let them be stable on your windows. Once the cleaning is done, robots return to their starting point and notify you about that.
Usually, they have backup batteries but still need a connection to the mains. Luckily, most automatic glass cleaners come with extension cords allowing them to reach hard-to-clean areas. The units use interchangeable soft cleaning pads that can effectively remove dust, pollen, grease, and other dirt from a surface. For safety reasons, they are surrounded by soft material that will neither scratch glass nor window frame.
With a window cleaning robot, you won't need to spend lots of time and effort for wiping glass surfaces around your house. Plus, this intelligent robotic solution is a great alternative to dangerous ladders and chemical sprayers. Leave all that behind, do what you love, and let a window robot do its job.
Robot mops and vacuums are other automatic household appliances that can make your life a bit easier.
What Features to Compare
Type
First of all, you need to decide on the type and connectivity of the appliance. When it comes to window cleaning robots, there are two major connectivity options, motor-powered suction and magnetic connectivity. Magnetic window cleaning robots aren't very popular today because of its principle of operation. You'll need to attach a robot on the one side and magnetic cleaning piece on the other side of your window, which may be pretty tricky in some cases. This type of robots is good for cleaning double-glazed windows which are hard-to-reach from the inside.
As for motor-powered cleaners, they are one-sided models that can wipe clean almost any window no matter its thickness. They create strong suction to safely stay in place. Motor-powered robots are very convenient to use, since you only need to place them on the window or any other surface. However, the connection might somehow fail if you use it on an uneven surface.
Shape

Today the market offers both oval and square-shaped cleaners. For small, uniquely-designed windows, we recommend you to get an oval robot, as it is more compact and maneuverable. Square models are usually bulkier, yet they can cover large surfaces and get into the corners.

Performance
Although almost all window washing robots are mains-powered, they have a built-in battery that can save a robot from falling in case of power failure. Needless to say, robots with higher battery capacity usually cost more. The motor also matters, as the more powerful it is, the faster cleaning speed a cleaner has.
Controls
Robots for windows typically come with remote controllers enabling you to set the cleaning schedule or choose one of the automated cleaning options from the comfort of your couch. Some manufacturers even offer special apps for smartphones, allowing users to control robots through their gadgets.

Extras
Finally, consider what's in the box. Most robots come with long extension cords for large windows as well as with safety ropes protecting them from falls and breakage. It's important to make sure that the power wire is long enough to suit all your cleaning needs. Also, take a look at the interchangeable cleaning pads and other spare parts included in the package. The more, the better.
Did you know?
The First Cleaning Robots
The first household cleaning robot was introduced in 2001. It was released by Electrolux and was called Trilobite. It was designed for cleaning floor surfaces only. The vacuum used smart infrared sensors to avoid obstacles and navigate through a home. The customers could even create a fence (using magnetic strips) to keep the unit out of the rooms they didn't want it going in. One year later, the iRobot company has made a breakthrough and released the Roomba, the most popular robot cleaner so far.
Window cleaning robots were a bit far behind. Only in 2011, ECOVACS ROBOTIC launched the first window robot called the WinBot 5 series. It could perform one of the most annoying household tasks, leaving your windows clean and streak-free. Ever since, the same company has designed numerous intelligent robots, and the Winbot X is one of them. What's so special about the Winbot X? It's an innovative machine that can clean windows without constant AC power, meaning no clutter from hanging cables and no need for an outlet nearby.
Commercial Cleaning
Commercial window cleaning has always been a very serious yet dangerous business. The job of cleaning tall buildings is still one of the most dangerous occupations in the world. But with the invention of automatic window cleaners, things are getting easier and safer. Moreover, robots can clean those windows people just unable to reach.
To clean high-rise building, people don't have to hang in a basket anymore. They just need to set up a powerful window robot on the side of the building, and it will complete the rest. This intelligent device is packed with sensors to calculate the best cleaning path as well as interpret the weather conditions. For example, if the wind becomes too strong, a commercial robot simply shuts down until the weather improves. And after the cleaning, the robot returns to its initial position. All commercial models are suspended with industrial-strength cables that will never fail.
Window Cleaning Robots Can't Be Used in Bad Weather
Window cleaning is recommended to be done when the window glass is out of direct sunlight. If you're going to use it outdoors, the temperature should be in the range from 40º F to 114º. Cleaning won't be effective if it's raining or snowing outside. Usually, robots can be used below 6,600 ft. elevation only to maintain a secure vacuum seal with the surface.