Water is the source of life and it's important to drink fresh water every day. Doctors advise to buy the water filters for people
who take care of their health and their relatives. We will tell you how to choose the right filter. Read our review of 5 best water filters available on the market!
...
Read more
...Read less
APEC ROES-50
Filter type and Purification method
This 5-stage water filter system is based on the reverse osmosis technology which is the best solution for water purification today. This water filter system features 1 sediment filter, 3 carbon block filters and 1 osmosis membrane which remove odors, tastes, turbidity, a color of water and plenty of contaminants including chromium, chlorine, arsenic, fluoride, radium, lead, rust, bacteria, and many more. APEC ROES-50 will give you the water of a brilliant quality and it will become your home wellhead.
FIlter Life
APEC ROES-50 undersink filter system is able to purify 50 gallons a day that is more than enough for a family of three persons. This water filter system purifies all kinds of water and the service life of your filters will depend on the level of water pollution. The dirtier the water is, the more frequently you will replace the filters. It is advised to substitute the filters every 6-12 months.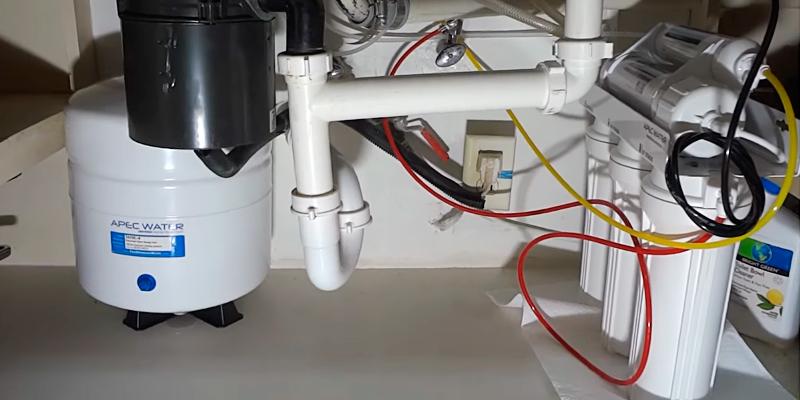 Capacity and Installation
The water tank capacity of an APEC ROES-50 is 4 gallons. The tank is 11" long, 11" wide and 15" high and it will require quite a lot of space under your kitchen sink. Do-it-yourself design provides easy installation, troubleshooting and maintenance. APEC ROES-50 water filter system is designed to fit the standard kitchen which parts are made of high-quality materials so you won't damage them when installing.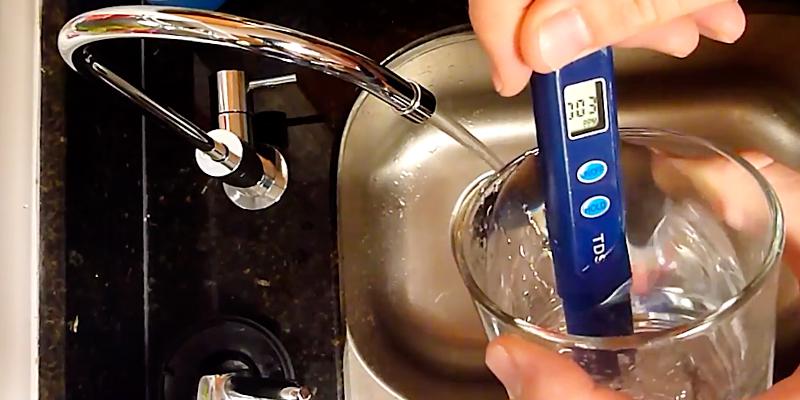 ---
VIDEO
APEC Drinking Water Filter System product review (ROES50)
What customers say about this product
Zero leaks and the system worked great from the get-go! APEC produces a quality RO system and we highly recommend it!
Very good performance, it's very easy to install. All accessories are supplied in package, it save time for customers to search in the hardware store. Especially, the customers, who are not on engineering based background. I like it, because it really provide healthy and clean water for my family.
My parents' well water had a horrible taste which I considered undrinkable. After installing whole house sediment and charcoal fiters and the RO system the water tasted great and the sediment dropped from 500ppm to 25ppm.
APEC ROES-50
Lake Industries The Alkaline Water Pitcher
Filter type and Purification method
Alkaline pitcher by Lake Industries is a countertop filter containing 10 cups of water. It comes with a removable 7-stage cartridge with the filtering net, ion exchange resin, mineral stones, and carbon. The fine filtering net efficiently removes sand, dust, rust, and various impurities. The coconut active carbon reduces up to 96% of chlorine, providing a great taste of water and eliminating unpleasant odors. The ion exchange resin allows you to reduce the formation of harmful scale in the water tank. Finally, multiple mineral stones saturate water with alkali and energize it, dissolving minerals and microelements.
Filter Life
The cartridge of this filter is able to purify up to 40 gallons of water. Thus, the filter serves for approximately 2 months; this term may vary depending on the water consuming intensity. Still, we should say that this is a great performance for such a small water filter. Purifying at least 200 gallons of water per year, the filter regularly supplies you with crisp and fresh water and saves your money on hundreds of bottles.
Capacity and Installation
This high-yield water filter has a modern design that will harmonically merge with any kitchen. Besides, the filter is very compact, so it won't take much space on your table and will easily fit on the shelf of your fridge. The pitcher capacity is 10 cups that are equal to 0.66 gallon. This amount is sufficient to provide a daily reserve of crisp potable water for 1 or 2 persons.
---
What customers say about this product
It's a decent water pitcher that provides enough water for a small family, without having to change the filter too often.
Simply put, this water pitcher fulfills its purpose - it filters your water, makes it taste better and increases the alkalinity of my tap water.
First of all pitcher Isn't bad. Right size, filter drops fast.
Lake Industries The Alkaline Water Pitcher
Brita 35034
Filter type and Purification method
Brita 35034 Ultramax is a big water filtration dispenser: you need to pour water into the upper tank and it will be purified by a filter. This filter is able to replace more than 250 standard water bottles. A carbonic cartridge allows you to clean the water from cadmium, mercury, lead, copper and chlorine. The carbonic cartridge absorbs all these harmful substances due to a high adsorption capacity. When purified with Brita water filter, the water taste becomes notably better.
FIlter Life
The life of the Brita 35034 Ultramax water filter is 40 gal. You don't need to put a lot of effort to clean it. The durability of the cartridge depends on the quality of the tap water but in most cases you shouldn't buy a new filter every 3 months. Such filters should be replaced every 6 months, otherwise, the water taste may become worse.
Capacity and Installation
Brita water filter is quite a big filter with a large 18-cup water filtration dispenser. Its water tank capacity is 1.125 gal which is quite a lot for a big family. Whenever you want to quench your thirst, you can always put a dispenser in the fridge or on the table and get a clean water. The other nice thing about Brita water filter is that it is supplied with a spare filter so you won't have to buy another one to replace.
---
What customers say about this product
This is a great way to save water for drinking. We used to have the pitchers and needed it refill it very often. This solves that problem. Its also great that the pitcher and the dispenser share the same filter type.
Suggested by our son, we are very happy to now have this. Good capacity so filling is only occasionally, provides may chilled cups of filtered water whenever we want.
I love this. I put it in my refrigerator and when I want water I just push the spout. It's easy to fill and it's not heavy.
Brita 35034
PUR FM-3700
Filter type and Purification method
The PUR FM-3700 is a faucet water filter which means it should be attached directly to the faucet. The filter features carbonic cartridge made of a heat-treated coconut shell. Carbonic cartridges are used to remove chlorine and organochlorine compounds from water and also help you to get rid of a bad smell.
FIlter Life
The output of PUR FM-3700 is 100 gallons. The carbon filter inside can easily endure a lot of filtration cycles and it should be replaced every 2-3 months. So, you will get about 400 gallons of pure water every year that is equal to thousands of plastic bottles of water. Therefore, this wonderful faucet filter will keep the environment clean and save your money.
Capacity and Installation
As PUR FM-3700 is a faucet filter with no water tank. It makes purification process much easier. You don't need to wait until the water runs through all the filters, you just need to attach the filter to a tap and enjoy the great taste of clean and living water. It will save your time pretty much. So, when compared to filters with water tanks, the filters like this are going to be more convenient in use.
---
VIDEO
PUR Sink Mounted Water Filter FM-3700B Installation and Review
What customers say about this product
It has a much simpler and more compact design. It does need to be installed with small tools. Yet still simple enough to be done. Also this one seems to have a little better water flows.
Easy to set up, great quality filtration, acceptable pricing for replacement filters.
Comes with 4 different adapters to fit your faucet - only one of them (the Type-A) adapter is made of metal and the rest are plastic. Luckily the type A adapter should work with most standard faucets and worked for us.
PUR FM-3700
Zen Water Systems 4G-MP
Filter type and Purification method
Zen water filter is a countertop appliance which comprises a ceramic filter and a 5-stage filter. This system combines 5 different functions: filtration, purification, alkalization, and mineralization. Mechanical 5-stage cartridge will effectively remove all chemicals, bacteria, and pesticides. The mineral stones inside the filter allow to preserve the purity of water, so even in a while, it won't change the taste. The filter also prevents the growth of bacteria which is an important feature if you've got the children.
FIlter Life
Zen Water Systems 4G-MP is able to purify up to 1000 gal of water per year (which is quite a lot) and hence, can become a perfect solution for a big family. Ceramic filter of the system should be replaced once a year while 5-stage filter will serve well for 6 months. You will get pure water having no troubles with regular maintenance.
Capacity and Installation
The water tank of Zen water filter can hold up to 4 gallons of purified water. This filter is very easy to assemble and install. Like most other filters, it does need clean-up time after time. Chemical compounds may collect on the walls and worsen the water taste but it shouldn't be a problem at all. You can take it apart, clean it from all impurities in a few minutes and assemble again. The system can be used with a base or without it.
---
What customers say about this product
The spout is awesome. Simply press your glass into it and it dispenses water. If you prefer, you can flip it up to leave it permanently on in case you want to fill something large.
The magnetic tap that comes with the 4-gallon model is actually the nut that holds the tap on. It's longer than the regular one and doesn't leave room for the mineral stone case to sit neatly in the ring made for it. However, you can scatter the stones on the bottom, which actually looks nicer.
Compact, easy to set up and the water tastes great!
Zen Water Systems 4G-MP
What is a Water Filter
Everyone knows that water plays a very important role in our life. Any living organism needs water to survive. Most diseases are caused by a poor quality of water. This is where buying a water filter may become a cure-all solution. There are a few different filters to choose from. Some filters are aimed to remove mechanical impurities and reduce the chlorine content in the water. Others are made to purify the heavily contaminated water and relieve it from various germs, viruses, and chemical impurities. We have chosen 5 most popular water filters on the market so you could get the best one and enjoy the great taste of water.
As we have already mentioned, your dishes will be much tastier if cooked on clear water. But to achieve the best taste ever, choose one of the wonderful pressure cookers or slow cookers.
What Features to Compare
There are several criteria you have to pay your attention to when buying a good water filter. These are a type, a method of water purification, water filter life and capacity.
Filter type

There are several types of water filters: pitchers or dispensers, faucet nozzle filters, and water stations. Each of them is able to cope with different degrees of contamination.
Purification method

One of the methods to purify water is mechanical. The method implies usage of a carbonic cartridge with one or multi-level water filtration. While running through a filter, the water is entirely cleaned from harmful impurities. Mechanical method is widely used for jars and faucet nozzles. The filters based on mechanical filtration system are rather big so they remove heavy contamination and ensure high quality of water.
Filter life
The productivity of filters shows their efficiency. Some of them are able to infiltrate just 40 gallons of water and then you will have to replace the filters while others can work for about half a year and save your costs.
Capacity and installation
Pitchers and dispensers will not take a lot of place in your kitchen due to a small size. You can easily put such a filter on the shelf in your kitchen or in the fridge but mind that the water tank capacity of such filters is low (up to 20 cups) so it will not be enough for big families. Unlike pitchers and dispensers, the flow filters should be integrated into a plumbing system since they don't have the water tanks. Multi-staged filters and their water tanks are placed under the sink. The water tank capacity of such filters is very high - up to 4 gallons. Of course, they are more difficult to install, but yet, they are much more efficient.