If you need an ice-cold water on a hot summer day or a hot water for a cup of tea in a long winter evening, a water cooler will be
a perfect solution. Our review of 5 best water coolers will make your choice easy. Read it and pick your model!
...
Read more
...Read less
Knox B017UZBNYO
Type
Knox water cooler is referred to tabletop water dispensers. Its stylish and functional design will perfectly fit into your kitchen interior, a countertop in any cafe or public place. This model is compatible with 5-gallon top loading bottles for your easy water level control. Besides, it has a function of connection to the water line for continuous supply. Moreover, this water cooler has a compressor cooling technology needed for ice making.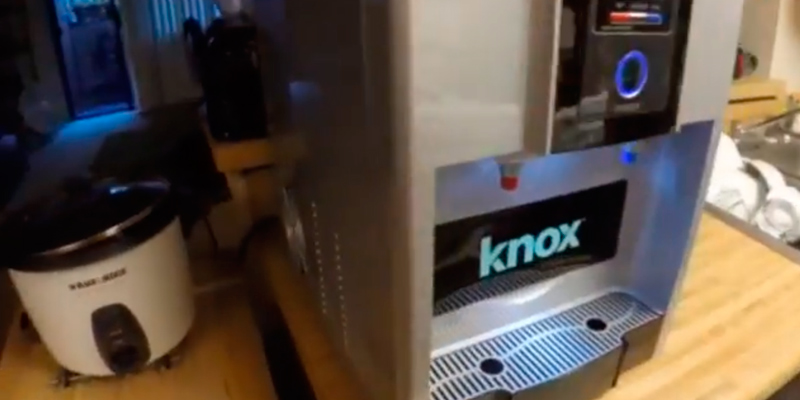 Functions and Controls
Two separate nozzles of this water dispenser will ensure quick access both to hot water to make tea or coffee, and to cold water if you need to refresh yourself on a hot day. Besides, it boasts an ice making function. Now you do not have to spend time on making ice in the fridge. The cooler can make about 1.9 pounds of ice per hour. This is an amazing and very convenient feature that will be favored by both regular users and bartenders who make different cocktails, desserts, and beverages every day and night. Settings are all very straightforward and easy-to-control. On the front panel you'll find mechanical ON/OFF buttons and an LCD display for setting programs.
Extra Features
For your convenience, this model is compatible both with 5-gallon jugs and with ordinary water supply line since it has a waterline connection kit. Another distinctive and unique option is a built-in ice maker, allowing you to get ice cubes of 3 different sizes (small, medium, and large). The ice is stored in a drawer below dispensing nozzles and there is even an ice scoop for your ultimate comfort. Additionally, an LCD display features a clock. And due to the soft blue backlight, you will easily get access to the cooler at night.
---
VIDEO
Knox Hold and Cold Water dispenser with IceMaker
What customers say about this product
My family loves being able to have cold water anytime. I appreciate the lock feature for the hot water. It is hot enough to make hot chocolate anytime.
We purchased this unit because we have limited space and were attracted by its dual purpose. It is a clever idea to combine both ice and water into one unit.
Since we don't have direct access to a water supply, the bottled water works especially well for our ice & water needs.
Knox B017UZBNYO
Hamilton Beach Water Cooler Dispenser,
Type
Hamilton Beach BL-1-4A is a floor standing water cooler, which belongs to freestanding units. Unlike the other similar models, it features a bottom bottle loading design and is compatible with 3 and 5-gallon jugs. The bottom loading technology makes the installation of a jug very simple and quick. Hamilton Beach water dispenser comes with a compressor cooling system for higher performance. This unit will become an excellent acquisition not only for the household but also for offices and any other public places (like hotels, hospitals, schools and fitness centers).
Functions and Controls
Similar to any other models, this cooler features water heating and cooling functions. Besides, it also dispenses the room temperature water suitable for cooking and particularly convenient for drinking when you have small kids. Simple push-button controls on the front panel provide easy access to the water. And additionally, hot and cold water switches on a reverse side allow you to switch off one of the modes anytime.
Extra Features
One of the distinctive conveniences of this model is the bottom loading design; no extra effort is needed to install the bottle in place. It has light indicators on the front panel for easy dispensing in low light, and a flash indicator to timely replace an empty bottle. A removable drip tray prevents spills and can be easily cleaned in a dishwasher. Some water coolers might be dangerous for kids, but this fantastic appliance has a child safety lock for hot water control; it will protect your kids from accidental burns. To sum it all up, Hamilton Beach water cooler is an up-to-date and functional unit that will suit any place.
---
VIDEO
Hamilton Beach BL 1 4A Hot Cold and Room Temperatures Bottom Loading Water
What customers say about this product
I purchased one of these in a store 3 years ago and it is excellent! It has functioned perfectly with steaming hot water and icy cold water. I even make soup and tea with it.
The water bottle is hidden. No more ugly bottle on display in the room. Very easy to change water bottles and no more spills.
Fairly quiet compared to other dispensers I've owned. What could be better?
Hamilton Beach Water Cooler Dispenser,
Avanti Hot/Cold Water Cooler
Type
Avanti WD31EC is a neat countertop water cooler with a top bottle loading design. Its compact size well suits for small premises with no space for a free-standing dispenser. So, all you need is some space on the tabletop. This model comes with a thermoelectric cooling system. It has a reasonable price, easy to handle and very quiet in operation. It will allow you to have some cold or hot water anytime you'd like to refresh or warm up with either a glass of ice-cold water or a cup of hot tea.
Functions and Controls
The cooler can cool the water to 44°F and heat it up to 194°F without boiling to keep its natural useful qualities. Push-button faucets allow for easy water dispensing. For energy-saving operation, it offers on/off power switches to pour either cold or hot water. The front panel features an LCD display to control all cooler functions and select the optimal heating mode - normal or energy saving. The energy saver mode will help you greatly cut down your payments on electricity bills.
Extra Features
This model is very compact and will perfectly fit into small kitchens and dining rooms. A silent and smooth operation makes it a really nice home appliance. Moreover, it has a storage compartment for paper cups, adding for your additional comfort. And a child safety guard on a hot faucet will prevent your small kids from getting burned. Thus, if your main purpose is to save some space, reduce electricity consumption and yet, acquire a fully-functional water dispenser, Avanti WD31EC will be the right choice.
---
What customers say about this product
I Use it with a 5 Gallon bottle and it looks a little strange but works like a champ. you get about 20oz. of cold at a time and about 16oz. of HOT water. it is the perfect temp to brew a cup of hot tea and it only takes about 2-3 min to heat the water not 5-7
The price was good, the desktop size was nice, but the only drawback would be the amount of cold water available.
The hot water is good as is the cold. The water tastes a little different but I am waiting to see if that improves over time.
Avanti Hot/Cold Water Cooler
Honeywell Hot/Cold Water Dispenser
Type
Honeywell HWB1052S2 is a classic version of a freestanding water cooler with a top bottle loading design. It will not only allow you to control the water level, but also give some storage space in the lower part for extra items. This model is compatible with 3 and 5-gallon bottles. Similarly to refrigerators, Honeywell water dispenser has a built-in compressor cooling system. So, it will quickly cool water to the necessary temperature and will be suitable both for crowded offices and domestic use.
Functions and Controls
Basically, this water dispenser features cooling and heating modes. With a cold water thermostat control, you will get the right water temperature within the range 50° F and higher. The heating function allows heating water up to 194° F without boiling it. This temperature is ideal for drinking fresh and healthy water, preserving its natural substances, and for brewing tea. At this water temperature, tea preserves its refreshing qualities and releases no excessive caffeine. Convenient and functional cup push faucets provide access to hot and cold water.
Extra Features
Due to the top bottle loading design, this type of water cooler offers a built-in storage compartment for disposable dishes, coffee or tea. This model features a prong to reduce leakage when using the bottle. And a drip tray can be easily removed and cleaned under running water or in a dishwasher. A hot water safety lock will protect your children from heat exposure. This model is available in silver, white and black colors, so you'll easily pick the one to fit your room interior.
---
What customers say about this product
The unit is easy to remove from the packaging & there is a first time user set up procedure that's pretty easy & this ensures the unit is working properly.
The cooler uses 3 and 5 gallon water bottles, which are readily available in local stores. The unit contains a funnel with prongs that really aids in eliminating spills when installing the water bottles.
You can turn on and off the Cold and Hot options and could be room temperature.
Honeywell Hot/Cold Water Dispenser
NewAir Hot/Cold Water Cooler
Type
NewAir WCD-200W is one of the popular freestanding water dispensers, frequently purchased for home and office use. The unit is designed in shape of a box that easily fits into everything - be it a small kitchen, office or dorm room. NewAir water cooler is also compatible with different sizes of bottles - 2, 3 and 5 gallons. No matter how big your family is, it will definitely work. Similarly to conventional fridges, this water cooler relies on a compressor cooling system and thus, ensures high cooling capabilities.
Functions and Controls
Just like many other water dispensers, this model includes hot and cold water options. Noteworthy, NewAir WCD can cool water within the range 43° -50° F while the hot water temperature ranges from 176° F to 203° F; NewAir doesn't boil water and preserves its natural qualities. This cooler has very simple controls. There are ON/OFF buttons for cold and hot water on the back panel, so you can turn one of the modes off if you wish to. And the front panel features heating indicators and 2 push water faucets.
Extra Features
Similar to the other freestanding water dispensers, this cooler has a built-in compartment that provides additional storage for disposable dishes, cups, tea, coffee, and other extra items. A drip tray is easy to remove and clean. To protect your children from burns, NewAir water cooler has a hot water safety lock. Besides, small dispensing nozzles are suitable for any cup, glass, and bottle. And finally, this water cooler boasts an ultra silent operation, making it an excellent choice for home and office use.
---
VIDEO
NewAir WCD-200W Water Cooler
What customers say about this product
It was well packaged and undamaged. Everything works and the unit is well constructed for the cost. It does not feel like a commercial unit but will work well in a home or small office.
No icky plastic taste. The water comes through METAL rather than plastic.
I purchased it only for its water cooling and dispensing purpose, so I will refer only to that function. It cools the water as advertised and it dispenses it at approx 1 oz/sec.
NewAir Hot/Cold Water Cooler
Infographics
---
What is a Water Cooler
A water cooler is an appliance for dispensing bottled drinking water. Today, these units find use in houses, offices, schools, hospitals, and other public places. They dispense both cold water to refresh you in the summer heat and hot water to make tea, coffee or instant soup in a cold season. This appliance saves your time on cooling the water in a refrigerator and heating it up in a kettle. All you need is to push the faucet. Our review compares the most popular water cooler models by their essential features.
Besides, we recommend you to consider getting one of water filters - a perfect solution for drinking purified water. This appliance can quickly clean the water from any impurities, smell, taste, and even mineralize it.
What Features to Compare
Type
Looking for a water cooler? Decide on the dispenser type you'd like to get. In our review we're going to consider electric water dispensers only that can do a variety of tasks - dispense water, cool it and warm. So, here you need to decide what type of dispenser and what kind of bottle loading design are favored by you. There are basically a few dispenser types - freestanding, tabletop, bottom-loaded, wall-mounted and direct-pumping. Which one is better? Depends on the way you'd like the water to be supplied. If you 'd like to keep a bottle off the sight or/and placing heavy bottles on top is beyond your physical strength, a bottom-loaded water cooler is what you need. Tabletop water coolers (just like the name says) are installed right on the table with a water bottle placed on top of the dispenser; they are best suited for average families of 2-3 people. Freestanding water dispensers are probably the most popular and thus, available in various designs. Keep your eyes open and search for the bottle loading design which is going to be convenient for you and your family members.
Commonly, coolers are compatible with one or several bottle sizes - 2, 3, and 5 gallons. But mind that water bottles are optional and should be purchased separately. As for the cooling system, usually, compressor and thermoelectric coolers are available. Compressor units are more efficient and will be perfect for public places, such as schools and offices. Meanwhile, thermoelectric units are more durable and have a more reasonable price. Besides, they are very silent and will be the best choice for your home.
Functions and Controls
The next aspect you should pay attention to is the cooler's functions and controls. In general, the main purpose of all water coolers is water dispensing. It is both cool water (43-50° F ) to refresh yourself and hot water (up to 200° F) to make a cup of coffee or tea. Some units have an option of dispensing room temperature water that is especially important for families with children. In terms of controls, there are several types of water cooler faucets. The simplest types are cup push buttons when you can easily pour water with one hand and top push buttons when both hands are engaged but the cup has no contact with the faucet. Today mechanical switches become a more modern solution. To get some water, you should simply press the switch and hold it until you pour the necessary amount. Moreover, modern models of water coolers sometimes feature a multifunctional control display. Additionally, there are cold and hot on/off power buttons on the back panel for your ultimate comfort.
Extra Features
And finally, check out the extra features of a cooler that will make using it easier and more comfortable. Such conveniences include built-in drawers to store paper cups, coffee, tea, and other stuff. The option of hot water safety lock is particularly important for families with children. Some models have flashlights that indicate not only water cooling and heating but also the need to replace an empty bottle. The most modern models often have a built-in ice maker. Such a water cooler will become a really great choice for a home bar or a small cafe.