Our body mostly consists of water and it is vitally important to drink fresh pure water. A Water Dispenser is a unit that will help
you stay hydrated. And our 5 best Water Dispensers review will contribute to your choice. Just read it!
...
Read more
...Read less
Whirlpool Stainless Steel Water Cooler
Self-cleaning Technology for the Best-ever Fresh Water
While using a water dispenser on a daily basis it requires a thorough cleaning every 3 months to avoid bacteria growth and viruses. And Whirpool Stainless Steel Water Cooler will really impress you. This model activates a self-cleaning procedure every 4 hours. Cleaning is achieved by means of ozone injections that prevent pathogenic microflora growth. But mind that such option does not allow purifying unfiltered water. Self-cleaning technology fully complies with OSHA (Occupational Safety and Health Administration of the US) requirements. This organization is dedicated to providing healthy and safe living and working conditions by establishing standards as well as by providing any assistance in education and training to follow those standards. A patented self-cleaning technology will help not only ensure hygienic conditions in the reservoir and in the waterways but also maintain the original quality of bottled water. Hence, you will be always sure of drinking fresh andclean water!
Everything is About a Block of Ice
This robust water dispenser is designed with customer care in mind. It will dispense chilling cold water, 9°F colder than most water coolers can provide. Meanwhile, the unit will consume less power giving you a nice opportunity to save on power bills. It is possible owing to the unique cooling system that forms ice inside the water tank to cool the water to a refreshingly cold temperature. Hence, before being poured into your glass the water passes through the ice block. Thanks to such innovative solution, dispenser compressor turns on 30 times less as compared to other dispensers making this model a real budget saver. Who would refuse from having such a fantastic water dispenser at home or in the office?
No Drop Wasted
There is one more benefit this incredible unit can boast. This is an amazing 5th generation loading technology equipped with rather a powerful and durable pump. This pump will suck up the water from the bottle almost to a single drop. And the unit will need only 3 minutes to fill in the reservoirs after the dispenser is on. Every time you want to have a cup of tea or a glass of water the water tank will be refilled. So, with this immaculate water cooler, you'll never be bothered by thirst!
More Products to Consider
It is very uncomfortable when the spare bottles take a lot of space. Hence, you might need u water cooler bottle rack that will perfectly match your water dispenser design. Besides, Daily Chef translucent cups will be of great help when the dispenser is installed in the office.
Additional Info
---
VIDEO
Whirlpool Self Cleaning, Stainless Steel Bottom Loading Water Cooler with LED Indicators
What customers say about this product
Got this water cooler because I was tired of buying cases of bottled water and waiting for them to get cold in the refrigerator. Not only is the water a lot colder from the water cooler, I gained back the space the water bottles were taking up in the refrigerator.
It dispenses 1 cup of room temperature water in 6 seconds, 1 cup of hot water in 9 seconds, 1 cup of cold water in 7 seconds
I think some of the negative reviews are for other water coolers. I have no issues using a 4 or 5 gallon water bottle;
Whirlpool Stainless Steel Water Cooler
Avalon Hot/Cold
Type and Water source
Avalon Hot/Cold Water Cooler is a top-loaded bottled water dispenser compatible with 3 or 5-gallon jugs. Though you may need some extra efforts to put the clean water bottle on top, still it is an excellent solution both for domestic and commercial use. This drinking water dispenser will perfectly suit any kitchen and public places like school or hospital. Meanwhile, in the corporate office, it will become a highlight of so-called "cooler effect" gathering employees for a chat during the break.
Functions and Usability
This up-to-date electric water dispenser will provide continuous access to hot and cold water to you, your relatives or colleagues. Whatever you want, with extremely hot water you can make your favorite tea, instant coffee, soup or noodles while a crispy cold water will be an ideal revitalizing drink on a hot day. The light indicators show the operation mode and if necessary, you can switch off the heating or cooling function by means of control buttons on the back panel. The child safety lock on a hot water faucet will protect your children from accidental burns. And additionally, this water dispenser is UL/Energy Star approved. It meets all safety and energy saving standards.
Design and Materials
A top-rated Avalon water cooler features an innovative and stylish design with the attention to all details. Owing to the sleek and pretty compact construction you can place this unit anywhere in your house. Meanwhile, an elegant combination of gray colors makes this high-end water dispenser a perfect appliance for any office, hotel or recreation center. Despite its sleek design, it is a super powerful high-performance unit. And easy-to-use paddle spouts provide a quick and convenient access to the fresh clean water day in and day out. Choose Avalon water cooler and you'll never regret it!
---
VIDEO
Avalon Hot, Cold Top Loading Water Cooler
What customers say about this product
Tired of wasting water bottles? Want hot/cold water instantly? Want to be apart of a movement to end plastic disposable water bottle waste? My entire family absolutely LOVES this water dispenser!
Instantly get your hot chocolate or hot tea, and the cold water is refreshing and delicious (yes, I think water can be delicious, at least this has made me think so)!
We will save money on the water bottles and over time this dispenser is going to return on the investment. We are SO happy with the size, aesthetics, and quality!
Avalon Hot/Cold
Hamilton Beach Water Cooler Dispenser,
Type and Water source
Hamilton Beach BL-1-4A clean water dispenser belongs to the bottled freestanding units. 3 or 5-gallon jugs bottom loading allows installing this unit in any office or public area as it requires no extra effort at all. It will be an amazing and functional acquisition for any household, office or other public places that require drinking water dispensing. This Hamilton Beach pure water dispenser will provide a steaming hot water to prepare instant beverages or soup as well as icy cold fresh water to restore your energy in hot weather.
Functions and Usability
This electric water dispenser has all the necessary features to meet the demand for drinking water of any temperature. With this incredible unit, you don't have to spend your time on water heating or cooling. And no need to make the ice for an additional chill! Just install this high-quality water dispenser and enjoy pure water any time! Besides, Hamilton Beach water dispenser parameters contribute to its usability. The LED light will help you dispense water in poor lighting and even at night. Hot and cold water switches on the back panel allow switching off one of the modes. Meanwhile, thanks to the indicator lights, you can monitor the operation processes. One of them will flash when the bottle runs out of water and needs changing. A removable dishwasher-safe drip tray will prevent spills and a child safety lock will limit your child access to the hot water for safety reasons.
Design and Materials
Food- grade stainless steel hot and cold water tanks of this multifunctional water dispenser will provide you with clean drinking water free from unpleasant taste and odors. They are fairly simple and easy to clean. A laconic and attractive design with a stylish black finish and stainless steel panels will suit both for your kitchen and any other room. And owing to the closed lower compartment for the bottle this wonderful water dispenser will add to the decor of any interior.
---
VIDEO
Hamilton Beach BL 1 4A Hot Cold and Room Temperatures Bottom Loading Water
What customers say about this product
So Far so good, much easier to place 5 gallon water compared to previous one we had.
The water bottle is hidden. No more ugly bottle on display in the room. Very easy to change water bottles and no more spills.
The cold water comes out cold enough that you would think you left the cup in the freezer over night to achieve that level of coolness.
Hamilton Beach Water Cooler Dispenser,
Primo 601148
Type and Water source
Primo 601148 belongs to the bottled table-top units. It is compatible with 3, 4 and 5-gallon bottles, providing a constant access to fresh potable water for all your family members or colleagues in your office. A top loading design may seem a bit inconvenient as it requires certain efforts. At the same time, this type of jug loading is considered the most efficient to drain the bottle to the last water drop. Place this clean water dispenser on any countertop or another flat surface in your home or office and you will always have pure drinking water to quench your thirst.
Functions and Usability
This nice-looking and user-friendly water dispenser is designed to dispense fresh drinking water. You only need to push the button above the spout to fill a glass and enjoy a great-tasting water. A special dishwasher safe receptacle ensures spill-free refilling that creates no mess. Hence, you can place this handy clean water dispenser easily in any room. The non-skid feet secure steady unit installation without scratching the surface. So, you can move it freely, if necessary.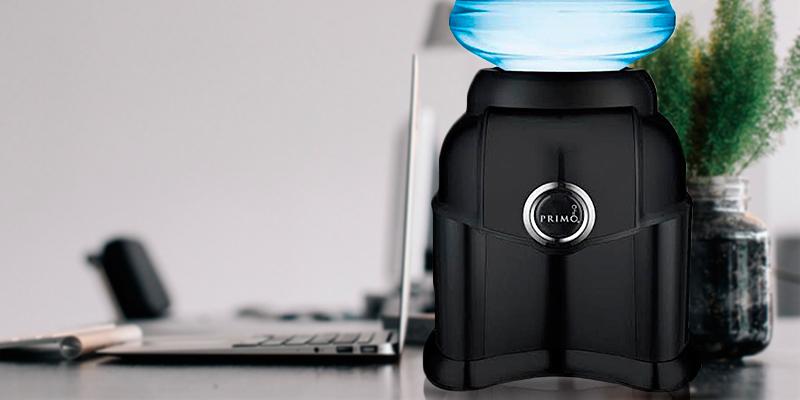 Design and Materials
An incredible stylish black plastic design with chrome trimming will add to the interior of any kitchen and even office. This highly durable water dispenser is extremely practical and easy to clean. And a high-quality stainless steel water tank will provide you with fresh and clean drinking water free from unpleasant taste and odors. Primo water dispenser doesn't require electricity that makes it truly portable. Take it on a picnic, to your kid's football game or simply place it near the pool or in your patio for easy dispensing of water or any other beverage you like.
---
What customers say about this product
Inexpensive and practical. Not a bad bit of plastic and attractive design.
Great product but it pours very slow. Maybe they all do but that is something that makes it less than perfect for me!
This is a good product, has helped quite a bit with water bottle waste. Has a little trouble catching up with the water sometimes. If you lean it it comes out fine.
Primo 601148
ZeroWater Dispenser,
Type and Water source
This unit is a bottleless model. It is a water tank with a spigot to dispense water. But actually, ZeroWater ZD-018 dispenser is an entire water filtration system. It will deliver about 0.24 gallon (23 cups) of great-tasting water. You can put this filtered water dispenser on the countertop or place it in the fridge to get a refreshing clean water as the unit has no cooling or heating functions. Hence, if you live far from a supermarket to order bottled water from but want to drink pure water free of impurities, this magnificent filtered water dispenser will be an exceptional solution.
Functions and Usability
ZeroWater drinking water dispenser features an innovative filtration system that combines five sophisticated technologies. It includes a carbon layer and a patented Ion Exchange filter certified to remove virtually all dissolved solids from your tap water as well as lead, aluminum, zinc, chromium and nitrates. For your ultimate convenience, this water dispenser model comes with a TDS meter to check that dissolved solids in the water meet the accepted level or even slim to none. A special TDS meter holder will always keep the meter at hand. And thanks to a flip-up lid, you can easily refill your water dispenser even in the fridge.
Design and Materials
A high-capacity see-through pitcher enables you to see the remaining amount of filtered water at any time. Hence, you will always know when you need to refill the water tank. A narrow size and a simple design of this filtered water dispenser make it a perfect fit for a fridge. It will not take much space and will provide an access to chilling fresh water all day long. ZeroWater dispenser will become a functional and convenient acquisition for any family!
Additional Info
---
VIDEO
ZeroWater 23-Cup Water Dispenser and Filtration System Review
What customers say about this product
I have had my dispenser for over a month now and I love it. my only complaint is that the instructions in the package were insufficient. I had to go to the website to figure out how the tds meter works and what size battery it takes.
Water is nice and clean - tastes great! Holds quite a lot of water - less refilling compared to the pitchers
The 23-cup size is perfect! The design allows it to fit easily in your refrigerator while taking up minimal space. The dispenser is easy to fill and dispenses water with no mess or leaks.
ZeroWater Dispenser,
What is a Water Dispenser
A Water Dispenser is a unit designed to cool and pour clean potable water. Along with cold and room temperature water dispensing this appliance can heat water and even filter it. A variety of configurations and dimensions allows selecting the best dispenser for your home or office use, providing quick access to drinking water of the optimal temperature. A chilling cold water will refresh your guests in the heat of the summer while steaming hot water gives you an opportunity to prepare tea, coffee or even instant noodles for a big group of people. First, make up you mind on the performance and capacity characteristics of your Water Dispenser and our water dispensers review will highlight other parameters you need to consider to make the final choice.
If you decide to buy a Water Dispenser for a tap water, a water filter will become a useful additional purchase to prefilter your drinking water of a better quality and taste.
What Features to Compare
Type and Water Source
The majority of Water Dispensers is divided into bottled and bottleless models. Accordingly, there are top-loaded and bottom-loaded bottled Water Dispensers. While the bottleless models fall into water reservoirs or point-of-use units. Commonly, the bottled units are compatible with 3 or 5-gallon jugs filled with potable spring, distilled or treated water and are available in supermarkets or delivered by specialized suppliers. Such Water Dispensers will be an ultimate solution if you have a constant access to pure drinking water and don't want to be confined to a tap water. In most cases bottled Water Dispensers are freestanding units but sometimes you may come across tabletop models. Meanwhile, point-of-use Water Dispensers are often connected directly to the public water system. And along with the stand-alone and countertop models, they offer wall-mounted units. Bottleless reservoirs are usually filled with tap water; they are compact enough to be placed on a tabletop or even in the fridge. Mind that tap water needs additional filtration. You may use carbon filters to increase the quality and taste of your drinking water.
Functions and Usability
Water dispensing, cooling and heating are the main functions of Water Dispensers. Additionally, some models come with the options of room temperature water dispensing or filtration. For your ultimate convenience electric bottled Water Dispensers may feature hot and cold water control buttons to switch off heating or cooling mode, light indicators to show the operation process or the need to replace the bottle, and a child safety lock to limit your kid's access to steaming hot water for safety reasons. Furthermore, ETL or UL certification indicates that your Water Dispenser meets the North American safety standards. And Energy Star approved electric Water Dispensers are the energy saving units reducing your electricity bills. On top of that, some models feature a self-cleaning technology, eliminating all viruses and bacteria for better tasting potable water.
Design and Materials
Today there are a variety of Water Dispensers configurations on the market. The most popular models are bottled top-loaded and bottom-loaded units. If a top-loaded unit may require some effort to place a bottle on top, the bottom-loaded Water Dispensers feature a special compartment for storing the bottle. It provides extra convenience in use and gives the unit an attractive stylish look. As for the materials, the exterior and water tanks are usually made of stainless steel and plastic. High-quality sparkling stainless steel models are more durable and attractive. Similarly, stainless steel water reservoirs are easy to wash and they do not transfer unpleasant flavor to the water. And finally, there are ceramic crock Water Dispensers. Owing to their durability, eco-friendliness, and lovely design they gain incredible popularity too. A high-quality porcelain crock keeps the water cool. Such Water Dispensers do not require a connection to the mains. They are fairly simple and compact but at the same time functional and elegant.
Sources:
1. Mariette Mifflin Before You Buy a Water Cooler or Water Dispenser, About.
2. Choosing a Hot and Cold Water Dispenser, Air-n-water.
3. Sarah Got Water? The Complete Water Cooler Buyer's Guide, CompactAppliance. March 11, 2014.
4. Michelle Manetti How to Clean a Water Cooler, the Easy Way, HuffingtonPost. October 11, 2012.
5. How to Clean a Water Dispenser, wikiHow.
6. Mary Desilva Things To Consider When Choosing The Best-Refined Water Dispenser, LinkedIn. February 2, 2016.
7. Pure Water - The Amazing Health Benefits, Street Directory.
8. Derek Henry The Importance of Pure Drinking Water and Recommendations to Optimize Hydration, Natural News. July 10, 2014.
9. What Does Water Purity Really Mean?, Free Drinking Water.