Need a space-saving fridge for a big family? A side-by-side refrigerator matches your request perfectly. We have reviewed 5 best
side-by-side refrigerators to help you pick the suitable model.
...
Read more
...Read less
Annual Energy Consumption
X
This site is a free online resource that strives to offer helpful content and comparison features to its visitors. Please be advised that the operator of this site accepts advertising compensation from certain companies that appear on the site, and such compensation impacts the location and order in which the companies (and/or their products) are presented, and in some cases may also impact the scoring that is assigned to them. The scoring that appears on this site is determined by the site operator in its sole discretion, and should NOT be relied upon for accuracy purposes. In fact, Company/product listings on this page DO NOT imply endorsement by the site operator. Except as expressly set forth in our Terms of Use, all representations and warranties regarding the information presented on this page are disclaimed. The information which appears on this site is subject to change at any time. More info
Kenmore Elite 51773 28 cu. ft.
Stock Up on Freshness
The Kenmore 51773 refrigerator is one of the most capacious side-by-side models out there. With a generous 28 cu. ft. interior capacity, it lets you stock up on groceries for a very large family. And you won't need to worry about the food going bad thanks to the super combo of the GeniusCool technology and CleanFlow Air Filtration. But first things first, let's overview the interior storage design before going deeper into the tech specs.
Once you open the doors, you'll notice multiple adjustable door storage trays, a dairy shelf, and a rack dedicated for bottles of wine, jugs of juice, or gallons of milk. There's also a built-in ice maker and dispenser on the right side. It sits entirely in the door and sports a slim design, so it frees up a whole shelf's worth of space in the freezer allowing you to stash more frozen veggies or pizzas. The SpaceSaver Ice System actually saves up to 30% more space in a freezer compartment, but the tradeoff is that you will get a little less ice out of it. However, that seems like a fair deal to someone who wants to save some space and rarely needs more ice than a few glasses' worth.
As for the main chamber, here you'll also find a hanging bottle storage as well as numerous spill-proof glass shelves and transparent food drawers for groceries, lunches, and leftovers.
Always Fresh
The Kenmore side-by-side refrigerator offers very steady, accurate temperatures in both the freezer and the fridge. The GeniusCool technology along with the SmartSense management will maintain optimal temperature and humidity levels so that everything stays fresh and crisp. And the CleanFlow air filtration system will keep the fridge smelling nice and clean.
The in-door ice maker also features a decent filtration system. The NSF-certified water filter removes up to 99.9% of contaminants from water, ensuring "healthy" ice for your parties or picnics that tastes just as fresh as it sounds.
All in all, if you need a high-quality fridge allowing you to stock up on fresh groceries, beverages, sweet treats and snacks for a crowd, the Kenmore 51773 refrigerator is a good pick. It's capacious, powerful, and very sleek-looking. It's available in Stainless Steel, Black, and White designs, so you can choose the perfect one that will blend beautifully into your kitchen interior.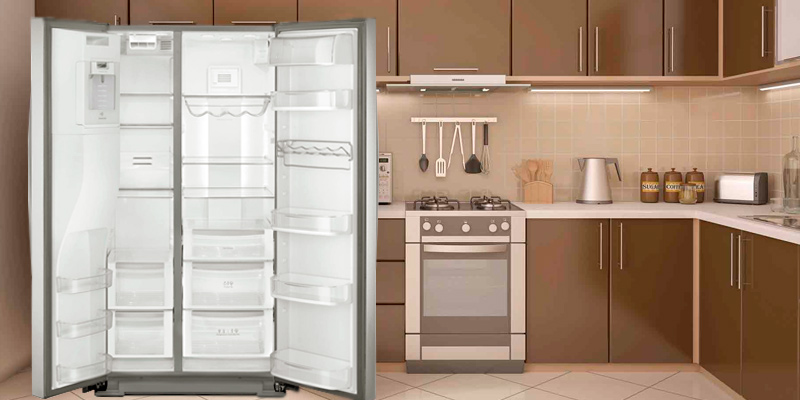 Additional Info
Last updated price

$

0.00

Stock
May be out of stock
ASIN

B074D2PHVB
---
Kenmore Elite 51773 28 cu. ft.
GE 25.4 Cu.Ft. Side-By-Side Fridge, Black
Shelves and Drawers
The refrigerator compartment of GE side-by-side refrigerator allows for storing diverse food items thanks to 4 tempered glass shelves, 3 of which can be adjusted in a wide range. The humidity level in the middle and bottom drawers can be adjusted, so the crispness of your food is guaranteed, and the 2 drawers will let you stock multiple snacks. The refrigerator door features a dairy compartment and 4 shelves, including 3 adjustable. The freezer features 2 slide-out storage baskets, 3 shelves, and an ice maker. Lastly, the freezer door is equipped with 4 shelves, 2 of which are adjustable for convenience of use.
Control
The freezer door includes a touch panel with LED lighting located above the dispenser. The digital display shows the current and preset temperature in both compartments. By default, the temperature is set to 37°F in a refrigerator compartment, and to 0°F in a freezer. You can easily increase or reduce the temperature in each compartment by 5 degrees. Moreover, the controls let you set the dispenser to get water, crushed ice or cubed ice. After all, you can also switch the lighting off and lock the panel.
Extras
Due to the built-in water filter, the GE GSE25HGHBB Side-By-Side Refrigerator uses only clean water for making ice and water dispensing. No need to buy any extra filters, the manufacturer has thought through all details carefully. The light indicator on the front panel will inform you when it's time to replace your filter so there's no risk you're going to keep on using a non-effective one. Just like most other fridges in our review, the GE GSE25HGHBB Side-By-Side Refrigerator guards closing the doors. If you happen to leave the door open, the fridge will alert you with a beep to return and shut it tight. The cooling capabilities of the fridge are also great thanks to the ClimateKeeper2™ system with two evaporators. The cold is distributed throughout all compartments evenly and your food is stored just fine.
Appearance
The smooth shape and black color of this side-by-side refrigerator makes it more outstanding above the other models. Convenient handles are easy for grip and comfortable to open with one hand. This refrigerator is quite compact, so it will be a good fit for most kitchens. The width of this refrigerator is 35.75", the height is 69.5", and the depth is 34.75". If the total size of the fridge seems rather big to get through your door, remove the doors and this way, reduce the depth up to 28.5".
Last updated price

$

0.00

Stock
May be out of stock
ASIN

B00RDGNJT8
---
VIDEO
Great Product! GE Side by Side Refrigerator Review Model # GSS25GSH 25.4 CF
What customers say about this product
Heavy duty refrigerator with full functionality
Also there are more options for adjusting the heights of the shelves over some models. The bins on the doors are large and hold a lot items.
Produces good cold filtered water. Takes a while to make ice. Really like the ability to check the temperature from the door panel.
The fridge and freezer door trays are much deeper, which is really convenient.
I got the energy efficient appliance I needed
GE 25.4 Cu.Ft. Side-By-Side Fridge, Black
Kenmore 50043 25 cu. ft.
Cheap and Capacious
If you're a kind of a penny pincher looking for a relatively large side-by-side fridge that won't cost you an arm and leg, you've just found it. The Kenmore 50043 is a good refrigerator that offers plenty of room for plenty of groceries. It has a smartly-organized interior with flexible storage options for fresh fruits and vegetables, frozen foods, meal-time staples, pre-made dishes, snacks, leftovers, and beverages.
With 25 cu. ft. of interior capacity, this side-by-side fridge will work like magic for medium-sized families. Almost all the shelves are adjustable, allowing you to stock the fridge in any way you like it. The shelves are made of strong glass and are very easy to clean. The humidity-controlled crisper bins are also manufactured from transparent glass. This makes grabbing the needed items quick and easy. Plus, the body of this fridge is lit up by bright LEDs for extra convenience. Hence, you won't need to dig through the fridge, looking for the leftover pie or pizza.
Ice and Water at Your Fingertips
The doors of the fridge can also boast a smart organization…from both inside and outside! Inside, you'll find many gallon-sized door bins, a special shelf for dairy products, and more. All the shelves are placed strategically, allowing you to easily accommodate tall items like champagne bottles, wide juice jugs, milk packs, and similar stuff. And thanks to a thought-out design of in-door shelves, you can quickly grab that bottle and go.
On the outside, you'll find an in-door Dual Pad ice/water dispenser that can put fresh water and ice directly into your glass with no button fumbling. You simply need to push the ice pad to get some ice (cubed or crushed) and then slide your cup and press the water pad. And owing to the clear, built-in window, you can always check the ice level.
To wrap things up, we can admit that this is obviously not the most stoutly-built fridge on the market, but it definitely offers more than you'd expect from a side-by-side refrigerator that costs less than $1000. For the price, you just can't beat it.
Additional Info
Last updated price

$

1,178.62

Stock
In stock
ASIN

B076P7L97D
---
Kenmore 50043 25 cu. ft.
Samsung RS25J500DSR 24.52 cu. ft.
Mid-range Fridge from the World Leader
If you're a huge fan of Samsung appliances, you should certainly take a closer look at this freestanding side-by-side refrigerator. Made in a stainless steel design, the fridge looks very nice and modern. It's an average side-by-side refrigerator with 24.5 cu. ft. of storage space (15.7 cu. ft. of refrigerator space and 8.8 cu. ft of freezer space) to hold enough food for an average family.
The body of the fridge has four shelves - some of them can be adjusted in height to accommodate taller items, and some can slide out so that you could easily reach items in the back. That's a quite rare yet handy feature found in side-by-side refrigerators. There are also four bins in the inner part of the door, and some of these bins are tall enough to accommodate gallon-size containers. On the top, you'll find a small closed compartment to keep dairy products away from pungent foods.
As for the freezer section, it features four main shelves and three door bins. Like the fridge part, it has a drawer under the shelves. Speaking about extra frills, the exterior freezer door has an ice and water dispenser paired with the control panel.
All for Your Convenience
The aforementioned control panel allows you to choose both "quick cool" and "quick freeze" options to quickly chill foods you've just loaded in order to preserve as many nutrients as possible. The unit will quickly drop the internal temperatures and then gradually return to the set temperature. The controls also include a child lock for the water/ice dispenser and a door alarm that will flash if one of the doors has been left open.
The last but not the least thing to mention about this Samsung fridge is its energy efficiency level. The fridge is Energy Star compliant, meaning it's at least 9% more energy efficient compared to standard models. Hence, it can help you save some money on electricity bills in the long run. Additionally, it has less impact on the environment. Being Energy Star compliant, this refrigerator cares about both your money and your health. It will keep your groceries and frozen products as fresh as possible.
Additional Info
Last updated price

$

3,999.00

Stock
In stock
ASIN

B00VVH5PRE
---
Samsung RS25J500DSR 24.52 cu. ft.
Whirlpool 25.6 Cu. Ft. Side-By-Side Refrigerator
Shelves and Drawers
The capacity of this side-by-side refrigerator is 25.59" that is more than enough to organize fresh or frozen food. The In-Door-Ice Plus system increases the usable capacity of the freezer by 30%; the ice maker and removable ice bin are located in the freezer door. This feature allows for arrangement of 4 full-width shelves, 1 full-width drawer, and the slide-out basket in the freezer. Moreover, the freezer features 3 adjustable full-width shelves, so you can arrange them in a way to keep and store frozen food appropriately. The refrigerator compartment incorporates 2 adjustable full-width bins for fresh fruit and vegetables. The humidity level can be adjusted in both bins, hence, the herbs and greens remain crisp for a long time. The sliding-bulk storage basket and 4 shelves are located over the bins, and 3 shelves can be removed or rearranged. The door features 3 shelves for 1-gallon bottles, 2 shelves for 2-liter bottles, and 1 shelf for dairy products. All door shelves can be removed and swapped, except for the top one.
Control
The management of the refrigerator functions is executed via a control panel. This panel allows you to adjust the temperature from 33°F to 45°F in refrigerator, and from -5°F to 5°F in the freezer. Moreover, you can choose the desired form of ice, activate, deactivate or set the backlight to automatic. Additionally, the control panel and ice and water dispenser can be locked to prevent accidental pressing the buttons. Lastly, you can choose the Fast Ice feature that drops the freezer temperature to increase ice production.
Extras
Whirlpool WRS576FIDM comes with the PUR® Water and Ice Filtration System and FreshFlow™ Air Filter. The first filters the water for an ice maker and dispenser, while the latter prevents a penetration of dust and eliminates unpleasant odors. Both filters feature status indicators that signal when it's time to replace cartridges. The Accu-Chill™ Temperature Management System measures the internal temperature using the sensors and activates the cooling only when necessary. The automatic adaptive defrost function saves energy and ensures prolonged food preservation by reducing formation of ice crystals on your frozen food. The adaptive defrost monitors performance of the compressor and activates defrosting only in proper cases, reducing energy consumption and consequently your money.
Appearance
The front of this side-by-side refrigerator is made of the matted stainless steel resistant to contamination and fingerprints. Both handles are painted to match the color of the body, and their shape and location allow you to open the doors conveniently. To install the refrigerator properly, you will need the free space of 36" wide, 69" high and 51.125"deep, considering the opened doors. Still, you can demount the doors to carry the refrigerator into your kitchen; the depth will be 29.625" if you do so.
Last updated price

$

0.00

Stock
May be out of stock
ASIN

B00KJ0VL18
---
What customers say about this product
Has a large water and ice cube housing, for large glasses or containers.
I like the way the ice maker is in the freezer door and opens and closes. Very convenient to use.
I've had Whirlpool in the past and been pleased. I was thrilled with the white and stainless steel combo.
I am so happy with this product. Works great and Energy certified.
This is the most organized refrigerator I have ever had. Room for groceries and storage of frozen food items is unbelievable.
Whirlpool 25.6 Cu. Ft. Side-By-Side Refrigerator
What Is a Side-By-Side Refrigerator?
Side-by-side refrigerator is a two-section fridge with an upright freezer placed next to the fridge section. This arrangement of sections is recognized pretty convenient since the food is kept at the same level in both compartments. The design of side-by-side fridges benefits most big families who need to keep plenty of food but don't have a lot of space in the kitchen. The way the doors are opened allows consumers to save some efficient space. That's another reason why side-by-side fridges are so popular among consumers worldwide. Besides, they look really nice and can decorate any kitchen easily.
If you need a device for a long-term food storage, we've comprehensively reviewed upright freezers that would help you freeze a large amount of foodstuff.
What Features to Compare
Shelves and Drawers
You should know shelving and capacity of the chosen refrigerator to use free space effectively. Plenty of shelves and drawers will help you store your food in the fridge effectively. The possibility to substitute, remove or adjust shelves allows you to put various items like bottles and jugs. The door shelves let you conveniently position food stuff that you most frequently need and have them within easy reach. The wide door shelves allow for convenient storage of gallon bottles of juice or milk. The drawers for fruit and vegetables with humidity adjustment let you choose the optimal climate for various types of food. Big, capacious fridges should be considered by big families. Contrarily, if you don't usually keep a lot of food at home, it is more expedient to choose a refrigerator with a smaller capacity.
Control
The way you're going to set and adjust a temperature in the fridge is also important. Most modern refrigerators allow temperature adjustment in each compartment, so you can pre-set different temperatures for fridge and freezer and be confident that your food is stored properly. There are also refrigerators with additional control features for your ultimate comfort, so, make sure to consider whether these functions work out for you. A Child Lock is going to be a helpful feature for a family with kids who love changing settings and trying everything new. With a Child Lock on, you wouldn't worry about water spillage on a floor or wrong temperature settings. Consider side-by-side refrigerators with water dispensers and ice makers. There's nothing better on a hot summer day than to have a glass of iced cold water with a couple of ice cubes in! Check also whether the fridge has got a filter indicator so that you can replace a cartridge in the filter on time.
Additional Functions
Additional functions and extras will be an advantage. For example, you can get a fridge with self-closing doors that will tightly seal even if you leave the door open. Another zest to inform a consumer of an open door is an audible alarm, so you can choose either. Some fridges have got air filters that effectively remove unpleasant food smells as well as clean the air from dust. The temperature sensors provide proper temperature distribution in all compartments and this way considerably prolong the shelf life of your food.
Design
Side-by-side refrigerators usually have an elegant design and small width. Yet, before you have your fridge shipped home, make sure that you've got enough space for it. Look for apartment-size fridges if your kitchen is rather small.
Take into account that the door opening is quite wide in side-by-side models, thus, your chosen fridge's dimensions are important too. Check the space that you need with a fridge wide open and only then, go for one. Otherwise, you may get it wrong and find no place for it afterward. The capacity of the fridge is also quite important, especially for those families who love to cook and usually store plenty of food at home.