Do you still keep on going to professionals to curl your hair? Long to attain the same hair quality for your daily appearances? If
you answer "yes", you need a hair waver. With this simple yet functional styling tool at hand, you'll be able to make salon-quality stringy curls and all kinds of gorgeous waves by yourself without the need to visit a hair stylist.
...
Read more
...Read less
X
This site is a free online resource that strives to offer helpful content and comparison features to its visitors. Please be advised that the operator of this site accepts advertising compensation from certain companies that appear on the site, and such compensation impacts the location and order in which the companies (and/or their products) are presented, and in some cases may also impact the scoring that is assigned to them. The scoring that appears on this site is determined by the site operator in its sole discretion, and should NOT be relied upon for accuracy purposes. In fact, Company/product listings on this page DO NOT imply endorsement by the site operator. Except as expressly set forth in our Terms of Use, all representations and warranties regarding the information presented on this page are disclaimed. The information which appears on this site is subject to change at any time. More info
Hot Tools 2179
Perfectly Consistent Results From Hair Roots to Ends
Most hair experts can create almost any hairstyle using a hair straightener or a curling iron. However, for an amateur, it is almost impossible to get the desired result without a special tool. How often did you try to create deep defined waves with a single-barrel curling iron and eventually ended up with wavy locks of different sizes and depths, that stick up and down being too curly at the ends and too loose at the roots? Forget it! With the Hot Tools hair waver, you'll get consistent and perfect results every time.
Unlike a barrel curling iron, this hair waver features a deep plate design allowing you to create ideally shaped deep waves. All you need is to open the curling tongs, put a hair strand about 3 inches wide between the plates, and hold the waver in place for about several seconds. Let the curler open and slide it down the same strip making waves until you reach the end. Depending on how hard you press the plates together, you can get either deeper zig-zag patterns or softer S-shaped curls.
Titanium plates ensure the tool durability and evenly distribute the heat, while a tourmaline ceramic coating produces mild far-infrared heat and emits negative ions to protect your hair from over-drying and damages while giving it a silky shine. In addition, variable heat settings allow choosing an optimal temperature for any hair type, be it soft and thin hair or coarse African type locks. The benefit of this model that sets it apart from other wavers in its class is the patented Pulse Technology providing fast heat-up and instant heat recovery. It means that all styling is performed at the same temperature allowing you to achieve perfect results from roots to ends and create long-lasting waves.
With the Hot Tools hair waver iron, you'll be able to style your hair both for an event, for work, and for casual hangouts. It won't take much time and you'll look gorgeous all day long.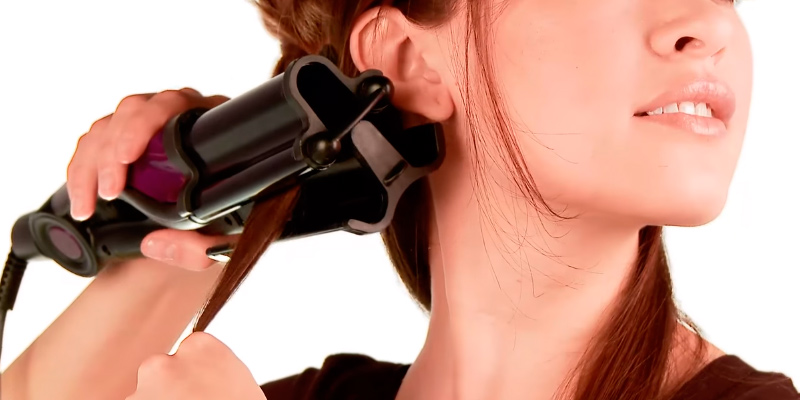 Additional Info
Last updated price

$

135.99

Stock
In stock
ASIN

B003AKHQG8
---
What customers say about this product
This beast does heat up to 430 degrees so be careful when holding it close to your face.
The size of the waves are realistic and gorgeous. I can do my entire head of medium length thick hair in 20 mins.
I love using products that are ceramic and tourmaline because they use far-infrared heat to protect your hair from intense heat and produces negative ions to smooth and increase the shine in your hair.
I also love the cord, which is round instead of flat and I don't see it getting tangled as easily as other cords.
Hot Tools 2179
ZOINDSC AB-158197
Professional Hair Styling is not a Hassle Anymore
Probably, every time you go to a beauty salon to style your hair for a friend's wedding, your own birthday, a New Year party or a date, you watch how quickly and skillfully a professional hair stylist parts your hair strands and turns them to beautiful natural-looking waves and catch yourself thinking that you want to be able to do the same by yourself at home. And there is really nothing very difficult about it if you have the right tool at hand, like the ZOINDSC hair waver.
A fancy styler design reminds three single-barrel curlers fixed side to side. Such a three-barrel construction will let you slide a pretty wide hair strand in between the clamps to get professionally styled loose waves, not tight curls or ringlets. Once turned on, the waiver will heat up in about 10 seconds and it will take you mere seconds to create a wave. Depending on your hair thickness and length, you can get all your hair crimped within about 10-15 minutes.
Every hair type is different and needs a different temperature to obtain the expected waving result. This model offers a choice of heat settings from 176º F to 410º F shown on an LED display for you to choose what will work best for your hair. Thus, if you have thin or limp hair with dry or frayed ends, you should go for lower temperatures, while thick and frizzy hair requires higher temperatures to make instant waves. A ceramic coating will work gently on all hair types giving you a peace of mind in terms of the health of your hair.
Though the tool might look somewhat bulky at a glance, it is easy and convenient in use. An ergonomic handle provides a firm and comfortable grip. A swivel cord won't restrict your movements and won't tangle during use. An insulated metal stand will let you put a hot styler on the table during operation, to separate the next hair strand, and the stay-cool plastic tips on the barrels will provide more precise control when using the tool.
Designed with the user comfort and safety in mind, the ZOINDSC hair styler will let you get professional-quality results and home saving your time and budget on visiting hair salons.
Last updated price

$

0.00

Stock
May be out of stock
ASIN

B075L6R3TZ
---
ZOINDSC AB-158197
Bed Head BH359
Every Girl's Best Friend
Hair is any woman's prime glory. Shiny and skillfully coiffured locks can totally change your appearance giving you a romantic, seductive, sexy, casual or formal look. Hence, all women strive to maintain their hair in a healthy condition and keep its natural beauty. Luckily, the modern market offers the whole myriad of hair care products and styling tools. With all of this, you can easily restore lifeless hair, bring back shine to limp hair, add noticeable volume to thin hair, straighten and smooth thick and coarse Asian hair or curl stubborn straight hair. Today, a beauty arsenal of any girl includes a number of basic hair care products and styling tools allowing them to be bold and creative in hairstyles. A hair waver is one of such essential tools for those who are keen on waves and curls not only for some special occasions but also for everyday appearances. And if you still do not have one or you're looking for a better alternative to your outdated curling iron, we recommend turning your eyes to the Bed Head Waveaholic hair waver.
Fitted with 2" rippled plates, this model will help you attain beachy waves with sexy volume that will perfectly hold their shape during the whole day. The waver heats up really fast and offers several temperature setting, with the maximum heat reaching up to 450º F, to style all hair types. Yet, despite such a high heating temperature, the tool is safe to use, thanks to 2 small rounded tips that will let you hold the tool with both hands for more convenience and better operation control, and it is absolutely safe for hair since Tourmaline ceramic coating will protect your hair from excessive heat, meanwhile, reducing frizz and adding shine. To get defined waves with crimp-like texture, start at the roots and hold the tool horizontally, precisely pressing each hair section down the hair strand. And if you want more natural, loose or tousled waves, you can twist a hair strip before curling and apply the waver at an angle.
The styler comes packed in a pretty compact body and features a dual voltage option that makes it suitable for trips and journeys. Whether you need to spruce up for a business meeting after a long flight or create a stunning image for a dinner in a beach restaurant, with the Bed Head waver, you'll be able to do it quickly and effortlessly.
The Waveaholic hair waver will help you find and maintain your personal style. Yet, you will always have a chance to experiment being able to create different types of waves to fit any occasion or simply your mood.
Additional Info
Last updated price

$

39.88

Stock
In stock
ASIN

B076CK7VD3
---
Bed Head BH359
Revlon Jumbo (RV084C)
Seductive Waves for All Hair Lengths
Revlon is a renowned brand in the beauty industry. Since 1932, the company produces the whole range of color cosmetics, skincare, hair color, and hair care products as well as different kinds of beauty tools and hair tools. Backed up by decades of experience, in Revlon, they know how to help you always look perfect to feel confident. When it comes to hair tools, Revlon provides the latest technologies and styling solutions for you to keep up with modern trends and maintain beautiful hair. Waves are always in style. Hence, both the owners of chin-cut bob and women with hair cascading down to their waistline desire big enviable waves at a certain point. To give women an opportunity to complete the look they want, Revlon introduced its Jumbo 3-barrel hair waver designed for making perfect waves on different hair length.
When using a curling iron on short hair, the biggest issue is unevenly sticking out hair ends while long hair owners complain about the lack of volume at the roots since a single barrel does not heat up the whole volume of hair rolled over it. With the Revlon waver, you won't have those problems. No flat roots, no ridging ends. A three-barrel construction with a wider middle barrel will let you create truly deep luxurious waves that have a natural look and will last all day long even without using any hair mousses or sprays. You'll be able to style pretty large sections of hair and achieve the desired hairstyle in about 15-20 minutes. Whether you have thick and finely straight hair or soft frizzy locks, this model will work just great. Distinguished by an impressive range of 30 heat settings easily adjusted by a dial switch on the handle, the Revlon hair waver iron will let you select an optimal heat to achieve ideal results on your individual hair type. Meanwhile, a triple ceramic coating provides even heat distribution to prevent hair damage and maintain its health even at the maximum temperature of 420º F.
Speaking of the tool design, it is simple and convenient to use. A temperature controller on the handle will allow changing the heat setting quickly and easily when styling. Cool tips will let you hold the unit with your fingers for more precise control without the risk of burns. For safe and convenient storage, the model features a locking ring that will keep the barrels closed when not in use and a storage loop to hang the tool somewhere within easy reach.
Designed by experienced hair stylists, the Revlon professional hair waver allows creating unmatched wavy hairstyles on all hair lengths and will become a good choice both for hair experts and for common users.
Additional Info
Last updated price

$

24.99

Stock
In stock
ASIN

B000FRWNL2
---
What customers say about this product
Makes very pretty waves love the product overall.
It creates the perfect size waves for my hair.
This efficient appliance uses tourmaline ceramic barrels to give your hair a healthy and shiny look.
Revlon Jumbo (RV084C)
Bed Head BH336C
Make Your Waves Your Way
If we look back, wavy and curly hairstyles were popular at all times, from big defined waves of the 30s to bouncy ringlets of the 80s and tight crimps of the 90s, to say nothing of fancy hairstyles of the 18th and 19th centuries. Modern trends are less demanding and tend for maximum natural looks. Today, professionals differentiate between 15 types of waves along with curls and crimps that are already known to everybody. To name a few, these are classic waves, old Hollywood waves, beachy, tousled, and loose waves, deep, tight, and defined waves, messy waves, side-swept waves, voluminous curls, and wavy ends. All looking pretty simple, these wave types might turn out difficult to create at home without a special hair tool. That's where the Bed Head A-Wave-We-Go hair waver will come in handy. 
At a glance, it looks like a common three-barrel waver you might come across in other brands as well. Yet, there is an option that makes it special and more versatile. It's an adjustable middle barrel. Using a dial knob, you can change the barrel size to create different levels of waves. Tousled or crimped, loose or defined hair waves, there is no limit to your style. By rotating the knob clockwise, you can achieve deeper waves and by turning the knob counterclockwise, you will get a looser and close to natural wave. When styling your hair, you can even combine different wave levels to add volume at the roots or create a unique texture to achieve the desired effect.
Like the majority of high-quality wavers, this model also features Tourmaline ceramic coating that not only works gently on your hair preventing it from damages and over drying but also will help maintain your hair in a healthy condition bringing back silkiness and smoothness even to limp and lifeless hair. At the same time, 4 heat settings allow attaining perfect results on all hair types, be it a super straight and super fine hair that does not hold a curl or thin, soft, and frizzy hair. Meanwhile, a heat recovery function will maintain consistent heat throughout the styling process for long-lasting waves.
With the A-Wave-We-Go hair waver from Bed Head, you'll be able to create a variety of wavy hairstyles, from casual beachy waves to more festive deep waves, with the minimum of your time required and at the comfort of your home.
Additional Info
Last updated price

$

31.99

Stock
In stock
ASIN

B00ID8H838
---
Bed Head BH336C
What Is a Hair Waver?
All women crave for beautifully curled locks. Not only those who have straight hair do want to get natural waves but also those who have frizzy hair or unruly curls strive to achieve perfectly coiffured bouncy ringlets. This is exactly what hair wavers are designed for. Irrespective of your hair type, a good hair waver iron will help create a variety of wavy hairstyles and find its place in a beauty arsenal of almost any woman.
Consisting of a barrel-shaped heating element with a clamp and a cool-touch handle with controls, this hair styling device is pretty simple and very easy to use. Normally, a hair waver offers several heat settings to achieve ideal results both on soft or thin hair and on thick or stiff strands. Besides, all modern models feature either tourmaline or ceramic coating that is safe for all hair types, including even limp hair, and allows attaining finely polished and shiny hair waves. In terms of design, you can go for smaller or bigger barrel sizes and choose between two-barrel and three-barrel models or select a deep plate waver to create anything, from natural looking loose waves to deep and defined waves, delicate curls, and crimps.
Another essential styling tool for any girl is a flat iron, a device that can turn even the most unruly hair into a perfectly smooth and silky hairstyle in next to no time.