If you still keep searching for a compromise between your family members' sleep and your morning blow-drying rituals, look no further!
It is time to choose the best quiet blow dryer that will help you get through your morning routine without disturbing the peaceful sleep of your family! Pick one of the quality models presented in our review and get your day off to a smooth start.
...
Read more
...Read less
ION Whisper Quiet Lite
Whisper-Quiet and Powerful
The Ion Whisper Quiet hair drier was designed to provide a low-noise and convenient operation and even a lot more than that. Featuring ceramic tourmaline ionic technology, it can make your hair dry faster reducing its exposure to the heat. Moreover, the negative ions emitted by the unit seal the hair cuticle so that you can get your hair soft and shiny afterward. This innovative technology and a powerful motor work together to ensure effective blow drier performance while keeping your hair undamaged. With four temperature settings available, it is easy to have your hair dried in almost no time at all and styled just the way you like it.
Functionality aside, the unit features a lightweight comfy design. It has a removable filter for easy cleaning and a handy cool shot button for using unheated air without the need to readjust the settings. A 9' power cord will ensure convenient unit use even if the power outlet is not right next to your mirror. In the box, you will also find two concentrators and a diffuser attachment to experiment with hairstyles.
Summing up, with this model, you'll get a salon-quality blow-out at home without that irritating noise. The manufacturer has done their best to make this excellent blow dryer as hushed as possible.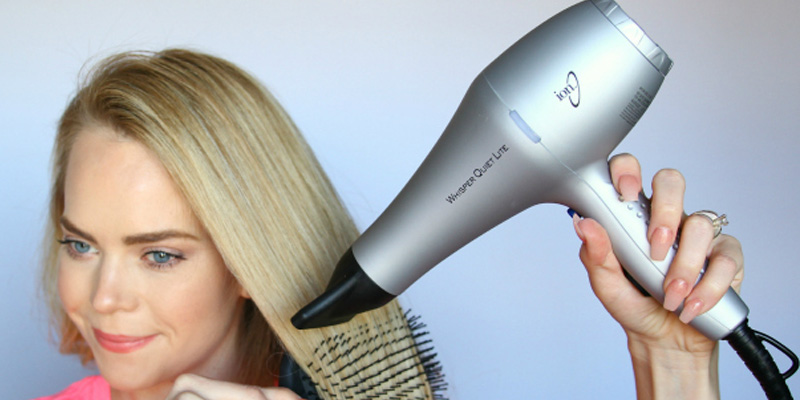 ---
What customers say about this product
It's lightweight, powerful (more so than I expected!), and the cool, warm and hot settings are actually distinct!
This is a really nice hair dryer. It's quiet, light weight, has well designed switches, a long cord and is well balanced with the handle near the middle.
The back screen is easy to remove for cleaning.
Doesn't frizz my natural curly hair when using the diffuser, this is the second one i have purchased.
ION Whisper Quiet Lite
Cricket Centrix
For Everyday Use
This model proves that powerful appliances can be virtually soundless. Combining 1500 watts of power with the advanced Insanely Quiet technology, the level of the noise this unit produces doesn't exceed 70 dB. Meanwhile, you'll enjoy a truly high drying performance enhanced by the Tourmaline ionic technology maintaining hair health. By maximizing negative ions output, it will help close the cuticle layer, thus keeping your hair shiny and smooth. Moreover, the drying time will be dramatically reduced as this technology works to break water into small droplets that are easier to blow. As a result, shorter drying time means less damage to the hair structure and less time spent on blow-drying overall.
The Cricket Centrix has an ergonomic design perfect for both left-handed and right-handed users. Besides, it is lightweight and comfortable to hold. There are two speeds and three heat settings plus a cool shot button. Whether you need to dry your hair or do everyday styling, this model will do the job brilliantly. However, there are no additional attachments so if you are after more sophisticated hairstyles, you might want to get the model with some extra attachments.
In a nutshell, this quiet blow dryer is efficient and comfortable in use; it is one of the best choices for everyday hair care.
Cricket Centrix
Panasonic EH5305P
Minimum Noise, Minimum Storage Space, Maximum Comfort
Right off the bat, this low-watt hair dryer from Panasonic can easily compete with more powerful models. Most users admit that being almost soundless, this model is unbelievably effective. Like with other silent hair dryers, it is all about technology. The unit has two external ion outlets that saturate the air with negative ions. This helps to reduce water droplets size resulting in faster drying. Meanwhile, your hair will be protected from damage and will preserve its healthy look even if you use the appliance every day. Though the package only includes a concentrator attachment, the air flow is not too strong (despite the fact that this model blow-dries your hair really fast), so, it can be safely recommended for users with different hair types, including brittle and thin hair.
Featuring a stylish design, the Panasonic EH5305P has a foldable handle that allows for compact and easy storage and transportation. Hence, you can enjoy the benefits of this handy and super-quiet blow-drier both at home and during trips. Taking minimum space in your luggage, the model will save you the trouble of using often inconvenient hotel dryers.
The only disadvantage of this dryer, though, is that it comes with a manual in the Japanese language. However, the operation is identical to that of any appliance of the same kind, so, you'll hardly need a manual at all.
In a word, if you need a compact, functional, and affordable hair dryer for the use at home and on the go, the Panasonic will get you covered.
Panasonic EH5305P
Conair 146NP
Great Value for the Money
Affordable and efficient, a quiet ionic hair dryer from Conair will not only dry your hair in a breeze but also keep it looking stunning. You'll enjoy the shiny appearance with a silky-smooth finish and can forget about dullness, static electricity, and frizziness. All this is possible owing to an optional ion dispenser that produces negative ions during the unit's operation, making day-to-day blowouts harmless to your hair. This model is also perfect for both pinpoint and curly/wave styling, thanks to a concentrator and diffuser included in the box. It has two heat and two speed settings to meet any personal needs and quickly dry both long or short and thick or thin hair and a cool shot button for locking your hairstyle.
The unit's design is thought out to the tiniest detail. The blow drier comes equipped with a removable hinged filter that will ensure easy maintenance and will help extend the motor life. The item has a comfy handle with easy-to-reach controls at the tips of your fingers. Though some users would prefer sliding switches (the buttons can be turned off accidentally), most customers find this model pretty convenient and easy to handle. In addition, a hanging ring will allow for easy storage after use.
Powerful and versatile, the Conair dryer will be highly appreciated by everyone who seeks to spend less time on daily beauty routines without compromising hair health.
Additional Info
---
What customers say about this product
It is way quieter than my last blow dryer, and plenty of power to dry my hair quickly.
Good size of hair dryer, nice color.
Gets my thick hair dry quickly, and the ionizing function makes my hair nice and smooth.
The diffuser works best for curly hair.
Conair 146NP
Revlon Quiet Hair Dryer
A Win-Win Combo
Styling your hair is now possible in minutes, and without any annoying noise. This Revlon hair dryer is 50% quieter as compared to conventional models, and yet, it has a powerful 1875-watt motor. The manufacturer has cleverly combined ionic technology with a unique design to provide the best blow-drying experience ever. The unit features special U-shaped air inlets that ensure sufficient airflow and improve drying time. Besides, it has a 3-layer ceramic coating that helps increase the shine and reduce unwanted frizz. Surely enough, using a quality shampoo for hair washing will only make the results better.
Ensuring excellent drying performance, the Revlon hair blower is lightweight and easy to operate. It has two heat and two speed settings, plus a cool shot button to suit any hair length and type. It also comes with a concentrator attachment for convenient hair styling and has an appealing design with a golden finish. The only downside is that this moderately priced hair blower might be not as efficient as some louder professional models. However, if quiet operation and soothing hair care are what you crave for, the Revlon hair blower is just the one you need. It will make your morning routine complete and help maintain your hair health.
Revlon Quiet Hair Dryer
What Is a Quiet Hair Dryer?
In our fast-paced world, there is a huge demand for ergonomic appliances designed for comfortable and time-effective self-care. We want any device we use (especially those that we use every day) to be convenient, efficient, and quiet in operation. That is the reason why the quietest blow dryers are so popular nowadays. Being powerful enough to bring your hairdo to perfection in minutes, they cause no irritating incessant white noise. Whenever you need to blow-dry your hair, you won't disturb your nearest and dearest.
To make their products soundless, yet, incredibly efficient, manufacturers use innovative technologies that not only minimize blow-drying time but also keep your hair healthy and shiny. You are welcome to look through our best quiet hair dryers review and select the unit that will make your morning routine an easy, quiet, and enjoyable task!
Best Quiet Hair Dryers 2017
What Features to Compare
-