If you still keep searching for a compromise between your family members' sleep and your morning blow-drying rituals, look no further!
It is time to choose the best quiet blow dryer that will help you get through your morning routine without disturbing the peaceful sleep of your family! Pick one of the quality models presented in our review and get your day off to a smooth start.
...
Read more
...Read less
ION Whisper Quiet Lite
Whisper-Quiet and Powerful
The Ion Whisper Quiet hair drier was designed to provide a low-noise and convenient operation and even a lot more than that. Featuring ceramic tourmaline ionic technology, it can make your hair dry faster reducing its exposure to the heat. Moreover, the negative ions emitted by the unit seal the hair cuticle so that you could get your hair soft and shiny afterward. This innovative technology and a powerful motor work together to ensure an effective performance of the blow drier while keeping your hair undamaged. The unit features a lightweight comfy design; it has a removable filter for easy cleaning and a handy cool shot button for using unheated air without readjusting the settings. In the box, you will find two concentrators and a diffuser attachment. Summing up, it is a wonderful device to get a salon-quality blow-out at home without that irritating noise: the manufacturer has done their best to make this excellent blow dryer as hushed as possible.
Pros: 
The Ionic technology prevents damaging your hair;
Four temperature settings are available;
The unit is equipped with a 9' power cord.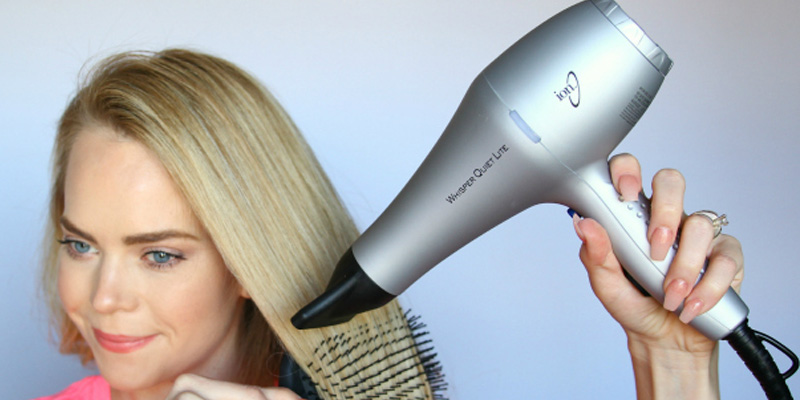 Additional Info
---
What customers say about this product
I loved this hair dryer! It is very quiet and packs a punch of power!
I love this hairdryer. The main reasons I purchased it were for its quietness and ceramic tourmaline ion technology.
It does have a loop. I am very happy with the dryer.
ION Whisper Quiet Lite
Xtava Quiet Fast Drying
Perfect for Daily Styling of All Hair Types
If you are looking for a quiet hair dryer with diffuser and concentrator attachments that can facilitate convenient, quick, and gentle hair drying, here it is! This unit uses an advanced ionic technology that reduces drying time and delivers professional styling results. The latter is possible due to dual ion settings for either sleek or voluminous look. Moreover, the unit is equipped with an ergonomic 'Perfect Hair Switch' that activates the setting which is perfectly suitable for daily styling (turbo speed + medium heat). Besides, the unit is furnished with two heat modes and 3 speed settings. In a nutshell, this model is the best quiet blow dryer for taking care of all hair types. 
Pros:
Dual ion settings for professional-quality blowouts;

A diffuser for curly hair and a concentrator for precise styling are both included in the kit;
Opt between 2 heat and 3 speed settings.
Additional Info
---
What customers say about this product
This haridryer is power and does the job quickly and efficiently.
Perfect size, perfect fit in your hands.
It is hard to find a hair dryer that allows you to turn off the ions, which is necessary if you have fine hair like mine.
It comes with the dryer, a diffuser, and the angled attachment for focused drying.
Xtava Quiet Fast Drying
Conair 146NP
Great Value for the Money
Affordable and efficient, this quiet ionic hair dryer will not only dry your hair in a breeze but also will keep it shiny with a silky-smooth finish, reducing dullness, static electricity, and frizziness. The latter is possible owing to an optional ion dispenser that produces negative ions during unit's operation, making day-to-day blowouts harmless to your hair. This model is perfect for both pinpoint and curly/wave styling thanks to a concentrator and diffuser included in the box. It has two heat and two speed settings and a cool shot button. A removable hinged filter ensures easy maintenance, while an ergonomic hanging ring allows easy storage after use.
Pros:
A hinged filter is removable for easy cleaning;
Ionic conditioning for a frizz-free, shiny, and smooth finish;
Equipped with a handy hanging ring.
Additional Info
---
What customers say about this product
It works great and makes my hair feel and look amazing~ I wish that it had a third setting for more power but at 1875 watts its perfect for what its capable of.
Good size of hair dryer, nice color.
It has a really nice feature - there is a flip open door to clean the filter on the back of the hairdryer.
I personally have no use for the large diffuser attachment but my wife likes it. Overall, this dryer is a good purchase at a sensible price. It does the job quickly.
Conair 146NP
Hot Tools 1069S
Lightweight, Powerful, and Quiet
When you do not have much time for hair styling, a powerful hair dryer just like this fantastic Hot Tools Professional Turbo model could be a real saver. The unit has each and every feature for convenient storage, maintenance, and use. It is equipped with an eight-feet tangle-resistant swivel cord, a cord guard, and a hanging ring. The filter is easy to clean thanks to a removable end cap. In addition, this lightweight and quiet hair blower is furnished with a rubberized handle grip, ergonomic switches, plus a cool shot button. Two attachments for DIY hairdressing (a styling pik and concentrator) are included in the package. 
Pros:
Comfy soft-grip handle;
The unit is lightweight and easy to handle;
It has a cord guard and a hanging ring.
Additional Info
---
What customers say about this product
I do like the different settings for heat and speed.
Light weight, compact size as compared to others.
This works so much better for me than the 2000 watt ion dryers.
Got it b/c comb attachment which stayed on for the most part except for once but I have kinky natural hair, use it to do blow out styles.
Hot Tools 1069S
Berta BERTA 031
Beautiful Hair Wherever You Go
Just look at this compact folding handle blow dryer! There is hardly a better option to take away with you on travels. This portable appliance is lightweight, takes up minimum space in your luggage, and has a hanging loop for convenient storage. Moreover, the unit has dual voltage so you can use it overseas. Owing to a winning combination of innovative technologies and well-thought-out design, the device will dry your hair in a breeze. The unit has a tourmaline air outlet grill and produces negative ions that enhance your hair beauty and ensure fast drying results. With this portable and very quiet blow drier, your hair will look gorgeous in no time wherever you go.
Pros:
2 heat/speed settings and a cool shot button;

Ceramic Tourmaline air outlet grill;

Dual voltage (125v and 250v settings).
---
What customers say about this product
This is a good hair dryer, power and quick drying.
It is more powerful than my normal full size one.
I had no idea it was dual voltage so I can use it when I travel to visit family overseas once a year. Couldn't be happier!
Attachment for blowing out your hair! Awesome!
Berta BERTA 031
What is a Quiet Hair Dryer?
In our fast-paced world, there is a huge demand for ergonomic appliances designed for comfortable and time-effective self-care. We want the device we use literally every day to be convenient, efficient, and quiet in operation. That is the reason why the quietest blow dryers are so popular nowadays. Being powerful enough to bring your hairdo to perfection in minutes, they cause no irritating incessant white noise. Moreover, most manufacturers use innovative technologies to minimize blow-drying time and keep your hair healthy and shiny. You are welcome to look through our quiet hair dryers review and select the unit that will make your morning routine an easy, quiet, and enjoyable task!
Best Quiet Hair Dryers 2017
What Features to Compare
-