Hair Care
Conair CD213 vs Conair CD212AM
Product Comparison: Conair CD213 vs Conair CD212AM
About the product
Conair FashionCurl® is the revolutionary way to effortlessly create beautiful, shiny curls. Hair is automatically drawn into the tourmaline ceramic curl chamber where it is gently held, timed and heated from all directions to create flawless salon-style curls. One perfect curl after another can be yours with Conair FashionCurl!
The infiniti pro by Conair curl evolution curling iron with rotating clip has a 1-inch tourmaline ceramic barrel. Tourmaline technology helps the hair cuticle lie flat for luminous shine and soft, frizz-free, manageable hair. Ceramic technology creates higher, evenly distributed heat that penetrates the hair fast and adds smoothness in seconds! It also features 400 degrees Fahrenheit high heat with 30-second instant heat option; also includes professional swivel cord and auto shutoff. Clamp holds hair and spins around to create the perfect curl.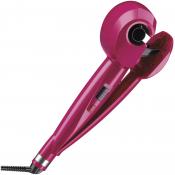 Conair CD213
Conair CD212AM
What customers say about "Key Specs"
Conair CD213 Fashion Curl Curling Iron
Has a nice long cord.
Curls come out very uniform and last a long time.
I really like it cool idea. Just make sure you let it heat up really good/long first.
It will only take small strands at a time. This does not consume as much extra time as you might think, though, because the automatic winding mechanism is faster than manually winding the curl around a traditional wand (at least, in my inexpert hands).
The curling iron is designed so that you can't start the curl very close to your scalp.
What customers say about "Size & Weight"
Conair CD213 Fashion Curl Curling Iron
It's light-weight and didn't feel heavy even with curling lots of hair.
Great price too, and love the color options, easy to store.
It is even made with a flimsy plastic, but by golly it's a hot fashion color and looks down right trendy.
I could not identify a way of varying the size/tightness of the curl. Again, that may just be my relative lack of experience.
Its so light weight and just seems cheap but it does curl just fine.
Coating
Tourmaline Ceramic
Tourmaline Ceramic
Number Of Temperature Levels
Features
30-second instant heat, sleep mode
Rotating Clamp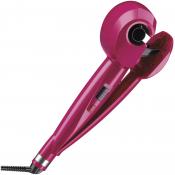 Conair CD213
Conair CD212AM
What customers say about "Details"
Conair CD213 Fashion Curl Curling Iron
It heats up VERY quickly; I didn't time it, but it was definitely ready to go in less than a minute.
Beeps to let you know it is time to release clamp.
Two heat settings for how tight you want curls.
The amount of heat is too much which is good.
I'm not sure it is that much faster than the wand I normally use, but it is definitely easier and practically foolproof as long as the hair is brushed and in small enough sections.
Warranty / Certifications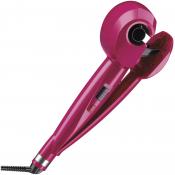 Conair CD213
Conair CD212AM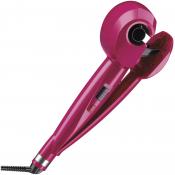 Conair CD213
Conair CD212AM