A good travel Hair Dryer can save your trip! It will help you create a perfect blowout in a matter of minutes, which really matters
a lot during your once-in-a-lifetime trip. Add one of the best compact hair blow dryers to your packing list and always be photo-ready on your vacation!
...
Read more
...Read less
Babyliss Pro BABNT053T
Super Portable
Prefer to travel light but want to look gorgeous on any trip? The BaByliss Pro BABNT053T Nano Titanium Travel Dryer can be the best choice. It's extremely petite, lightweight, and quick.
Given its compact size and 1000-Watt motor, many people think that all it can produce is just a light breeze, not enough to dry hair quickly. However, it is not truth. Far from it, in fact. With two heat/speed settings (high and low) available, drying even quite long and thick hair won't take you longer than 10 minutes, which makes it comparable with regular hair dryers.

In order to deliver you not only quick but also gentle drying, the BaByliss Pro BABNT053T Nano Titanium Travel Dryer features a Nano Titanium technology which allows it to effectively fight static electricity and flyaways. It also includes a concentrator nozzle which makes it easy to tame hair by drying it in sections and directing hot air at the exact spot you need.

However, the biggest strength of this dryer is certainly its size. As mentioned before, it's very small and, when folded, can easily fit in the hand of any size. In fact, you could easily confuse it with a toy. Weighing half a pound the most and measuring 5.5 x 2.5 x 6.2 inches, it can be accommodated in any bag or suitcase without taking up much space.

For anyone looking to buy a really portable thing, we couldn't recommend the BaByliss Pro BABNT053T Nano Titanium Travel Dryer highly enough. A great solution for light packers.

Additional Info
---
Babyliss Pro BABNT053T
Revlon RVDR5005
Extremely Delicate
The Revlon RVDR5005 is one of the most powerful travel Hair Dryers on the market! At 1875 Watts, it can dry even long thick hair quick enough. Furthermore, it features two heat and two speed settings that allow using it on different hair types without worrying about damaging hair. What we like best is that the RVDR5005 has a cool shot function. It will help you to fix the styling result so you look gorgeous all day long. Also the dryer comes with a concentrator attachment. It will allow you to dry your hair neatly in sections and make it beautifully smooth.

Along with the power, the Revlon RVDR5005 brags a bunch of advanced technologies. Thanks to the ionic technology used, it helps to enhance the end result by adding a healthy shine and gloss to your hairdo. Meanwhile, the 3x ceramic coating of the dryer grill allows for even heat distribution which helps prevent hair from thinning and being damaged by high temperatures.

As for design, the Revlon RVDR5005 is ultra modern and lightweight. It is compact in size and has a folding hand for comfortable carrying in your bag. The handle is ergonomic and made of non-slippery materials so you can hold it in your hand with maximum comfort. The control buttons are arranged to be within quick reach and not to get in your way.

Summing up, if you need a powerful hair dryer of a travel size that will be easy to accommodate in your carry-on luggage and will let you create gorgeous blowouts wherever you are, the Revlon RVDR5005 is your best choice.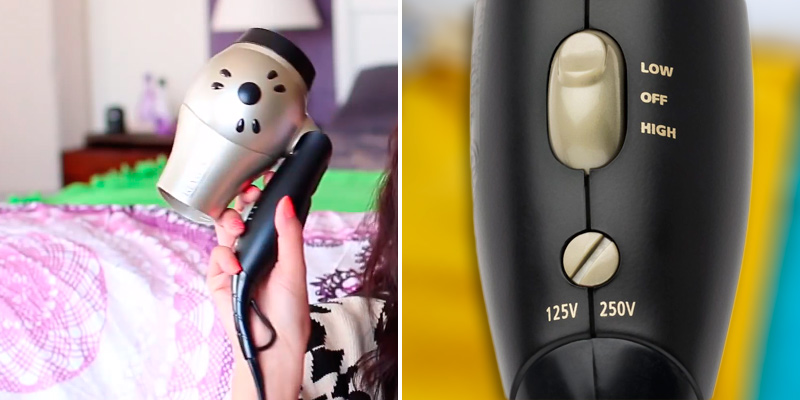 Additional Info
---
What customers say about this product
It has the same watts as my full sized hair dryer.
It's a good size to keep in my gym bag after a shower. Good product!!!
Best part, voltage for US and Europe.
The attachment is great for focusing the heat to take the wave out of my hair.
Revlon RVDR5005
Conair 124ANP
Win-Win Combo
The Conair Vagabond 124ANP is a decently powerful dual-voltage hair dryer from a famous manufacturer, which comes at a very reasonable price. Although this hair dryer is travel-sized and extremely light (1 pound only), it boasts the power of 1600 Watts. With plenty of power, it can deliver fast airflow and style damp hair within just several minutes.
You can choose one of the two speeds to fit your hair type best. The manufacturer advises using the low setting for weak hair and high setting for thick hair. Take note though, there is no cool airflow mode and no extra attachments available. It's just a simple hair dryer for occasional travel use.
That said, what the Conair 124ANP lacks in functionality it more than makes up in transportability. Being a dual voltage hair dryer, this model can be used almost anywhere. There is a handy 1205V-250V switch below the Hi/Low speed button, which is already set to 120 Volts out-of-the-box.
The blow dryer is very small but actually, it fits hands even better than full-size dryers and is more comfortable to use. And given that this is a very lightweight and compact model, it's easy to stow away in any bag. As for the build quality, the blower doesn't feel exceptionally durable, but we believe it will hold up fine to everything the road might have for it in stock.
Additional Info
---
VIDEO
Conair Travel Hair Dryer with Folding Handle - Best Inexpensive Compact Blow Dryer 1600 Watt
What customers say about this product
I tried it out this morning and it appeared to have just as much power as a regular blow dryer.
A very thoughtful design that works as intended - anywhere in the world. Just right for traveling to far off places.
Compact, so good for traveling. Powerful, too. I bought two of them.
No attachments, just a very basic hair dryer with two speeds.
Conair 124ANP
Hot Tools HT1044
Curly or Straight?
The Hot Tools Professional Ht1044 dryer is a standout on the market of styling tools for travel, with a few features distinguishing it from the peers. First things first, it boasts impressive power of 1875 Watts, which is rarely found in travel-sized hair dryers. Furthermore, it comes with two nozzles, so besides just smoothing your hair, you'll be able to create some voluminous hairdos too.

The finger diffuser attachment can keep your curls in top-notch condition. The diffuser is capable of delivering air right at your roots, making your wavy hair look much more voluminous. And what is important, the blower gently spreads air across your hair without damaging the natural shape of your curls.
The blower has a compact folding handle for transportation and a hinged end cap for easy cleaning. With the user's safety in mind, the manufacturer supplies this hair dryer with an ALCI power plug to exclude even a slight possibility of electric shock during use. All this makes the Hot Tools HT1044 a real steal for avid travelers, especially for those with curly hair.
---
What customers say about this product
This dryer has 2 speeds/temperatures, high and low.
I would highly recommend this dryer and it's a great size.
It was just what I wanted: a travel hairdryer with dual voltage and a diffuser attachment!
Great diffuser, which is easy to remove.
Hot Tools HT1044
MHD Professional Travel Size
For Travel and Work
If you're looking for a compact and portable dryer to keep at your office for those busy days when you need to leave your house before your hair is completely dry, the MHD Professional 1000 Watts hair blower is a go-to option. It is pretty powerful yet quiet, so it won't really disturb people around you even if you work in a busy environment. It offers 2 speed settings and an individual cool shot button. By pushing this button, you can give your hair a blast of cold air for a smooth finish and silky results. Not all high-end travel models can boast of cool shot function.
The only bummer with this dryer is that the handle can't be folded for compact storage or transportation. But even despite this, the hair blower can fit in most tote bags with no problems. By the way, the non-foldable handle has a good grip and is very comfortable to hold. Plus, it won't fold up while you are using a dryer as it often happens with cheap travel models.
The MHD Professional dryer comes with an ultra-thin concentrator attachment minimizing frizz and adding volume from very roots. For convenient operation, the unit has a 6-foot cord and a hanging loop. We would definitely recommend it for light home/office use or occasional travel use.
---
What customers say about this product
Powerful with great settings.
Love this hair dryer, it's small size makes it perfect for travel but it's powerful enough that I use it on a regular basis.
I love the screen gaurd over the filter, my hair doesn't get sucked up and fried.
The nozzle is narrow so you really don't need the air flow director attachment.
MHD Professional Travel Size
What Is a Travel Hair Dryer?
You never know what Hair Dryer you'll encounter in a hotel during your trip. Hotel blowers often have low power and no attachments, so they can dry your hair far too long. Of course, you can pack in your home Hair Dryer, but it will take too much space and add weight to your suitcases. A small travel Hair Dryer is a perfect solution! It's so tiny and lightweight that you can easily store it in your carry-on bag. It usually has a folding handle and can support 110-250 Volts for use overseas. It has a switch allowing you to choose between 110 and 250 Volts. Thus, you'll be able to take a travel hair dryer almost anywhere in the world. However, it isn't the only advantage. Since you are supposed to take travel blowers along with you, they usually feature a foldable handle. The handle simply goes inwards to make dryer suitable for packing into a small suitcase or cabin luggage
Buying a mini travel dryer means you'll always be able to flaunt beautiful blowouts just everywhere you go! Keep reading our review of the best travel-size Hair Dryers and take your pick.
If you have extremely frizzy hair and want to tame it on your trip, a travel flat iron can smoothen your hair and make it bone straight!
Best Travel Hair Dryers 2017