A portable hair dryer can deliver beautiful blowouts and save time with your morning routine. Usually, it's small and can fit into
your bag for a quick touch-up anywhere you go. The world is yours with a portable blower! Read our review on the best portable dryers and take a pick.
...
Read more
...Read less
BaByliss BABTT053T Pro TT Tourmaline Titanium
Travel Light
With the tendency of most airlines to limit luggage weight more and more, the BaByliss BABTT053T mini travel hair dryer is just a perfect choice! This bright red blower is amazingly petite and lightweight. When folded up, it takes almost no space, meaning it's an ideal option for those who pack light but still want to look gorgeous on any trip. This tiny dryer is pretty powerful nevertheless. It features 2 settings (high and low) and can completely dry long hair in 15-20 minutes. At the "High" mode, the blower produces fast air speed and really hot temperature, while at the "Low" setting it ensures low air speed and warm temperature. It doesn't feature "hot shot" or "cool shot" buttons, however, you can hardly find them on any other portable dryer. It's infused with tourmaline crystals to fight static electricity and flyaways. Plus, a directional attachment is great for styling baby hairs or bangs. The blow dryer has a voltage adjustment dial for use domestically and internationally.
Pros:
The far-infrared heat dries hair very fast;
It's enriched with pure gemstone tourmaline crystals for smooth results;
The dryer has a folding handle and comes with a concentrator attachment.
Additional Info
---
What customers say about this product
Compact enough to fit in a purse but powerful enough to dry a woman's long thick hair in minutes.
Compact, folds, is very light weight- perfect airplane trip small while providing tourmaline technology so you don't end of with the usual travel-frizz hair.
I love that it is extremely lightweight and foldable, which takes a minimal amount of space in my bag.
Not too loud, not too hot or cold, and the concentrator attachment fits perfectly.
BaByliss BABTT053T Pro TT Tourmaline Titanium
Laila Ali LADR5604
Soft Bonnet for Soft Hair
The Laila Ali LADR5604 Ionic Soft Bonnet Dryer is a fantastic option for people who need something ultra-portable. The compact box is extremely well-made and features a convenient handle for carrying around. No need to sit at the table! Just get an extension cord, put the dryer on your bed or couch, and relax while treating your hair. That's the beauty of this portable blower! The soft heating cap is very comfortable - it has a draw string to fit any head size, so it won't slide over your eyes and ears. It heats up pretty quickly and can accommodate even the largest of rollers. The bonnet distributes soothing heat evenly without hot spots which might burn your scalp. For the best results, you can apply creams or other moisturizing hair products. And since this model is Ion-infused, it's great for deep conditioning and chemical treatments. Start your way to shiny soft curls without frizz and fuzz!
Pros:
The soft bonnet should be stored inside the case;
Ion-infused airflow retains moisture and prevents hair breakage;

It has three heat settings (Low, Medium, and High).
Additional Info
---
What customers say about this product
lots of power in such a compact dryer. Love it!
Perfect size bonnet is a little small with head full of roller, but other than that it great.
It has a cold shot so I can set my style after my hair is dry.
I love the compartments for storage of the cord,hose and bonnet.
Laila Ali LADR5604
Conair 124TLR
Small but Effective
If your hair dryer eats up too much luggage space, and you're looking for an affordable travel option, the Conair travel hair dryer is a reasonable choice. It has a compact design with a convenient folding handle for easy transportation. The item can easily fit into your carry-on or gym bag and has enough power to style your hair after a vigorous workout or after taking a quick shower in a hotel. Although this hair dryer is travel-sized, it boasts the power of 1875 Watts. The device has quite a long cord that won't restrict your movement during styling. Of course, it has a little less power than regular models, but its small size and weight are worth this minor sacrifice. The dryer has 2 speeds - the low setting is good for weak hair, while the high mode is recommended for thick hair. Although it's a cheap portable hair dryer, it has no flimsy parts and works just perfectly.
Pros:
It has a long power cord;
This blow dryer features a foldable handle;
It's a dual-voltage device;
Cool-shot button for a final touch.

Additional Info
---
What customers say about this product
I was very pleased with the speed it took my hair to dry and it didn't take up much room in our hairdryer.
Love the size, color, and product. Works great. Good value for your money.
Bought the dual voltage dryer for use in Europe. Worked great with the adaptor.
Conair 124TLR
Revlon RVDR5005
So Delicate!
The Revlon RVDR5005 is one of the most powerful travel hair dryers on the market! It can dry even long thick hair super quickly. This mighty little one features 2 heat/2 speed settings and a cold button to blast your hair at the end for silky smooth results. Additionally, it comes with a concentrator attachment to let you dry your hair in sections, just like your stylist. This Revlon portable hair dryer has a triple ceramic coating to distribute heat evenly and prevent damage. Also, the dryer uses the power of ions to enrich your hair with negative ions for a frizz-free finish. The ionic technology also ensures a faster styling process. Overall, this blower is efficient, easy to use, and affordable. It's a compact dual-voltage device with a folding handle, so it will take minimum space in your bag. Just throw it into your carry-on luggage and create gorgeous blowouts wherever you go!
Pros:
It has a folding handle;
Ionic technology saturates your hair with negative ions to reduce frizz;
3X ceramic ensures even heat distribution;
This ionic travel hair dryer accepts 110-250 Volts.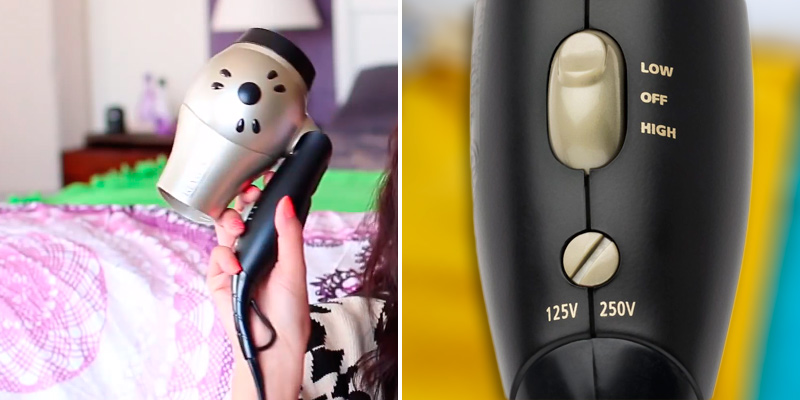 Additional Info
---
What customers say about this product
It has the same watts as my full sized hair dryer.
I like that it is small and light weight!
I like the dual voltage that allows me to bring it around the world.
I bought it because it was one of the few that had an attachment.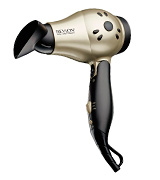 Revlon RVDR5005
MHD Professional Travel Size
Perfect to Keep at Work
If you're looking for a compact and portable dryer to keep at your office for those busy days when you need to leave your house before your hair is completely dry, the MHD Professional 1000 Watts hair blower is a go-to option. It is pretty powerful yet quiet, so it won't disturb people around you. Although its handle is not foldable, it has a good grip and is very comfortable to hold. Plus, it won't fold up while you are using a dryer as it often happens with cheap travel models. The dryer comes with an ultra-thin concentrator attachment minimizing frizz and adding volume from very roots. It features 2 speeds (Low and High) for different hair types and a cool shot button which can help you lock the hair into place and, thus, considerably prolong the styling effect.
Pros:
It has a 6-foot cord and a convenient hanging loop;
The lint filter is removable, which facilitates maintenance;
It has 2 speeds and a cool shot button;
The

package includes a super-thin concentrator attachment for quick drying.
---
What customers say about this product
Powerful with great settings.
Works great very light weight and small.
I also like that the filter cover is removable for easy cleaning.
The nozzle is narrow so you really don't need the air flow director attachment.
MHD Professional Travel Size
What Is a Portable Hair Dryer?
By portable hair dryer, we often mean two different appliances - a big dryer with a hood and a compact mini blower. A hooded hair dryer is great for those who often get impatient with drying hair and end up moving the dryer around too much (which leads to fuzz and frizz). The hair dryer with a hood is able to cut your drying time significantly and make multitasking easy! Besides, it works perfectly for deep conditioning treatments and roller sets. Some of the biggest advantages to using hooded hair dryers are that they work very gently on all hair types, create no hot spots and distribute the heat evenly along the entire length of the hair. When it comes to mini portable blowers, what makes them so popular is that they have very compact dimensions and can easily fit into a tote bag. They usually have a folding handle for transportation. Small but mightly, these are two words that describe them best. For this review, we've rounded up the five top-rated portable hair dryers so you can learn their advantages and choose the one that fits your needs best.
Spend time drying your hair with benefits using a face massager. This handy device will help activate rejuvenating processes, soothe and moisturize your skin.
Best Portable Hair Dryers 2017