Red light therapy is a natural, chemical-free and drug-free procedure that can tackle numerous health problems. It can help postpone
skin aging, promote wounds repair and efficiently alleviate different kinds of pain. With a red light therapy device, you can enjoy its countless benefits at home and share them with your family. Choose one for yourself from our best at-home red light therapy devices review.
...
Read more
...Read less
X
This site is a free online resource that strives to offer helpful content and comparison features to its visitors. Please be advised that the operator of this site accepts advertising compensation from certain companies that appear on the site, and such compensation impacts the location and order in which the companies (and/or their products) are presented, and in some cases may also impact the scoring that is assigned to them. The scoring that appears on this site is determined by the site operator in its sole discretion, and should NOT be relied upon for accuracy purposes. In fact, Company/product listings on this page DO NOT imply endorsement by the site operator. Except as expressly set forth in our Terms of Use, all representations and warranties regarding the information presented on this page are disclaimed. The information which appears on this site is subject to change at any time. More info
TENDLITE Red LED Light Therapy
Stop Tolerating Joint Pains!
Do you suffer from awful and distressing joint pains that restrict your movements and negatively affect your lifestyle? There is a way out. The TENDLITE is one of the best home red light therapy devices that was designed to relieve joint pains and help you get back to your normal active life.
The unit is very small (4.8" L x 1" W x 1" H) and lightweight. It is powered by a rechargeable 3.7 V battery and comes in a set with a battery charger and carrying case. Being compact and portable, this kit includes everything you need and will fit in any travel bag, suitcase or handbag. So, you can easily take it with you wherever you go and use it literally anywhere since it does not require connection to the mains.
However, what really sets this unit apart from other models is a state-of-the-art technology widely used by doctors and physical therapists. It provides a triple effect: muscle relaxation, blood circulation improvement, it combats pain, tackles inflammation, increases body's collagen production, and repairs tissues. All these actions are stimulated and supported by heat. Though simple, the TENDLITE really works wonders!
An On/Off button will activate the light stream for 1 minute allowing you to control the session length with precision. Notably, it's enough to administer infrared light treatment for 2-3 minutes a few times per day to feel a positive result in several days. The light wavelength is about 660 nm. According to NASA light frequency therapy research, this wavelength is optimal for deep skin penetration ensuring the best warming and soothing effect on muscles, joints, and tendons. With the TENDLITE, you can enjoy red light therapy results in the comfort and convenience of your home!
In addition, you can also use heating pads to get even more heat therapy effects.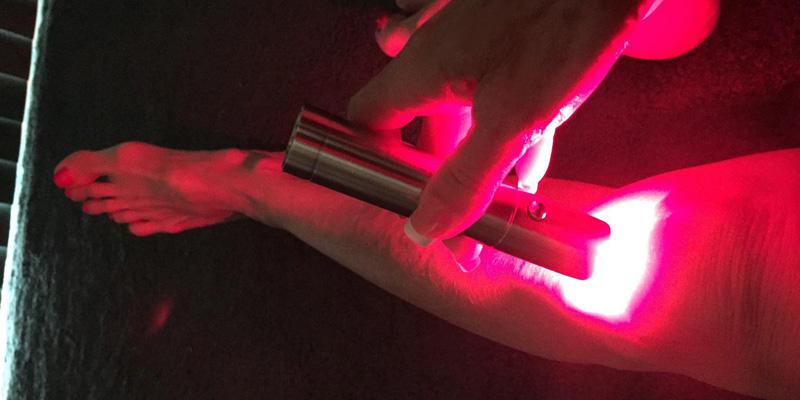 Additional Info
Last updated price

$

179.99

Stock
May be out of stock
ASIN

B004QECAU4
---
TENDLITE Red LED Light Therapy
K.S. Choi Corp Free-standing
A Stylish Lamp With Numerous Health Benefits
The K.S. Choi Corp heat lamp looks like an ordinary stand lamp and will easily find its place in your house or apartment. Yet, it's much more than just a lamp. It comes with an infrared bulb and offers numerous therapeutic benefits of heat and light therapy. Those beneficial effects include decreasing joint stiffness, relieving muscle spasms, reducing pains from ligament strains and improving microcirculation. Moreover, infrared light works great with numerous skin conditions.
Designed with user's convenience in mind, the K.S. Choi Corp lamp is very easy to master. A control panel features two mechanical dials to adjust the heat intensity and set the session time. On top of that, there is a corded controller for you to change settings without changing your comfortable body position. The bulb is 5" in diameter, ensuring a large body area coverage. In addition, an adjustable stand (43"–63") and a "goose neck" will let you use the lamp in a sitting, standing or even lying position and customize the lamp's height and light direction to fit your treatment needs.
Another important option contributing to the unit's usability is a thermal fuse to protect the lamp from voltage drops. Besides, the set is complete with a spare fuse and a simple-to-follow instruction on fuse replacement is available online. Though the K.S. Choi Corp heat lamp is not a medical-grade device, it is perfect for skin care, both in beauty salons and for personal use. It's widely used by acupuncture practitioners and chiropractors to intensify heating effect after a massage. Try skin light therapy and see for yourself!
If you are bothered by cellulite, there are creams to help you quickly get rid of this unpleasant problem.
Last updated price

$

179.00

Stock
In stock
ASIN

B002MGVPHM
---
K.S. Choi Corp Free-standing
Beurer North America Portable
Perfect Tool for Your Health and Well-being
The Beurer Heat Lamp belongs to the medical-grade light therapy devices, its numerous therapeutic benefits have been proved during clinical studies. It was meticulously designed to use infrared light to relieve joint pains and muscle aches, support the treatment of colds, ear-nose and throat diseases as well as support facial and beauty care.
This red light therapy lamp is equipped with a high-quality ceramic glass plate that provides safe infrared radiation (within the wavelength range from 500 to 2500nm) with secure UV protection. Being highly efficient, the Beurer Infrared radiator is extremely easy to use: simply plug it in, place it on a sturdy even surface and adjust the tilting angle to target the area of discomfort and tension (note that to ensure maximum effectiveness and cover an extra large treatment area, a minimum distance between the lamp and the body should be 12 inches). Then select the session time you wish to use the lamp for yourself up to the recommended limit of 15 minutes. You can freely use this IR radiator on different body areas one course at a time. Thanks to a powerful cooling system and an automatic switch-off function, there is no danger of overheating. Treat your aches and pains with the power of light and heat safely and efficiently!
Those who lead a sedentary lifestyle or work in the office know firsthand about back pains and muscle tension. Back massagers will help you tackle this problem.
Additional Info
Last updated price

$

79.99

Stock
May be out of stock
ASIN

B00IVPMZKE
---
Beurer North America Portable
FIGERM Red LED Light Therapy Device
The Best for Pain Relief
If you want to effectively ease pain and speed up wound healing, you should opt for a device that works right away. The FIGERM Red LED Light Therapy Device is exactly like that! It uses the laser with the wavelength of 808 nm which penetrates the skin at different levels to stimulate biological enzyme production, improve blood circulation, and increase the amount of oxygen in tissues. 
Around the laser, you can notice additional red light lamps that penetrate not so deeply yet can effectively cure inflammation and promote wound healing. A large LCD display makes this pain relief device incredibly convenient to use. It shows the power, time, and battery level. 
The device delivers soft laser therapy so it's absolutely safe and has no side effects. It does a fantastic job helping with chronic pains, joint soreness, inflammation, fresh injuries, and such ailments as arthritis, tendonitis, bursitis, sciatica, carpal tunnel syndrome, prostatitis, and other related health diseases. So, make your life pain-free with the FIGERM Red LED Light Therapy Device.
Last updated price

$

0.00

Stock
May be out of stock
ASIN

B01EXZ6PW4
---
FIGERM Red LED Light Therapy Device
Carer Photon Mask
A Magic Beauty Mask
Project E Beauty is renowned for producing common devices in a completely new design to ensure maximum comfort and convenience during use. This LED Photon light therapy device is not an exception. It stands out from other red light therapy products with its unique design and great therapeutic properties. Actually, this LED mask provides the best light therapy for facial skin. Precisely contoured, the mask will snugly fit your face, saving you the trouble of adjusting the tilt for better coverage as is the case with IR lamps. Besides, thanks to LED placement within the mask, you don't have to wear goggles; you can read or watch TV during your treatment time. A control box is a separate unit connected to the device that enables you to select and change settings without taking off the mask.
Along with its unusual design, the distinguishing advantage of this model is 3 light color treatment options. The red light will help heal and repair your skin, smooth the wrinkles via collagen stimulation and make your skin more elastic. Thanks to its antibacterial and antiseptic properties, the blue light tackles rash and acne problems. Meanwhile, the green light setting is a combination mode that improves skin, assists your anti-aging routine, and helps with relaxation. You only need to sit or lie down comfortably, choose the treatment option, set the intensity and session time, and let this red light therapy mask do its magic!
A beautiful smile will definitely add to your attractive appearance. Take care of your white and healthy teeth with one of the electric toothbrushes from our review.
Additional Info
Last updated price

$

0.00

Stock
In stock
ASIN

B0146A8CJ0
---
Carer Photon Mask
What is Red Light Therapy?
Infrared light is a type of electromagnetic radiation emitted by the sun. Though it's invisible to human eyes, people encounter it in everyday life and feel it as heat. However, due to high radiation and UV levels, excessive exposure to the sunlight will rather cause damage than bring benefits. For this reason, red light therapy is gaining an enormous popularity in recent years.
What is the red light treatment? It's a non-invasive procedure that delivers infrared light to a human body by means of low-light wavelengths penetrating the skin. As a result, red light therapy helps improve blood flow, accelerate cells and tissues repair, and provides skin rejuvenating effect. Moreover, it promotes wounds and scars healing as well as alleviates arthritis pains, muscle aches, stabilizes blood pressure, and soothes the nerves. Today, you can find countless red light therapy machines on the market. But such a wide selection can be puzzling. To narrow your choice, we've picked 5 top rated red light therapy devices that will give you an opportunity to enjoy all the benefits of red light skin therapy at home!
Stress and fatigue are unfortunately an integral part of a modern fast-paced lifestyle. Usually, we are too busy and do not have enough time to visit physical therapists or massage rooms. This is where massage chairs will come in handy. They will help you relax your body and shake off the stress to feel fresh and full of energy. Meanwhile, with a foot massager, you can enjoy a relieving foot massage after a hard day at work or a long day on your feet.
FAQ:
Q: What is red light therapy?
A: To put it briefly, the infrared light penetrates into the skin and repairs the damaged nerves and tissues. This is a very effective method that can rejuvenate your skin, reduce blemishes and soothe your body pain. 
Q: What does red light therapy do?
A: Red light penetrates deep into your skin and kicks off the following metabolic processes:
Increase

s blood

circulation;
Stimulat

e the production of collagen; 

Repairs and restores damaged soft connective

tissue;
Reduce

s

inflammation;
Form

s new capillaries.
Q: What are the benefits of at-home red light therapy treatment? 
A: Red light therapy can regrow your hair and reduce wrinkles, improve your joint and musculoskeletal health, reduce depression and fatigue. It also aids in wounds healing and tissue repair and, of course, it helps increase your immunity and overall well-being. 
Q: Does red light therapy really work? 
A: Yes, definitely. The effectiveness of this therapy has been proven by tons of studies all over the world. 
Q: Is red light therapy safe? 
A: Again, yes. The infrared light the red light therapy devices produce is totally UV-free.  
Q: What are the side effects of red light therapy? 
A: The light therapy stimulates metabolic processes naturally has no side effects at all. 
Q: Can red light therapy aid in acne treatment?  
A: Yes, all red light therapy devices have been FDA approved for acne treatment as well. The red light reaches the sebaceous glands and kills acne-causing bacteria. Moreover, post-acne scars can fade in just two weeks of red light treatment. The therapy is also very effective for other skin disorders.
Q: How many times per day can I use red light therapy devices? 
A: Twice per day would be perfect. However, keep in mind that using red light therapy devices for too long might reduce the effectiveness of the treatment. So, follow the instructions that come with a device to find a "sweet spot".
Q: Can I use a red light therapy machine on a sensitive skin?
A: Yes! All red light therapy products are approved for all skin types.