Beyond any doubt, our feet are our the most active body part. If you want to keep them healthy as long as possible, it's time to
consider purchasing a foot massager. This item will be great not only for kneading your feet but also for improving your overall wellbeing. Here these models are!
...
Read more
...Read less
MedMassager MMF06
Don't Go for Lesser - You're Worth the Best
If you feel like your work starts to interfere with your health and after spending a long day on feet you struggle to stretch your back and make a movement, what you should definitely do is try refreshing your feet with a good massage. The MedMassager MMF06 has been designed exactly for this purpose. It is not only one of the most popular foot massagers among users on the Amazon, most doctors and therapists around the world tend to choose it too, using it as a tool for soothing muscle pain, stimulating blood circulation, and relieving tension in legs and feet. And if you aren't someone who is ready to go for "lesser" when it comes to quality and you'd like to get a product that you'd be able to use for a long while, we'd definitely recommend you to add the MedMassager MMF06 to your home aid tools.
The MedMassager MMF06 is definitely one of the most powerful and effective foot massagers you could find on the market today. It looks pretty much unique, has a reliable and solid construction settled upon four sturdy feet, and features only one control button in the upper part of the device for ease of use. The foot pad of the massager is rugged and pleasant to the touch. It effectively targets pressure points of feet and legs to bring quick relaxation and relieve muscle knots. Not only that, the kit includes all the needed hardware enabling a user to set it firmly on any floor type.
Still, the biggest benefit of the MedMassager MMF06 is that it's totally reliable and safe for use. Designed in compliance with the strictest standards and FDA and CSA certified, it offers the ultimate experience for both regular users willing to enjoy the benefits of foot massage at home and therapists needing an effective means of treating tensions, swelling, and joint pains.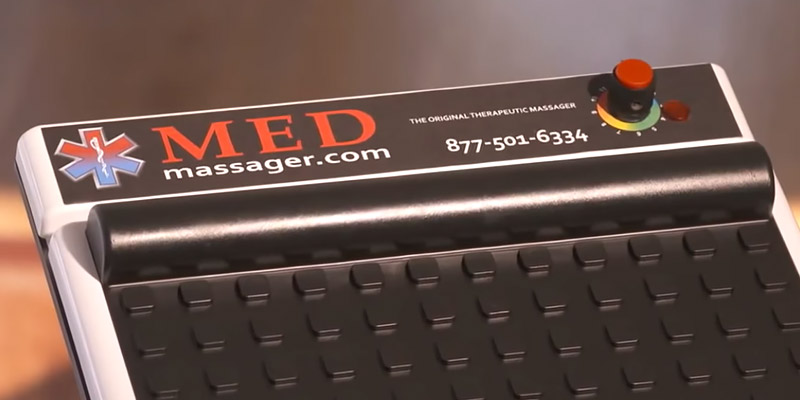 For Home and Therapeutic Use
Talking about the specs of the MedMassager MMF06, it has a powerful motor and 11 speeds adjustable from 1,000 to 3,700 rpm, which makes it the fastest, and, what's more important, the most effective massager designed for feet massage on our list. Not surprisingly, the MedMassager MMF06 has proved to be an effective means for tackling severe circulation issues as well as a reliable remedy for soothing pains that come as a result of neuropathy and diabetes. It's also great for regular feet massaging. Whenever you feel that your legs are tired or/and you'd like to get a quality massage, the MedMassager MMF06 will let you kill the pain and all uncomfortable feelings in less than 10-15 minutes of use. Its vibration is so strong and powerful you'll be stimulated up to your knees. And due to the fact that the massaging angle of the machine can be changed, it's quite easy and convenient to stimulate different areas of legs.
Summing up, we could not find any flaws in this device. It's so powerful and versatile you simply cannot go wrong with it. Suitable both for home and therapeutic use, it unifies some of the best modes and functions you could possibly want a foot massager to have. If you aren't tight on a budget and you want a thing that you won't regret buying in a long run, the MedMassager MMF06 is the one to look out for.
Additional Info
---
MedMassager MMF06
Miko Shiatsu
Invest in Your Health Right
The discerning advantage of the Miko foot massager is that it features a closed construction and uses air compression with heat to provide deep relaxing massage to all sides of the feet. Also, it doesn't cost as much as foot massagers designed for clinic use and almost anyone can afford to buy one. Thus, if you've been contemplating an idea of starting visiting a spa or a massage parlor, you can get yourself this Miko massager now and enjoy rejuvenating shiatsu massage in the comforts of your own home at the cost far lower than what you'd pay for a professional massuer's services.
With the Miko foot massager you get the ability to customize the massage to your needs and preferences using 5 different intensity level settings and a heat function that can be applied separately or along with the rest of the settings. The massage type, along with the massage strength and the heat, can be selected with the control panel placed in the center of the device. Using this massager is simple and incredibly comfortable as you do not need to lay still and can easily watch TV or work on the computer while massaging feet. The construction of the massager, in spite of its seemingly bulky size, is rather lightweight and portable; it snugly fits under furniture, bed, or sofa after use. People who've had a chance to sample the benefits of the massage with the Miko massager say that it works wonders for their feet bringing relief and relaxation almost immediately. Some of them use it virtually all day long, although the manufacturer recommends limiting the use of the massager to 30 minutes a day. Well, we agree that doing it might be quite tough, given the massage experience you're going to have.
Foot Massage With Heat
So what the Miko foot massager can do? Let's take a closer look at the specs and details.
Like we've already mentioned, the massager consists of two independent chambers each of the size enough to accommodate the foot up to 13-14 in size. Both chambers are lined up with a soft cover which is easy to remove and clean. On top of the device is a convenient control panel featuring several buttons and a dial for personalizing the settings and selecting the needed type of massage. To make it more convenient for users to use the massager while sitting at the desk or on the sofa, the manufacturer included a wireless remote control in the kit so that a user can change the settings without having to bend over the appliance. This also allows for its more comfortable use if you set the massager in your office. Though the Miko foot massager doesn't have the biggest number of intensity settings, most customers note that the level of vibration it produces is very tangible and they often feel their feet pleasantly tingle for another a few minutes after a massage session is complete. Some other features that make this massager so good and user-friendly include a 15-minute timer which automatically turns the massager off after the said period of time and the ability to apply heat to the feet, which is not only convenient but sometimes absolutely necessary.
Speaking of the disadvantages, the obvious one would be its closed construction which kind of restricts the options of stimulating other leg areas but feet and toes. Having said that, most customers say that they can feel the effect of the deep-kneading massage with heat almost in all muscles of their legs and they do not think any additional stimulation is needed.
---
Miko Shiatsu
Belmint Shiatsu Therapy
The Comfort and Relief You Deserve
If you're looking for a foot massager within a moderate price range, the Belmint Shiatsu Therapy Foot Massager can be a good option to consider. It has a very classy design with a foot pad to rest your feet on and offers a good number of massage types to select from. The foot pad of the massager is covered with 18 nodes grouped in 6 circles, which helps provide a more effective stimulation of feet and leg muscles, and has a heat function to enhance the massage sensation. Basically, it has everything needed to deliver a comfortable and effective massage to your aching feet. So instead of going to a spa and paying an enormous amount of money for each session, you can buy the Belmint Shiatsu Therapy Foot Massager and have unlimited massage sessions in your own home anytime you feel tired and stressed. Whether you spend long working hours on feet or you seek an effective at-home assistant to treat cold feet with warmth, this shiatsu foot massager will be a perfect fit. Besides, if you do not like the massager or if you find out that it doesn't work for you, you can send it back to the manufacturer and Belmint will return your money back. Although we do doubt you'll need to do that.
Your Reliable Home Assistant
When it comes to the massager use, it's all incredibly simple. You will not need to get up from your chair or sofa to adjust the settings. With a large toe-touch control button located in the center of the device, it'll be enough to simply hit it with your foot to start, stop or change the massage. Which is why we do not consider the lack of a timer as a drawback - you will simply not need it. The option to adjust the angle of the device is another great thing which adds to its usability. Once you set it right, you'll be able to take a comfortable position on the coach and relax.
On the negative side, the Belmit Shiatsu foot massager has no vibration function, the intensity of the massage is slightly inferior to that of more expensive massaging machines, and it's not suitable for therapeutic use.

Still, if you're searching for a quality foot massager to relax your feet after spending a busy day at work and do not expect it to tackle any serious issues like those related to neuropathy, it will surely prove to be a helpful assistant in your place.

---
Belmint Shiatsu Therapy
ArtNaturals Deluxe
Massage With Bubbles
What will you get if you combine the effect of rollers and nodes with the soothing warmth of water and bubbles? Yes, that's right, you'll get a deluxe grade foot spa massage with the Art's Natural Spa Foot Massager. No matter whether it's work that requires you to spend all day on your foot, you're an athlete who covers long distances every day or you simply want to purchase a foot massager to be able to pamper your skin from time to time, the Art's Natural Spa Foot Massager will fit the bill. Featuring a handy digital display and heating controls, it's easy to use even by novice. The design of the construction resembles a foot bath and in some way, it really does perform similar functions, with the only difference that unlike foot baths, the device also massages feet. All you will need to do is fill it with water, wait for a couple of minutes until it heats water to the temperature that feels comfortable to your feet, and put your feet into the tub. As simple as that.
The Foot Massager That Heats Water
Though using this spa massager is simple, you still need to follow some directions in order to do it right and comfortably. Since the tub is made of plastic and quite light in weight, it's highly recommended to place it on an even surface to prevent shaking of the unit and splashing of water. Do not use it in places that contain open sources of heat. When filling water, make sure that it doesn't go beyond the water line; otherwise, you risk to end up with lots of water splashed around the tub. Select the temperature and wait for the red indicator to flash up. Now you can start the massage.
Unlike many other similar foot spa massagers on the market that only maintain water temperature, the ArtNaturals Deluxe Foot Spa Massager is able to heat it, which makes it an alluring choice for people looking for a low-maintenance device that requires little adjustments. Because of the heat function, the ArtNaturals Deluxe Foot Spa Massager will also become a good addition to a beauty salon, eliminating the hassle of pedicure preparation procedures. However, the biggest advantage of the ArtNaturals Deluxe Foot Spa Massager is that because it uses warmed water, it allows for adding essential oils and salts making it possible to combine the benefits of warm massage and aromatherapy.
All things considered, it'd be fair to say that the ArtNaturals Deluxe Foot Spa Massager isn't the type of massager you'd want to use for therapeutic treatments. It doesn't provide strong vibration nor does it boast phenomenal massaging effect - you will constantly need to move your feet to make the rollers work. Yet, we'd surely recommend it to anyone who is looking for an affordable foot massager that can provide a soothing spa massage to their feet using heated water and for all those that seek a comfortable way of preparing their feet for a pedicure in the comforts of their own home.
---
ArtNaturals Deluxe
TheraFlow Dual Roller
Affordable Solution to Treat Achy Feet
We believe after you've compared several foot massagers out there you've already come to a conclusion that buying one is a kind of investment entailing the expenditure of a good sum of money. Well, to some extent you will be right, given a plethora of advanced models the market of massagers offers. That being said, if you aren't particularly interested in buying a massager packed with technologies and all those modes and features you might not even need to use, why not buy a simpler version of massager that you can afford? The TheraFlow Dual Foot Massager Roller is a great massager to consider. Despite the fact that it costs ten times cheaper than some of the models we reviewed here, this massager works, and hundreds of users who've already had a chance to assess its benefits prove this sharing their delight in comments. Small and ultra-portable, the TheraFlow Dual Foot Massager Roller is perfect for use not only at home but actually anywhere. Not only that, due to its peculiar design construction, you'll be able to use this massager in any position, sitting down and standing as you like.
Simple, Effective and Affordable
Simple as it looks, this foot massager provides quite a number of benefits which might not be as obvious when you first look at it. For one, it is very cheap. For two, the rollers on it are pronounced and much more effective than those hidden behind mesh. For three, it's so small you can easily carry it around and use it not only at home but in any other place as well. And finally, it is designed to last, featuring a high-quality and sturdy wooden construction. According to customers, the TheraFlow Dual Roller has proved to be effective at relieving not only those pains which usually appear after spending all day on foot but also severe joint pains, tight muscles, and plantar fasciitis stress allowing for improving the overall health. So how does it work? Since it doesn't use any power source, the movement of rollers is performed by moving your feet over the rollers. This enables you to control the pressure you apply and increase or lower it to the level you feel comfortable with. While you're moving your feet over the rollers, the ridges provide stimulation to the soles of your feet, enhancing the blood flow to the muscles of legs. You can use it sitting down or standing on it and combine your reflexology massage with other activities.
All of this makes the TheraFlow Dual Roller a great choice for people who are not willing to pay a lot of money but want to have an effective remedy for pain relief at hand. Though not being packed with all those bells and whistles, it does its job exceptionally well.
Additional Info
---
TheraFlow Dual Roller
What Is a Foot Massager?
Nothing can be compared to the foot massage. This procedure relieves stress and Charley horses, reduces fatigue and rejuvenates a general well-being. Furthermore, kneading improves blood circulation, prevents occurrence of varicose veins and spasms in gastrocnemius muscles. Foot massager machines utilize sensitive points and nerve endings at human feet which connect to other body parts and organs. Such massager is a must-have item for service workers and sportsmen since they spend long hours working on their feet. Thereby, the right choice of a foot massager is very hard to overestimate. Having read this review, you will easily make your pick.
In case you suffer from a backache, it's necessary to consider purchasing a back massager. If the price is not an issue, you might also take a look at our review of massage chairs as well. Such items will relieve a severe pain in muscles, improve good health and lengthen your youth!
What Features to Compare
Type
First of all, you should take into consideration the type of a foot massager you need. There are compression, roller, combined foot massagers as well as hydromassage units. Let's consider various kinds of foot massage machines!
As for compression foot massagers, they are made of several cushions producing undulating motions due to the inner air circulation. The massage quality is determined by the number of cushions a massage machine features.
Roller massagers perform translational-rotational motions for deep kneading of feet and calves. Some models feature a vibrating mechanism for an advanced effect. Furthermore, most of them have an adjustable speed and massage intensity.
Most combined massager models represent an alliance of a roller massager and its compression counterpart. Machines of such type are multifunctional and effective in maintenance.
Hydromassage foot bath tubs affect your feet by water jets and mechanical waves. It should be pointed out that contrast hydromassage tubs, capable of not only heating but also cooling water are extremely popular today.
Finally, such models as ultrasound and magnetic massagers should be pointed out. They are great for strengthening blood vessels.
Target Zones and Types of Massage
When you have decided to purchase a massager machine, you hope it would perform its functions not worse than a skilful rubber. That's correct. Most modern foot massagers can gladden their owners with Shiatsu kneading, heating massage, vibrating massage, and hydromassage.
Regarding Shiatsu kneading, it is based on massaging and stimulation of acupuncture zones. Such massage will easily relax your muscles and alleviate swollen legs. Furthermore, consider a heating massage mode. Such massage will be great for both amateur and professional sportsmen since it can make their muscles more string. Vibrating massage acts on nerve endings, skin, and muscle tissue. Thereby, it always results in blood vessels expansion, blood circulation improvement, and swelling alleviation. As for hydromassage, it relaxes foot muscles, relieves pain, improves lymph flow and blood circulation, etc. If you suffer from neuralgia, an ultrasound massager will be your best remedy. Apart from stimulating a human organism detoxication, this massager can improve skin regeneration as well. A magnetic foot massager will be perfect for those who suffer from a platypodia or other leg diseases.
Functionality and Conveniences
Functionality and conveniences are the other factors for you to be considered when purchasing a foot massager. An overwhelming majority of modern massagers feature control buttons for choosing a convenient operation mode. When switched to auto mode, the massager will do all the job for you, varying intensity and speed to provide a massage of full value. Some foot massage models are also great for kneading thighs, gastrocnemius muscles, and calves.
With a reference to hydromassage foot tubs, they enable consumers to heat water and direct water jets on certain leg areas for a maximum relaxing effect. As an added bonus, some models have a pumice stone for flaking off rough skin from consumer's foot and heels.
The dimensions and weight of a foot massager are the very factors outlining its convenience of use. Large units with a wide range of functions are good for a stationary use. If you are a regular traveler or have to spend much time walking, a compact lightweight device will be your best option. Consider the size of a foot massager since not all of them are nondimensional and you may need to have a smaller or a bigger one.
Did you know?
Interestingly enough, a lot of people underestimate the importance of a foot massage, which is quite a surprise considering the number of benefits it offers. Our feet are the most vulnerable part of our bodies that have to endure all types of challenges of a day. It's our feet that need to carry the weight of our bodies and "transport" us from one location to the other. And it's our feet that help up cover long distances and allow us to spend long hours standing at a customer service desk at work. Sure enough, they require proper care and a foot massage is what can do the trick. Let's discover the foot massage benefits and see why it's essential for our health.
Foot Massage Stimulates All Body.
Not only is a foot massage good for feet, legs, calves, and toes, it is great for all body. By stimulating different pressure points of your soles, a foot massage increases blood flow to all muscles of your body to relieve stress and kill all unpleasant symptoms that excruciate your life. Undergoing only a foot massage is often enough to avoid having upper back or lower back half massage. A foot massage can help restore the energy balance within your body and make your life literally pain-free.
Foot Massage and Reflexology Aren't the Same Things.
Although for most people today the terms "foot massage" and "reflexology" seem interchangeable, in fact, they mean quite different things. When massaging feet therapists do not apply a lot of pressure and simply rub feet using a little bit of oil or body lotion. On the other hand, reflexology implies applying and stimulating nerve ends of the feet by targeting specific points which reach different body organs and mechanisms, meaning that only qualified specialists who have the skills and knowledge can perform it.
Foot Massage Reduces Swelling.
You can do nothing about the fact that by the end of a day our legs start swelling. Wearing high-feel shoes, walking a lot during a day, or simply driving in a car on a hot summer day, all these inevitably lead to leg swelling. If you often suffer from swelling and experience physical discomfort by the end of a day, you can easily tackle this problem by simply applying some pressure to various points of your feet. With a foot massager, you'd be able to achieve a quicker relief.
Foot Massage is Able to Boost Your Sexual Appetite.
As much a shy process as this may seem, rubbing feet of your partner may push you closer to each other. With the right atmosphere, foot massage may become one of the most relaxing and anticipated rituals both of you would eagerly look forward to. Moreover, stimulation of blood circulation, as well as special pressure points in the feet, helps increase libido.