Modern people got used to living a stressful life. For most of us a spare time is something we can't afford. If a relaxation
or a stress relief is your fondest dream, a massage chair will help you make it come true. We have reviewed 5 massage chair models for you. Make your pick!
...
Read more
...Read less
PRE-PROGRAMMED MASSAGE MODES
What Is a Massage Chair?
Stress, apathy, and fatigue have become a part of a fast-paced modern lifestyle. Mental and physical stress reduction and relaxation of our body is vital for maintaining an active way of life and a health promotion. Innovative massage chairs have come as a result of common efforts of engineers and physicians. In other words, they are a high-quality alternative to manual massage sessions that can bring consumers the same health benefits. In fact, a massage chair can replace a massage room since it features a wide variety of sensors and other mechanical elements covered by a smooth leather upholstery. They can please you with a professional massage, reducing a tension in your neck and back muscles, and improving blood circulation and metabolism. Furthermore, a massager chair can serve as a good prophylaxis of osteochondrosis and various spinal curvatures. If you want to forget about stresses, insomnia, and a chronic fatigue as soon as possible, you should purchase this massager.
In case you suffer from a backache, it's necessary to consider purchasing a back massager. Such item will relieve a severe pain in muscles, improve good health and lengthen your youth! Don't want to suffer from a killing pain in your feet at the end of the working day? In this case, foot massagers will become your real salvation!
What Features to Compare
Construction
Modern market is saturated with various massage chair models. We recommend you to pay a particular attention to the construction of such chairs to deliver a maximum level of comfort to your body.
Massage chairs with airbags perform an excellent air compression body massage while stimulating blood circulation through all your body. This kneading perfectly stimulates blood circulation in your skin integuments, muscles, and connective tissues.
Massage chairs with rollers are great for Shiatsu kneading massage which is known for its similarity to a professional therapist's manipulation. Having undergone such procedure, you will get rid of fatigue and puffiness thereby experiencing a better blood circulation.
As to vibration motors, they can enrich your muscles with oxygen and activate vital processes in your organism.
Massage chairs with the heat are excellent for those who'd like to improve muscles' elasticity and boost up energy in a short while.
The chairs with massage elements arranged throughout the entire surface are commonly recognized as a universal option that can target literally all body zones including your neck, shoulders, back, lumbar, thighs, legs, and arms.
Massage Chair will be your best home electronic assistant for achieving a recovery after intense gym workouts or a total body relaxation after a long working day. Thus, it is a must-have device for office workers and sportsmen.
Functionality
The functionality of a massage chair is also very important for making the right choice. When we talk about functionality, we imply the number and types of massage modes a construction features. Most of us are always exhausted at the end of the working day and relaxation is the only thing we need. If you opt for a chair with pre-programmed modes, you'll have a chance to vary intensity levels and set different massage modes for different needs. Moreover, you can also soothe a certain bodypart or a few bodyparts at a time. Due to an embedded timer, you will be able to set the necessary massage session time. In addition, modern massage chairs feature Auto-off function. Thus, don't worry if you suddenly fall asleep during a body kneading because the chair will end a massage on time. What's more, owing to a recline angle adjustment you'll be able to enjoy massage not only in a sitting position but also in a so-called "zero-gravity" pose. Due to this pioneering innovation, you will experience a sensation as if you denied the physics laws and got rid of a gravity pull. Great!
Conveniences
Massage chair's conveniences are the last major factor you should pay attention to before purchasing this item. Just think – some models have a convenient control panel, while others have a wired or wireless remote control. An LCD display and voice guidance will make the maintenance of a construction very convenient. Owing to an embedded cup holder or an outlet, you will enjoy kneading while working at a laptop or watching TV. As to an upholstery, it has a direct impact on the appearance of a massage chair. The weight and dimensions of the construction define not only its steadiness but also the convenience of transportation. Since most models are equipped with casters, you can move them around your flat without scratching the floor. If you want to live a full life free from stress, it's high time to buy a massage chair! Just select a massage chair that would tick all the boxes for your requirements and enjoy the harmony of your body and soul!
Kahuna LM-6800
Construction
This massage construction features 36 air bags for an effective kneading of your neck, shoulders, back, lumbar, thighs, arms, legs, and even feet. 4 massage rollers and L-track system can resemble movements of a professional therapist's fingers. What's more, rotating rollers embrace not only a consumer's neck and back but also buttocks. 2 feet rollers will be your perfect option in case you spend much time on your feet. In general, this massager enables you to enjoy such kinds of massage as Shiatsu, Rolling, Kneading, Tapping, Kneading, combined Tapping & Kneading, as well as a wonderful heating massage of your lumbar and calves that will deliver a total relaxation to your body.
Functionality
Deep tissue, Stretching, Relax, Rejuvenate – you can choose any of these automatic intellectual programs for kneading your body. Kahuna Chair LM6800 massager also allows consumers to massage one or some body parts simultaneously. The manufacturer boasts that all of these programs can satisfy the demands of even the most sophisticated consumers. Moreover, this massager allows you to create and control an individual massage mode that will be based on peculiarities of your health. Computer Body Scan Technology can define your height, back width, and body disposal in the chair. Yoga stretching program will be amazing for professional or amateur athletes since it makes muscles stretched and removes toxins from human organism. 3 massage intensity modes of Kahuna Chair LM6800 make this massager suitable for any consumer regardless of his or her skin type. As this chair can evenly dispose the consumer's body weight throughout its surface, it will be possible to enjoy a massage in a horizontal position. Superb!
Conveniences
Due to a unique Space-saving technology, it's possible to accommodate this massage chair very close to the wall (5-6 inches). This chair will not only please you with an A-class performance but also make your interior more stylish and cozy. A wired remote control with a LED display and keys allows all users regardless of their age to control this massager. As this model weights 189 pounds, and its dimensions are 46" x 31" x 48", it will perfectly fit any interior. This chair is made of high-quality faux leather that has a long lifespan so you will have years ahead to enjoy a body massage. Beyond any doubt, it may take some time to assemble this massager and prepare it for a further maintenance, but one thing is true – this chair is worth every penny paid for it!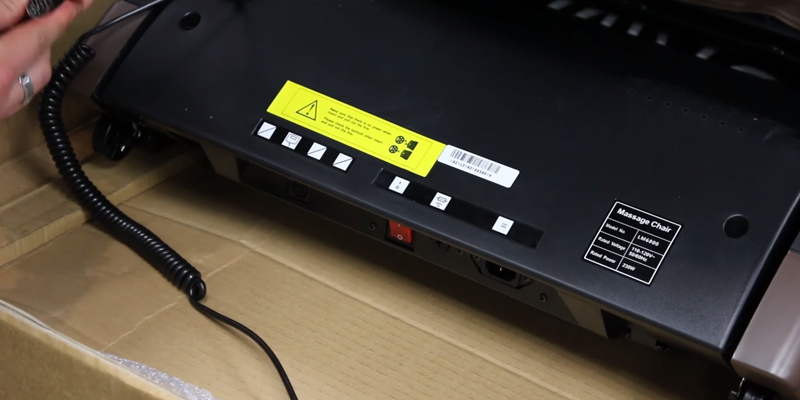 Additional Info
---
Kahuna LM-6800
iDeal Zero Gravity
Construction
Being developed with your health in mind, this full body massage chair has 4 back massaging rollers, 6 sole massage rollers, and airbags. This construction allows you to enjoy Shiatsu massage that can relax not only you neck, back or loin muscles but also rid you of stress. In other words, the operation of this item replicates the pressing movements made by a professional masseur. Kneading is great for relaxing your muscles and melting your daily stress. A rolling massage is perfect for resting your back and increasing muscle flexibility. If you lead a sedentary life, such massage will easily improve your health. As for a vibrating massage, apart from increasing blood circulation, it will have a positive effect on your overall well-being. A heating massage will allow you to enjoy a comfort and reach a maximum pleasure. Since the massaging elements are located throughout the massager's surface, you can massage your neck, shoulders, back, lumbar, thighs, arms, legs, and even soles simultaneously!
Functionality
This massage chair has 4 pre-programmed massage modes. Activate mode will help you wake up in the morning. As to Relaxation mode, you can use it for soothing your body after a long working day. Upper Back and Lower Back modes will be useful for massaging these parts of your body after intensive gym workouts. Furthermore, you can easily adjust the time of the massage session to relax or target an aching bodypart. Don't forget that choosing massage speed or intensity allows you to perform a deep or gentle body massage. Due to a recline angle adjustment, you will easily choose the most comfortable pose to sit in the massage chair with a maximum level of comfort.
Conveniences
A wired remote control with a convenient LED display is excellent for selecting the necessary massaging mode. Owing to an ergonomic button disposition, you will find it easy to control this electric massage unit. As the upholstery of this chair is made of high-quality synthetic leather, this item will surely enhance the décor of your apartment. The compact dimensions of this model – 55″ x 33″ x 49″ - make it easy to push this massager through narrow doorways. What else our customers like about this massager is a great choice of colors they can choose from - Black, Brown, Beige, and Red - to fit their interior best. In other words, if you want to melt your stress after hard working days and improve your health, iDeal MCRS Zero Gravity Massage Chair is just what you need!
---
VIDEO
full body massage chair zero gravity recliner jsb mz11 reviews
iDeal Zero Gravity
Real Relax Full Body Shiatsu
An Experience Worth a Try
A large variety of people all over the world have embraced the idea of massage that comes in many different forms, including the one delivered by the hands of a professional masseuse or masseur and the one that you can access with the help of a variety of different devices: massage pillows, head massagers and massage chairs.
But some still tend to feel skeptical about the whole thing. Some of them feel like massage doesn't necessarily do anything to them in terms of relieving their pain and discomfort. Of course, in the majority of these cases, either an unqualified massage therapist or a subpar massaging device is to blame. And some people reckon that they do not feel a certain constant level of pain, fatigue or physical stress. But the problem with that approach lies in the fact that people don't always tend to notice a certain level of discomfort that can nonetheless be harmful to them or simply get used to it over the time and feel like it isn't even present.
If you're one of these individuals that believes that he doesn't experience a feeling of physical or emotional fatigue on a daily basis, we would recommend visiting a proper massage therapist at least once in the foreseeable future. There's a good chance that you will experience the kind of pain that you never even noticed before go away and feel like you haven't felt before. Of course, after experiencing that kind of bliss, you may want to visit a massage specialist on a regular basis which can be draining in terms of time and finance. This is where the Real Relax Full Body Shiatsu Massage Chair Recliner comes in. This device will allow you to experience the kind of massage that could rival any professional in the comforts of your own home.
The Chair That Comes Packing
The Real Relax Full Body Shiatsu Massage Chair Recliner is a device of considerable size, so before purchasing it you should make sure that your room has enough space in order to properly fit it in. It features about 55 x 35 x 33 inches of overall packing dimensions that can add up to 33 x 31 x 68 inches in a reclined position and 33 x 49 x 53 inches in an upright one. The device's power consumption can range from 20 to 230 Watts depending on the way you utilize it and although the package weight doesn't add up to more than 200 pounds, with all of the additional accessories installed, the previously specified weight can rise up to about 440 pounds, so keep that in mind if you decide to transport it. Speaking about the aforementioned accessories, they include a built-in heater that will come in handy when it comes to a heat massage, a seat vibrator that will prove useful in tending to your nether regions, a remote control holder required to operate the device and some wheels that will make moving and transporting the model a considerably easier job. Speaking about the remote control, it comes with 4 auto programs to choose from that will allow you to set a preprogrammed speed and intensity. But if you're not satisfied with those programs or want to massage a specific body part, you can use the remote to choose any of them manually.
The Model You Don't Want to Miss
It goes without saying that when it comes to a massage chair, what you want is a variety of different features since every person's body is unique and thus requires a unique approach in order to relieve the feeling of fatigue and satisfy the potential customer. Which is exactly why the manufacturers and designers of the Real Relax Full Body Shiatsu Massage Chair Recliner packed a bundle of different functions and options that will be able to please even the pickiest of users. In addition to the aforementioned 4 preset auto massage programs that feature different massage methods in order to deliver the best massage experience and a remote controller with which you can set the manual program to different body parts and massaging time, the device also comes with 50 airbags placed all over the shoulder, arms, seat, and legs. With this type of structure, you will be able to experience the feeling of relief all over your body. And if you tend to accumulate a considerable amount of pain in your feet, this chair also includes 2 foot massage rollers that will make sure your feet will feel the level of bliss comparable to that of your entire body after a few minutes on this chair. The device also comes equipped with a heater built-in inside of the seat in order to promote blood circulation and improve metabolism. The last but not least, the chair is made from a bycast leather which is durable and surprisingly easy to clean. So if you're looking for a device that will tend to every part of your body with a nice balance of precaution and thoroughness, the Real Relax Full Body Shiatsu Massage Chair Recliner is the model you don't want to miss.
Additional Info
---
Real Relax Full Body Shiatsu
BestMassage 06C Shiatsu
Construction
Suffering from stress or tiredness is no laughing matter for anybody. Thus, we advise you to pay attention to the BestMassage 06C Shiatsu Massage Chair with Heat for promoting a long and healthy life. The construction of this massage chair includes 2 massage rollers and over 30 massage pads arranged to perform a whole body massage. This model is excellent for kneading your neck, shoulders, lumbar, thighs, arms, legs, and feet. Fans of Shiatsu massage can exult – the movements of this massage chair recliner are based on the motions of a Shiatsu massage masseur. As to knocking, kneading, or tapping massage techniques, they will deliver you a relaxation, reduce a muscle tension or pain and melt your stress after a long working day. Sportsmen will be fond of a heating massage function since it can heal ligament sprain or bruises.
Functionality
Body curve scanning is considered to be the most important function because it can easily determine your height and adjust the necessary recline angle of this massager. Furthermore, this massager is programmed with Recovery, Relax, Extend and Refresh kneading modes for your total relaxation. If you want to switch the construction to the individual massage mode, you can choose it among 8 available manual massage options. Don't want a full body massage? Ok, in this case, all you have to do is target a certain zone of your body, select the massage intensity, and set a 10-, 20- or 30-minute timer. That's all! Owing to the recline angle adjustment it's possible to take any most comfortable position in a chair, either sitting or laying for total relaxation. If you prefer laying, the chair will not get back to a sitting position even when the massage is over, so if you've fallen asleep, you won't be woken up by sudden reclining.
Conveniences
A wired remote control is located on the right side of this back massage chair so you can easily control the operation of this construction. Owing to a LED display you will always be aware of the chosen massage mode. A hinged cover reliably protects multiple buttons that allow consumers to choose an individual massage mode to satisfy their needs. The massager is covered with a smooth faux leather of which lifespan is long. Since the dimensions of this model are 55″ x 35″ x 42″ and its weight is 185 pounds, moving it around could be impossible without convenient casters. Casters and removable side panels make the chair moveable and bringing it into your dwelling a breeze. In other words, this massager will make your life more comfortable since your well-being has a direct impact on your mood and efficiency.
---
VIDEO
Shiatsu Massage Chair Full Review (Model-EC06C)
BestMassage 06C Shiatsu
Relaxzen 60-425111
Construction
This massage chair recliner is equipped with 8 massage motors, 6 of which are located throughout the surface of the chair to provide an effective kneading of your lumbar, back, and thighs zones, while 2 units are embedded in the massaging ottoman that can be placed under your legs for kneading. Want to have your muscles relaxed? Easy! Switch this chair recliner to the vibrating mode and enjoy your body soothing. A heating massage of your lumbar zone will melt your stress at a blink of an eye and result in rejuvenating of your body and mind. Great!
Functionality
Relaxzen 60-425111 Recliner Chair with Heat features 9 pre-programmed modes that will allow you to choose an optimal full body massage. Since the construction features 5 adjustable massage intensity modes (from delicate to intensive), you can choose the necessary one for a deep kneading of your muscles. Furthermore, you can also target necessary massage zones of your body as well as set a 10-, 20-, 30-minute timer to determine the length of a massage. A back recline angle adjustment will let you take most comfortable position to get rid of muscle tension and pain. What's more, due to a heating switch on/off button you will be able to warm your muscles only when you want it. Such a good motivation to purchase this recliner model!
Conveniences
Since this reclining massage chair has a convenient ottoman, it makes this model stay out of its counterparts presented in this review. This massager allows you to specify the massaging area of your legs depending on your height and anatomical peculiarities. Besides being equipped with a countdown timer, this model features a wired remote control with a comfortable arrangement of buttons. An appearance of this model is very attractive due to its wearproof faux leather upholstery. This model reaches 50.6 pounds in weight while its dimensions are 52.8″ x 28.5″ x 35.2″. This recliner model can easily accommodate individuals up to 300 pounds in weight. In sum, this massage chair will be your best electronic assistant in reducing stress, muscle pains, and promoting your wellness overall.
Additional Info
---
Relaxzen 60-425111