Desktops & Monitors
ASUS Crosshair V Formula vs ASUS Crosshair V Formula-Z
Product Comparison: ASUS Crosshair V Formula vs ASUS Crosshair V Formula-Z
X
This site is a free online resource that strives to offer helpful content and comparison features to its visitors. Please be advised that the operator of this site accepts advertising compensation from certain companies that appear on the site, and such compensation impacts the location and order in which the companies (and/or their products) are presented, and in some cases may also impact the scoring that is assigned to them. The scoring that appears on this site is determined by the site operator in its sole discretion, and should NOT be relied upon for accuracy purposes. In fact, Company/product listings on this page DO NOT imply endorsement by the site operator. Except as expressly set forth in our Terms of Use, all representations and warranties regarding the information presented on this page are disclaimed. The information which appears on this site is subject to change at any time. More info
Model
Crosshair V Formula
Crosshair V Formula-Z
About the Product
This motherboard supports latest AMD Socket AM3+ multi-core processors with up to 8 native CPU cores and delivers better overclocking capabilities with less power consumption. It features AMD Turbo CORE Technology 2.0 and accelerates data transfer rate up to 5200MT/s via HyperTransport™ 3.0 based system bus. This motherboard also supports AMD CPUs in the new 32nm manufacturing process.
The Crosshair V Formula-Z features the AMD 990FX / SB950 chipset and uses the new DDR3 T-Topology Design, supporting 2400(O.C.) MHz, offering optimum performance for hardcore gamers and performance seekers. Supporting the latest AMD Socket AM3+.
Chipset
AMD 990FX/SB950
AMD 990FX/SB950
Supported Processors
AMD FX™, AMD Phenom™ II, AMD Athlon™ II, AMD Sempron™ 100 Series Processors
FX / Phenom II / Athlon II / Sempron 100 Series
What customers say about "Key Specs"
ASUS Crosshair V Formula AM3+ AMD 990FX SATA 6Gb/s USB 3.0 ATX AMD Republic of Gamers Series Motherboard
I recently purchased this MB for a fx-8150 build. I have the CPU OC'd to 4.5ghz, with 16GB of 1866 GSkill Sniper RAM and an XFX 7950 Double D GPU OC'd to 1000mhz and 1425 on the mem.
The UEFI Bios is by far the easiest BIOS I have ever worked with. Being able to use your mouse to scroll through windows is super easy.
Other reviewers may have mentioned that you will have to update your BIOS in order to get the fx-8100 series processors to work. Apparently I was lucky because I did not have to do this as mine already had a recent enough BIOS loaded from the factory.
The ASUS Crosshair V Formula motherboard is a beast to the core, with USB 3.0 support, 32GB maximum RAM, AM3+ socket for AMD's future 8 core processors, and overclocking options.
I currently have an AMD Phenom II X6 1100T in the socket and it runs beautifully. With no on board video your only option is to get a video card, I installed a XFX Radeon HD 6950 and again no issues.
The only thing I wasn't expecting with all the new hardware was that Windows XP was conflicting with the hardware and thus getting a BSoD (Blue Screen of Death), so I had no choice but to upgrade to Windows 7
The only thing you need to be aware is that when you first install the mobo you need to install the lan drivers from the cd, otherway you wont be able to use internet for updates(its very dumb and nosense).
If it is true when ASUS crosshair cannot support the latest AMD cpu and Amazon and the page recommended to use them together, I will be extremely mad. Please just make it simple, fed up trying to make it work.
ASUS Crosshair V Formula-Z ATX Motherboard
It has a more detailed BIOS than my previous FM2 socket ASUS motherboard.
Bios was easy and straight forward. Maybe it's just because I went with all AMD chipsets that made it so smooth.
This board is great for any gamer! Amazing socket type.
Memory chip went bad in this board in less than a week.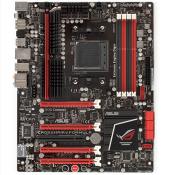 ASUS Crosshair V Formula
ASUS Crosshair V Formula-Z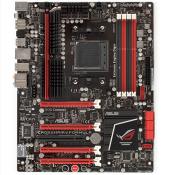 ASUS Crosshair V Formula
ASUS Crosshair V Formula-Z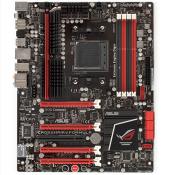 ASUS Crosshair V Formula
ASUS Crosshair V Formula-Z
What customers say about "Memory"
ASUS Crosshair V Formula AM3+ AMD 990FX SATA 6Gb/s USB 3.0 ATX AMD Republic of Gamers Series Motherboard
For RAM I currently have G Skill 8GB DDR3 SDRAM 240-pin Unbuffered Non-ECC at 1600MHz, no issues what-so-ever.
ASUS makes a real quality product. I bought Corsair Eliminator memory and 2 OC EVGA GTX 560's in SLI and am making a hair over 8000 on 3DMark 11 scores (everything overclocked. I am running @ 4.15 G on the CPU and stable. BTW never overclocked before!
The product is very stable, came with BIOS ver 1003 so my new Bulldozer FX-8150 worked right out of the box. the motherboard was compatible with the ram and video cards that I had chosen for use
The BIOS menu is very user friendly and offers a host of overclocking options. The only option I changed was adjusting the RAM speed to 1600mHZ instead of the default 1333mHZ. I might tinker with the overclocking options later, but for now everything is working well.
The system is stable and I'm really pleased with this motherboard. The SATA 3.0 components are all lightning fast. It's also an ideal motherboard if you want to use multiple video cards. The Corsshair V supports up to three PCIE 2.0 video cards.
The 'supported Memmory module' chart on ASUS.com website mentioned that this board supports upto 1866MHz of RAM spd, but when i tried to tweak my RAM it shows 1600Mhz Max in BIOS. So I had to return my 8 GB RAM (1866 Mhz) speed & replace it with 16 GB(1066Mhz) with $10 difference.
Board was DOA, no power to back of board as well as all four ram slots were dead would not recognize RAM.
ASUS Crosshair V Formula-Z ATX Motherboard
Great motherboard ddr3 2400mhz is cool. love the red l.e.d.
Max memory speed is 1600 mhz DDR3. If you utilize a faster memory the details can be loaded from the memory and the speed set manually in BIOS. The BIOS is automatically set to unganged memory so be sure to change this if you use pairs.
Memory speed seems to be a little off. I have the Corsair Dominator Platinum 1600 that the MB defaults to 1333. This has been happening over 5 BIOS upgrades.
It's awkward pulling out memory sticks the first few times.
Be very careful about the type of heatsink/fan you purchase as some of them cover up 2 of the 4 memory slots when using memory with tall heat spreaders.
PCI-E
3 x PCIe 2.0 x16 (dual x16 or x16, x8, x8), 1 x PCIe 2.0 x16 (x4 mode), 1 x PCIe 2.0 x1
4x PCIe 2.0 x16, 2x PCIe 2.0 x1
USB
6 x USB 3.1 Gen 1 port(s) (4 at back panel, blue, 2 at mid-board), 12 x USB 2.0 port(s) (8 at back panel, black+white, 4 at mid-board)
6x USB 3.1 Gen1, 10x USB 2.0
Other Interfaces
1 x PS/2 keyboard/mouse combo port(s), 1 x eSATA 6Gb/s, 1 x LAN (RJ45) port(s), 1 x Optical S/PDIF out, 6 x Audio jack(s), 1 x Clear CMOS button(s), Intel®, 1 x Gigabit LAN Controller(s), 2 x CPU Fan connector(s), 3 x Chassis Fan connector(s), 3 x Optional Fan connector(s), 1 x S/PDIF out header(s), 1 x Front panel audio connector(s) (AAFP), 1 x System panel(s), 8 x ProbeIt Measurement Points, 3 x Thermal sensor connector(s), 1 x En/Dis-able Clr CMOS header(s), 1 x EZ Plug connector(s) (4-pin Molex power connector), 1 x Power-on button(s), 1 x Reset button(s), 1 x CPU Level Up button(s), 1 x ROG Connect switch(es), 1 x Go Button(s)
PS/2, RJ-45, Optical S/PDIF out, 6x audio jacks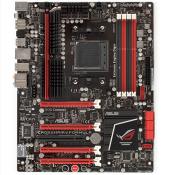 ASUS Crosshair V Formula
ASUS Crosshair V Formula-Z
What customers say about "Connectivity"
ASUS Crosshair V Formula AM3+ AMD 990FX SATA 6Gb/s USB 3.0 ATX AMD Republic of Gamers Series Motherboard
Plenty of fan connections for those with full size cases like mine (HAF 932). I don't use a fan controller yet so this helped me out at least.
I love the sound quality as I am v old fan on Creative products. Good performance while O.C. CPU Supports for variety of other peripherals.
I bought this board on a whim. I love it. The serial connection from a netbook to overcklock the board works brilliantly! I didn't have an issue w the BIOS upgrade because I am using a Phenom X6 1100T.
The new ROG BIOS interface is really good for overclocking for the real Hardcore gamer or developer, and most of all ports for all the basic and advanced attachments, this including the ROG on on the fly components, as well as 4 PCI-E ports for triple SLI or Crossfire.
This motherboard is very good quality and was manufactured using high quality components. I'm happy with the layout and had no space issues when installing the peripherals.
I use HW monitor to keep track of temps in my board. I was noticing that all the temps were perfectly normal except my NB temps...it would get over 63 degrees during load. I've done a lot of research and found that some of these boards have issues with the NB
On problem that I did have was that I had to reinstall the LAN driver from the CD that was included with the motherbaord. When I installed Windows 7 and loaded all of the drivers from the included CD there was no LAN network present.
ASUS Crosshair V Formula-Z ATX Motherboard
Plenty of USB Ports. Lots of hookups. Easy to connect.
No PCIe 3.0 support or update with BIOS. Disappointed.
Be careful with the USB mount for the case. The pins are kind of flimsy. It upset me very much.
Native Audio
SupremeFX X-Fi 2 built-in 8-Channel High Definition Audio CODEC
Realtek S1220
Additional Accessories Included
User's manual, I/O Shield, 6 x SATA 6Gb/s cable(s), 1 x 3-Way SLI bridge(s), 1 x SLI bridge(s), 1 x CrossFire cable(s), 1 x Q-connector(s) (2 in 1), 1 x ROG Connect cable(s), 1 x Cable ties pack(s), 1 x ROG theme label(s), 1 x 12 in 1 ROG Cable Label(s)
6x SATA cables, Driver DVD, Q-connector, ROG Connect cable
Extras
ROG Connect, Extreme Engine Digi+, UEFI BIOS features, GameFirst, iROG, Extreme Tweaker, Overclocking Protection, ASUS TPU, Core Unlocker, ASUS Exclusive Features, ASUS Quiet Thermal Solution, ASUS EZ DIY, ASUS Q-Design
ROG Connect, Extreme Engine Digi+ II, ROG BIOS Print, Extreme Tweaker, iROG, Overclocking Protection, ASUS Power Design, Ai Charger, AI Suite II, ASUS Quiet Thermal Solution, ASUS EZ DIY, ASUS Q-Design
What customers say about "Features"
ASUS Crosshair V Formula AM3+ AMD 990FX SATA 6Gb/s USB 3.0 ATX AMD Republic of Gamers Series Motherboard
Because of the BIOS, I also found this board to be the easiest board I have overclocked. You are literally just a few clicks away from setting new multipliers, voltages, etc. Also, I have noticed far more forums and support columns for overclocking on this board compared to my last MSI 790fx-gd70
I know this isn't important to many people but the board looks great.
The design and layout of the motherboard is a beautiful thing, the color is very nice. The UEFI BIOS is very flexible and easy to navigate and set up with this motherboard as well.
This is By far one of the best products produced by ASUS and this is why I will continue on using ASUS products and suggesting such devices to clients, friends, family, and all others I come across.
One thing that I really like about this motherboard is the on board LED's that indicate whether or not the components (RAM, video card, CPU, LAN connection, etc.) are being recognized.
Read reviews, read, read, read, read and read. My proccesor is a phenom II x 6 and it works perfectly. I heard you have to update your bios before using a bulldozer otherwise it wont start up
I began to notice that on random boots that the CPU Q-LED on the PSB would light up and remain red, so that my computer failed to POST. I tried readjusting everything, re-fastening the screws, and making sure everything was snug but it did not fix my problem
ASUS Crosshair V Formula-Z ATX Motherboard
Easy to build a system with this board. Indicator lights flash red to show what is causing your board not to post. You can turn off pci-express lanes to see which graphics card is giving you problems.
Built in Audio is just awesome.
I watch Blu-ray movies using PowerDVD without any problem for hours without eye strain.
This is a very nice board - lots of features and fast. Should last a couple of years.
The board was very easy to install and set up.
Nice BIOS. A lot of settable features for overclockers and tweakers.
Also initial setup of audio software takes some tweaking in settings to be able to get sound to output to correct devices.
Power Connectors
1 x 24-pin EATX Power connector(s) 1 x 8-pin ATX 12V Power connector(s)
24-pin EATX, 8-pin ATX 12V, 4-pin ATX 12V
What customers say about "Power"
ASUS Crosshair V Formula AM3+ AMD 990FX SATA 6Gb/s USB 3.0 ATX AMD Republic of Gamers Series Motherboard
Corsair H80 Liquid cooling system for CPU (recommended for any AMD based system) Corsair Enthusiast Series 850-Watt PSU -- works great!
After put everything in place, everything seems to work well until I found out my PC cannot be power off by continue pressing the power button, nor does the screen shows any signal, not even the BIOS.
I went on switching the memory, re-plug the graphic and stuff, the desktop still not working. I had to force power off by unplug the power supply, which would surely hurt the hardware. The power supply I am using is 750W, if that's not enough I have nothing to say.
Waited two months to build this rig,had everything together,hit the power button fans came on Qlights lit then nothing. Come to find out I was not the only one with this problem. The dram led came on, Rma'ed board, new one came in and had the same problem.
ASUS Crosshair V Formula-Z ATX Motherboard
Combine this board with a good power supply and cooling it will serve you well.
Powered up without any issues the first time.
It also has a BUILT in Molex 12 Volt to grant extra power to Multiple GPUs running on the PCIe slots.
24 pin and a 8 pin for the CPU socket as well as an additional 4 pin connection to provide the extra needs of over clocking the CPU.
The power draw on this specific processor matched with the specifications of the board, even though rated as compatible, is a little too power hungry it seems like.
Warranty / Certifications