What is the key element of any computer, holding and connecting all essential hardware? A right choice of a PC motherboard will let
you set up a computer of your dream for the best gaming experience. Select one of the best motherboards and reach a new level in your PC performance!
...
Read more
...Read less
SOCKET / SUPPORTED PROCESSORS
MEMORY SLOTS / MAX MEMORY
X
This site is a free online resource that strives to offer helpful content and comparison features to its visitors. Please be advised that the operator of this site accepts advertising compensation from certain companies that appear on the site, and such compensation impacts the location and order in which the companies (and/or their products) are presented, and in some cases may also impact the scoring that is assigned to them. The scoring that appears on this site is determined by the site operator in its sole discretion, and should NOT be relied upon for accuracy purposes. In fact, Company/product listings on this page DO NOT imply endorsement by the site operator. Except as expressly set forth in our Terms of Use, all representations and warranties regarding the information presented on this page are disclaimed. The information which appears on this site is subject to change at any time. More info
MSI X99A
Supported Processors
This innovative computer motherboard supports Intel Core i7 Extreme Edition processor through LGA 2011-3 socket. This processor is one of the best on the today's market, it will be an excellent addition to the MSI X99A GODLIKE GAMING motherboard. This combination will provide you with a perfect performance. Any up-to-date game will work with the best settings and maximum FPS quantity even if you are streaming your gameplay online.
Form-Factor
This gaming motherboard has eight slots for a RAM installation. The maximum memory you can install is 128 GB DDR4. With this RAM capacity, you will forget what a slow download is. You will definitely enjoy your computer multitasking with the MSI X99A motherboard! The device also has 5 PCI-Express slots that can be used to connect additional graphic cards, an external audio card, and an additional network card.
Interfaces
The MSI X99A motherboard has the following interfaces: 1xPS/2 keyboard and mouse combo port, 1xUSB 3.1, 2xUSB 2.0, 4xUSB 3.1 for external devices connection. 4 x USB 3.1 Type-A (5 Gb/s), 1 x USB 3.1 Type-A (10 Gb/s), 1 x USB 3.1 Type-C (10 Gb/s) will provide a swift data exchange with your smartphone or graphic tablet. The 2 x LAN (RJ-45) will provide a wired Internet connection. There are also two Wi-Fi connectors, a 6.3 mm golden headphone out, an optical S/PDIF out, 5 HD audio jacks, Wi-Fi and Bluetooth connectors. The audio card assures a studio-grade sound. The motherboard has a 7.1-Channel Realtek HDA Codec. Using various utility programs, you will be able to make accurate equalizer adjustments. You will surely appreciate the incredible sound output. You can enjoy a crystal-clear sound through the studio-grade high-resistance headphones.
Extras
This innovative motherboard has a Guard-PRO feature. It provides an effective protection from humidity, high temperature, electrical discharge, electromagnetic emission, and also an electrical circuit protection. Mystic Light will let you adjust the color palette to your liking. You can choose either blazing flame or cold light for the body frame. Whatever color suits your design! Just renew your color space with Mystic Light APP on your PC, smartphone, or tablet.
Last updated price

$

0.00

Stock
May be out of stock
ASIN

B014VITZPM
---
VIDEO
MSI X99A GODLIKE Gaming - RGB Lighting on a motherboard is here!
What customers say about this product
If I was building this today I would use a Xeon but I got the i7 at a crazy good sale price.
It can also handle 4 way sli/xfire. 128 GB max DDR available across 8 slots and this board should last a good while.
The steel reinforced PCI-E ports made my 2 dual core 390 GPUs stay in place without any problems.
Its well packaged with alot of accessories, Overclocking software with motherboard did a great job with my RAM and CPU.
Bought for my first gaming build attempt, first power on bootup was perfect!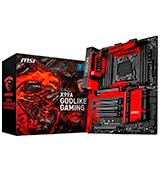 MSI X99A
ASUS M5A99FX PRO R2.0
Supported Processors
The Asus ATX motherboard is compatible with AMD AM3+ FX, Athlon II, Phenom II, Sempron 100 series processors (via AM3+ socket). And you can enhance their efficiency with a safe overclocking. There are two special chips, a TurboV Processing Unit (TPU) and an Energy Processing Unit (EPU). The TurboV will allow you the most convenient and safe overclocking without the need to reboot your computer. Besides, you can save your settings to use them afterward. The Energy Processing is an all-digital feed control system.
Form-Factor
This innovative motherboard has four ports for DDR3 Random Access Memory connection (maximum memory is 32 Gb). This is more than enough for an effective personal computer performance. It will suffice to assure a high efficiency of all your software. The manufacturer has equipped this motherboard with four PCI slots so that you could connect an additional graphic card, a television tuner, or an external network card.
Interfaces
The Asus ATX motherboard has a PS/2 keyboard (purple), a PS/2 mouse (green) interfaces. An eSATA suits for an external HDD connection. There is a LAN (RJ45) port for the Internet and 2 х USB 3.0 ports for external devices connection. One of 8 х USB 2.0 ports can be switched to USB BIOS Flashback. Besides, there is an Optical S/PDIF out and 6 x 3.5 mm Audio jacks. An 8-Channel sound with a Realtek ALC892 HDA Codec will let you enjoy the perfect audio output while listening to music or watching movies. This Asus motherboard supports high-quality sound systems and studio headphones.
Extras
This up-to-date motherboard has two special chips to provide the best performance of your PC (TurboV Processing Unit – TPU and Energy Processing Unit – EPU for an efficient energy usage control). A simple user-friendly interface allows an easy BIOS settings adjustment. This feature of the innovative Asus ATX motherboard will help you overclock the system and achieve its absolute highest performance.
Last updated price

$

149.98

Stock
In stock
ASIN

B008B6ONXK
---
VIDEO
ASUS M5A99FX Pro R2.0 Motherboard Unboxing + Overview + Benchmarks
What customers say about this product
Sturdy feel with padded backplate that would fit snuggly in any ATX case without no gaps between the backplate and the sockets.
This board with a SSD, Vengeance DDR3 2133MHz 8GB, I can play anything.
There are 3 case fan ports, and 2 CPU fan ports, which is a very nice touch.
Lots of accessories to go with it. All the SATA cables with labels.
I like the fact that the 8pin power connector is on the top side of the Mobo instead of the far side (by the exhaust fan) this helped in getting the plug into it's spot with relative ease.
ASUS M5A99FX PRO R2.0
ASUS Crosshair V Formula-Z
Supported Processors
The Asus AM3+ AMD motherboard is compatible with AMD AM3+ FX, Phenom II, Athlon II and Sempron 100 series processors (TDP up to 140 Watts). The AM3+ socket also fits the newest octa-core processors manufactured using a 32 nm technology. This up-to-date motherboard also supports an AMD Turbo CORE Technology 2.0 and uses a high-speed HyperTransport 3.0 system. This technology will result in an efficient, safe and fast PC performance.
Form-Factor
This gaming motherboard has four RAM slots for DDR3 memory type and a maximum capacity of 32 GB. This will be enough for a convenient use of your personal computer. You will be able to play the newest computer games, use photo-editing and graphics programs, proceed video editing. The Asus AM3+ AMD has four PCI slots for an additional graphic card, network equipment, and even television tuner equipment.
Interfaces
This motherboard has the following attachment interfaces: 1 x PS/2 keyboard and mouse combo port, 2 x eSATA 6 GB/s for an SSD connection, 1 x LAN (RJ45) port for the Internet and LAN connection, 4 x USB 3.0 and 8 x USB 2.0 to connect external devices, an Optical S/PDIF out and 6 x Audio jacks for a sound system connection. The SupremeFX III audio card will let you dip into the game. The manufacturer made the perfect sound performance possible with gold-plated audio jacks and high-quality capacitors. The EAX 5.0 and OpenAL assure the hardware acceleration for 3D-games performance. Their best quality is confirmed with THX TruStudio Pro certification.
Extras
The Asus AM3+ AMD motherboard has an ROG Connect for monitoring your computer condition and adjusting its parameters via your laptop in real-time mode. You can connect the laptop to your PC via a USB cable. The manufacturer has used up-to-date technologies for you to enjoy a wonderful sound output. This cutting-edge motherboard has a unique audio card that will let you lose yourself in the game world.
Last updated price

$

329.99

Stock
In stock
ASIN

B00906DHLE
---
VIDEO
ASUS Crosshair V Formula-Z AM3+ AMD 990FX SATA Motherboard
What customers say about this product
It has a more detailed BIOS than my previous FM2 socket ASUS motherboard.
Max memory speed is 1600 mhz DDR3. If you utilize a faster memory the details can be loaded from the memory and the speed set manually in BIOS. The BIOS is automatically set to unganged memory so be sure to change this if you use pairs.
Easy to build a system with this board. Indicator lights flash red to show what is causing your board not to post. You can turn off pci-express lanes to see which graphics card is giving you problems.
Plenty of USB Ports. Lots of hookups. Easy to connect.
It also has a BUILT in Molex 12 Volt to grant extra power to Multiple GPUs running on the PCIe slots.
ASUS Crosshair V Formula-Z
MSI Z97 PC MATE
Supported Processors
The MSI ATX motherboard can hold a wide range of processors: Intel Core i7 / i5 / i3, Pentium, and Celeron 5, 4 Gen (LGA 1150 socket). An OC Genie is a pre-installed software technology for the system overclocking. With this technology, you get the overclocking done in a second. As a result, the MSI motherboard manufacturer provides you with the highest performance. You can increase your PC efficiency with just a press of a button. This technology increases your processor's productivity, memory, and graphics by 20%.
Form-Factor
The MSI ATX motherboard has four RAM slots (DDR3 type, up to 32 GB). You do not have to use all the slots; you can even use one (the recommended minimum is 4 GB). This will be enough in case you are going to use your PC for a Web surfing only. If you want to use this MSI motherboard to the fullest, add a couple of RAMs. The device has four PCI slots. Two of them can be used to install graphic cards, the other two are for a network equipment or a TV tuner connection.
Interfaces
The device has the following connectors: 1 х PS/2 for a mouse, 1 х PS/2 for a keyboard, 4 х USB 2.0 and 2 х USB 3.0 for external devices, 1 x VGA–an analog video display connection, 1 x DVI-D – a digital display, 1 x HDMI – a digital display connection plus a sound transmission option and definition over 1080p. There are also 1 х LAN (RJ45) and 3 х Audio jacks. The sound card and 8-channel HDA codec Realtek ALC887 have moderate characteristics, but if you use a standard inexpensive sound system, there will be no difference in audio output.
Extras
You will be able to enjoy the best video performance with a 4K UHD support. And the MSI ATX motherboard does have an HDMI slot for this newest 4K UHD 2160p ultra-high definition video reproduction! A Click BIOS 4 is an up-to-date fully functional graphical interface enabling both special and traditional BIOS features adjustment. It reacts quicker and assures a faster performance in comparison with the old hardware providing the highest efficiency of this computer motherboard.
Last updated price

$

179.99

Stock
In stock
ASIN

B00K23BW70
---
VIDEO
UNBOXING: MSI Z97 PC Mate Motherboard | Why I Got It |
What customers say about this product
Good looking MOBO, BIOS is pretty simple, best price for Z97 chipset.
The fact that it has a PCI Express slot was my primary reason for this choice along with the capability to add up to 32 GB of DRAM memory.
The motherboard overview section lets you see the individual components of your board and details of PCI-E and USB headers which is an added bonus.
The audio boost is awesome for headphones plugged into the front of your case. You get higher quality sound and more clean tones at higher volumes.
I've had multiple power failures and my old PSU even exploded, and this motherboard protected all the components.
MSI Z97 PC MATE
Gigabyte GA-F2A68HM-H
Supported Processors
The Gigabyte motherboard supports the following AMD processors: A10, A8, A6; Athlon X4, Athlon X2 (through FM2+ socket). These processors have a reasonable price, but their technical characteristics are still high enough to accomplish basic tasks. This computer motherboard assures that you surf the Web, create and edit documents, etc. comfortably. You can also watch your favorite movies and listen to audio files.
Form-Factor
This computer motherboard has only two slots for a DDR3 memory type and a maximum memory capacity of 64 GB. One might think that there is a lack of slots, but look at the maximum memory index of this motherboard! You can install up to 64 GB RAM to achieve the maximum efficiency of the office programs and the best Internet applications performance. There are two PCI slots, for a graphic card and a network equipment connection.
Interfaces
The Gigabyte motherboard has the following connection interfaces: 2 x USB 3.0/2.0 (rear panel), 8 x USB 2.0/1.1 (4 on the rear panel, 4 available via internal USB headers), an S/PDIF, a D-Sub, and an HDMI port for a video display connection, an Ethernet port, 1 x PS/2 keyboard and mouse port. This computer motherboard features a 7.1-Channel HDA Codec (Realtek ALC887) native audio. This sound card does not boast of the best characteristics but is enough for common home and office use.
Extras
You can connect two video displays at a time which greatly broadens the field of use of this Gigabyte motherboard. It is a nice choice for those who work with graphic design applications; it will also help you with surveillance cameras arrangement. Besides, you can use an HDMI interface of the Gigabyte mATX AMD motherboard to connect your television set. This will let you hold a presentation or enjoy watching a slideshow.
Last updated price

$

148.68

Stock
In stock
ASIN

B01JKO3QI4
---
VIDEO
Gigabyte AMD FM2+ A68H Unboxing (F2A68HM-H)
What customers say about this product
Just make sure you have a power supply that's cabled right, or adapters for your 4 pin power connector, and ground yourself with a strap 'cuz these are tight confines to get everything into place without touching several things at once!
It's a great motherboard for my board.
I recommend this one. Has solid ports for connectivity.
Size and features for my needs.
Gigabyte GA-F2A68HM-H
What is a Motherboard
No wonder that the most important part of any computer is called a motherboard. Like a real mother, it cares for her "children", holds and connects all the other electronic components of a system, such as a processor, memory, graphic card, hard disk, and other hardware. An adequate choice of the motherboard is essential for a comfortable use of a computer. There is a wide variety of PC motherboards designed for different purposes. If you are going to surf the web, a mid-range motherboard will do the job. However, if you are assembling a play station for the best gaming performance, streaming, photo- and video editing, you should consider purchasing a gaming motherboard. We have selected 5 best motherboards for you to choose the suitable device. You should also keep in mind other integral parts of your PC such as CPU processors and graphic cards.
What Features to Compare
A motherboard is one of the essential components of any PC. It does not affect the FPS quantity of your games, or video coding speed the way your graphics processor or adapter does. However, the motherboard defines a system's functionality and capability and sometimes provides an additional overclocking option. That is why you should put an increased focus on a motherboard selection when setting up your new computer.
Nowadays there are plenty of motherboard chipsets, memory slots and form factors. The right choice is a challenge even for seasoned users let alone those setting up their first computer. The first tip for a motherboard selection is Supported Processors. It may be either Intel or AMD. You should put your attention to the socket of your motherboard to select an appropriate hardware. Each new processor put on the market requires a new socket. That is why you should choose a motherboard to fit your processor and vice versa.
The Form Factor defines a motherboard size, attaching point, interfaces location, processor socket, memory slots, and power connectors' types.
The next important characteristic is External Connectors. You should consider the hardware you are going to plug into your motherboard's slots. You may need to connect several monitors, USB 3.0, or use several local connections. A built-in audio is an important part of your computer motherboard as well. It is essential for a high-quality audio output or connecting a Hi-Fi home theater system. You can enjoy an awesome 7.1 or 8-channel output. The motherboards with a studio-grade sound card will grant you a perfect audio and video output and allow dipping into the game.
A few slots for several graphic cards will greatly increase PC's efficiency. Please, note that in this case you should use graphic cards of the same modification. You can also install a number of video cards for a CCTV monitoring with an optional connection of several different monitor displays (depending on the number of graphic cards). You should also keep in mind the power connectors' type and voltage. Motherboards have plenty of different slots to plug various hardware such as graphic cards, RAM, and other. They all should fit the motherboard's slots. One more tip to look at is RAM Type. Nowadays, there are two different types: DDR3 and DDR4. This important feature defines a multitasking and processing speed of your PC. Please, look through the RAM type and max memory of each motherboard in our review.