Last will and testament forms are aimed at helping you manage your property fast, effortlessly, and without legal fees. It's a
sensible decision to prepare this document in advance to be sure your assets are managed the way you want. In our review, we've picked out 5 most popular online services that can help you find testament forms to meet your requirements.
...
Read more
...Read less
X
This site is a free online resource that strives to offer helpful content and comparison features to its visitors. Please be advised that the operator of this site accepts advertising compensation from certain companies that appear on the site, and such compensation impacts the location and order in which the companies (and/or their products) are presented, and in some cases may also impact the scoring that is assigned to them. The scoring that appears on this site is determined by the site operator in its sole discretion, and should NOT be relied upon for accuracy purposes. In fact, Company/product listings on this page DO NOT imply endorsement by the site operator. Except as expressly set forth in our Terms of Use, all representations and warranties regarding the information presented on this page are disclaimed. The information which appears on this site is subject to change at any time. More info
USLegal Last Will and Testament
Valid in Your State
There's no need to mention that the USA is a diverse country and its laws vary from state to state. Perhaps, for this very reason, your testament creation at US Legal starts with the choice of your state. Once you pick the desired option, a page with will and testament forms valid in your state will appear. There's no chance to make a mistake when choosing the right form as all documents offered by this service are structured in a clear way. On the page of every state, there are blocks with Married, Single, Divorced, Widow, and Generic will forms. When you find the necessary template, you can learn more information about this very document and even preview it. Plus, the service also offers you related documents that might also come in handy. For example, you might need a codicil if you decide to make slight changes in your will while instructions like "How to Write a Will" will help you understand how to create your testament in a right way. Please note that the documents offered by US Legal are available in Word and Rich Text formats so you want to make sure your PC or laptop supports them.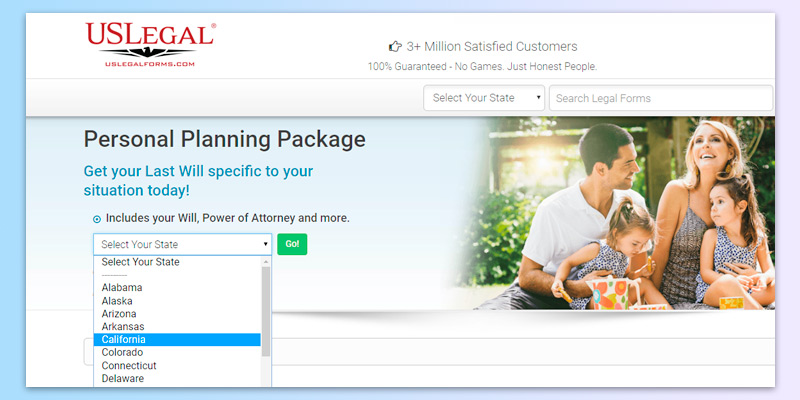 Three Options for Your Convenience
With the user in mind, the team of US Legal offers you to choose one of the three payment options that will suit your budget and will be more convenient for you.
Instant download option is the cheapest one. By choosing instant download, you can start working with your documents on a computer right away after making a purchase;
Mail order + Download costs a bit more but you get the chosen form in two variants – digital and printed;
Prepared for you option is the most expensive one since it saves you the trouble of filling your testament on your own. The US Legal team of lawyers will do everything for you and you'll get a ready document.
If You Need Help
The library of legal documents represented on the US Legal site exceeds 85,000 results so it can be challenging for you to find the necessary form fast, especially if you haven't come across legal issues before. To help you understand what you need, the US Legal team offers you to send them a draft of a needed document. The professionals will analyze your request and will help you choose the form that meets your requirements.
---
USLegal Last Will and Testament
FindLegalForms Last Will and Testaments Legal Forms
Vast Document Library
The name of the Find Legal Forms service speaks for itself – it offers you a great number of legal documents you should look through to choose the one you need. To find what you're looking for, you can either use a search field or browse the most popular legal forms offered on the home page. Follow Will & Estates link and you'll be surprised how many types of will forms exist – for married, divorced, and single persons, for widows and widowers, for people with and without children, mutual wills for couples, etc. But worry not, you'll definitely find the necessary form due to a user-friendly interface. All testament templates represented on the site are divided into sections, each of which has a description so that you can clearly understand whether this form suits you or not. What is more important, it's possible to look at an example of every document. The great benefit of every document prepared by the Find Legal Forms team is that they aren't just blank forms but are real guides to creating right legal documents that contain explanations and useful tips which might come in handy when filling the form in. The last but not the least advantage of these templates is that they are editable and can be used for an unlimited number of times. Purchase last will and testament form once and use it as many times as you need.
Buy Smart with Find Legal Forms
American laws are numerous and rather complicated and sometimes, a single testament is not enough to manage your property. That's why the developers of Find Legal Forms created combo kits that include from 3 to 7 related forms in one package. Choosing such package, you get all the documents as well as save up to 63% (in comparison with buying each form separately).

Unparalleled Compatibility
The users of online legal services often wonder whether this or that document can be opened on their computer. Speaking about the Find Legal Forms service, its developers have done their best to provide unrivalled compatibility. Every legal form you come across on this site, be it a lease agreement or a will, is compatible with Windows, Mac OS, and Linux operating systems. But that's not all. You can also choose the necessary form in one of four available formats. Opt for Microsoft Word, Adobe PDF, WordPerfect, or Rich Text Format document and create your testament with the maximum convenience.
---
FindLegalForms Last Will and Testaments Legal Forms
LawDepot Last Will and Testament
Choose the Experience
Law Depot has been on the market for over 15 years so far and has already helped a lot of people create necessary documents as well as save money on visiting lawyers and paying legal fees. You can join more than 2 million of Law Depot satisfied users if you need to set up a business, solve family issues, manage financial problems, etc.
As for last will and testament documents, the team of Law Depot has developed a personalized approach to creating the will you need. This approach saves you the trouble of surfing the site trying to find the type of testament form that is suitable for you. Instead, you're offered to answer a set of questions including personal information such as your name, state and city, marital status and children as well as your wishes as for the fate of your assets. Creating your will in this way is as easy as doing a school quiz and doesn't take you much time. Moreover, you can always save your results and return to filling the form in when you have time. Another advantage of the Law Depot service is the ability to preview the document you've created. Thanks to this very feature, you'll be able to check whether you've filled everything right and make sure there are no mistakes in your testament. When you're done with checking your testament, it's time to download, print, and sign it.
Subscription Offers to Fit Your Budget
Although buying/creating legal documents online is cheaper than carrying out the same procedure at the lawyer's, these services still should be paid for. The developers of Law Depot offer you to choose one of three subscription options that will fit your budget:
With one-week free subscription, you can search through all the documents available on the site and download as many of them as you want. But as soon as one week passes, you'll be asked to pay a monthly fee;
1-year subscription allows you to do the same things as the previous one during a year;
10-year subscription to last will and testament gives you access to your document for 10 years and allows you to edit and update it if need be.
More Than a Will Maker
At Law Depot, you can not only create different legal documents but also find a lot of interesting and useful information on legal topics. There is a blog on the site with a great number of articles that cover different law aspects. Don't hesitate to look through available materials – who knows, maybe they'll help you solve your legal issues.
---
LawDepot Last Will and Testament
Standard Legal Last Will & Testament
Smart and Affordable
Are you looking for reliable and easy-to-use last will and testament forms at a reasonable price? Here they are. Standard Legal offers you elaborate software developed by a team of high-qualified attorneys who deal with document creation as well as revise all the forms so that they are always up-to-date. Choosing this software, you get a package of different testament templates (reviewed in accordance with law changes made in 2017) including will for married persons with/without children, will for single persons with/without children, will for divorced persons with/without children, will for a same-sex couple with/without children, and will for an unmarried couple with children. Although all the forms are prepared by law professionals, they are written without sophisticated terms so you don't have any difficulties while filling them in. Creating your testament with Standard Legal templates is also simple thanks to the way the software works. It offers you to answer different questions that appear in the form of check boxes, text fields, and drop-down menus. As soon as you fill all the fields, the software will automatically generate a document for you. Choose this software and manage your property wisely in the comfort of your home.
Available for Every User
As it was mentioned above, last will forms from Standard Legal are software and it means that you should download and install it on your PC, laptop, tablet, or even smartphone. To make the software available for every user, its developers provided it with unrivalled compatibility. By this we mean that it works perfectly with most popular operating systems such as Windows, Mac, Linux, iOS, or Android. One more advantage of offline software is that it is protected from a vast majority of Internet viruses and only you have an access to the data you create.
Always Ready to Help
No matter how simply legal documents are created, they are still legal documents. And if you haven't dealt with them before, you might have some difficulties. But worry not. The Standard Legal team is always ready to help you. If you aren't sure you can fill your form in a right way, it's possible to use a free attorney referral option. And should you have any questions about software operation, feel free to consult an assistant team via phone or e-mail.
---
Standard Legal Last Will & Testament
US Legal Wills Legal Will in 3 Easy Steps
Genius Lies in Simplicity
US Legal Wills is definitely the right choice for you if you want to create your testament fast and effortlessly. All you need to do to get a customized will is follow several simple steps – click to start creating your will, answer a set of questions, print the filled form, and sign it. Don't be afraid to make a mistake while filling the form – it's impossible. The thing is that on every page with questions, you'll find a "Tell me more" button or "?" sign that can explain you the information you don't understand. However, even facing this problem is hardly possible since all the documents provided by US Legal Wills are written in plain language.
What we liked about this service is that it's suitable not only for creating a last will. Purchasing the testament pack from US Legal Wills, you also get free service for funeral wishes, service for uploading important files and documents, and service for documenting a list of assets. Buying this package also means you can make unlimited updates to your document during one year and can get email and phone support when you have any questions. It's also possible to order additional services with the last will and testament package (for extra charge, of course). Thus, if need be, you can always make a request for expatriate wills, living will, power of attorney, life locker service, or lawyer review.
Attractive Price
In comparison to the majority of its rivals, the US Legal Wills services can boast an affordable price. The last will and testament pack costs twice or even three times cheaper than other services of a kind. And if you need a mirror will for your spouse/partner, you'll be pleased to find out that it is sold with 40% discount.
Play it Safe With US Legal Wills
You can have the peace of mind when creating your will with this service since its developers have made the maximum efforts to protect your personal data and your documents. Any information you leave on this site is encrypted with the most modern and secure 256-bit SSL encryption. Moreover, all data of the site is backed up daily so even if US Legal Wills' server experiences any technical problems, your information is protected.
---
US Legal Wills Legal Will in 3 Easy Steps
Infographics
---
What Are Last Will and Testament Forms?
Last will, also known as a will or a testament, is a legal document that allows people to decide on how to distribute their assets after they pass away. People often wonder whether it's important to create a testament and what will happen if they don't take care of their property in advance. Well, creating a last will is a personal matter but if you don't prepare this document, the fate of your property will be determined by a court (sometimes, in a way that you wouldn't have liked). That's why taking care of your assets and well-being of your near and dear beforehand is a sensible decision. Nowadays, the Internet is full of the services that simplify testament creation by offering you lawyer-approved last will and testament templates. In general, you can come across two main form types - do-it-yourself wills and ready-made forms. The former one is a set of questions answering which you allow a software to customize a testament document to your life situation while the latter forms are divided into several types (for married, divorced, single persons. etc.) that only need to be filled in, printed, and signed. Using testament services, you're able to create the necessary document without visiting a lawyer and spending your time and money. As a rule, such services also offer you a lot of other legal documents that might be useful in different life situations such as incorporating a business or creating a CV.