When you think about food delivery, you probably imagine pizzas, pasta, sushi, and pad thai, right? But healthy meal delivery services
that offer balanced, well-rounded meals are already out there. Today you can order just anything healthy online and your grocery or superfoods will show up on your doorstep in about 3 days. And we're here to help you sort through tons of delivery services to find your perfect one. The reviewed healthy food delivery services offer you the easiest and the most exclusive way of living a healthy life without wasting too much time on Saturday mornings shopping.
...
Read more
...Read less
X
This site is a free online resource that strives to offer helpful content and comparison features to its visitors. Please be advised that the operator of this site accepts advertising compensation from certain companies that appear on the site, and such compensation impacts the location and order in which the companies (and/or their products) are presented, and in some cases may also impact the scoring that is assigned to them. The scoring that appears on this site is determined by the site operator in its sole discretion, and should NOT be relied upon for accuracy purposes. In fact, Company/product listings on this page DO NOT imply endorsement by the site operator. Except as expressly set forth in our Terms of Use, all representations and warranties regarding the information presented on this page are disclaimed. The information which appears on this site is subject to change at any time. More info
Thrive Market Healthy Food
Wide Assortment
Thrive Market claims to deliver "wholesome food at wholesale prices" and we would definitely agree with that. It's one of the leading online grocery stores that offer all-natural, non-GMO, and organic foods with very affordable price tags. The service carries the most popular brands like Burt's Bees, Annie's, Acure, Spectrum, Seventh Generation, Simply Organic, KIND, Newman's Own, Califa, Milkadamia, Bob's Red Mill, Lara Bar, and others.
The pantry foods they sell include various cooking ingredients, as well as candies, desserts, cereals, granola, ghee, oils, vinegars, spices, seasonings, packaged fruits, nut mixes, and many others. But the area where Thrive Market particularly shines is meat and seafood. The company sells high-quality grass-fed red meats, organic poultry, pasture-raised pork, and fresh seafood, which can be ordered in individual packs or bulk packs.
However, Thrive Market offers more than just food. On the website, you will find 4,000+ household items, hygiene products, pet supplies, bath & body products, vitamins, babies & kids products, including a lot of things that are hard to find in local stores. Thrive Market website is very straightforward and always shows whether the required item is in stock or not. After you place an order, Thrive Market takes about 3 days to get your groceries delivered. Bonus: if you spend more than $49, you will get a free delivery.
Competitive Prices
With Thrive Market you can order online and spend as much money as you'd spend in any local grocery. Prices there aren't cheaper, but you can save on petrol and shop from the comforts of your home, which is more convenient for a lot of people. And if you subscribe to the website, the company will send you best deals and discounts so you can buy products at the lowest prices.
Annual Membership
Thrive Market charges a membership fee of $59.95 a year and offers a 30-day free trial membership. A trial run never hurts, so we would recommend you to go ahead and try out the service to get a good feel for products, look over prices, do some comparisons, and, of course, put in a few orders. But keep in mind that you'll need to give your credit card info, and after a trial period the company will automatically charge you membership in case you don't cancel it before those 30-days are up. No, Thrive Market doesn't try to snare you in by charging after the trial runs out. Instead, they list it across the website, so we don't feel the company is trying to hide that information.
Thrive Market folks believe that you will enjoy ordering groceries online and become a Thrive Market member. The service can really make your life easier and healthier. Their prices are very competitive (if not cheaper than in-store prices) and the range of organic products is amazing.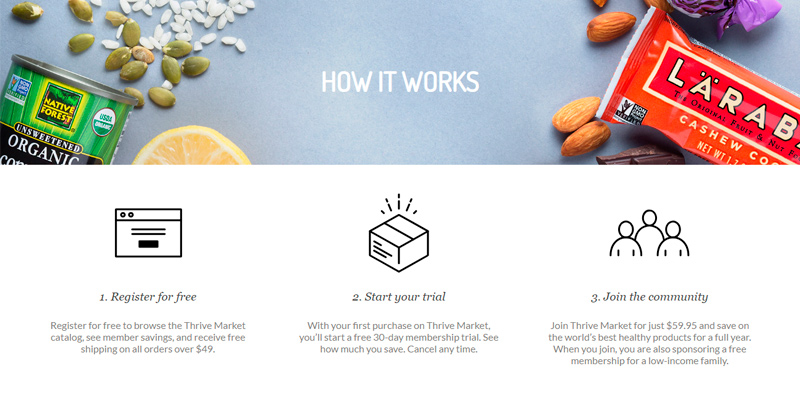 ---
Thrive Market Healthy Food
Sunfood Healthy Food
Quality. Sustainability. Education.
The Sunfood™ Superfoods was founded in the mid-90s to reverse an alarming trend for the fast food and Cola boom that covered the USA. Consuming junk food and sweet soda contributed to some heart diseases, obesity, and general poor health. And that's why two health-minded friends in California decided to change that all and promote a healthy lifestyle. They were one of the pioneers who traveled overseas to learn how to use food as medicine. They succeeded in their mission and spread the knowledge to American people. They began to produce exotic superfoods that could fight illnesses, increase longevity and energy, boost immunity, and benefit overall well-being. The Sunfood™ Superfoods products can help people heal and rejuvenate naturally through proper diet and nutrition.
The best part is that the company kindly shares this knowledge with people searching for a natural solution to improve their health. They try to educate and encourage customers to eat superfoods, thus, their website features a huge collection of articles, FAQs, recipes, and videos. Additionally, the responsive support team is available not only by phone and email but live chat as well. So, feel free to ask any questions to gather knowledge on superfoods and their numerous health benefits.
For Any Occasion
Though the range of products is quite vast, the website is user-friendly and easy to browse. Here are the specialties you can choose from:
Detoxification
Immunity
Digestion
Energy
Libido
Metabolism
Longevity
Stress Relief
Sleep & Relaxation.
The assortment includes superfoods, raw foods, different supplements, herbs, sweets, and snacks that can improve your health. Also, the service carries some care products for your hair and skin. The choice is really vast but it's no wonder considering that the company has 20+ year experience and continues to search for exotic superfoods today. Who knows, probably their superfoods will induce you to know more about natural solutions to stay in a good shape (both physical and mental).
Shipping Options
The strength of the company is wide shipping options. The company delivers products not only to all USA states (including Hawaii and Alaska) but also to other countries. And if your subtotal order is $125+, you'll receive a 10% discount no matter which shipping method you'll choose. The company also sends bulk orders, however, it doesn't provide any discounts for them. Another great feature of the service is that it requires no subscription to pay extra money for.
---
Sunfood Healthy Food
Martha & Marley Spoon Healthy Food
Let's Make Something Good by Yourself
If you hate the question "what's for dinner", the Martha & Marley Spoon service is probably your best match. It's a unique meal delivery service created by famous Martha Stewart and Marley Spoon (a company, not a person). The service is nothing like other delivery services. What differs it is that it's able to renew your interest in cooking and encourage you to eat healthy by providing you with super-smart recipes that you can cook on your own and supplying you with high-quality, fresh ingredients. Their meal options are numerous and changed every week. What's more, most of those recipes are very simple and require no long preparation or cooking skills. So if you love cooking but want to spend less time planning, shopping, and preparing, the Martha & Marley Spoon service is the best solution for you.
Like we said, this service offers a great variety of meal options so you can choose whatever you love the most. Each box contains pre-portioned and pre-made ingredients and a few recipe cards with a step-by-step guide and easy-to-follow photos. Basically, you get everything needed for a meal, apart, obviously, from salt, pepper, and oil, which you should have at home anyway. Now, it's easy to see why so many people opt for this service - if you've not been a good cook before, with Martha & Marley Spoon anyone gets a chance to become a fancy chef.
Different Options to Choose from
The Martha & Marley Spoon company allows you to choose among 10 new signature recipes weekly. The variety of meals includes:
Meat
Poultry
Kid-friendly
Vegetarian
Low calorie.
All pre-measured ingredients for your recipes arrive fresh and sorted into their own bags. The folk behind the company are mindful about the environment and send ingredients in recyclable food packaging. So, if you're an eco-conscious person, you'll like the fact that with the Martha & Marley Spoon service, you can create the least possible amount of waste.
For a Couple or for a Family?
Martha & Marley Spoon has two pricing options - meals for 2 people and meals for 3-4 people. These two offerings are further broken down into two, three, or four recipes per week. For two people, boxes cost from $48 to $76. For example, if you choose two recipes a week, each serving will cost you $12. But the price goes down if you offer more. So, if you order four servings per week, you'll need to pay just $9.50 for one serving. The same goes for a larger box (3-4 people). The price ranges from $76 to $131 per week, and one serving can cost you as little as $8.20. Of course, even $8.20 apiece might seem more expensive than buying groceries from a store, but taking into account extra food waste, gas spent, and time wasted, it's not that far off. Shipping is already included in the price, so you don't need to spend extra money on delivery. Another thing you'll like about the company is that you can pause your subscription or skip a couple of weeks any time you want.
All things considered, the Martha & Marley Spoon food delivery is excellent for those who like cooking and want to diversify their dinners. It is also perfect for newlyweds and those who are just starting to live healthy and need to stay motivated. With Martha & Marley Spoon, healthy food can really be delicious!
---
Martha & Marley Spoon Healthy Food
Healthy Goods Healthy Food
Improve Your Life
If you know that superfoods, multivitamins, and other supplements play a very important role in improving your everyday life, the Healthy Goods Superfoods is your choice. The service offers a huge range of organic supplies and healthy products at the lowest prices available. Healthy Goods delivers world-class organic superfoods, nutritional supplements, multivitamins, healthy fats and oils, plant fibers, as well as homeopathic products, to give your body everything it needs. The offered natural solutions by top brands really work miracles. They can help relieve sleeping disorders, help your digestive system, improve your cardiovascular health, and lift your spirits. Plus, they can be put into your detoxification diet to clean your body from toxins and other chemicals.

6 Health Benefits of Detoxification
Boost Your Energy Levels

If you often feel sluggish during the day, this might indicate that you've got too many toxins in your body. Almost all Healthy Good products include natural enzymes or ferments to help you get rid of excess toxins and increase your energy levels.

Good Digestion = Good Weight

Detoxification with superfoods can aid in long-term weight management. This is because toxins might interfere with proper metabolism. Detox can also help you control your food cravings and set healthy habits.

Reduce Inflammation

Superfoods can combat negative effects of unhealthy, GMO foods that you might consume on a regular basis. And by improving your digestive system through eating healthy foods, you will reduce inflammation that often leads to a host of problems.

Promote Healthy Skin and Hair

Heavy metals, unwanted chemicals, and other toxins in your body undeniably affect your skin and hair. Naturally, by removing them, you will improve the appearance of your skin and strengthen your hair.

Make Your Immune System Stronger

As you already know, detox can make your digestive system and lymphatic function healthier. And these are the key components to a strong immune system.

Improve Your Mood
Unfortunately, toxins can also affect your brain function, resulting in a bad emotional state, poor sleep quality, and low energy levels. Superfoods can fix that!
Quick Delivery
Healthy Goods is a no-subscription service that doesn't require any membership fees - you simply pay for your order and delivery (if your order is less than $49). The company ships products to all 50 states within 1 business day (from receipt of the order and payment). That's fairly quick delivery time, however, take note that the company doesn't work on weekends and all major holidays, meaning it won't be able to accept your order on those days as well. Other than that, it's a good service with a huge range of superfoods from top brands. Here, you can find everything to get yourself covered for your lifestyle needs.
---
Healthy Goods Healthy Food
BoKU Healthy Food
Love Life
BōKU is actually not a typical healthy food service with a wide assortment of superfoods from all over the world. It's a separate company that focuses on the production of high-quality organic foods under their own brand. BōKU (actually Bōh-koo) means "Love Life" and we would agree that all their foods are made with love to make you love life. The BōKU stuff thoroughly gathers Mother Nature's best recipes and bring them to you. They work with farmers and farms all across the globe to find the most sublime ingredients for each product they create. As a result, all the products the BōKU offers are 100% certified organic, gluten-free, vegan, and kosher. The BōKU range includes various superfoods, super shrooms, cacao nibs, protein, maca, organic tea, immune boosters, probiotics, blends of berries, and more.
Stay Motivated
If you're only starting your way to perfection, BōKU recommends you to try delicious recipes with their superfoods. On the website, you'll find the "Explore" section that contains important information on the benefits of superfoods, different articles, and numerous recipes. You'll find healthy breakfast ideas, main dishes, snacks, appetizers, desserts, soups, salads, sips, and smoothies recipes for any occasion. BōKU folks believe that cooking tasty meals is the key to staying motivated on your path to a healthy lifestyle.
Subscribe and Pay Less
Although you can buy products without subscription, BōKU offers you the Loyalty Program that you can benefit from in many ways. For starters, you'll be able to save on a lot of products and never run out of them. You simply choose the needed products and select to receive them monthly, bi-monthly, or quarterly. You can modify your subscription anytime by simply visiting your account or contacting customer support (Mon-Sat 9am-5pm PST). Secondly, you'll get 18% discount storewide and free shipping after registration. Also, you'll get different exclusive monthly perks that are available for members only. And as a cherry on top, you'll get a free 2-hour e-bike rental ($50 value). However, this special privilege is valid only at Boku HQ in Ojai, California.
To round things up, if you want to discover the purest and most potent superfood secrets and find inner peace, visit the website and join the BōKU family.
---
BoKU Healthy Food
Infographics
---
What Is a Healthy Food Delivery Service?
If you keep a healthy lifestyle a priority but your schedule leaves very little time for meal planning and visits to "natural food" stores, a healthy food delivery can become a real game changer for you. The reviewed food delivery services offer a fast and effortless way for busy families to eat healthier and fit a healthy lifestyle into their busy schedule. Hardly anyone would disagree that ordering healthy foods online and having them delivered right to the door is nothing short of uber convenience. Moreover, if you don't have access to large grocery chains and can't find the required products in your local stores, a healthy food delivery service is probably the only way to get access to high-quality organic food and products. Just everyone with the Internet and a credit card can go onto the food delivery website and purchase organic brands or vegan food they never had access to. Ordering healthy food online will really make your life easier.
And to make your life easier when choosing an optimal delivery service for your needs, we've rounded up the best healthy food delivery services in this review.