Seems like there can't be anything easier than buying an ironing board, and yet, there are certain things you may want to know about
different items. Consider our comparison of the best ironing boards on the market and choose the best one for your needs.
...
Read more
...Read less
X
This site is a free online resource that strives to offer helpful content and comparison features to its visitors. Please be advised that the operator of this site accepts advertising compensation from certain companies that appear on the site, and such compensation impacts the location and order in which the companies (and/or their products) are presented, and in some cases may also impact the scoring that is assigned to them. The scoring that appears on this site is determined by the site operator in its sole discretion, and should NOT be relied upon for accuracy purposes. In fact, Company/product listings on this page DO NOT imply endorsement by the site operator. Except as expressly set forth in our Terms of Use, all representations and warranties regarding the information presented on this page are disclaimed. The information which appears on this site is subject to change at any time. More info
Bartnelli Pro Luxery Multi layered Ironing Board
Maximum Performance and Convenience
Any homeowner would tell you that ironing can be quite tiresome if you use the wrong ironing board. Sounds familiar? If so, the Bartnelli Pro ironing board should pique your interest. 
To start off, it is a farily large board that measures 51 x 19 inches, which should provide you with plenty of room to comfortably iron even quite bulky items like curtains. Another highlight is a multi-layered design composed of foam, felt and a metal mesh that contributes to the effortless ironing. Thanks to this, clothes do not stick to the cover of the board, which often happens when ironing at high temperatures, and the steam passes through the mesh easily, after which it quickly evaporates. 
Now to the construction. The Bartnelli Pro looks and feels very stable thanks to the special feet design that prevents it from shaking and wobbling. With a weight of about 20.2 pounds, it is also reasonably heavy, so there should be no worry about it tipping over during use. No need to mention the frame is rust proof and there's also a special lock that guarantees that the ironing board can't collapse while in use.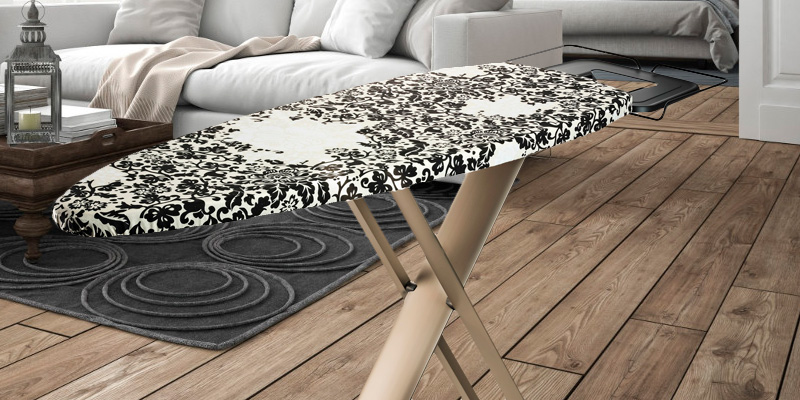 Simple in Every Detail
What we find particularly handy is the fact that the rest for an iron or steam station contains a hanging rail, allowing you to hang all the ironed clothes without breaking from ironing. In addition, it is equipped with special protective caps that help prevent it from scratching floors. Ultimately, the height of the board can be adjusted between four positions, making it perfectly suitable for users of all body sizes and shapes, and it also has a lock for safe storage when not in use.
Last updated price

$

285.15

Stock
In stock
ASIN

B00ZYLIIAO
---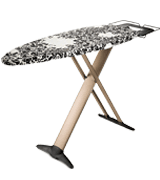 Bartnelli Pro Luxery Multi layered Ironing Board
Brabantia Steam Rest
Made for Large Loads
One of the problems that people run into with ironing large loads is that it is always a hassle to find a convenient place to put items that have already been ironed. Yes, people will often iron near a table or stand, or even a clothing rack where they can place the clothes and linen that has already been ironed, but this is often just not convenient, especially in an already crowded room. Some ironing boards try to help with this by providing some extra accessory that is meant for putting already ironed clothing and linen on, but most of these solutions tend to be less than practical, especially when you have a lot of clothes to iron. Many people would love to have an ironing board that fixes this small but important detail.
The Brabantia Ironing Board with Steam Rest is one such model that helps make the entire ironing process much more convenient for users. The included linen rack attached to the legs of the board makes it possible to neatly stack already ironed linen while also serving double-duty as adding extra stability to the board, and the non-slip legs provide even more stability even on uneven floors. The 0.98" tubular frame is surprisingly durable as well, so even a large stack of ironed linen isn't going to risk toppling the board, making this solution much better and more practical than what is provided on most other ironing boards.
Extremely Stable
Speaking of this board's stability, it truly is exceptional, as it allows you to easily adjust it individually for yourself in order to easily iron absolutely anything without extra effort. The child safety lock eliminates accidental folding of the board, so you won't have to worry about it falling down due to accidentally hitting the wrong part of the board with your body while ironing. The board's dimensions make it large enough to handle most clothing quite easily without finding yourself needing more space, and the board's height can be adjusted at 4 different points to allow for the optimal height for the individual, no matter how tall or short.
One thing we do have to note is the included iron stand, which is meant to add even more convenience to this board. While it does so with smaller irons, you may find that putting heavier irons on it leads to it becoming a bit unstable. Despite this fact, though, it is still a much better solution than not having a dedicated iron stand like many older ironing boards, but it is best to be aware of this issue regardless. This issue shouldn't detract from the overall usefulness of this ironing board, as it provides extra convenience to the user while allowing them to focus on their ironing and less on the other mundane details of such work. In the end, it will be a great choice for anyone.
Additional Info
Last updated price

$

119.00

Stock
In stock
ASIN

B003BIFP6C
---
Brabantia Steam Rest
Minky Homecare HHH40305112M
A Place for Everything
When you're using an ironing board, putting an iron on is not a common problem… but how about a steam generator? The Minky Ergo Plus is the answer to your question in the form of a steam generator rest. It's also really convenient and reliable.
To start with, the design of this board is highly ergonomic, allowing you to iron comfortably and at a high speed. The extra height adjustment is just perfect to unload your hands and back during the process. The shape of the board follows the natural arm movement; whether you're right- or left-handed, doesn't matter at all. Forget about the clumsy, bulky boards that are a pain to use – and give this one a good try.
Next on the list are the iron and steam generator rests. The first one is placed at a comfortable height and boasts the heat-proof rubber pads to avoid unnecessary burns to the material. The second one is positioned in the way so as to give the board extra stability – and not involve any other piece of furniture for putting the generator on. Even if you're not using steam, you can place some extra clothes on the rest for more convenience.
Stable & Smooth
The Prozone cover of this board comes with heat reflective areas. Why is this so important? Even the most stubborn creases will be gone faster and with less effort due to this smart design solution.
As for the underlay, the felt helps the iron to go back and forth very smoothly. Now you're not struggling while ironing your things but, rather, enjoying it. Although the felt layer could be somewhat thicker, you'll still feel that this model is 100% user-focused.
Just when you're sure the board can't surprise you anymore, here's another fact. The handy flex guide keeps the iron cord from getting tangled – and even clips into the position that you'd want. Needless to say, with the cord out of the way, you can iron much more comfortably.
And finally, to the loop legs that are interconnected for extra stability. Compared to some of the competitors, this board will – literally – stand its own ground. Also, no wobbling thanks to the corner supports; everything is just the way it should be.
As evident, this quality ironing board is a lifesaver if you spend a lot of time on perfecting the look of your wardrobe.
Additional Info
Last updated price

$

0.00

Stock
In stock
ASIN

B09LRD1QMF
---
Minky Homecare HHH40305112M
Bartnelli Rorets
Budget Ironing Board
Not everyone wants to spend a lot of money on a new ironing board. Sure, users would like a high-quality model that will hold up well over time, but they also don't want to pay an absurd price just to have a decent quality board. Cheap models abound in many different stores and online outlets, but finding the best ironing board with the cheapest price can be like trying to find a needle in a haystack. With the Bartnelli Rorets Ironing Board, though, you get a model that gives you the best of both worlds - a high-quality ironing board made for users on a budget, making it easily accessible to anyone.
The extremely low price of this ironing board may fool some users into thinking it's just a cheap quality product, but that is far from the case. The board itself exudes quality, and it also comes with some features that are typically only found on much more expensive ironing boards. One such feature is the relatively large surface area, which allows for easy ironing of all types of clothing as well as other larger items such as bed covers. Although no ironing board can fit such items in their entirety, this board lets you iron large portions in one go, allowing you to quickly get the job done instead of having to fight with the bulkier items.
Move And Use It Anywhere
Another noteworthy feature of this ironing board is its easy portability. Although almost all ironing boards allow them to be folded up for storage, this one makes it quite easy thanks to its design, letting you fold it up in just a second rather than having to fight with some kind of tricky lock that would otherwise prevent you from easily folding up the legs. Also, the locking mechanism ensures that the legs stay folded rather than falling out when moving it, something which often happens with most other models that have seen a bit of use. Anyone who has had to fight with setting up or putting away an older ironing board will certainly appreciate the attention to detail that was paid here.
The extremely light weight of the ironing board only adds to its portability. Although some light ironing boards are often seen as being relatively unstable, that is far from the case here. The low-lying height of this board gives it a low center of gravity that keeps it stable even with large loads, although it may make it a bit uncomfortable to use for taller people. Having said that, if you're looking for a high-quality ironing board but don't want to have to pay a fortune for it, then this is the model for you.
Last updated price

$

49.99

Stock
In stock
ASIN

B07ZWCBJ2C
---
Bartnelli Rorets
Honey-Can-Do BRD-09222
Extremely Portable
Ironing boards are great, but they don't go well with the limited space in your small house or apartment. The Honey-Can-Do foldable tabletop model solves this problem easily; it can be folded and fitted into a laundry room – or even a travel suitcase.
This compact and handy ironing board can be reduced down to half its size when folded in two. What more could you wish if you're pressed for space – or want to look impeccable while traveling? With that in mind, it's sturdy enough for pressing heavy fabric. Simply put it on the table or another flat and stable surface, and you're good to go.
Despite its compact size (32" L x 12" W), the board gives you a lot of nicely padded ironing surface. Wardrobe or crafting projects, you can safely use it for just about anything. No need to store a whole surfboard at your place; this unit is conveniently portable and doesn't compromise on your experience.
Weighing only 3.77 pounds, the board is easy to handle and transport. However, due to its light weight, it's not as stable as the heavier counterparts. The legs are rather short, but that's to be expected from a tabletop unit.
Gets the Job Done
Making your ironing even better, this board features a handy metal rest that also doesn't get burned. It's nice and works excellently, just as you would expect. A welcome touch if you're staying in a smaller guest room or vacation house.
Great, but what about the ironing quality? Don't worry, you'll be able to press your favorite clothes to perfection and remove all the annoying creases. Larger-sized items will take some creative work, but nothing too critical to spoil your ironing experience.
When all is done, your only job will be to fold the board and put it away. The best way to do it is lay it flat on the table using the padded side and fold the legs. Much better than having to store and then drag out a full-size board that always gets in the way. Active lifestyle customers will find this a lifesaver, as the board will be ready for use in a few seconds. Just what is needed to polish a clothing item at short notice.
All in all, this portable ironing board is "the" choice for smaller living spaces, vacationing, or last minute pressing jobs. It also looks quite nice, making a good practical present in the holiday season.
Additional Info
Last updated price

$

0.00

Stock
In stock
ASIN

B001F51A2Q
---
Honey-Can-Do BRD-09222
What Is an Ironing Board?
Although we believe you know what an ironing board is and what it's designed for, let's see how different models stack up against each other and what features it is important to consider when selecting one for at-home use. No matter what brand you prefer, all ironing boards - both stationary and portable - have a working surface covered with a heat-resistance pad. This pad ensures that you can safely use it with all types of clothes and fabrics as well as allows keeping the frame of the board intact for a longer time. Check the quality of material to make sure it will not tear and wear too soon. The best models will feature thick covers and scorch-resistant properties ensuring the convenience and safety of use. For this article, we've picked five best ironing boards so that you can choose one most suitable for your setting and budget.

And if you want to upgrade your iron, we recommend checking out steam irons and garment steamers reviews.

What Features to Compare
Design and Size

There are a few things to consider when selecting an ironing board. Even if you've been fortunate enough to buy a good one in the past, today, the choice's become much trickier due to a greater variety of models and practicality options added to them. So, before you decide on the model, make sure to check its design and size. An ironing board should not be too big or too heavy; otherwise using and storing it will be inconvenient. Also, make sure the model you choose has an easy-to-use and convenient folding mechanism, allowing you to fold the board with one quick hand movement. When folded, an ironing board shouldn't take much space and you should be able to store it in a discreet location where it won't attract unwelcome attention from your guests.
Strength and Steadiness

Other important aspects to consider is how durable and stable an ironing board is. Indeed, ironing a pile of clothes on the board that wobbles and shakes can hardly be described as convenient and if challenged, many people would prefer ironing without an ironing board at all. That's why we recommend paying attention to the construction of the frame and making sure it is made of high-quality materials. Another thing to look into is whether it is possible to adjust the legs of the board and how many positions are available, especially useful for those who often find ironing boards to be either too tall or too short. Next, pay attention to the cover. For quicker and more effective results, it should be quite wide, smooth, and - what's more important - heat-resistant.

Conveniences
Although many ironing boards are rather simple devices, most of the models included here included some extra features that help add to the overall convenience of using the board. One of the most common features included is an iron rest, which is a safe place to put a heated iron without risk of burning clothing or even yourself. Some other boards may include things such as a linen or clothing rack to give you a convenient place to put already ironed items, and some may even include additional accessory storage for ironing supplies.
Mobility

Last but not least, an ironing board should be easy to move and adjust by everyone from your family, including teenage kids. For that, as we've said before, it has to be lightweight enough and feature a convenient folding mechanism, so you won't run the risk of getting injuries should you do something wrong.