Seems like there can't be anything easier than buying an ironing board, and yet, there are certain things you may want to know about
different items. Consider our comparison of the best ironing boards on the market and choose the best one for your needs.
...
Read more
...Read less
Mabel Home 8 Easy
Large Dimensions
Many people, who are looking for an ironing board, are looking for one that is large enough to accommodate comfortably ironing virtually any types of clothing or fabrics, no matter how large. Many of the smaller, more compact ironing boards may save a lot of space, but they simply aren't large enough for some larger items, making them a bit less than practical. Not so with the Mabel Home 8 Easy Extra-Wide ironing Pro Board. This large ironing has been made to help fill the role of an ironing board for all purposes, ensuring that nothing is left out in regard to what can be ironed on it.
The large dimensions in combination with patented retractable wings make this model the best solution for ironing not only shirts and jackets, but also outerwear. In addition, this board has 6 height positions that will help people who are tall to use the board comfortably, something that is missing from many other models out there. Ironing can be back-breaking work when using a board that is too short, so this ironing board will be among the most convenient models that you can find.

Additional Accessories
This isn't just a simple no-frills ironing board, as you may have already guessed. This model features plenty of additional accessories that help make the overall ironing process easier and more comfortable. The large heat-resistant iron tray allows you to safely place there not only dimensional irons, but also steam systems with a capacious remote tank, giving you a safe space to put hot items without the risk of damaging anything. Also, the storage basket that fits underneath the ironing board will be useful for storing useful little things there like a remote control or starch spray bottles, giving you easy access to everything you need for ironing. Fold-out shoulder wings give you an extra wide surface for ironing large items of clothing or fabrics, adding to the convenience of this ironing board. There is also a foldout tray that is meant for hanging clothes that have already been ironed, but according to many users, this isn't really very practical, so it is better to have an additional hanging system nearby.
Iron in Style
The last thing to note about this ironing board is that it has an overall sturdy and durable design that not only works good, but looks good as well. Overall, this highly functional ironing board from Mable Home will help give you an easy and comfortable ironing experience like you have never had before. Those who want a premium ironing board that is large enough to handle whatever they can throw at it will find few options that can match this model.
Additional Info
---
Mabel Home 8 Easy
Bartnelli Pro Luxery Multi layered Ironing Board
Maximum Performance and Convenience
Any homemaker knows how tiresome ironing can be. And if you think it fully depends on the iron you use, you are quite mistaken. Any piece of clothing must be placed properly on an ironing board, then ironed, then folded so that it doesn't lose its shape. That's why Bartnelli Pro ironing board has been designed with users' comfort in mind. First of all, this is quite a large board, measuring 51 x 19 inches, so you don't need to turn or replace clothes too often. Moreover, this item has a special design with a multi-layered board composed of foam and felt as well as metal mesh. All these features make ironing really simple and effortless! Several layers prevent clothes from sticking to the cover of the board, particularly when ironing at high temperatures. The mesh is used to let the steam (from the steam iron or steam station) pass through and evaporate quickly. Bartnelli ironing board is very stable thanks to special feet design. So, you won't need to worry, just relax and do ironing. The weight of the ironing board is 20.2 pounds; it's heavier than many of its counterparts but at the same time such weight adds stability. No need to mention, the frame is rust-proof while a special lock guarantees that the ironing board doesn't fold down during use.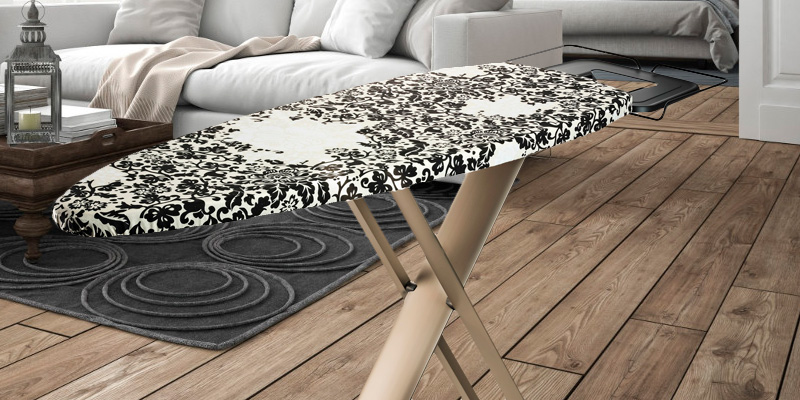 Simple in Every Detail
A special rest for an iron or steam station is really convenient since it also contains a hanging rail for hanging the pegs with clothes (shirts, for example). This design feature saves a lot of your time since you can hang all the ironed clothes on the rail and go on ironing. If you have a fragile floor surface, Bartnelli Pro ironing board has special protective caps on the feet, so it will never cause any scratches. Moreover, you can adjust the height of the item - there are 4 available positions, so every member of your family can find the most comfortable height. Finally, the ironing board has a lock that keeps it closed while it's not used.
---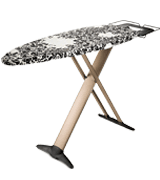 Bartnelli Pro Luxery Multi layered Ironing Board
Brabantia _Ironing Board
Made for Large Loads
One of the problems that people run into with ironing large loads is that it is always a hassle to find a convenient place to put items that have already been ironed. Yes, people will often iron near a table or stand, or even a clothing rack where they can place the clothes and linen that has already been ironed, but this is often just not convenient, especially in an already crowded room. Some ironing boards try to help with this by providing some extra accessory that is meant for putting already ironed clothing and linen on, but most of these solutions tend to be less than practical. Many people would love to have an ironing board that fixes this small but important detail.
The Brabantia Ironing Board with Steam Rest is one such model that helps make the entire ironing process much more convenient for users. The included linen rack attached to the legs of the board makes it possible to neatly stack already ironed linen, and the non-slip legs provide stability even on uneven floors. The 0.98" tubular frame is surprisingly durable as well, so even a large stack of ironed linen isn't going to risk toppling the board, making this solution much better and more practical than what is provided on most other ironing boards.
Extra Stability
Speaking of this board's stability, it truly is exceptional, as it allows you to easily adjust it individually for yourself in order to easily iron absolutely anything without extra effort. The child safety lock eliminates accidental folding of the board, so you won't have to worry about it falling down due to accidentally hitting the wrong part of the board with your body while ironing. The board's dimensions make it large enough to handle most clothing quite easily without finding yourself needing more space, and the board's height can be adjusted at 4 different points to allow for the optimal height for the individual, no matter how tall or short.
Choice of Cover
This board includes a few extra accessories that help make it stand out from many other models. One of our favorite examples of this is that you have the choice of selecting one of seven different patterned covers when ordering the board, letting you choose your favorite of an excellent selection. Although the looks of the cover aren't that important to some people, it's a nice touch that many others will certainly appreciate. The board also includes an iron stand for resting your iron on whenever you need to put it down. Please take note, though, that this stand is not of the best quality, so care should be taken when using it. Despite this small complaint, the overall quality of this ironing board is exceptional, making it a worthy purchase for any home.
Additional Info
---
Brabantia _Ironing Board
HOMZ Durabilt Premium
Practical and Sturdy Cover
What is one of the most important parts of any ironing board? Many people would answer this question in different ways, but the one thing they most likely wouldn't think of is the cover. Ironing board covers can make a huge difference in the overall practicality and use of an ironing board. They provide a smooth, flat surface that allows for easy ironing while protecting both the clothing being ironed as well as the board underneath it. Simply put, most ironing board covers just don't get enough credit for the overall ironing experience, even though in reality they can make or break the overall experience of using the ironing board.
The HOMZ Durabilt Premium Steel Mesh Top Ironing Board doesn't skimp on the cover. In fact, it is quite apparent that the manufacturer of this model fully understands the importance of the board cover to the overall ironing experience. This board's cotton cover with double-thick padding consisting of 1/4 "Polyester fiber and 1/4" Polyurethane foam boasts amazing durability, and it is very convenient to iron things on it. It is also very practical to take care of. The cover won't wrinkle easily if it is pushed accidentally, and it should continue to provide a safe and stable ironing workspace even after heavy use, where most other ironing board covers would be worn out.
Steel Mesh Board
The board cover isn't the only durable thing about this ironing board. The board itself is made out of steel mesh, providing an extremely stable and durable surface that is easy to work on while still being lightweight. Indeed, this model compares favorably with most other similar models with its low weight of only 11 lbs, so it can be easily transported from one place to another. Despite its lightweight design, the ironing surface with dimensions of 54 "x 14.9" will be enough to iron most clothing, so you won't find yourself running out of space for even large items of clothing and linen. Those who often iron linen will find this large board to be a great help.
Included Conveniences
There are a few conveniences that are added to this board that help improve its overall ease of use. For one, this model includes a carry handle that makes transporting the board quite easy with just one hand. The legs of the board can easily be folded underneath and locked in place, preventing them from coming open while in the process of moving the board. They are also quite easy to pull out thanks to the included lever on the underside of the board. Users who prefer having a steam rest should note that this base model does not include one, although there is another model of this same board that does have one included, so if you need the steam rest, make sure you order the proper model. All things considered, this durable and lightweight ironing board from Homz will make ironing easier for everyone.
---
HOMZ Durabilt Premium
Parker & Company Extra Wide
Design and Size
Parker & Company is a big and wide XL-size ironing board, measuring 62.6 x 19.5 x 4 inches. Parker & Company has a multi-colored board cover thanks to which an iron glides very smoothly so that you can cope with more clothes, bedsheets, etc. This is, actually, the biggest ironing board on our shortlist and that's why it's the most helpful one for ironing big items such as table clothes and bedding.
Strength and Steadiness
This ironing board is rather heavy - its total weight is 22 pounds. However, this isn't a drawback because it's exactly what gives the item true stability. Unlike a vast majority of ironing boards resting on 4 legs, this one stands on only two legs. That said, these legs are wider than average and are made of durable metal with powdered coating. All this makes the item more stable ensuring you can use it without tipping over. It goes without saying the board should be placed on a flat surface, or else wobbling is inevitable, but we think you know that.

Convenience
This broad ironing board might seem bulky to you but it's incredibly convenient and we're going to tell you why. The item includes some design features that make using it a real pleasure. First of all, it has unique retractable shoulder wings that are very helpful for ironing shirts - you can iron both shoulders at a time. Next, Parker & Company ironing board comes with a special hanging rail where you can hang your clothes right after ironing. Such a rail saves your time since you don't need to hang each piece of clothing in a wardrobe and then go on with ironing. Also, a power cord of your iron won't get in your way thanks to a convenient cord holder (you can adjust its height). But that's not all - this board has a handy small pocket for your belongings (such as a cell phone, for example). Finally, the unit is safe for your kids owing to the efficient Child Safety Lock system (it prevents collapsing of the board).
Mobility
Any customer is curious about the mobility of an ironing board since it's sometimes necessary to move it from one room to another. As we've already mentioned, this item is rather heavy (22 pounds) but it's designed for ironing big items and for industrial use. After all, it isn't a small and portable board you take on a trip. Of course, you can adjust the height of this ironing board. If you need to collapse this unit, you should unblock a Child Safety Lock before.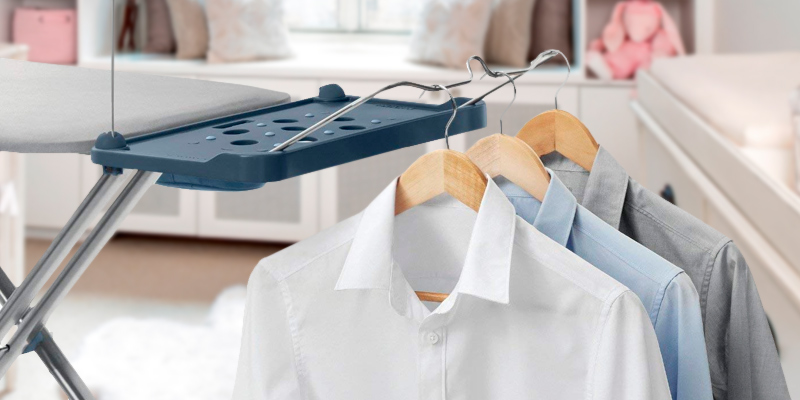 ---
Parker & Company Extra Wide
What Is an Ironing Board?
Although we believe you know what an ironing board is and what it's designed for, let's see how different models stack up against each other and what features it is important to consider when selecting one for at-home use. No matter what brand you prefer, all ironing boards - both stationary and portable - have a working surface covered with a heat-resistance pad. This pad ensures that you can safely use it with all types of clothes and fabrics as well as allows keeping the frame of the board intact for a longer time. Check the quality of material to make sure it will not tear and wear too soon. The best models will feature thick covers and scorch-resistant properties ensuring the convenience and safety of use. For this article, we've picked five best ironing boards so that you can choose one most suitable for your setting and budget.

And if you want to upgrade your iron, we recommend checking out steam irons and garment steamers reviews.

What Features to Compare
Design and Size

There are a few things to consider when selecting an ironing board. Even if you've been fortunate enough to buy a good one in the past, today, the choice's become much trickier due to a greater variety of models and practicality options added to them. So, before you decide on the model, make sure to check its design and size. An ironing board should not be too big or too heavy; otherwise using and storing it will be inconvenient. Also, make sure the model you choose has an easy-to-use and convenient folding mechanism, allowing you to fold the board with one quick hand movement. When folded, an ironing board shouldn't take much space and you should be able to store it in a discreet location where it won't attract unwelcome attention from your guests.
Strength and Steadiness

Other important aspects to consider is how durable and stable an ironing board is. Indeed, ironing a pile of clothes on the board that wobbles and shakes can hardly be described as convenient and if challenged, many people would prefer ironing without an ironing board at all. That's why we recommend paying attention to the construction of the frame and making sure it is made of high-quality materials. Another thing to look into is whether it is possible to adjust the legs of the board and how many positions are available, especially useful for those who often find ironing boards to be either too tall or too short. Next, pay attention to the cover. For quicker and more effective results, it should be quite wide, smooth, and - what's more important - heat-resistant.

Conveniences
Although many ironing boards are rather simple devices, most of the models included here included some extra features that help add to the overall convenience of using the board. One of the most common features included is an iron rest, which is a safe place to put a heated iron without risk of burning clothing or even yourself. Some other boards may include things such as a linen or clothing rack to give you a convenient place to put already ironed items, and some may even include additional accessory storage for ironing supplies.
Mobility

Last but not least, an ironing board should be easy to move and adjust by everyone from your family, including teenage kids. For that, as we've said before, it has to be lightweight enough and feature a convenient folding mechanism, so you won't run the risk of getting injuries should you do something wrong.