Seems like there can't be anything easier than buying an ironing board, and yet, there are certain things you may want to know about
different items. Consider our comparison of the best ironing boards in the market and choose the best one for your needs.
...
Read more
...Read less
Parker & Company Extra Wide
Design and Size
Parker & Company is a big and wide XL-size ironing board, measuring 62.6 x 19.5 x 4 inches. Parker & Company has a multi-colored board cover thanks to which an iron glides very smoothly so that you can cope with more clothes, bedsheets, etc. This is, actually, the biggest ironing board on our shortlist and that's why it's the most helpful one for ironing big items such as table clothes and bedding.
Strength and Steadiness
This ironing board is rather heavy - its total weight is 22 pounds. However, this isn't a drawback because it's exactly what gives the item true stability. Unlike a vast majority of ironing boards resting on 4 legs, this one stands on only two legs. That said, these legs are wider than average and are made of durable metal with powdered coating. All this makes the item more stable ensuring you can use it without tipping over. It goes without saying the board should be placed on a flat surface, or else wobbling is inevitable, but we think you know that.

Convenience
This broad ironing board might seem bulky to you but it's incredibly convenient and we're going to tell you why. The item includes some design features that make using it a real pleasure. First of all, it has unique retractable shoulder wings that are very helpful for ironing shirts - you can iron both shoulders at a time. Next, Parker & Company ironing board comes with a special hanging rail where you can hang your clothes right after ironing. Such a rail saves your time since you don't need to hang each piece of clothing in a wardrobe and then go on with ironing. Also, a power cord of your iron won't get in your way thanks to a convenient cord holder (you can adjust its height). But that's not all - this board has a handy small pocket for your belongings (such as a cell phone, for example). Finally, the unit is safe for your kids owing to the efficient Child Safety Lock system (it prevents collapsing of the board).
Mobility
Any customer is curious about the mobility of an ironing board since it's sometimes necessary to move it from one room to another. As we've already mentioned, this item is rather heavy (22 pounds) but it's designed for ironing big items and for industrial use. After all, it isn't a small and portable board you take on a trip. Of course, you can adjust the height of this ironing board. If you need to collapse this unit, you should unblock a Child Safety Lock before.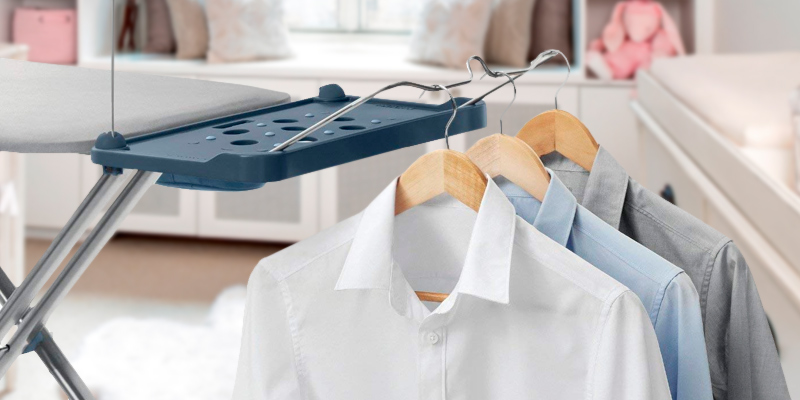 ---
Parker & Company Extra Wide
HOMZ Durabilt DX1500 Premium Ironing Board
Functionality for Your Convenience
Homz is a renowned company that manufactures high-quality products for the American market. The product range includes a lot of items for homeowners and you will certainly find something you need! We've picked the DX1500 ironing board for this review and it's certainly a decent item that can facilitate the tiresome process of ironing and make it quick and effortless. The legs and frame of this board are made of metal, which means the item is very stable and you won't need to balance it - just unfold and start ironing. The iron rest is multifunctional - you can not just place an iron on it, but hang the hangers as well. We would also like to draw your attention to the design of this board's legs - they can be expanded up to 25 inches wide. Though DX1500 is just a simple ironing board, it's a truly well-though-out item. For example, you can easily transport the unit to a place you need thanks to a special carry handle. Close the ironing board and a special lock will keep it closed. Thus, the storage is so simple! No need to mention, the legs have small plastic caps that protect your floors (you will never scratch them). If you live in a house and need a durable ironing board - this model from Homz will surely come in handy.
---
VIDEO
Home Products Durabilt Board
HOMZ Durabilt DX1500 Premium Ironing Board
Brabantia Ironing Board
Design and Size
This is a stylish ironing board with blue moving circles printed on a wide padded working area. You will comfortably iron all types of clothes including extra-large sheets, linens and other long fabrics on it. 49x18 inch table surface provides just enough space to spread long-pieces clothes and achieve smooth results. With a 17.5 pounds weight, it's rather lightweight and yet, solid as a rock. It's not going to wobble or bend whilst being at work.
Strength and Steadiness
The ivory frame of the ironing board is firmly abutted to the floor. The protective non-slip caps on each foot ensure that the construction doesn't wobble or rock when used on uneven surfaces. It also features an inbuilt safety lock that prevents a board from accident folding flat, and a transport lock for comfortable carrying.
Convenience
A multi-layer heat-resistant cover of this ironing board ensures smooth and effective ironing of the wrinkles of most fabrics and clothes. The shoulder-shaped edges of the board allow customers to ideally iron blouses and shirts while the rack mounted to the end of the board prevents quick bruise of the pants and skirts. Brabantia ironing board comes with a comfy iron rest welded on to the board so that one can spread the bed sheet with both hands.
Mobility
Brabantia ironing board features 4 adjustable height positions (30-38 inches), an inbuilt child safety lock and a transport lock for easy transportation and storage. This ironing board will ideally work for all members of your family as it's easily regulated to any height and easily set up.
Additional Info
---
VIDEO
Brabantia Ironing Board - Size C with Solid Steam Iron Rest
Brabantia Ironing Board
Bartnelli Pro Luxery Multi layered Ironing Board
Maximum Performance and Convenience
Any homemaker knows how tiresome ironing can be. And if you think it fully depends on the iron you use, you are quite mistaken. Any piece of clothing must be placed properly on an ironing board, then ironed, then folded so that it doesn't lose its shape. That's why Bartnelli Pro ironing board has been designed with users' comfort in mind. First of all, this is quite a large board, measuring 51 x 19 inches, so you don't need to turn or replace clothes too often. Moreover, this item has a special design with a multi-layered board composed of foam and felt as well as metal mesh. All these features make ironing really simple and effortless! Several layers prevent clothes from sticking to the cover of the board, particularly when ironing at high temperatures. The mesh is used to let the steam (from the steam iron or steam station) pass through and evaporate quickly. Bartnelli ironing board is very stable thanks to special feet design. So, you won't need to worry, just relax and do ironing. The weight of the ironing board is 20.2 pounds; it's heavier than many of its counterparts but at the same time such weight adds stability. No need to mention, the frame is rust-proof while a special lock guarantees that the ironing board doesn't fold down during use.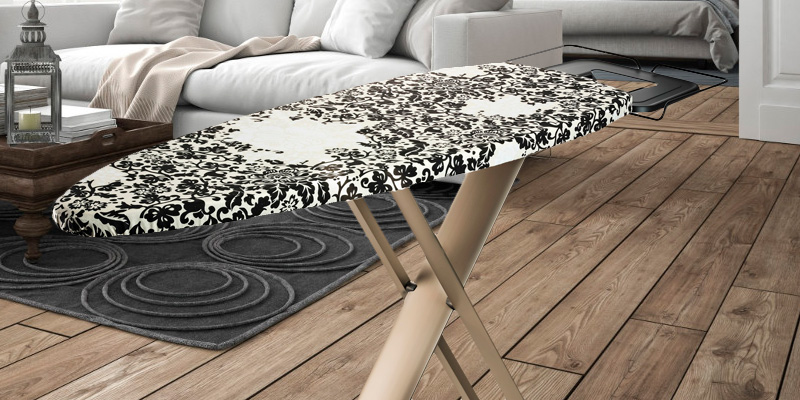 Simple in Every Detail
A special rest for an iron or steam station is really convenient since it also contains a hanging rail for hanging the pegs with clothes (shirts, for example). This design feature saves a lot of your time since you can hang all the ironed clothes on the rail and go on ironing. If you have a fragile floor surface, Bartnelli Pro ironing board has special protective caps on the feet, so it will never cause any scratches. Moreover, you can adjust the height of the item - there are 4 available positions, so every member of your family can find the most comfortable height. Finally, the ironing board has a lock that keeps it closed while it's not used.
Interesting Facts
Is there anything common between an ironing board and mount Everest?
You might be astonished but there exists so-called extreme ironing! And it appeared in Europe, in the UK to be more precise, when Philippe Shaw had to do his chores. But he wanted to leave the town and go to enjoy the wilderness. So, he took his ironing board, iron, and the clothes he had to iron and started his journey. Then, one of his friends joined his. Afterwards, half of the town followed them! That's how extreme ironing appeared and became popular.
The most dangerous types of extreme ironing
True daredevils practice Airstyle ironing that is performed in a parachute jump, on a paraglider, or in a sports plane. The next type of extreme ironing is a Rocky Style - up in the mountains or on a cliff; the most difficult part is to climb up that high. The third place goes to Water Style - in this case, the ironing takes place in a fountain or even underwater (in this case, a scuba suit is required). Of course, Water Style makes no sense since all clothes get totally wet!
Moreover, there are several more types of extreme gliding: on the trees (Forest Style), on the roofs of houses (Urban Style), team ironing competitions, and so on. Thus, if you wish to attract everyone's attention, try some kind of extreme ironing!
More Products to Consider
Since this amazing ironing board has a hanging rail, don't forget to get Home-it 50 pack clothes hangers.
---
Bartnelli Pro Luxery Multi layered Ironing Board
Brabantia 310102
Premium Ironing Board
Many ironing boards have a similar look: elongated with a pointed tip at one end, and folding legs underneath. As almost every ironing board ever made has retained this traditional look, it is easy to think that most ironing boards are the same, with the differences between each being minor. However, some products can be so well made that they tend to rise above all others in the level of quality, putting them at the top of the pack, and the Brabantia 310102 Ironing Board with Steam Iron Rest is the model that sits alone at the top.
This ironing board features a 100% cotton wool cover that stretches nicely across the top surface of the board, and includes a cord binder and stretch system that lets you easily adjust it to remove any wrinkles from the surface, giving you a completely flat surface for helping to remove wrinkles from your clothes. The wide work surface also gives you plenty of ironing room that allows you to lay your clothes flat with a maximum ironing surface, helping your ironing experience go more smoothly than most other ironing boards. On the back of the board is a steam iron rest that gives you a safe place to put your iron while you need to free both hands, a feature that many other ironing boards sadly lack.
Adjustable Height
One great feature of this ironing board is that it is fully height adjustable, giving you a total of four height adjustments for creating the most comfortable and convenient ironing experience. This is especially useful for those who are either too tall or too short to have a comfortable ironing experience with the standard height of most ironing boards. The height is adjustable between 30 to 38 inches, so it should be comfortable to use for people of any height. Your days of experiencing back pain and other discomforts during an ironing session will be at an end if using this ironing board.
Sturdy and Safe
One area that many ironing boards seem to lack is a great stable base. It's quite common for an ironing board to start developing a wobble, even after using only a few times, and this can severely affect one's ability to comfortably iron clothes, not to mention the safety risks. With this ironing board, however, you can be assured of the four leg ivory frame retaining an extremely stable base, helped by the non-slip caps that are attached to the feet. Along with this, a child safety lock helps ensure that the ironing board won't collapse while in use, and the travel lock keeps the legs folded whenever the board is put away. For anyone who is looking for the most stable and comfortable ironing board, this model should be just what you're looking for.
Additional Info
---
Brabantia 310102
What Is an Ironing Board?
An ironing board is a small and portable table used for ironing fabric and clothes. The working surface of the board is covered with a heat-resistant pad, of different thickness and material. Today, it's hard to imagine a family that doesn't use an ironing board at home. It's a must-have tool of any housewife who's used to keeping her clothes and bedding in order. And it's not accidently that you've come to this site. You must be looking for the one! In this review, we've compared some of the best ironing boards for sale so that you can find the board to meet all your needs.
We also suggest considering one of the steam irons. And if you don't want to damage your clothes, take advantage of a garment steamer.
What Features to Compare
There are a few very important criteria to consider when looking for an ironing board. You may have been fortunate enough to get a good one in the past, however, most modern ironing boards today are equipped with improved functionality and practicality options that you may take advantage of. The first important feature to consider is Design and Size of a board. It shouldn't be too big and heavy, and it's got to have a one-hand folding system for ease of use. Unlikely that you'd like it to take a lot of room in the house. When folded flat, it should easily be moved to some disguised place and not attract the attention of your guests.
Strength and Steadiness are the other important characteristics to pay attention to. To iron clothes on a wobbling board is just as hard as iron without the board at all. Consider what material the construction is made of, in what way the height positions are adjusted and how the legs abut to the floor. Convenience of the board is not the least important criterion too. For quicker and more effective results, the ironing cover should be quite wide, smooth, and of course, heat-resistant. There are some other accessories that may directly affect the convenience of the ironing board to this or that extent - a built-in extender, a metal stand for the iron and more.
We'd also like to draw your attention to Mobility criterion. All members of the family should be able to regulate the height position of the board to their needs. And this process should be rather easy.