Are you sick and tired of tangling wires that not only make it difficult for you to do the ironing but also often become a reason
for new wrinkles on freshly pressed clothes? Then, a cordless model might interest you. Choose one of the best cordless irons represented in our review and forget about inconveniences while ironing forever.
...
Read more
...Read less
Tefal FV9990
Impressive Functionality
The Freemove 9990 cordless steam iron from Tefal is a powerful appliance that will make your ironing routine fast and effortless. Featuring the power of 2400 Watts, the iron can produce high temperature to remove even stubborn creases. However, if you need to handle delicate fabrics, you can choose lower temperature settings. The manufacturer recommends ironing fabrics gradually, from thin to thick ones. By doing so, you'll provide proper iron operation and spend less time on choosing the necessary heat option every time. One more thing that allows the Tefal Freemove 9990 to handle wrinkles on different fabric types so easily is a steam option. Depending on your needs, it's possible to use a sequential steam flow at 35 g/min rate or a steam boost option at 160 g/min rate. All you need to do to use one of these options is use an ergonomic steam trigger that you'll find on the handle right under your fingers. Please note that you can also use this iron as a vertical steamer to remove wrinkles from silk or other delicate materials. Steam ironing with Tefal is a fast and easy process thanks to the numerous steam holes that are located on the tip, sides, and heart of the soleplate. Just keep in mind that it's important to hold the iron at some distance away from a garment in order not to spoil it with hot steam. We'd also like to draw your attention to the fact that this iron has a very capacious water tank (8.5 oz) and an extra-large filling hole making the process of refilling effortless and quick. This also prolongs the time of using the steam option without adding water. 
Winning Combination
In addition to great performance, the Freemove 9990 can please you with its usability. The first thing we'd like to point out is a quick charge. Only 4 seconds suffice to heat up the iron's soleplate to the chosen temperature so you won't wait for minutes till you can use the iron. The auto shut-off feature adds to the convenience as well as to the safety of use. With this option, you can have a peace of mind even if you ever happen to forget to turn the appliance off. A scale collector is another bonus that simplifies cleaning of the iron. Calc accumulates with time because of the tap water usage and can lead to malfunction of the iron, but with the scale collector you'll get rid of excessive calc in no time. Finally, the double anti-drip system protects your appliance from leakage. Not only will it provide proper operation of your iron but also it will help prevent the appearance of dirty wet spots on your clothing while ironing. All in all, this Tefal cordless steam iron is a great combination of functionality and usability that won't disappoint you.

Additional Info
---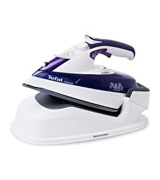 Tefal FV9990
Philips GC2080/28
Power of Steam
Are you looking for a functional cordless iron with a steam option, adjustable temperature settings, and stylish design? Then, this model from Philips should come to your liking. The 1800-watt appliance has heat options for nylon, silk, wool, cotton, and linen so that you can handle any fabric effortlessly. The soleplate of this iron has a ceramic coating that provides even heat distribution and eliminates statics (this option will come in handy if you have lots of silk clothes). As for steam option, you can use either sequential or momentary steam. You can also adjust the intensity of steam flow with the help of a slider on the handle. There is also a spray function that will make the removal of stubborn creases easier. What we liked about this model is that it has a large water tank of 9 oz which doesn't require frequent refilling. Moreover, the reservoir is transparent so you'll always know when it's time to add water. The manufacturer has also taken care of the hassle-free cleaning and equipped this iron with Calc Clean function. To use it, you'll need to change the position of the slider to the left. What else you will certainly like about this iron is its weight which makes 2.2. pounds together with a charging base. No wrist fatigue is possible with the iron as lightweight as this one so even if you've got piles of clothes to go through, you'll not end up with a strain in your arm. The last but not the least feature we 'd like to point out is a lock button and a cord winder that make the storage and transportation of the iron convenient and safe. 
Smart Light
The Easyspeed model from Philips is not only functional and convenient to use, it is also smart. By this we mean that the iron's base is equipped with a light indicator that helps you understand different working conditions of the appliance. There are three light statuses that provide you with information. If you see flashing blue light, it means that the iron is heating up and you still need to wait before you can use it. When the appliance reaches the heat option you've chosen, the flashing light will change to steady blue. Orange light starts flashing 20-25 seconds after you remove the iron from the base and reminds you that the built-in battery of the iron is going low and it needs to be charged for further operation. By the way, charging doesn't take much time – only 6 seconds are enough for it to be ready to use again.

---
Philips GC2080/28
Panasonic NI-L70SRW
All You Need is in One Appliance
The Panasonic cordless steam iron is all about functionality and usability – two main features you're looking for in a steam iron of the type. The appliance has 1500 Watts of power that can produce heat from 248º F to 392º F – a great range to handle ironing at home as well as quilting and crafting tasks. To adjust one of three temperature settings (low, medium, and high), you need to use a button on the handle once you place the iron on the charger. As soon as the iron is ready to use, a light indicator on the handle will change from flashing to steady mode. Depending on the chosen temperature, it takes the iron 1-2 minutes to heat up. In addition to variable temperature, you can also adjust steam option. It's possible to use either dry or steam ironing by placing a slider on the handle to the preferable position. If you choose steam ironing, you can also control steam intensity with the same slider. Spray option is one more useful feature that will help you handle deep creases on both thin and thick fabrics. Don't overlook a vertical steam function that makes ironing delicate clothes a convenient and effective process. We'd also like to draw your attention to the water tank of this model. Although it isn't very capacious (5 oz), the reservoir is detachable so that its refilling is a matter of seconds. Just push a button to detach the tank, fill it with water, and put it into place with one move. Finally, take notice of a stainless steel soleplate that glides over any fabric effortlessly thanks to its non-stick properties. Plus, stainless steel is very durable and easy to clean.

Convenience You'll Appreciate
By choosing the Panasonic cordless iron, you'll get not only great performance but also the convenience of use. The appliance weighs 5 pounds. Some users might think it's too heavy for an iron. But don't forget that this is the weight of all the parts of the appliance including the iron itself, a charging base, and a transparent carrying case. The case is heat-resistant, and thanks to this very feature, you can put it over the iron right after you finish ironing. With such a case, storage and transportation are no hassle at all. And an automatic retractable cord makes storage even more convenient. Not only does it save you from the trouble of looking for a proper storage place for it, it also allows you to store it neatly and to keep it protected from any potential damage. Speaking of the safety of use, the Panasonic cordless iron features an auto shut-off option which automatically deactivates the charging base in 10 minutes of being unused meaning if you leave it unplugged one day you won't have to worry - the iron will turn off. Choose this model from Panasonic and let your ironing chores be less stress.
Additional Info
---
Panasonic NI-L70SRW
Toshiba TA-FV410(L)
Great Choice for Crafters
The Toshiba cordless iron might come to the liking of people whose hobbies are related to sewing, quilting, or crafting. Thanks to its compact dimensions of 8.6" x 4.7" x 3.9" and the power of 1200 Watts, the iron will help you make marks on the fabric for sewing, prepare sewing patterns, or simply remove wrinkles from your clothes while ironing. Besides compactness, what you will also like about this iron is its light weight. Together with a charging base and a cover case, it weighs only 2 pounds so even if you needed to handle heavy workload, you wouldn't put your arm or wrist under too much stress.  As for the functionality, it's worth mentioning that this iron has a 2-stage steam option that can provide continuous steam flow during 90-150 seconds at 5 grams/minute rate. On top of the option to regulate steam intensity, you can select between two temperature settings when ironing different types of fabrics. Pay attention to the soleplate that comes with a ceramic coating known as a fantastic conductor of heat. Finally, don't overlook the usability features such as an ergonomic handle what will make ironing much more enjoyable for you, handy controls placed right at your fingertips, and a plastic case where you'll be able to store your iron away when not in use. 
Prolong Service Life of Your Iron
To prolong the service life of your wireless iron, you need to pay close attention to the way you use and maintain it. Below, you'll find several useful tips on how to enjoy great service of your iron longer.
Clean your steam iron from time to time. Every iron with a steam option tends to gather calc. Its excessive accumulation can lead to malfunction of your iron. So don't forget to remove it regularly. Some irons are equipped with an anti-calc option to make the cleaning process easier. One more thing that will help you reduce calc accumulation is emptying a water tank every time you finish ironing.
Soleplate of your iron also needs cleaning. Even if you choose an iron with a non-stick soleplate, it can lose its properties with time and start catching clothes. So, if you stained a soleplate of your iron, don't panic. If it is made of stainless steel, you'll remove a fresh mark with a soft damp cloth. In other cases, you can use a special cleaning stick.
Proper storage is an important condition of a long service life of your iron. One of the first things you should pay attention to is cord storage. It shouldn't be twisted to avoid wire damage. Luckily, a lot of manufacturers provide their appliances with a cord winder or make a cord retractable so as to prevent possible damage and malfunction of your iron.

---
Toshiba TA-FV410(L)
Twinbird SA-4564BL
Affordable Assistant
Perhaps, the Twinbird SA-4564BL cordless steam iron won't impress you with its specifications, but it will be a great choice for those looking for a decent iron at a reasonable price. Just like the majority of modern irons, this appliance has a temperature adjustment option to handle various types of fabric, from nylon to cotton. If your clothes or linen have stubborn creases, you'll definitely like the steam shot function that makes their removal easier. The appliance has a transparent water tank of 2.9 oz that is easy to refill. It also allows you to check how much water is left without opening it. Another advantage of this iron is its non-stick soleplate that glides over fabric effortlessly without catching it. Even if you managed to stain the soleplate, it is easily cleaned thanks to the high-quality coating. One more thing we'd like you to pay attention to is the weight of the Twinbird iron. It weighs 1.8 pounds together with the base and case so its own weight is even less. Thanks to this very feature, neither ironing nor storage of the iron will be awkward. A cord reel here makes it easy to store the iron neatly when you do not use it, while a plastic case allows you to hide it away from dust. If you don't feel convinced yet whether or not to buy the Twinbird SA-4564BL, let us tell you that it's one of the best-selling cordless items on the market today and for the price like this, you're unlikely to find a better deal. 
Ironing Tips
Although everybody knows how to do the ironing, some tips might come in handy and make this process easier, faster, and more convenient. Here are some of them:
Start ironing your clothes with the items made of thin fabric and gradually move to those made of thicker material. It will help you make the ironing more organized and less time-consuming. Moreover, your iron will heat up gradually, from the lowest to the highest temperature, thus, providing proper functioning of your appliance.
Some fabrics (especially dark ones) are prone to the appearance of shiny marks under the influence of heat. To avoid this unpleasant occurrence, it's recommended to iron such clothes from the inside.
It's important to remember about the right ironing technique every time you're doing the ironing. By this we mean back-and-forth movements that, unlike circle ones, smooth wrinkles and don't create new ones.
Pay attention to the conditions that determine convenience of the ironing process. Make sure you position an ironing board high enough so that you don't need to bend over it all the time. Plus, ensure proper illumination of a room to see all the wrinkles on your clothes to remove them in one go.

---
Twinbird SA-4564BL
What Is a Cordless Iron?
As it's easy to guess from the name, a cordless iron is the type of iron that comes without a cord. Cordless appliances gain their momentum today entering all spheres of life swiftly and confidently. Which isn't surprising considering how much easier and more convenient they are to use compared with corded models. Same with an iron. A wireless iron can give you the freedom of movement and no more tangling cords will complicate the ironing or cause new wrinkles on your freshly pressed clothes.
Cordless irons consist of an iron and a charging base. The iron comes fitted with a rechargeable battery that feeds from the charging unit in seconds. The majority of irons have light indicators which notify when the iron is hot enough to start ironing. When you finish ironing, a charging station goes unplugged and can serve as a storage space for the iron. Speaking of the functionality, cordless irons aren't much different from the corded models. You can find irons with/without a steam option, adjustable temperature settings, auto shut-off option, etc. Same with the power. Though without a cord, cordless models do not lack in power and some of them may even outrival corded irons.
If you enjoy the usability of cordless home appliances, you might also be interested in
cordless vacuums
that can greatly ease your everyday cleaning routine. While if you're a homey kind of person who prefers home-made food and cooking at home, we'd like to recommend you to take a look at this selection of wonderful
cookware sets
.
What Features to Compare
As a rule, when you're looking for an electric home appliance, power is the first characteristic that should be taken into consideration, and wireless irons aren't an exception. The more powerful your appliance is, the higher temperatures it can produce. So before deciding on the power of an iron you're going to buy, think what fabrics prevail in your wardrobe. If you mainly need to iron nylon, polyester, or silk, a 1200-Watt iron will be enough to handle this task. If your clothes are made from various fabrics – from thin wool to thick cotton – you'll probably want to consider an iron with higher power.
Although modern irons are made with high-quality soleplates, you still want to pay attention to soleplate material since it differs from model to model. Moreover, each material has its own advantages:
Stainless steel soleplates are the most common ones used in iron production. The beauty of this material is its durability. The material is also considered as non-stick and glides over fabrics effortlessly. Plus, it is very easy to clean.
Ceramic soleplates aren't made entirely of this material, only coating of a soleplate is ceramic. But it's enough to provide even heat distribution and reduce static.
Aluminum is a lightweight material that conducts heat fast and evenly. One more benefit of aluminum is that it costs less than other soleplate materials.
However, keep in mind that every material has its disadvantages, too. So they should also be taken into account before you make a choice.
Water tank capacity and weight determine how convenient it will be for you to use the iron. If you don't want to bother with water refill often, look for a model with larger water reservoir capacity. It will also be great if a water tank is transparent so that it is easy for you to determine when it's time to add water. Pay attention to refill opening that should be large enough for effortless water pouring. And if there is a special measuring cup in the box, this process will be no hassle at all. As for the weight of a cordless iron, it's obvious that the lighter it is, the easier it will be for you to handle it. Please note that the weight of a cordless iron is indicated with the weight of a charging base.
There are also other features that ensure the convenience of use of your cordless iron. Thus, a cord winder or retractable cord will make its storage more compact. A scale collector simplifies iron cleaning when it comes to removing calc. And auto shut-off provides not only convenience but also the safety of use of your electric appliance.
Did you know?
Throughout their history, clothing irons were made of different materials.
The very first prototypes of irons appeared long ago. They were made of different materials and in different shapes. Here are several examples of how our ancestors tried to do the ironing.
- One of the ways to remove wrinkles from clothes was beating it. In Rome, for example, people used a metal paddle to handle this task.
- The next step to improve ironing was the usage of a handle mangle or a prelum. These tools were made of wood and allowed treating a larger surface of fabric in one go.
- One more invention used to press wrinkly clothes was a pan iron. Its shape resembled a modern pan we use to cook pancakes. It was filled with hot sand or stones and moved over clothes to remove creases with the combination of heat and press.
- The first electric iron was invented in 1882. It was heavy and it took long time to heat up. Luckily, modern irons are lightweight, functional, and convenient to use, and cordless irons are great examples.
Ironing is beneficial both to your clothes and to you.
Perhaps, the first and foremost reason why people do the ironing is the desire to look neat and attractive in freshly pressed clothes. Admit, a person wearing ironed clothes makes a more pleasant impression than the one in a shirt with wrinkles. One more advantage of ironing is that it kills germs. High temperatures are able to destroy bacterium so after ironing, you wear neat as well as sterile clothes. Treating clothes with heat in order to remove germs is especially important when it comes to taking care of baby's clothes. Finally, some people claim that ironing is relaxing. In addition to being an effortless process thanks to modern technologies like steam or cordless ironing, it also allows you to mix business with pleasure. Listen to your favorite music or watch an interesting film while doing the ironing and you won't notice how soon you'll get a pile of freshly pressed clothes.
An iron has several more uses you might not know about.
Although in every iron manual you'll find a recommendation to use the iron only for its intended purpose, people have invented life hacks where the iron can become your irreplaceable assistant. Here are some of them:
- Use iron instead of a laminator. If you need to laminate a document, certificate, or another important paper, there's no need to buy a special machine. All you need to seal up a piece of paper is a couple of laminating sheets, a towel, and your wireless iron at hand. Place s document into plastic sheets, cover it with the towel and iron it for 30-40 seconds. Then, flip your document and iron another side. If you haven't done this before, you'd want to try to laminate a simple sheet of paper first in order not to spoil an important document.
- If wax from a candle spotted the surface of your desk or another wooden surface, an iron will help you remove the spot without damaging the surface. Take a paper towel, put it over the wax spot, and treat it with low temperature setting of your iron. Wax will stick to paper, and your desk is clean again.
- Iron can even serve you as a hotplate. If there's no other source of heat except for your iron and you need to heat up some water for tea or melt cheese for a sandwich, worry not. Secure your iron upside down so that it doesn't move, set the highest temperature setting, take a heat-resistant cookware, and you'll be able to boil water or even make eggs using your iron.

FAQ:
Q: What safety rules should I follow when using my cordless iron?
A: Before using any electrical appliance, the first thing you should do is read the instructions. Of course, everybody knows how to use an iron but you can find not only safety rules but also recommendations on proper usage and maintenance in a user's guide. As for the main safety tips, they are the following:
Be careful with steam to avoid burns, don't direct it at your body parts;
Don't use an appliance if a cord is damaged;
Let the iron cool down before storing it;
Don't let children and disabled people use an iron without supervision.
Q: How long should a charging base stay plugged in?
A: Charging base supplies a cordless iron with electricity necessary to heat up an iron and produce steam. So it should be plugged in for as long as you are going to do the ironing. Being plugged in, the base will support set temperature when you put an appliance back.
Q: Are cordless irons the same as portable ones?
A: Cordless and portable irons are different appliances. Portable irons are supposed to be compact and lightweight. Plus, they often have a dual voltage option that allows you to take them to different countries. As for cordless irons, they are just the same as corded ones for home use. Their only difference is the lack of a cord that provides freedom of movement. At the same time, charging base makes cordless appliances bulkier so you'll hardly want to take them with you.
Q: Cordless sounds less powerful than corded. Won't there be any problems with reaching high temperatures or continuous steam when an iron isn't in the base?
A: There is no need to worry about power or functionality of cordless irons. However, if power is your concern, choose a more powerful model and you will not be disappointed later on. 
Q: If I choose a cordless steam iron, does it mean that steam option will always be on?
A: In the majority of modern steam irons, a steam function is optional. You can turn it on/off depending on your needs using a special switch on the handle. Some models also have a spray function that can be used instead of a steam option.
Q: What are the main troubles I can face when using a cordless iron?
A: When it comes to possible troubles with steam irons, the first thing that comes to mind is leakage. Although the manufacturers do their best to prevent this problem, it still might happen. One of the main reasons for leakage is improper storage. You can avoid it by emptying a water tank after every use and storing your cordless appliance on the base. Another frequent trouble is brown stains on the soleplate or in steam holes. It might happen if you use a higher temperature than necessary for this or that fabric so it slightly burns and sticks to the soleplate and accumulates in holes. To get rid of this problem, always choose proper temperature and do not forget to clean the soleplate. One more trouble you can face is steam option malfunction. It can happen because:
Water reservoir is empty;
Too much calc is accumulated;
An iron has

low

battery;

You haven't activated a steam option.
Check all these points before taking your iron to the service
center
.