The army of home appliances was replenished with another "fighter" - a handheld garment steamer, a compact device that you can take
with you on a vacation and anywhere else you go. Go ahead, read the review, and pick a mini steamer that's right for you.
...
Read more
...Read less
Rowenta DR8080
Powerful and Convenient-to-Use
The Rowenta DR8080 is a convenient device that comes from a well-known manufacturer of household appliances. Not only will it make your clothes wrinkle-free but also spare them from germs and other bacteria. First things first, this unit is quite powerful. It works on 1500 Watts, so it will take less than a minute for it to get ready for use. The unit is fitted with a large water tank that will give you about 10 minutes of continuous work without the need to refill. You also don't need to use distilled water since the device works with tap water as well. Despite the large water tank and a stainless steel body, the unit is also pretty lightweight (only 2.2 lbs), so it is convenient to carry and, thanks to the ergonomic handle, easy to grip.
The Rowenta steamer comes with a convenient set of attachments including a Fabric brush, Lint pad, and Steam bonnet. The combination of various heads and modes allows you to use the steamer on different kinds of fabric, so you can use the steamer not only on clothes but also curtains, upholstery, and other covers. However, it might take you a while to get used to the mode change since the switch is not very sensitive.
Even though in some cases money doesn't equal quality, but in this case, it does. The Rowenta Handheld Garment Steamer is a convenient device that will become an irreplaceable assistant in your household. So, if you are willing to pay for the very best, this steamer is for you.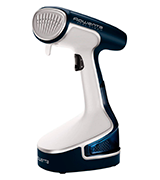 Rowenta DR8080
Conair Turbo Extreme Steam (GS37AMZR)
Capacious Water Tank
If you want to always look neat and clean, yet hate dealing with bulky irons and boards, there is a solution for you. The Conair Turbo Extreme is one of the best models for quick touch-ups that will help you get rid of wrinkles. To begin with, the tool has a decent working power (1550 Watts), which ensures instant results. The unit heats up in just 40 seconds. Another advantage of this device is the big water tank. It has a capacity of 7.3 oz, which is enough for 15 minutes of continuous work without refills. Thus, even if you need to steam a lot of stuff, it won't be a big challenge for this tool. However, the big water tank also adds some weight to the whole unit so keep in mind it becomes rather heavy when the tank is full.
We also want to mention the convenient attachment the Conair Turbo has in its set. The elastic band ensures better de-wrinkling, the bristle brush helps to steam even the thickest fabric and the delicate fabric spacer works best with thin materials.
As for the overall design, it is very convenient since you can leave the tool in the standing position. So, you can comfortably grab it while steaming. Also, the body is decorated in a bright plum color.
In short, if you are looking for an efficient steamer that removes all the wrinkles from your clothes in a short time, make your choice in favor of this model. With its help, you can easily remove the wrinkles from any type of fabric.
Conair Turbo Extreme Steam (GS37AMZR)
PurSteam PS-510
Best Travel Steamer for Clothes
Many people do not like housework because of ironing, but if you get yourself a mini garment steamer, you'll change your attitude. With the PurSteam Fabric Steamer, you'll refresh and remove wrinkles on clothes in a matter of seconds. All you will need to do is hang your clothes on a rack, turn the steamer on, wait for around 90 seconds for it to heat up, and proceed to iron going over a garment up and down with a sweeping motion. With this steamer, you will be able to smooth out not only your clothes but also gathered curtains, tablecloth, bed linen, and other cumbersome articles that are difficult to iron on the ironing board in a horizontal position. The PurSteam Fabric Steamer works very gently on most of the materials, recovers their volume and gives them a flawless, neat look. Like in the other mini clothes steamers we reviewed, the working time of this model is an average 10 minutes, which should be long enough to freshen up several clothes or a couple of bulky items.
In summary, if you've been thinking whether to buy a travel iron or a handheld garment steamer, choose the latter. With this one, you'll benefit from having an option to quickly refresh your clothes that are still hanging on a rack. Besides, it's perfect for travels. For more convenient transportation, a travel case is included with the purchase.
---
PurSteam PS-510
Lemontec Portable Travel
Compact And Energy Efficient
The Lemontec Portable Handheld garment steamer is a small yet functional device that will help you with your steaming chores. The first and the most obvious advantage of this tool is its compact size. It is very light (1.2 lbs), so you can easily fit it in your suitcase or store it at home without needing too much space. Because of the compact size, the water tank of the unit is not very big (only 6 oz), yet it is enough to provide you with 9 minutes of continuous work.
The unit is also pretty energy efficient, so if you intend to use the steamer pretty often, yet you don't want your bills to rise, this model will suit you. The working power of the unit is only 800 Watts, which means it won't get hot straight away. Nevertheless, it needs only a little more than a minute to get ready for use.
Unfortunately, when purchasing the Lemontec Handheld Garment Steamer, you don't get any attachments in the set. Yet, the head of the steamer suits all kinds of fabric. You can steam not only clothes but also curtains and upholstery. The unit is fitted with an innovative thermal sensor which controls the steam temperature. Thus you can be sure you won't damage the fabric. Leakage protection will automatically turn the device off if the water leaks from the tank.
This compact and light model from Lemontec will be your reliable companion both at home and on vacation. It is a good alternative to travel irons since it can easily de-wrinkle any kind of material.
---
Lemontec Portable Travel
Rowenta DR8120 X-Cel
Powerful and Easy to Use
With the Rowenta Handheld Garment Steamer, your stuff will always look neat and tidy. The best thing about this product is that it is super powerful. The device works on 1600 Watts and can smooth out even the toughest materials in no time. Turn the device on and it will be ready to use in about 40 seconds. The dimensions of the steamer are pretty decent as well. It weighs 2.2 pounds and comes with a water tank that can fit 6.7 ounces of water. Thus, you get about 10 minutes of work with no refills.
As for the convenience, the manufacturer equipped the kit with a door hook that allows you to put clothes on the door, meaning you don't have to hold the clothes in your hands while steaming. Plus, the device is fitted with a long power cord, which makes the use of the garment steamer comfortable even if the socket is pretty far.
We also want to mention that the Rowenta is not only a steamer but also a sanitizer. With it, you can kill up to 99 percent of germs and bacteria in your clothes.
The only problem users seem to get with this item is that filling the water tank may be a bit tricky. Yet, it should just be a matter of time before you get used to the device.
The Rowenta Handheld Garment Steamer is a powerful tool that will provide you with professional results. It de-wrinkles your clothes and kills up to 99.9% of germs, dust and bacteria that can be found on the fabric. It is a worthy buy for every household.
Rowenta DR8120 X-Cel
What Is a Handheld Garment Steamer?
A lot of tasks such as steaming silk clothes with decorative details, fluffing fur on coats, sterilizing furniture and other surfaces now can be done with the help of a garment steamer. As we're stepping into the days of technological advancements, many new household appliances appear to simplify our chores, and a garment steamer is surely one of the most brilliant ones of them. Clothes steamers are available in three sizes - for commercial use, small businesses, and for all average users. For this review, we've made a selection of the most popular type - handheld or mini garment steamers that can be used by anyone.
Unlike the other two types, mini garment steamers are compact in size, lightweight, and easy to use. They are perfect for domestic use and for travels. The working principle of clothes steamers, no matter the type, is pretty simple. When you fill a reservoir with water and the steamer heats up, it starts to generate hot steam which then penetrates into fabrics and when it does that, it relaxes inner fibers resulting in a quicker removal of wrinkles. The benefit of handheld garment steamers is that despite their small size, they are effective at all types of fabrics including pretty dense and heavy. Another benefit is because of their small size, they can be comfortably used anywhere.
And when you're done with ironing, hang your fresh and nicely-looking clothes on one of these beautiful garment racks.