The army of home appliances was replenished with another "fighter" - a handheld garment steamer, a compact device that you can take
with you on a vacation and anywhere else you go. Go ahead, read the review, and pick a mini steamer that's right for you.
...
Read more
...Read less
X
This site is a free online resource that strives to offer helpful content and comparison features to its visitors. Please be advised that the operator of this site accepts advertising compensation from certain companies that appear on the site, and such compensation impacts the location and order in which the companies (and/or their products) are presented, and in some cases may also impact the scoring that is assigned to them. The scoring that appears on this site is determined by the site operator in its sole discretion, and should NOT be relied upon for accuracy purposes. In fact, Company/product listings on this page DO NOT imply endorsement by the site operator. Except as expressly set forth in our Terms of Use, all representations and warranties regarding the information presented on this page are disclaimed. The information which appears on this site is subject to change at any time. More info
Conair CNRGS59
A Steamer Powerhouse
Your clothes deserves better than plain ironing. The Conair Turbo Extreme steamer will smooth your clothes and remove every wrinkle, but do it hotter and faster. It will also kill 99.9% of the annoying bugs and germs.
Conair features an upscale steam technology powered up by a 1875 W steam generator. This makes for 100% more steam, a 75% bigger steam area, and a 70% hotter soleplate. With this steamer, you'll be able to not only press your clothes to perfection, but easily manage the more difficult tasks, like de-wrinkling drapes.
Is Conair easy to use? Definitely so. It's a lightweight freestanding steamer with a fast 40-second heat-up, but you can give it some more time if you prefer. The water tank is 7.3 ounce and offers up to 20 minutes of continuous steam. As for the built-in creaser, get ready for the perfect, shop-window look of your favorite attire. Note, however, that the power-up indicator can only be viewed in the direct line of sight, which isn't too convenient.
As for the 3-in-1 attachment, Conair will surprise you with how easily it can be put on and removed. The silicone band is designed to pull fabric taut, while the fabric spacer safeguards the trims and fine fabrics. Finally, there's the bristle brush that allows steam to penetrate even the heavy fabrics.
But that's not all. Conair lets you choose from 5 steam settings to accommodate for delicate fabrics, sweaters, and alike. Use it once, and you'll see how wrinkles get eradicated even on the lowest setting.
Overall, the Conair fabric steamer is a real powerhouse that gives your clothes the impeccably pressed look.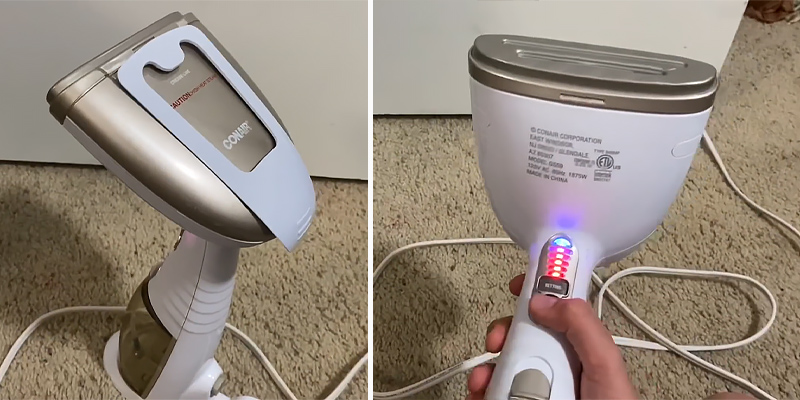 Additional Info
Last updated price

$

0.00

Stock
In stock
ASIN

B07V91437Y
---
Conair CNRGS59
Rowenta DR8120 X-Cel
Powerful and Easy to Use
With the Rowenta Handheld Garment Steamer, your stuff will always look neat and tidy. The best thing about this product is that it is super powerful. The device works on 1600 Watts and can smooth out even the toughest materials in no time. Turn the device on and it will be ready to use in about 40 seconds. The dimensions of the steamer are pretty decent as well. It weighs 2.2 pounds and comes with a water tank that can fit 6.7 ounces of water. Thus, you get about 10 minutes of work with no refills.
As for the convenience, the manufacturer equipped the kit with a door hook that allows you to put clothes on the door, meaning you don't have to hold the clothes in your hands while steaming. Plus, the device is fitted with a long power cord, which makes the use of the garment steamer comfortable even if the socket is pretty far.
We also want to mention that the Rowenta is not only a steamer but also a sanitizer. With it, you can kill up to 99 percent of germs and bacteria in your clothes.
The only problem users seem to get with this item is that filling the water tank may be a bit tricky. Yet, it should just be a matter of time before you get used to the device.
The Rowenta Handheld Garment Steamer is a powerful tool that will provide you with professional results. It de-wrinkles your clothes and kills up to 99.9% of germs, dust and bacteria that can be found on the fabric. It is a worthy buy for every household.
Additional Info
Last updated price

$

65.11

Stock
In stock
ASIN

B07999KDL3
---
Rowenta DR8120 X-Cel
Hilife Steamer for Clothes Steamer
Smart Body Construction
Those who seek a simple handheld steamer for home use should take a closer look at this model. The Hilife Handheld Garment Steamer tackles basic ironing tasks with ease and comes at a reasonable price.
To begin with, this steamer comes with a capacious water tank that can hold up to 8.1 oz. Thanks to that, it produces steam continuously for up to 15 minutes. The reservoir is see-through and comes with marks that allow you to keep an eye on the amount of water and add more when needed. But as we said before, this garment steamer is a bit more basic and not too powerful. So note that it requires around 2 minutes to heat up. Yet, the low power doesn't affect the performance, so it de-wrinkles the clothing as efficiently as more expensive models.
What makes this device differ from its rivals is the design. The body has a smart construction, so it doesn't get hot and you can comfortably hold it even if you use it for a long time. Next, this model comes with a special fabric brush in the set. It will be handy if you are steaming thicker materials like denim, for example. The measuring cup is also included.
And lastly, we also want to mention that this model comes with a 1-year warranty.
To sum up, if you seek a simple inexpensive handheld garment steamer, this model from Hilife will be right up your alley. With it, you will no longer have to spend long hours ironing.
Last updated price

$

27.99

Stock
In stock
ASIN

B07HF3X6Y4
---
Hilife Steamer for Clothes Steamer
Beautural Steamer for Clothes
Small but Might
The Beautural Steamer for Clothes isn't big but it is certainly mighty and it certainly has a number of important advantages over its bulkier rivals. For your convenience, the thing weighs only 1.6 ounces, and it's exactly what makes it so easy to hold and operate for a prolonged time. Despite its smaller size, though, it boasts a generously-sized water tank, measuring 8.8 ounces, that you can fill once and use for at least 15 minutes of continuous steaming before it needs a refill. Naturally, it won't be much for a regular iron, but it's definitely plenty for a portable garment steamer and will be enough to last a few pairs of pants or three or four shirts.

We would also like to point out that the Beautural Steamer has a unique leak-proof design. Working based on the innovative Pump Steam Technology, this steamer allows you to steam iron and remove wrinkles and creases in clothes while they are hanging on a rack or lying horizontally on a couch or table. And it can do all that without spilling water out so you won't need to worry about it making your clothes wet.

Speaking of additional conveniences, the Beautural Steamer for Clothes includes three attachments. Namely, you get a fabric brush, a creaser and a lint remover for steaming various kinds of clothes. Not all users find them practical, but they can still come in handy when you need to steam wool, upholstery, as well as delicate fabrics. One more thing we would also like to mention is that the Beautural Steamer has an auto shut-off, meaning if you leave it unattended for 10 minutes as specified by the manufacturer, it will automatically turn off.
Our only complaint would be that it's not as effective for winter clothes as it is for thin fabrics. Be ready that smoothing out wrinkles in dense materials like cotton might require some extra on your side. That said, it's understandable given that Beautural Steamer is a portable model.

To conclude, while this steamer may have troubles smoothing out some dense fabrics, we believe it still has a lot going for it. Compared to similar handheld models, it has a lot of power, and it will let you iron multiple garments easily without needing a refill.

Last updated price

$

0.00

Stock
In stock
ASIN

B01N1QE5ME
---
Beautural Steamer for Clothes
iSteam H106
Best Travel Assistant
Your clothes will look top-notch on a business trip or vacation thanks to the  iSteam travel steamer. It's powerful, easy to pack, and gives you the exact results you've been dreaming of.
The new, upscale heating panel of this steamer makes for a fast 60-second heat-up. After that, the soothing steam flow will get rid of every winkle on your clothes, remove the germs and bugs, and free it from unpleasant odor. One session with this steamer lasts up to 10 minutes. You'll probably need refills for multiple garments, but that's a small price to pay for its portability.
Don't worry about this steamer getting overheated. Automatic shut-off will inform you when the water level goes way too low.
Prepare for a dry but powerful de-wrinkling with the freshly designed nozzle. It lets you iron, treat, refresh, or humidify your clothes with great ease. Suits, dresses, jeans, or coats, you'll be satisfied with the results; even beddings or drapery will look amazingly smooth.
Traveling and iSteamer go hand in hand. This model will easily fit into any suitcase and is authorized by TSA to be stored in carry-on luggage. Don't forget a voltage converter and a plug adapter if you plan on using 220v outlets.
To sum up, the iSteam travel steamer is exactly what it says on the tin: portable, effective, and a lifesaver on a trip.
Additional Info
Last updated price

$

0.00

Stock
In stock
ASIN

B072PY74HY
---
iSteam H106
What Is a Handheld Garment Steamer?
A lot of tasks such as steaming silk clothes with decorative details, fluffing fur on coats, sterilizing furniture and other surfaces now can be done with the help of a garment steamer. As we're stepping into the days of technological advancements, many new household appliances appear to simplify our chores, and a garment steamer is surely one of the most brilliant ones of them. Clothes steamers are available in three sizes - for commercial use, small businesses, and for all average users. For this review, we've made a selection of the most popular type - handheld or mini garment steamers that can be used by anyone.
Unlike the other two types, mini garment steamers are compact in size, lightweight, and easy to use. They are perfect for domestic use and for travels. The working principle of clothes steamers, no matter the type, is pretty simple. When you fill a reservoir with water and the steamer heats up, it starts to generate hot steam which then penetrates into fabrics and when it does that, it relaxes inner fibers resulting in quicker removal of wrinkles. The benefit of handheld garment steamers is that despite their small size, they are effective at all types of fabrics including pretty dense and heavy. Another benefit is because of their small size, they can be comfortably used anywhere.
And when you're done with ironing, hang your fresh and nicely-looking clothes on one of these beautiful garment racks.