Looking neat is always important and that's why you must always wear smooth, fresh, and clean clothes. There's an excellent way to
get rid of wrinkles and creases on fabric - the power of hot steam! By opting for a fabric steamer you ensure a longer life of your clothes since steam doesn't damage the fabrics unlike aluminum or metal irons. With that in mind we present you the shortlist of the top garment steamer models and choose the one that suits your needs!
...
Read more
...Read less
X
This site is a free online resource that strives to offer helpful content and comparison features to its visitors. Please be advised that the operator of this site accepts advertising compensation from certain companies that appear on the site, and such compensation impacts the location and order in which the companies (and/or their products) are presented, and in some cases may also impact the scoring that is assigned to them. The scoring that appears on this site is determined by the site operator in its sole discretion, and should NOT be relied upon for accuracy purposes. In fact, Company/product listings on this page DO NOT imply endorsement by the site operator. Except as expressly set forth in our Terms of Use, all representations and warranties regarding the information presented on this page are disclaimed. The information which appears on this site is subject to change at any time. More info
PurSteam PS-937
Heavy-Duty Steamer
Advertised as one of the most powerful steamers for clothes available on the market, the PurSteam PS-937 definitely lives up to that hype. And that's achieved thanks to the 30% higher steam output compared to similar models. Thanks to this incredible steam jet, the appliance can easily cope even with the toughest creases.
As for the ease of use, the PS-937 features adjustable steam controls that allow you to pick between 4 steam intensity levels. This array of options was designed to satisfy all steaming needs, so you can be sure that it'll able to de-wrinkle virtually everything from t-shirts to drapes and curtains. Additionally, the kit includes a universal ironing attachment that can be used together with clothing hangers. This feature makes ironing faster, which is especially handy when you need to steam large pieces of clothing such as coats or long dresses.
Moving on, let's take a look at safety functions the unit has in store. Contrary to most other models in its price range, this steamer for clothes features a burn prevention cap that won't let you open the water tank when the steam is still hot.
We would like to point out that the product is supplied with multiple nozzle attachments for different types of clothes. And the PS-937 from PurSteam features an enormous water tank capacity that should be more than enough to steam numerous items of clothing per one go. That said, if you're in the market for a heavy-duty steamer, it's a perfect option.
Additional Info
Last updated price

$

89.97

Stock
May be out of stock
ASIN

B077F9V7G6
---
PurSteam PS-937
Rowenta IS6520
Great Performance
What makes a good clothes steamer? Sure enough, a good clothes steamer should have a big water tank and be able to remove annoying wrinkles from any fabric. The Rowenta Master 360 upright steamer is just like that. With its powerful 1500 W motor, the device is capable of heating up the tap water in just 45 seconds, which makes it a highly efficient appliance. What is more, the steam output of 30 grams per minute makes it a perfect model for any type of garments. This model from Rowenta can easily deal with jeans as well as cotton jackets. This high functionality makes it a perfect pick for medium to big households.
Besides amazing steam output capabilities, the device is able to run for up to 80 minutes thanks to its 80-oz water tank. In order to achieve that level of continuous steaming time, make sure that you fill the water tank to the maximum level. That being said, in case you pour too much water and try to use the steamer on the garment, it may spill some liquid.
Other than that, it's an excellent professional garment steamer that is able to easily steam clothing items made even of such delicate fabrics as silk, nylon, acetate, and linen. It's truly one of the most powerful garment steamers out there.
Designed for Pros, Accessible for Everyone
As for the features that add to convenience of use, this steamer has a 360-degree rotating hanger that allows you to turn any item of clothing as you wish for hassle-free ironing. On top of that, you can easily press the power button with your foot owing to a foot-operated switch that is located near the steam hose on the front panel of the device. Additionally, the device is equipped with a special tilt and roll system that allows you to transport the steamer around your house just like a regular suitcase.
Another highlight of the Rowenta IS6520 is its even steam distribution. The steam is dispersed across the whole plate and penetrates any fabric with ease.
To wrap things up, the Rowenta IS6520 steamer is perfect for both professional and everyday use. It's much more effective and easier to use than a standard iron. This handy model will definitely make your life a bit easier, especially if you have a large wardrobe.
Additional Info
Last updated price

$

79.99

Stock
In stock
ASIN

B01NAHP42K
---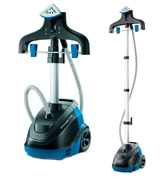 Rowenta IS6520
PurSteam PS-910
A Versatile Model
This upright garment steamer is not just affordable but also really versatile. Designed for steaming all kinds of fabric without the need for an ironing board, it can work on organic fabrics, wool, cotton, silk, but also polyester and nylon. Furthermore, this appliance is great for bedding, drapes, and curtains. The steam is very hot and it kills 99% of bacteria.
The PurSteam garment steamer has an overall power of 1500 Watts, which is enough to heat the water and turn it into high-temperature steam within just a minute after it's been turned on.
Additionally, this model has a large aluminum nozzle with a heating element inside. As a result, the steam is always very hot and the temperature reaches 248 F - enough to penetrate deep into the fabric and 'relax' the threads and make the fabric smooth. The steam hose is 5.25 feet long, so you have a sufficient length to maneuver around.

As for the water tank, the 61 oz capacity enables the PurSteam to operate for up to 1 hour before you will need to add more liquid.
In the end, the powerful electric motor and tremendous steam output make the PurSteam a go-to pick for users that tend to iron a lot of laundry in one go. The versatility of the long hose and a universal steamer head make it easier to work on various fabrics.
Last updated price

$

69.97

Stock
In stock
ASIN

B00JP45F7U
---
VIDEO
PurSteam PS-910
Rowenta DR8080
Powerful and Convenient-to-Use
The Rowenta DR8080 is a convenient device that comes from a well-known manufacturer of household appliances. Not only will it make your clothes wrinkle-free but also spare them from germs and other bacteria. First things first, this unit is quite powerful. It works on 1500 Watts, so it will take less than a minute for it to get ready for use. The unit is fitted with a large water tank that will give you about 10 minutes of continuous work without the need to refill. You also don't need to use distilled water since the device works with tap water as well. Despite the large water tank and a stainless steel body, the unit is also pretty lightweight (only 2.2 lbs), so it is convenient to carry and, thanks to the ergonomic handle, easy to grip.
The Rowenta steamer comes with a convenient set of attachments including a Fabric brush, Lint pad, and Steam bonnet. The combination of various heads and modes allows you to use the steamer on different kinds of fabric, so you can use the steamer not only on clothes but also curtains, upholstery, and other covers. However, it might take you a while to get used to the mode change since the switch is not very sensitive.
Even though in some cases money doesn't equal quality, but in this case, it does. The Rowenta Handheld Steamer is a convenient device that will become an irreplaceable assistant in your household. So, if you are willing to pay for the best clothes steamer, this model is for you.
Additional Info
Last updated price

$

61.56

Stock
In stock
ASIN

B013IHKUQA
---
Rowenta DR8080
PurSteam Comfort
Better Than Ironing
The Comfort Professional garment steamer from PurSteam is one of the most powerful models that are both affordable and effective. To be more specific, the housing of this steamer is made of high-quality plastic that is durable enough to withstand high temperaturesю
What is more, the model features 4 different settings for various steam output that can help you in dealing with especially hard wrinkles on clothing. A high-pressure jet of hot steam will make the de-wrinkling process an easy task.
The 1.05 oz/min steam output, on the other hand, allows you to remove wrinkles from collars, sleeves, and even pockets with relative ease. That said, you can also use the special extendable garment stand for more comfortable steaming. You can put your jackets and shirts on it for the best results possible.
With a tank capacity of 85 oz, the PurSteam steamer has amazing autonomous capabilities and is able to continuously produce steam for up to an hour straight. So, you will be able to steam almost everything per one go, no matter how much clothes you have in your wardrobe.
As for the safety measures, the garment steamer from PurSteam has a special burn prevention system that won't let you open the water tank, while the device is heated to high temperatures. Despite the thick insulation layer, the hose can get somewhat hot, thus, we do not recommend using the device right away after it's pre-heated.
In case you think that ironing takes a lot of your precious time and you are desperately looking for a new, easier way to refresh your clothes, the PurSteam is the right choice for you. It's a very user-friendly model that is meant for easy and efficient steaming.
Last updated price

$

99.97

Stock
In stock
ASIN

B06ZYXLK1B
---
PurSteam Comfort
Infographics
---
What Is a Garment Steamer?
If you'd like to make a great first impression on people, wearing neat and clean clothes is important. And easy to do, thanks to a whole range of household appliances designed for this purpose. A garment steam cleaner is one of such appliances. As the name suggests, this appliance irons clothes by treating them with a jet of steam.
Admittedly, a garment steamer cannot be used instead of a conventional iron but can be a great addition to your household kit and come in handy when de-wrinkling hanging clothes. With the working principle based on the steam, this appliance is safe to use and can not only de-wrinkle clothes but also sterilize it - steam effectively kills germs and bed bugs, often inhabiting bed clothes.
This makes them especially useful for people with allergies as well as young parents needing to sterilize toys, baby clothes, and linen. Garment steamers come in various designs and shapes and can perform different functions. Hopefully, after reading this review, you'll be able to pick the one that will be right for you.

Another appliance that may come in handy for cleaning not only your bedding but also furniture and even a car interior is a steam cleaner. In case you don't own one yet, make sure to read our best steam cleaners reviews.
What Features to Compare
Type and Use
There are several types of clothes steamers available today. The most popular one is an upright steamer. It is used to de-wrinkle and smooth clothes that are hung on a hanger or attached to some pole. The beauty about upright models is that they allow for a quick freshening of clothes including upholstery that is impossible to iron in any other way. Upright models are compact in size and take very little space; they offer excellent maneuverability. The second type is a steamer with a base. This type of garment steamers, obviously, is bulkier but it is also more versatile allowing you to iron almost all types of clothes and fabrics. But using this type of steamers requires an ironing board as well.
Power and Steam Output
The next two features to consider are the power and steam output. These two parameters determine how fast you'll be able to de-wrinkle your clothes. It's crucial that the steam flow is not weak and allows you to finish ironing in minimum time. 1300-1800 Watts are considered the ultimate performance with the minimal steam output of 0.88 oz/min. It goes without saying that the more powerful the steamer is, the faster the steam is produced. Though the difference in time is not huge, it's still nice not to waste time waiting. Some models are capable of delivering up to 1.05 oz/min on higher intensity levels, making them capable of dealing with wrinkles on harder types of garments. These high-powered devices will be convenient to use on curtains or thick drapes. Depending on the task, it is crucial to find the balance between motor power and intensity of steam output, so make sure to check out the heat up time as well.
Capacity and Steaming Time
Tank capacity is also important. The bigger it is, the more time you will be able to iron without having to refill it. On average, the tank capacity of a regular steamer varies from 6.5 oz up to 65 oz. Whether you need a steamer for home use or you're looking for a portable thing suitable for travel as well, the market offers multiple options to choose from. Like we said before, the steaming time is linked to the capacity.
Nozzle and Accessories
Finally, consider the package - what nozzles and how many accessories come supplied with the unit. What is also important to pay attention to is the quality of materials. To reduce the price on their products, many manufacturers produce nozzles from plastic, but if you want them to serve you longer, we highly recommend considering those made of durable aluminum or stainless steel. Some of professional garment steamer models may also include an additional heating element which allows them to heat up faster and remove stubborn creases more effectively.
Last but not least, check out what brushes come included. Many of them can be really helpful, allowing you to clean not only your blouses, dresses, and pants but also heavy fur winter coats.