Looking neat is always important and that's why you must always wear smooth, fresh, and clean clothes. There's an excellent way to
get rid of wrinkles and creases on fabric - the power of hot steam! Take a look at our shortlist of top 5 garment steamers and choose the best one!
...
Read more
...Read less
Rowenta IS6520
Great Performance
What makes a good clothes steamer? Sure enough, a good clothes steamer should have a big water tank and be able to remove annoying wrinkles from any fabric. The Rowenta Master 360 upright steamer is just like that. With its powerful 1500 W motor, the device is capable of heating up the tap water in just 45 seconds, which makes it a highly efficient appliance. What is more, the steam output of 30 grams per minute makes it a perfect model for any type of garments. This model from Rowenta can easily deal with jeans as well as cotton jackets. This high functionality makes it a perfect pick for medium to big households.
Besides amazing steam output capabilities, the device is able to run for up to 80 minutes thanks to its 84.5-oz XLarge water tank. In order to achieve that level of continuous steaming time, make sure that you fill the water tank to the maximum level. That being said, in case you pour too much water and try to use the steamer on the garment, it may spill some liquid.
Other than that, it's an excellent professional garment steamer that is able to easily steam clothing items made even of such delicate fabrics as silk, nylon, acetate, and linen. It's truly one of the most powerful garment steamers out there.
Designed for Pros, Accessible for Everyone
As for the features that add to convenience of use, this steamer has a 360-degree rotating hanger that allows you to turn any item of clothing as you wish for hassle-free ironing. On top of that, you can easily press the power button with your foot owing to a foot-operated switch that is located near the steam hose on the front panel of the device. Additionally, the device is equipped with a special tilt and roll system that allows you to transport the steamer around your house just like a regular suitcase.
Another highlight of the Rowenta IS6520 is its even steam distribution. The steam is dispersed across the whole plate and penetrates any fabric with ease.
To wrap things up, the Rowenta IS6520 steamer is perfect for both professional and everyday use. It's much more effective and easier to use than a standard iron. This handy model will definitely make your life a bit easier, especially if you have a large wardrobe.
Additional Info
---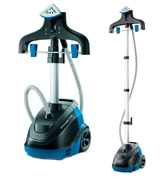 Rowenta IS6520
PurSteam Comfort
Designed for Delicate Fabrics
The Comfort Professional garment steamer from PurSteam is one of the most powerful models that is both affordable and effective. To be more specific, the housing of this steamer is made of high-quality plastic that is durable enough to withstand high temperatures. The only thing that can bother you during the first few runs is the fact that the extension hose is somewhat stiff. But after several runs, the hose will eventually become more flexible.
This model features 4 different settings for various steam output that can help you in dealing with especially hard wrinkles on clothing. A high-pressure jet of hot steam will make the de-wrinkling process an easy task. The steamer will smoothen any creases effectively and quickly. For softer fabrics such as silk, you can use more delicate modes.
A 30-gram per minute steam output will allow you to easily remove wrinkles from collars, sleeves, and even pockets. That said, you can also use the special extendable garment stand for more comfortable steaming. You can put your jackets and shirts on it for the best results possible.
Better Than Ironing
With a tank capacity of 85 oz, the PurSteam steamer has amazing autonomous capabilities and is able to continuously produce steam for an hour. So, you will be able to steam almost everything per one go, no matter how much clothes you have in your wardrobe.
As for the safety measures, the garment steamer from PurSteam has a special burn prevention system that won't let you open the water tank, while the device is heated to high temperatures. Despite the thick insulation layer, the hose can get somewhat hot, thus, we do not recommend using the device right away after it's pre-heated. To operate the appliance safely, wait for 30 seconds after the maximum temperature was reached. That way, you will be able to safely remove any wrinkles on your clothes without burning yourself.
Since the temperature of steam can reach more than 200°F, the hot steam might harm prints on clothes. Thus, the tool is best for steaming clothes from the inside out to prevent any thermal damage of your favorite t-shirts.
In case you think that ironing takes a lot of your precious time and you are desperately looking for a new, easier way to refresh your clothes, the PurSteam is a right choice for you. It's a very user-friendly model that is meant for easy and efficient steaming.
Additional Info
---
PurSteam Comfort
iSteam AC23
Extremely Portable
A portable garment steamer from iSteam can amaze you with its capabilities. Although it is not as powerful as regular-sized models, the AC23 is a decent pick for you in case you need a portable steamer that you can take with you on trips.
Some customers may find the 4.7-oz water tank somewhat small compared to other similar models. Yet, it will be more than enough for steaming and de-wrinkling one or two outfits. The small-sized water tank is able to produce high-pressure steam for up to 10 minutes continuously.
What makes this model truly special is its ability to turn the water into steam in just 60 seconds, which is the stunning heat time considering the compact dimensions of the device. Although it is not a fully-featured stem cleaner model, when it reaches the maximum temperature of 212 °F, it is still capable of killing germs and bacteria on your clothing.
Your Perfect Travel Assistant
When there are no ironing boards around and all your shirts are wrinkled, the handheld model is a true lifesaver when it comes down to a quick removal of wrinkles. In spite of its small size, the steamer is able to easily make even the densest fabrics smooth.
Although both iron and garment steamers do almost the same job, the irons are heavier, bulkier, and less convenient to use. You always have to wait for more than a minute in order to begin ironing. Moreover, the flat irons need a contact with the material in order to de-wrinkle it, which may damage or even burn your favorite clothes. On the contrary, cloth steamers don't even need to touch fabrics, so they aren't able to damage tender materials accordingly.
For safety reasons, the device has a special shut-off system that automatically turns the device off when the water level in the tank reaches the minimum level. This handy feature will prevent you from getting burnt with hot steam.
Built to last and impress, the AC23 travel garment steamer weighs only 1.2 pounds with an empty water tank, which makes it one of the lightest models on the market. Thus, it is easy to hold and carry even with one hand. All in all, the steamer from iSteam is a perfect choice for any tourist. You can rely on this little fellow in any corner of the world.
Additional Info
---
iSteam AC23
PurSteam PS-910
An Essential Upright Model
This upright garment steamer is not just versatile but also quite affordable so anyone can get it for home use. It's designed for steaming all kinds of fabric without a need for an ironing board: organic fabrics, wool, cotton, silk, but also polyester and nylon. It makes it a professional fabric steamer that will come in handy in any store. Also, this appliance will find a place in a hotel - a lot of bedding, drapes, and curtains need to be steamed every day in any hotel or motel. The steam is very hot and it kills 99% of bacteria, so PurSteam will not only steam but also remove all unpleasant parasites from fabric. No need to say, the garment steamer is also excellent for home use. If you have a large house with many rooms - you will surely need to do quite a lot of ironing and steaming. We've tested PurSteam garment steamer on make shirts - the result is totally satisfying: the fabric gets smooth immediately.
Power and Steam Output
PurSteam garment steamer has an overall power of 1500 Watts and it's enough to heat the water and turn it into a high-temperature steam within just a minute. It's really fast - you can just get up and go make some tea, and when you're back - PurSteam will be ready. The steam output is pretty good - 30 g/min. which is enough for a quick and efficient steaming.
A Steaming Time to Match
PurSteam garment steamer has one of the biggest water tanks in our review - 61 oz. Such huge capacity ensures an hour of steaming and it's enough to handle a lot of fabric no matter where you are using a steamer for clothes: at home or at work. This model from PurSteam steamer provides up to 1 hour of continuous steam on a single water tank.

This model has a large aluminum nozzle with a heating element inside. As a result, the steam is always very hot and the temperature reaches 248 F - enough to penetrate deep into the fabric and 'relax' the threads and make the fabric smooth. The steam hose is 5.25 feet long, so you have a sufficient length to maneuver around. Some users think the hose could be longer and they're quite right. But if you need to steam curtains, you will still need to lift the fabric steamer somehow to reach their upper parts. The steamer has an aluminum telescopic rod with a collapsible hanger for your shirts, robes, dresses, pants, and so on. There's even a pant press and though it's convenient you will be able to steam your pants even without it.

---
VIDEO
PurSteam PS-910
Conair ExtremeSteam GS23 C Hand Held Fabric Steamer
Handy Addition to Your Iron
A lot of homemakers are literally afraid of de-wrinkling clothes and bedding made of some delicate fabric since a conventional iron might damage them. And it does happen! However, there's a simple yet affordable way out and it's a fabric steamer. Even if this household appliance isn't a total substitution for an iron, it's still a truly helpful device anyone should have. The main advantage of garment steamers is that they don't contact the fabric directly, thus, they can't burn it. Conair ExtremeSteam is surely one of the best portable handheld fabric steamers available on the market. Not only is this unit efficient, it's also rather affordable. This is a superb appliance for people who don't wish to spend much time on ironing and need to get a smooth shirt or skirt really fast. The power of the device is sufficient to make steam within 75 seconds, which is an amazing result for such a compact unit. That's also a benefit in terms of electricity consumption! Moreover, you won't disagree that sometimes installing an ironing board takes longer that waiting till Conair fabric steamer is ready to do the job. However, you need to fill the removable reservoir with water and it has a sufficient capacity for using the appliance for 15 minutes. So, you will be able to de-wrinkle your suit or shirt before leaving for work in the morning. This appliance can be used with any kind of fabric, such as silk and cashmere, so you can de-wrinkle drapes and clothes, even those with some ornament. Also, a powerful steam shot removes unpleasant odors (tobacco, food, etc.), so you can quickly 'de-odorize' the clothes that have been hanging in a closet for quite a long time. Finally, let's not forget that a garment steamer kills germs so there's no need to carry your clothes to the dry cleaner's. Try this appliance and see the wrinkles disappear!
Attachments and How to Use Them
Conair fabric steamer comes with 3 different attachments that allow you to de-wrinkle various types of fabric. Use a soft cushion brush if you need to smoothen a delicate and thin blouse or an embroidered shirt. Use this attachment with any delicate fabric! Let's mention a temperature control slide switch - don't forget to set the right temperature before you start steaming. If you wish to de-wrinkle some piece of clothing made of thicker fabric - a coat, jacket, waistcoat, etc. - use a fabric brush attachment that will force the steam deep into the fibers. If you want to make creases on your suit pants, use a creaser. There are some rules you must follow using this appliance and the first one is: apply steam only vertically and don't try to use a fabric steamer horizontally (laying clothes on an ironing board, for example). The second rule says: you must never touch the nozzle as the steam is fairly hot. Finally, don't forget to remove the remaining water after using the garment steamer.
Additional Info
---
VIDEO
Conair ExtremeSteam™ Professional Hand Held Garment Steamer Overview
Conair ExtremeSteam GS23 C Hand Held Fabric Steamer
Infographics
---
What is a Garment Steamer?
If you want to make a positive impression on the others, make sure to wear fresh and smooth garments. And that's why you need to use a garment steamer - an appliance that helps you remove wrinkles on fabric and freshen it at the same time with the help of hot steam. Unlike an iron, a fabric steamer can't damage the fabric because it uses just the power of hot steam. A garment steamer can de-wrinkle the clothes which a conventional Steam Iron can't handle at all. Keep in mind that a hot pressurized steam kills germs and bed bugs that live on fabric, as well as prevents allergies and that's why these appliances are very often used to sterilize clothes, drapes, curtains, beddings, etc.
What Features to Compare
Type and Use
There are several major types of clothes steamers produced today. The first and the most widespread one is an upright garment steamer which is used for de-wrinkling and smoothing clothes that are hung on a hanger on top of a telescopic pole or on any other hanger. Of course, you can use upright garment steamers to apply steam on curtains, towels, and so on, but these fabric steamers are also used for freshening upholstery. Сompact hand-held steamers take little place in your home and are extremely maneuverable; they are used to cope with clothes, upholstery, bedsheets. Finally, you can choose an iron with a steam base that will be able to cope with all clothes and fabric used in your family; these appliances are used mainly for ironing clothes on an ironing board with the maximal efficiency thanks to an immense amount of hot steam.
Power and Steam Output
The next step to make is to consider the power and steam output which are the crucial features for a fabric steamer. They determine how fast you'll be able to smooth and de-wrinkle your clothes. If a steam flow is weak, the small dabs of water will stay on the fabric which is, of course, a very inconvenient mishap if you're going to steam a piece of clothing and then put it on. A garment steamer for home use should have the power of 1300-1800 Watts and ensure the minimal steam output of 25 g/min. Of course, the more powerful a fabric steamer is, the faster it generates the steam: some models are ready for use within less than a minute while others may require up to 3 minutes to heat up. So, make sure to check out the heat-up time.
Capacity and Steaming Time
Also, you need to take the water tank capacity into account, because it's an important feature that determines the continuous steaming time of the appliance you choose. It varies from just 7-15 minutes for hand-held garment steamers with the water tank of just around 200 mL (this compact appliance is useful either if you go on a trip or have just a couple of clothes to steam at home), to more than an hour of steaming for upright garment steamers that have large water tanks of up to 2 L.
Nozzle and Accessories
Finally, pay attention to the nozzle of the steamer for clothes and particularly to the material it's made from. It's usually made from plastic or metal (stainless steel or aluminum). Aluminum nozzles are usually more durable and heat up faster. Also, some garment steamers have an additional heating element inside a nozzle - it pre-heats the steam and makes it more efficient in removing wrinkles and creases on fabric. The nozzle is connected to a steaming station itself by a special hose in which the steam flows. And the longer it is, the easier it's going to be for you to use the appliance. And check out what accessories every fabric steamer includes - some of them are really important and helpful. For example, some steamers for clothes go with brushes that help you steam and clean your coat.