Internet router is an essential thing in any modern home or office. To get a good-quality Internet access to all your computers and
mobile gadgets, you need a productive router. Our review will help​ you choose an appropriate model for your needs.
...
Read more
...Read less
X
This site is a free online resource that strives to offer helpful content and comparison features to its visitors. Please be advised that the operator of this site accepts advertising compensation from certain companies that appear on the site, and such compensation impacts the location and order in which the companies (and/or their products) are presented, and in some cases may also impact the scoring that is assigned to them. The scoring that appears on this site is determined by the site operator in its sole discretion, and should NOT be relied upon for accuracy purposes. In fact, Company/product listings on this page DO NOT imply endorsement by the site operator. Except as expressly set forth in our Terms of Use, all representations and warranties regarding the information presented on this page are disclaimed. The information which appears on this site is subject to change at any time. More info
TP-LINK TL-R600VPN
Speed Matters
One of the most technologically advanced routers, perfect both for creating a local network in an office and at home, is the TL-R600VPN from the TP-Link company. This company is the world leader in the production of this class of equipment. One of the greatest advantages of the TP-Link router is the fact that it is designed using the SafeStream technology and can transmit packet data at speeds up to 1 gigabit per second. By the way, this speed is available both through the WAN port and local LAN ports. The device has 4 Ethernet LAN ports (each supports 10/100/1000BASE-T standards) with an RJ-45 connector for local connection to other computers or network devices. The TL-R600VPN supports multiple VPN protocols, providing not only excellent connection protection but also a pretty productive local area network. Some of these protocols even allow you to manage the settings of your network remotely via the Internet connection. You can create some particular conditions for accessing the Internet for each computer, adjust the traffic speed, limit access to some web resources, and much more. This router is perfect for small offices where it is important not only to configure a fast connection but also to control the packet data transfer (both from an external network and a local one).
Excellent Data Protection
Multiple settings and wide opportunities to manage the created local network are not all the advantages of the TL-R600VPN. In addition, it has a perfect set of protection functions. A built-in SPI firewall and a lot of IP and MAC-addresses enable you to protect yourself from the majority of possible Internet attacks. The router supports IPSec and PPTP protocols, so you can check the authenticity of each incoming data packet and encrypt the data you send. The expanded VPN functions include DES/3DES/AES128/AES192/AES256 encryption, MD5/SHA1 authentication, Manual/IKE management and Main/Aggressive modes.
Nature Is Not Dangerous
Besides protection against hacker attacks, this device saves your computers and network equipment from natural phenomena. That is, in case of a lightning strike, a voltage surge will not damage your devices. If the Internet router is grounded properly, it is able to withstand up to 4KV surge.
Stylish and Convenient Design
The router housing is pretty simple yet stylish at the same time. The main panel has all the necessary indicators, so you can determine the connection status of your local computers and the external Internet network.
Additional Info
Last updated price

$

99.99

Stock
In stock
ASIN

B007B60SCG
---
TP-LINK TL-R600VPN
Ubiquiti ER-X-US
Modern Compactness
Living in the modern world, we understand that a good quality connection and certain functions of a device are essential to effectively communicate and interact with other users. As for the Ubiquiti EdgeRouter X, it is ideal for creating a small local network in the office or at home and providing this network with all the necessary facilities. Moreover, this top router will be an important element of the security system and the surveillance cameras connected to it.
First of all, you will notice an incredibly compact case, thanks to which you can install this router almost anywhere. The dimensions of the case are 4.33 x 2.95 x 0.87 inches, so you can place it both on the desktop and inside the system unit with other network equipment. Thanks to the cross-shaped holes on the bottom panel, you are able to mount the router equipment vertically to the wall (using special tools). Thus, you will save some space. And 4 small rubber feet provide steadiness on a horizontal surface.
The front panel offers five RJ-45 connectors. Power and ground ports are at the back. Indicators are conveniently placed on the top, so you can track the device operation. All ports are Gigabit, which ensures the fastest connection of all devices in a local network with an external Internet network.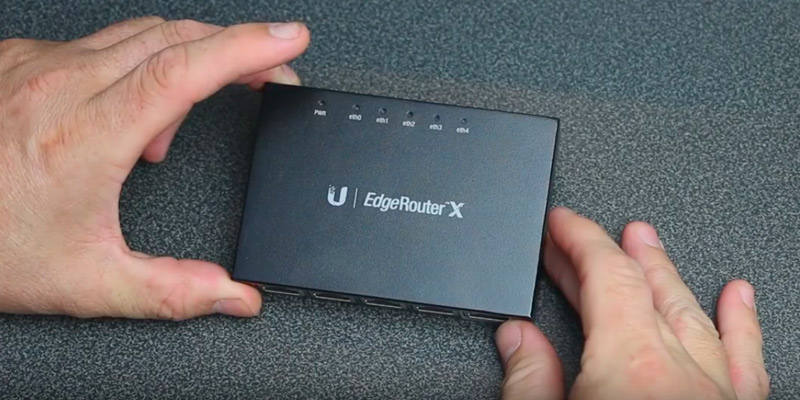 It Can Power Your Devices
The first and fifth connectors support PoE technology at 24V. Due to that, the router is able to not only provide Internet access to your devices but also power them (in case it is connected in a proper way). This is very convenient when you need to set up a security system and connect surveillance cameras via router. It saves you money on cable installation. However, note that when you connect the router to the outlet with an adapter (comes in the set), the connection using the PoE technology will not be possible—you will need to purchase a more powerful source. There are some options offered in the enclosed instructions.
User-Friendly Interface
You will also appreciate the convenience of software in this model in particular and in a series of Ubiquiti routers generally. The EdgeOS is a slightly redesigned web-based interface. It is pretty intuitive and provides quick access to the right function settings and the network parameter adjustments. The EdgeOS supports all necessary connection protocols (PPTP, IPsec, L2TP, OpenVPN, and VPN) and a lot of other options and functions. Thanks to that, you can manage your local network almost effortlessly.
Powerful Hardware
The model boasts a powerful hardware (a dual-core MIPS1004Kc processor with a clock speed of 880 MHz each and 256 MB of DDR3 memory), which provides high performance.
Additional Info
Last updated price

$

109.99

Stock
In stock
ASIN

B00YFJT29C
---
Ubiquiti ER-X-US
NETGEAR Broadband ADSL2 Plus Modem
Convenient Connecting
The given model is one of the most advanced ADSL modems, really elegant yet practical. The ADSL connection is a modem technology where the channel bandwidth is distributed asymmetrically to incoming and outgoing traffic. With this technology, you can receive packet data via the Internet even when you make phone calls on the same connection line. Now using the services is much easier.
The DM111PSP model is compatible with such Internet providers as AT&T®, Verizon®, Qwest®, CenturyLink™, and many others. Consequently, the Netgear router is very popular with many users. However, note that this model will not work with those which do not provide ADSL services (Comcast®, Time Warner®, Cox®, Charter®).

As for the design, the device has a stylish and unusual white glossy case with rounded corners. You can install the router on a special stand in a vertical position anywhere on your desktop or in a room. The device has two connectors: RJ-11 (to receive incoming signals from the line) and RJ-45 (for connecting to a computer or a wi-fi router).

All the Necessary Indicators
The front panel of the case has 4 bright illuminated indicators. When everything is ok, all indicators are green whereas, in case of malfunction, some of them will flash red. The far left indicator shows power and lights up red in case of a network failure. The second one indicates the connection quality. If some data is lost, it starts flashing. The third is a DSL connection indicator. The last Internet indicator acts the same (no Internet connection - it flashes red). So, if you notice the red flashing, you should look for faults on the line to continue working.
Easy to Set Up
Using this router, it is not difficult to set computer connection to the Internet. But it is not the only plus. In addition, you can easily configure your network automatically. Just write http://192.168.0.1 into the address bar of the Internet browser and press enter. You will see a dialog box on the screen to enter your login and password. After that, there will be a new window with the settings and features of the router. The interface is very intuitive, so you will not get confused. You can adjust all the necessary parameters according to your own preferences and needs. Anyway, if there are any difficulties, just read the enclosed manual carefully.
All Included
The model comes with a very nice supply package. The router is ready for use almost immediately out of the box. The set includes a necessary ethernet cable to connect a computer or a router, a telephone cable, and a filter/splitter. Moreover, there is an installation disk and a power adapter. As a bonus, you will get a stand to place the router vertically (as was already mentioned above).
Additional Info
Last updated price

$

185.00

Stock
In stock
ASIN

B0085MRFVW
---
NETGEAR Broadband ADSL2 Plus Modem
Cisco Systems RV325K9NA
For the Most Difficult Tasks
The RV235 router from Cisco not only looks impressive but also allows creating an extensive local network. A lot of companies choose this equipment and highly appreciate it. First of all, you will notice the number of ports (you can simultaneously connect up to 14 different computers to the same network). This model offers two RJ-45 connectors for WAN, one of these ports serves for the DMZ closed networks. These networks provide the LAN with better protection from external hacker attacks. Even in case of penetration, the DMZ reduces damage. All ports have a capacity of 1 gigabit per second, so your network is not just protected but also fast. Thanks to that, searching for information on external resources and exchanging data with local users is comfortable and easy.
This model supports all modern VPN protocols. It enables you to create one virtual network from several local ones. Thus, the employees from different offices have an opportunity to interact. Importantly, the connection remains reliable as if they all worked on the internal local network. This fact makes this Internet router especially valuable for modern companies that monitor the trends of the network equipment market.
Seeing as the model has 2 WAN ports, you can distribute the network load making a double connection to the same Internet provider, it will noticeably improve the performance of your network.

Alternative Сonnection Source
This Internet router has two USB connectors, which allows you, if needed, to connect external 3G modems as an alternative access to the Internet. Sometimes a connection failure can occur (provider`s mistake, for example). In this case, a 3G modem can be very useful, since you will not lose the access to the Internet and the working process will not be interrupted.
Perfect Protection
This model is equipped with all modern security features in accordance with all the requirements in terms of safety. There is a built-in SPI firewall and protection from DoS. It guarantees that your network and all the connected computers will work steadily and the stored data will not be damaged. All your data and local and remote PCs are protected from the ping of death, SYN flood, IP spoofing, and email alert for hacker attack. Undoubtedly, this top router is the best choice to keep your data safe.
Full Control over Access
There is one more useful feature of this fast router. You can configure and, if necessary, restrict access to certain resources and at a certain time for each connected computer. In many companies, this function is really in demand, as it allows controlling the Internet access of the employees more precisely.
Additional Info
Last updated price

$

0.00

Stock
May be out of stock
ASIN

B00HODK3N0
---
Cisco Systems RV325K9NA
D-Link EBR-2310
Basic Equipment for Home Network
People looking for a good router to create a local network at home in the simplest and most reliable way will definitely choose the D-Link EBR-2310 model. This router boasts quite compact and practical design and a set of the major functions and security tools to configure the internal network with good performance quickly and effortlessly. The device works using the WAN technology. It is suitable for the majority of providers with similar Internet services. The kit includes an instruction on the CD, a cable, and an AC adapter. Thanks to that, the device is ready to work almost immediately out of the box.
The model is compatible with Windows, Mac, and Linux. For configuration, the router requires a pre-installed Internet browser. As for the design, many users appreciate the color marking for the ports, which greatly simplifies the connecting. The WAN connector is gray, and the ports for the local connection are blue, so you will not get confused which of them serves as an input, and which ones are for the output connection. The numerical designation of each LAN port makes them easy-to-use. If you need to know the operation status of a particular connection, you can check it by the bright indicators on the front panel.

In addition, there is a Reset button, so, if necessary, you can reset the router to the basic settings.

Optimal Set of Supported Protocols
Using this router, you can quickly configure the local network as well as adjust all the main points and connection protocols. You can also configure static and dynamic IP addresses. The PPPoE protocol support will give you more options to authenticate and encrypt your data. The L2TP protocol allows you to create virtual LANs and tunnel connections with other users. In addition, you can assign your MAC address, a user name, and access passwords to each PC. Thanks to that, using the device is pretty simple.
Protection From the Outside Dangers
The device has a built-in firewall to protect your local network from external hacker attacks and attempts to infiltrate and obtain your personal data. At the same time, the parental control function enables you to configure access to certain sites and web content for the network users. Families with children will really appreciate this feature as it offers a possibility to better control the kids surfing the Internet and prevent them from accessing specific malicious sites.
Built-in Cable Verification Utility
If there occur faults in connection and Internet access, the built-in Cable Test utility will quickly find the reason. And if there is physical damage to the cable, you will be notified to be able to quickly fix it.
Last updated price

$

23.50

Stock
In stock
ASIN

B000GVTX6U
---
D-Link EBR-2310
What is an Internet Router?
The Internet is an integral part of modern life. It assists in searching information, exchanging data among different users and organizations, and is widely used for entertainment. To connect several computers to the worldwide Internet network, you need an Internet router. Besides just connecting multiple devices to the same local network, the router enables you to create particular connection rules and conditions. It also controls data transfer and protects connections. In our review, you will find the five most popular models of routers.
If you are interested in wireless data transfer, check out wi-fi routers. These devices allow you to provide mobile devices with the Internet access almost effortlessly. And if you need to expand your local network and cable connection to many computers, the Ethernet cables will be very useful.

What Features to Compare
Type and Usability
First of all, you should know that there are two main types of routers. According to these types, you can determine their usability. So, there are two ways of connecting to the Internet: ADSL or Ethernet. Thus, you should check which one your provider offers. Next, an essential aspect is the availability and number of required connection ports for LAN. Typically, routers have four LAN interfaces, which is enough to create a small local network. However, if you need a device for more professional and complicated tasks, you'll need a device with a large number of available ports. Some modern models are equipped with USB ports, so you can connect peripherals (a printer, for example) to your network. Also, pay attention to the connectors` bandwidth: the higher it is, the better data transmission will be.
Features
Every model offers its own set of features. They are the supported protocols, standards, and their settings. Depending on your needs when you create your own local network, you should choose a router with particular features. All protocols serve for setting the correct VPN for the internal subnet. Pay attention to the possible setting of the computers' IP addresses. IP addresses can be set statically (when you prescribe a particular IP for each computer) and dynamically (the computer receives it automatically when connected). If you want each computer to receive IP automatically, you will need the DHCP protocol support. To get and configure your own login and password, the Internet provider should support the PPPoE and PPTP.
Network Protection
The protection against external hacker attacks is very important, so be aware of what protective functions a model offers. Firewall is the most common. It is a set of hardware and software tools for monitoring and filtering the packet data from various external Internet resources. Modern models are also able to protect your information against DoS attacks, and some even can save your computer from an accidental lightning hit to the cable or other connected external devices. Data encryption is essential to prevent third-party users from obtaining your data.
Indication
The display features determine how simple the router is in use. The more required indicators the Internet router has, the quicker you will understand which connection problem occurred. The indicators will also show if something is wrong with the device itself. If this is not a system error or a failure in the settings, then you will know what to fix.
FAQ:
Q: What other functions do the routers offer besides the main one?
A: It depends on the particular model. Additional functions should be chosen in accordance with your needs and preferences. There are simple routers and more complicated ones. For example, if you would like to purchase an Internet router for business use (to create a network in a company), then you will probably need a device with many ports and a good security system. For sure, such model should have a firewall, high-performance SSL and IP Security, SPI firewall, hardware encryption, and so on. However, for personal use, having a built-in firewall, parental control feature, and network and website filters is mostly enough.
Q: How to connect a router to a computer?
A: The technologies used by the router to connect to the Internet are ADSL and WAN. The first one uses a telephone line connection and the second one - a dedicated line. If your router uses a wired connection to provide an Internet access to external devices, you will need to physically connect your PC or laptop to it with a cable (usually, such cable is included with a router). However, there are many routers providing a wireless connection to share the Internet channel with external devices, they are called Wi-Fi routers. The wireless connection may offer a lower bandwidth than a wired one, especially in a large network, but they are still quite popular due to their high flexibility and portability.
Q: Do all the routers have a parental control function?
A: No, not every model has this feature. So, if you need to monitor what your children are doing on the world web or you are buying a router to use in the office but want to limit access to particular websites, then you have to choose a router with this function (you can get this information in a shop or on an official site).
Q: Can an Internet router be mounted on the wall?
A: Some manufacturers provide models with and without special slots for mounting. If there is too little space for a router on your desk and you'd to attach it to the wall (or somewhere else) and make some room for other things, you should clarify this before buying a router.
Q: How many ports does a conventional router have?
A: Basically, Internet routers have four LAN ports. It is pretty enough for home use and to create a small local network in the office. For a bigger company with more employees, it is worth purchasing a model which offers more ports or the one with a possibility of a wireless connection. It will give you an opportunity to connect to your router more computers simultaneously and simplify the working process.
Q: Are routers equipped with a USB port to connect some peripherals?
A: Not all of them. But, sure, you can find a model with the USB interface. If you do not know whether the device you have chosen has a USB port or not, you could ask the manufacturer or just look through the manual.
Sources:
1. Taylor Martin 10 things to consider when buying a router, CNET. June 12, 2016.
2. Alex Cranz How to Pick the Right Router to Save Your Internet, Gizmodo. February 17, 2017.
3. How to Choose a Wireless Router, wikiHow.
4. Internet Tips: How To Choose The Right Router, Price Check Blog.
5. Networking Buying Guide, BEST BUY.
6. Chris Woodford Wireless Internet, ExplainThatStuff. June 6, 2017.
7. Curt Franklin How Routers Work, HowStuffWorks.
8. What is a wireless router? uSwitch.com.
9. Lauren Hockenson This Is How a Router Really Works, Mashable. February 4, 2013.
10. Per Christensson What is the difference between a router and a modem? PC.net. January 3, 2013.