Range is a common problem for modern internet-connected devices as stretching Ethernet cables all over your house or getting a router
with large coverage is expensive and impractical. However, a powerline adapter will do the trick and keep your appliances online.
...
Read more
...Read less
Access and Data Protection
TP-LINK TL-WPA7510 KIT
A Multilple-Choice Product
While many powerline adapters serve strictly as a way to extend your Ethernet connection, we didn't want to omit the Wi-Fi enabled models. Especially when they're as good as the TP-LINK TL-WPA7510. This model has both Ethernet and WiFi adapters, capable of sustaining 1000 Mbps speeds, making it one of the more high-tech options out there.
Now, admittedly, the initial setup takes a while but the settings here are very broad to guarantee that your network is set up for any purpose, be it gaming, video streaming, or just surfing the web. Plus, the auto sync function automatically adjusts the extender to copy your actual router's settings so you have your network protected and functioning properly without any manual input.
When we say the TP-LINK TL-WPA7510 serves great as an extender, we don't mean that it covers a room or two. Thanks to its 1000-foot range, this model is enough for offices and huge homes so even the far-off corners will have stable Wi-Fi.
All in all, if you want access to both Ethernet and Wi-Fi options, there's no choice better than the TP-LINK TL-WPA7510. It offers some of the fastest speeds out there, up-to-date powerline standards, and handy features such as the automatic settings sync.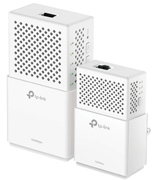 TP-LINK TL-WPA7510 KIT
NETGEAR PLW1010-100NAS
Save Money, Boost Internet
If you like to shop smart and seek an adapter that works with both Ethernet and Wi-Fi but want it to be a bit of a bargain, the NETGEAR PLW1010-100NAS might just be the best pick for you. Though it's a tad cheaper than other high-end models, this adapter offers quality that can rival the best of them.
The range here is up to 1700 feet, fortified by 2 rotatable antennas that keep the signal stable and prevent zones of no coverage. This means your Wi-Fi network will cover the whole house and, though, the wireless speed here is not the fastest, you'll always have online access.
Although we weren't that impressed with the Wi-Fi speed, the LAN is quite excellent with a gigabit limit. This is more than enough for internet surfing on several devices or video streaming and gaming on your PS4 at the same time.
If we had to point out a weak spot in the NETGEAR PLW1010-100NAS overall quality, it would definitely be the Ethernet cables that come with the purchase. They're a bit shoddy and we'd advise replacing them with your own if possible.
Other than that, though, there's very little to complain about in this adapter and it's a great thrifty choice for those looking to strengthen their Wi-Fi network or expand the reach of their Ethernet connection.
NETGEAR PLW1010-100NAS
TP-LINK TL-PA7010 KIT
Cutting Down the Bills
Since pretty much everything in our households is electric now, it's always nice to get a device that manages to cut down on power consumption. If you're someone who appreciates a lower electricity bill and still wants Internet connection all over your home, we recommend the TP-LINK TL-PA7010.
Though this model is, admittedly, not the high-end combo options and only offers LAN connectivity, it still provides a fast speed of 1000 Mbps. The range is no slouch either with a 1000-foot limit, more than enough for a home or an office. The only other trace of this being a bit of a budget model is the fact that both of the adapters get quite warm when in use. But that's a minor issue, all things considered.
What is pretty big, though, is the fact that this adapter automatically switches from operation to a power-saving mode that uses minimal energy. That way you cut down the adapter's consumption by up to 85%, a huge bonus. Couple that with the adapter eliminating the need for stretching cables all over your house and you get a very economical product.
All in all, while it's certainly a bit of a basic model, the energy-saving function makes the TP-LINK TL-PA7010 a fine choice for those who want to spend their money responsibly.
TP-LINK TL-PA7010 KIT
D-Link DHP-601AV
Keeping It Simple
You don't necessarily have to be a tech guru to enjoy the perks of fast internet such as online gaming and 4k video streaming. However, setting up things like extenders and adapters does usually take a bit of know-how and thus excludes amateurs from the potential user base. Luckily, there are models such as the D-Link DHP-601AV.
This is a plug-and-play adapter, which means you won't have to do any complicated setup. Most of the setting are adjusted automatically and the smart indicators on the device's body will help you see that it's working as intended.
Speaking of operating, we do have to warn you that the D-Link adapter is extremely sensitive to voltage drops and if they're a frequent problem in your area, you might want to get something for protection.
And though it's simple in use, the D-Link DHP-601AV is no worse in terms of speed and range, offering an even 1000 of both Mbps and feet covered. That's pretty good for a budget-friendly model and up to par with some of the more high-end competitors. So in the end, there's very little to dislike about the D-Link DHP-601AV and a whole lot to like, especially if you're not too well-versed in tech. The device forgoes boring long setups and works like a charm even with minimal input from you.
Additional Info
---
D-Link DHP-601AV
TRENDnet TPL-406E2K
Size Matters
If you've looked at any other adapter models, you've likely noticed that they're usually pretty bulky and might be tough to fit into a socket surrounded by other plugs. Thankfully, compact models such as the TRENDnet TPL-406E2K do the job just as well and solve the space issue. This modestly-sized adapter will fit behind furniture or in an extension cord that's already largely taken up by another device.
Now, admittedly, this affordable and small model is a bit less powerful than some of the more impressive competitors. For one, the max LAN speed here is just 100 Mbps, which means it's a reasonably good fit for online gaming or web surfing but far from ideal for 4K video streaming, for example. The range here, however, is 1000 feet, as good as what you get from high-end models. Plus, you can always get a few units at once to expand the capabilities. Especially since this model makes it easy to create networks with up to 7 receiving devices.
If relatively low speed is not that much of an issue for you, the TRENDnet TPL-406E2K is a pretty good choice for those dealing with limited space. It helps extend the reach of your Ethernet cables and works reliably, helping create a home-wide network. An affordable and reliable choice for domestic use.
Additional Info
---
TRENDnet TPL-406E2K
What Is a Powerline Adapter?
Ever since Wi-Fi became a standard built-in feature for most household devices, having a way to keep your appliances connected is a constant issue. Thin walls keep the signal unstable, shoddy routers ruin any chance of enjoying Netflix in your bed if it's too far away from the living room, and modest tech capacity leaves your wireless connection a suboptimal solution. Luckily, getting internet to your devices is not an insurmountable problem as you can simply use a powerline adapter.
These small gadgets are plugged into your electric outlet and connect to nearby devices via Ethernet cables or Wi-Fi, while a second unit is plugged near to the router or the originating part of the cable. That way you can take the Ethernet signal up to the second floor of your home without having to stretch cables all the way up there, leaving your floor a mess of cords. Of course, you could potentially get several adapter plugs and leave them all over the home, thus keeping all Ethernet-using devices connected (almost) directly, though that usually requires several purchases. Still, it's quite a reliable way to keep Wi-Fi going and it works best paired with
WiFi boosters
or
repeaters
.