Insect bites may cause rashes, blisters, itchiness, swelling, and other unpleasant reactions. An indoor bug zapper offers a highly-effective
and chemical-free alternative to insect repellents that prevents inflammatory responses and kills annoying insects. To make your search a bit faster, we have gathered the top indoor fly zapper models available today in our reviews.
...
Read more
...Read less
Tiabo 20W
When Standard Devices Just Don't Cut It
The Tiabo indoor bug zapper includes a combination of two UV light bulbs and a powerful electrified grid to kill all the insects in close vicinity of the unit. While the light attracts the flies and mosquitoes from a distance, the electrified grid annihilates pretty much every insect that dares to get closer than a few inches to the metal grill.
The 20-watt UV bulbs that are integrated into this bug zapper allow covering enormous areas of up to 10,000 square feet in size. Once turned on, the device will remove all insects in the room in a matter of just a few days.
As for the disposal of dead insects, the removable tray allows for easy extraction from beneath the device. Likewise, the tray can be washed with regular home cleaning solutions, just make sure that it is dry when you want to put it back in place.
As for the materials of the unit, this bug zapper model from Tiabo is completely chemical-free and doesn't produce any annoying odors or smells and so can be safely used close to bedrooms and living rooms as well as in storage areas that contain food or edible ingredients.
In the end, the Tiabo pest killer zapper will be a good pick for users that want to get rid of flying insects once and for all. Reliable and durable, it makes all the difference when it comes to covering large indoor areas and outdoors as well.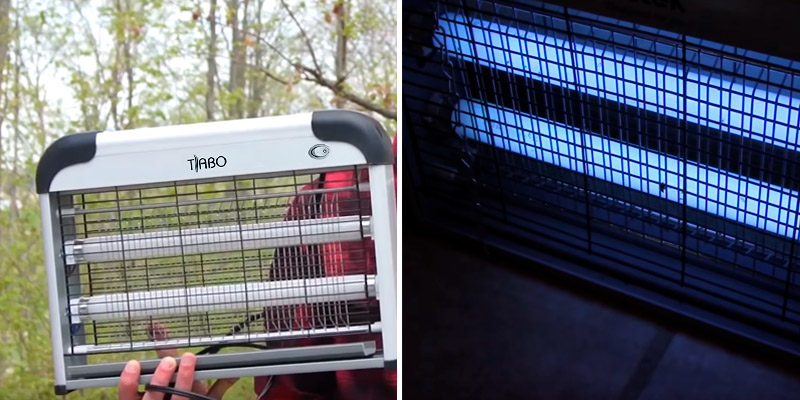 ---
Tiabo 20W
Samshow Bug Zapper
Eradicate Insects With Ease
Similar in design to bug repellers, the Samshow bug zapper features an electrified element that not only stuns but also kills the insects trapped inside. The way the trap works is quite simple yet effective - the unit has a powerful fan that catches flying insects and throws them onto the electrified grid. That said, the fan is exceptionally quiet when the zapper is on, so it is safe to use in living rooms and bedrooms. Even though the unit is relatively low-powered, the voltage is still sufficient to kill small to medium-sized pests and stun bigger ones.
As for the protection means, the Samshow zapper features a plastic cover that will prevent kids and pets from accidentally touching the electrified element, so it is safe to use everywhere in the house thanks to its odorless and chemical-free operation.
When it comes to the effectiveness of the unit, it is best-suited for premises that are no bigger than 600 square feet. The 5-watt bulb emits enough light to attract flying insects inside the electric trap that will eventually electrocute them. In order to maintain this efficiency, you will need to clean the grid regularly, just don't forget to turn off the device first.
All things considered, the bug zapper from Samshow is a great intermediate solution to the flying insect problem, especially if you don't need a full-size model.
---
Samshow Bug Zapper
GLOUE Plug in
An Essential Plug-in Mosquito Killer
Unlike other bug zappers models that are powered using a power cord, this device plugs directly into a power socket. What makes the bug zapper from GLOUE really appealing, though, is the ability to turn off the unit when it is plugged in, thanks to the handy switch on the front plastic lid.
If you want to clean the unit, it is important to release the excessive electricity that may have been still left on the housing of the device using a screwdriver with an insulated handle. Otherwise, you risk getting zapped just like the insects, and even though it won't harm you, it will be unpleasant, to say the least.
The actual cleaning process, on the other hand, is quite simple, since the front plastic lid can be opened without too much of an effort. After that, the zapper can be cleaned from dead insects and washed if needed. The only thing that cannot be washed is the main unit that goes into the power socket. In order to clean that one, we recommend using a wet wipe or a cloth piece if there are any insects left.
Made of ecologically-friendly materials, the zapper can be used virtually anywhere given the power socket. With an effective coverage area of up 200 square feet, this 2-watt plug-in model will be a great pick for the role of a home bug killer. Simple in its build and highly effective in action, it is by far one of the best insect killers available on the market today price-wise.
---
GLOUE Plug in
Gogogu Bug Zapper
More than Just a Bulb
This particular indoor fly zapper from Gogogu has a rather unconventional design that doesn't resemble any other model in our reviews.
First things first, the fact that this device is powered by a light bulb connection makes it particularly unique. Surprisingly, this design choice doesn't affect the overall effectiveness of the model by one bit. What's more, this intricate construction allows installing the device virtually everywhere thanks to the E27 light bulb connection.
As we've covered the appearance, let's take a closer look at the actual bug trap and how it works. The main element of the device is the combination of the LED lights that, together with the plastic cup on top of them, create a bright glow that attracts unsuspecting insects. After they get close enough to the trap itself, a high-voltage surge will strike the flying insect and that will finish it off.
The light array of the indoor mosquito zapper consumes only 9 W of electric power, so it will last you for a while before you'll have to replace it. As the manufacturer states, a regular service lifespan of a single bulb can reach up to 40000 hours, which is quite impressive for such a small device.
In the end, the Gogogu bug catcher will be a great solution for you, provided you live in a small apartment or if you rent your house and can't afford to purchase a fully-fledged model.
---
Gogogu Bug Zapper
OTBBA Plug-in
Compact And Effective
When fully-fledged insect zappers are too much for smaller houses or apartments, one should opt for tinier devices such as plug-in zapper bulbs.
This particular plug-in bug eliminating device from OTBBA is a zapper that is easy to use and that can be used in any house that has standard power sockets (including both A and B plug types). The unit takes little space thanks to the small yet highly efficient blue light bulb.
Even though the 0.8-watt UV bulb is quite effective in attracting all kinds of insects, including mosquitoes, flies, and moths, the electric grid is not powerful enough to kill larger insects such as cockroaches, grigs or spiders.
What makes this model different from similar products is the light sensor that turns the zapper on every time you turn off the lights in the room. Additionally, the unit can be turned on and off by pushing an Auto button located above the electrified grid. On top of that, this zapper works without making any noise, which makes it an ideal pick for bedrooms or other small areas in your apartment or house.
All in all, it is good as a mean of personal protection against blood-sucking insects as well as other similar pests that tend to lurk in your home. Thanks to its compact size, the OTBBA electric bug zapper will definitely find its place in your house during the summer season, especially if bigger devices are a bit too much for you.
---
OTBBA Plug-in
What Is an Indoor Bug Zapper?
A considerable number of insects can easily become a really annoying issue during the summertime, especially when other means of more humane insect denial measures no longer work. Fortunately, the electrocuting devices known as bug zappers can offer real relief to those who suffer from mosquito and fly bites in the comfort of their homes. Do keep in mind that these devices were engineered specifically for indoor use, hence, their effective range can be somewhat limited compared to the more powerful models.
Generally speaking, a regular bug zapper is a combination of a special lamp that illuminates ultraviolet rays that attract the insects and an electrifying element that either stuns or kills the annoying pests when they get too close to the device. Fairly simple yet highly effective, the indoor models tend to work better when the doors and windows are closed. Other products can offer other means of bug eradication such as fan traps that capture the flying bugs and insects that die of dehydration afterwards. So, if you are tired of all kinds of insects getting into your house, this device is one of the best solutions out there. After all, it's either you or them, and we certainly won't blame you for sticking with your own interests here.
That said, if you are searching for more powerful bug killing devices, we recommend taking a look at outdoor bug zappers or ultrasonic pest repellers.