Snakes are ruthlessly entering your property? Tired of burrows and hills in your garden? A good snake and mole repellent can fix
that, and this is why we have rounded up the best snake repellents out there. The reviewed models are completely eco-friendly and safe for human health.
...
Read more
...Read less
X
This site is a free online resource that strives to offer helpful content and comparison features to its visitors. Please be advised that the operator of this site accepts advertising compensation from certain companies that appear on the site, and such compensation impacts the location and order in which the companies (and/or their products) are presented, and in some cases may also impact the scoring that is assigned to them. The scoring that appears on this site is determined by the site operator in its sole discretion, and should NOT be relied upon for accuracy purposes. In fact, Company/product listings on this page DO NOT imply endorsement by the site operator. Except as expressly set forth in our Terms of Use, all representations and warranties regarding the information presented on this page are disclaimed. The information which appears on this site is subject to change at any time. More info
Exterminators Choice Safe Spray
Easy Application
The Snake Defense Natural Snake Repellent is a high-quality product that is able to keep snakes at bay for 2-3 weeks depending on the weather conditions. As the name suggests, it's a natural product that is absolutely safe for you and the environment but not for snakes and some other nasties. Actually, it's formulated with just three essential oils and some water yet is very effective for both venomous and non-venomous snakes including copperheads, rattlesnakes, grass snakes, and water moccasins. Made with the purest clove oil, peppermint oil, and cinnamon oil, the solution is very irritating for reptiles. And though some users find the smell too strong, it's not really overbearing and actually even somewhat pleasant.
All that being said, this snake repellent is still not recommended for indoor use. The manufacturer suggests applying a 3-ft barrier around the exterior of your house or any other area you'd like to protect. You can spray around weep holes, cracks, under decks, and similar places where snakes like to lurk. And to let you get into all the nooks and crannies, the product comes with a long, flexible hose with sprayer.
Lastly, we would like to note that even though this snake repellent has all-natural ingredients and is safe for plants and flowers, it's not suitable for application directly on edible plants. Instead, you should spray around the perimeter of your vegetable garden. So, whether it's your garden, lawn, patio, doorway, or any other place, this all-natural solution is able to protect each corner of your property and make snakes stay away. Thanks to a convenient hose and a nozzle, you'll be able to spray it into every nook, cranny, and crack.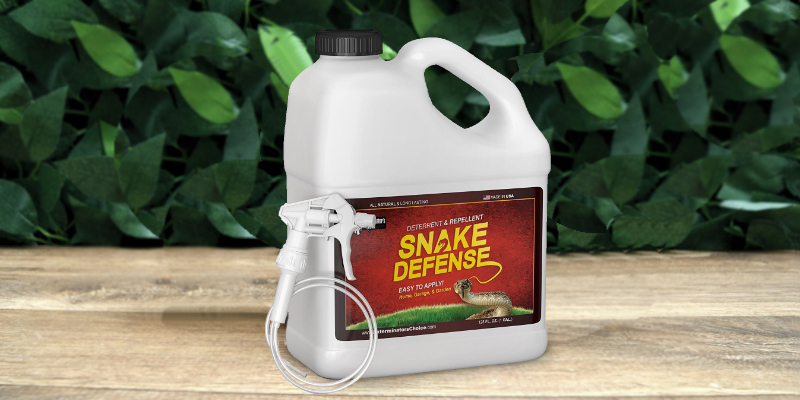 Additional Info
Last updated price

$

38.99

Stock
In stock
ASIN

B075283X6M
---
Exterminators Choice Safe Spray
Bonide Stopper 8751
Not Just for Snakes
If snakes are not the only visitors in your garden, we have a great product for you. The Bonide Snake Stopper is a powerful animal repellent that can drive out any snake, lizard, and iguana. Made from essential plant oils and Sulfur, it triggers an escape/avoidance behavior in the aforementioned reptiles and scares them away for a couple of weeks at least. Yet, it's absolutely safe for pets and humans, so it's suitable for indoor and outdoor use. The deterrent can help you control such areas as sheds, garages as well as gardens. Just dispense a band of the product next to the area you need to protect. It's a very fine powder, so it poses no risk to any plants or trees as well. On top of that, the tiny granules are completely biodegradable and can't harm animals, lawns, and flowerbeds. As mentioned, they work for up to 2 weeks, however, it's better to reapply the product after heavy rains.
The pack includes one 1.5-lb bottle that may seem a bit expensive, but a little goes a long way and it should last you for quite a long while. Actually, 1 lb is sufficient to treat a band 8 inches wide by 50 feet in length. As a nice touch, the deterrent comes in an easy-to-use shaker container and goes on white, so you'll see at a glance where you've already applied. All things considered, we believe that the Bonide snake stopper is well worth the price. It's completely biodegradable and can't harm your garden while being effective at deterring many reptiles.
Additional Info
Last updated price

$

19.90

Stock
In stock
ASIN

B000UJTCG4
---
Bonide Stopper 8751
Ortho B Gon
Long-Lasting
The Ortho company specializes solely in the pest control field, so it offers a broad range of products for competitive price tags, and this one isn't an exception. The Snake B Gon repellent granules are very affordably priced and long-lasting. So, if you need to protect fairly large areas from snakes but don't want to pay extra money for that, keep on reading and discover more.
To begin with, the Ortho Snake B Gon doesn't contain any pesticides or chemicals and relies on the power of aromatic essential oils like clove and peppermint. Despite its all-natural formula, it boasts great staying power and weather resistance. To specify, it lasts up to 30 days providing continuous protection against snakes, which is twice more than other similar repellents offer. Moreover, it has a rain-resistant formula, meaning you don't necessarily need to re-apply it after the rain. And if you still doubt in its effectiveness, just consider the fact that the Ortho Snake B Gon is an EPA-registered product that gives you assurance in its usefulness.
Like other natural repellents, this one offers a humane and safe way of dealing with a reptile issue. It repels snakes and prevents them from foraging in your yard but it doesn't kill them on contact. Also, it has a 'no stink' formula and is absolutely safe for people, pets, and plants.
The pack includes two 2-lb bottles that should cover up to 1,440 sq. ft. each. So, if you need a cost-effective product to cover large areas, the Ortho Snake B Gon may be an ideal fit.
Additional Info
Last updated price

$

22.29

Stock
In stock
ASIN

B07Z5PLFDW
---
Ortho B Gon
Enviro Pro 16003
Real Scram
Specializing mostly in pest repelling products, the Enviro Pro company really knows its oats and produces one of the best deterrents in its class. And what we have here is the super-effective Snake Scram that begins to work its magic right after application. It's an excellent all-natural granular repellent that can help you get rid of pesky snakes lurking in stone piles, wooden piles, foundations of houses, garages, sheds, gardens, flower beds, near pools, and other places. The granules are very easy to sprinkle all around and, best of all, they emit no offensive odor like other similar stuff that begins to stink after it's down. That's why you can have your windows open even if you've sprinkled the Enviro Pro granules all around the foundation of your house. You'll experience only a slight, nice potpourri smell.
Formulated with a powerful blend of essential oils, the repellent is also non-toxic and all-natural. It does induce a flight response in snakes but still stays completely safe for kids and pets. Therefore, you can spread the pellets near playgrounds or dog walking areas. The granules will ensure a few weeks of unnoticeable, non-stop snake protection. It is only after heavy rain when you may need to re-apply the pellets.
In all, the Snake Scram is an effective product that can protect your property and your family from unwanted contact with snakes. It works straight away and ensures a very good level of protection without harming the environment.
Last updated price

$

22.75

Stock
In stock
ASIN

B006GK3OR4
---
Enviro Pro 16003
Victor VP364B
Humane Solution
If you're after the most humane way to scare away crawling nasties from your property, the Victor Snake-A-Way Snake Repellent is surely worth your closer consideration. It's an EPA-registered product that ensures it won't have adverse effects on humans, pets, and the environment as a whole when used correctly. The thing is, it's made with naphthalene (7%) and sulfur (28%) as the main ingredients that are absolutely harmless for all living creatures. Actually, naphthalene is distilled from coal tar and is the essential ingredient of moth balls. It's capable of driving away poisonous and non-poisonous snakes by temporarily disrupting their sensory reception. In other words, the pellets overwhelm snakes' sense of smell and push them to go far away in search of fresh air.
For the best results, the manufacturer recommends wearing gloves and using a gardening shovel to spread out the granules. Sprinkle the repellent around houses, trailers, garages, sheds, and flowerbeds to create an effective barrier. Make sure to spread the pellets all around the area you wish to repel snakes since any breaks in the barrier may be potential entry points for pests. For protection against garter snakes, apply the repellent in 4-5" bands, and in 8-12" lines for rattlesnakes. Take note that within the first 24 hours after you put it out, this stuff may be rather pungent (like super aromatic moth balls). That said, the smell fades reasonably well, so don't let that stop you from trying the Victor Snake-A-Way Snake Repellent. It offers a very effective method of driving snakes away when they're slithering all around your property.
Additional Info
Last updated price

$

13.97

Stock
In stock
ASIN

B07N1GMVWL
---
Victor VP364B
What Is a Snake Repellent?
Snakes frequently wind up around our homes and gardens because of food and some kind of shelter. Snakes can be even helpful in your garden if they are not poisonous. Really, they eat pesky rodents like slugs, moles, voles, rats and other pests that might wreak havoc in your garden. But naturally, it's not always possible to recognize a non-venomous snake and it's not fun at all to be surprised by a snake while having breakfast or working in the garden, no matter whether it's poisonous or non-poisonous. Regardless of what kind of snakes may show up in your lawn, a good snake repellent can prevent that! Here, we consider the most effective snake repellents that can help you repel snakes in the easiest and quickest way possible. They can repel all types of snakes living in the US including copperheard snakes, rattlehead snakes, garter snakes, and more. Many of them can even repel other pests, including reptiles and even some rodents.
The reviewed models use plant-based formulas to repel snakes instead of strong chemicals like naphthalene. So, they are an all-natural humane solution to get rid of snakes. Yet, if snakes are not the only unwanted visitors in your garden, you may also be interested in ultrasonic pest repellents.