A dog is a man's best friend and deserves the best care you can offer. If you want to make sure that your pet's health will always
be prioritized and your furry buddy will stay happy and lively, check out these top 5 animal insurance services.
...
Read more
...Read less
Wait Time for Reimbursements
X
This site is a free online resource that strives to offer helpful content and comparison features to its visitors. Please be advised that the operator of this site accepts advertising compensation from certain companies that appear on the site, and such compensation impacts the location and order in which the companies (and/or their products) are presented, and in some cases may also impact the scoring that is assigned to them. The scoring that appears on this site is determined by the site operator in its sole discretion, and should NOT be relied upon for accuracy purposes. In fact, Company/product listings on this page DO NOT imply endorsement by the site operator. Except as expressly set forth in our Terms of Use, all representations and warranties regarding the information presented on this page are disclaimed. The information which appears on this site is subject to change at any time. More info
Pets Best Pet Insurance for Dogs and Cats
No Waiting in Line
Veterinarian bills may not be quite as hefty as the ones presented at regular hospitals but they still bear the risk of denting your monthly budget. If you don't want your pet's illness to leave your wallet empty, arm yourself with the services of the Pets Best Pet Insurance for Dogs and Cats.
Instead of making you wait for reimbursements, this company offers to pay the vet directly upon your visit, covering all expenses immediately. That way you don't have to go through the long process of getting your money back which often leaves people without a penny in their pocket. Sadly, this option is only available in the major cities where the company actually has contacts with the vets so those in rural areas will have to wait instead. Also, note that this feature is only available for visits to certified veterinarians and any other procedures will be reimbursed via the usual methods. However, even the waiting period is pretty sparing, never going above 5 days. As long as all necessary documentation is provided, your money will be returned promptly, something that a few competitors tend to stall on. And there is no annual limit on the reimbursements so you don't have to worry about one nasty accident maxing out your coverage.
More Bang for Your Buck
Let's elaborate a bit on the pricing plans since we find them to be a pretty big advantage that the Pets Best offers over the competitors. First off, the quotes they offer are substantially lower than what you usually see despite the fact that the features are pretty much the same. However, we'd still recommend springing for the highest tier. Not just because it's cheaper than what you'd pay to competitors and has unlimited reimbursements. On this level, you can choose your deductibles and payment rates so that your money is spent shrewdly without finances ever being a factor in your pet's care. Besides, the more basic plans actually do put substantial restrictions on the annual payouts, which may result in you picking and choosing which problems are worth the visit to the vet and that's just not something we encourage. We believe that pet care is essential and worth the time and money.
Also, while the company doesn't require a pre-coverage exam to determine your pet's state of health, we highly recommend doing one. You don't want something nasty like dysplasia to rear its head right after you've started paying the premiums as, if it's discovered when you're fully under the service's coverage, you will get full medical services to deal with the ailment. However, should it appear in the "trial" period, you'll have to address this issue using money out of your own pocket.
A Winning Price Point
While we're not in love with the quality of customer service that's presented by the company (and neither are quite a few of the customers, judging by the reviews), that's the kind of problem that's easy to fix and doesn't impact the overall experience all that much. Plus, the Pets Best Insurance Service makes up for it by offering stellar rates that are both affordable and, if you don't mind springing for the higher tier, cover a pretty broad range of illnesses. Make sure that your pet doesn't have even the smallest signs of ailments before you sign up, though, or coverage of that particular problem may be forfeit. To sum up, a good choice if you prepare well beforehand.
---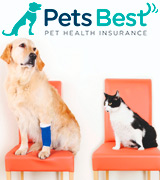 Pets Best Pet Insurance for Dogs and Cats
Embrace Pet Insurance
All-Reaching Coverage
Would you like to get a comprehensive insurance plan for your four-legged friend without breaking the bank? If so, you should definitely consider the one offered by Embrace Pet Insurance. The company offers a complete nose-to-tail coverage if something happens to your small friend and promises to reimburse up to 90% of unexpected vet bills.
The cost varies depending on the age and breed of your pet. Basically, you can get accident and illness insurance for puppies from six weeks old. Naturally, you'll have to pay more for older animals and for more extensive coverage against illnesses and such.
Still, we believe that the money you pay is worth it since the company has a pretty large pool of services. The Embrace Pet Health Insurance covers pretty much any type of medical treatment or supply you could think of. Instead of going through everything, which would take lots of space, let's just quickly mark down the outliers. The Embrace company will take care of accidents, illnesses, genetic conditions, chronic conditions, cancer, diagnostics, prescription drugs, dental treatments, and even behavioral therapy. Honestly, we wouldn't be surprised if they started to cover alien abductions and earthquakes at this point. All of these, by the way, are included in the standard full packages and you won't have to pay insane premiums just to be prepared for all emergencies.
Take the Cap Off
When a company is this good, it's not unreasonable to look for some flaws, especially since it's literally the service that your pet's life depends upon. We couldn't find that much to dislike, really, though the reimbursement does take a bit more to come through than it would from other companies. Still, what's important is that you actually get the money and the Embrace comes through every time. Plus, it uses a "deductible then copayment" scheme for payouts, which usually ends up giving you a bit more in reimbursements so it all works out in the end.
Speaking about the cap on annual payouts, it stops at $30000. That is surely enough for small health claims and is likely to cover some serious illnesses with hefty hospital bills. However, there is one gripe that isn't covered by anything. The full accident and illness insurance is available only for dogs and cats up to the age of 14. For pets that are 15 years or older, you can get accident-only insurance coverage.
As a nice touch, the Embrace company fully refunds your policy if you, for some reason, decide to cancel it within the first 30 days of use. So, actually you won't lose your money by giving the Embrace pet insurance a shot.

Final Thoughts
In conclusion, we can say that Embrace Pet Insurance offers a very good service for moderate costs. Its coverage is really comprehensive and the payouts are pretty large. We'd recommend this service for younger and older pets alike as the payout cap is likely to cover even serious hospital bills for older dogs that could require more expensive operations and treatments.
If you'd like to keep your pet healthy and happy without breaking the metaphorical piggy bank, the Embrace Insurance service is a pretty good option that will do finely for dogs and cats.
---
Embrace Pet Insurance
Pet Assure America's Veterinary Discount Plan
Cutting the Prices
Feel a bit jaded with the US insurance system and don't want to hinge your best friend's health on a service like that? Try out the Pet Assure, one of the most popular ways to save money on veterinary treatments and medicine in all of America.
You can choose whether to dive in right away with an annual payment (cheaper in the grand scheme of things) or test the service by starting off on a monthly fee basis. The sign-up process is easy and has no restrictions regarding your pet's age, health conditions, and any other points that would limit your insurance from standard companies. Plus, you can sign up any type of pet, not just the standard cats and dogs. While this may not be too significant for suburban homes, that single feature makes the Pet Assure Discount Plan perfect for farmers and owners of exotic pets.
There's no need to wonder whether your particular city or county is included in the Pet Assure coverage area as the site lets you check via your zip code. The network of medical professionals working with this system spans thousands of veterinarians as well as private clinics all over the USA. However, even if your local vet isn't part of the Pet Assure network yet, you can talk to them and ask to sign up for the program. That way your local professional gets more business while you get the benefit of a 25% discount on all medical treatments you receive at their office.
Not Your Regular Insurance
We don't want to misrepresent the capabilities of the Pet Assure service so let's quickly look at what the program covers and what is, for now, omitted. Firstly, any in-house medical procedures at the vet come with a 25% discount. That includes cancer treatments, tumor removal, dental procedures, and pretty much anything that's directly tied to your pet's health. The program does not, however, cover grooming or similar services, as it's focused on the well-being of your animal, not how cute it looks. Plus, you also get a 15% discount on medication, food, and any other products bought at PetCareRX. Note, though, that this discount is only applied at that particular store and doesn't extend to the medication you buy from your local vet or other pet stores.
It's also important to remember that while a 25% discount is nice, it's not exactly comparable to the 90% reimbursements you could get from an insurance company. But the Pet Assure service has no "fine print" exclusions and covers all procedures, including the most expensive ones, so you always get a deal instead of scouring through the insurance terms, trying to figure out if the next set of treatments is going to leave you penniless. Plus, you don't have to pay any deductibles or premiums, it's a flat fee of $99 annually for a single pet. Do note that, should you choose to pay monthly, a $20 transaction fee is applied, which we really disliked as it makes the monthly option way less economically viable.
A Matter of Preference
In the end, if you look for straight-up savings on your pet care, the Pet Assure Discount Plan is a fine choice. You will always know exactly how much money you save on the treatment and yet the quality will never be compromised. There are no bureaucratic hoops to jump through in order to get the discount, since you simply present your ID to the doctor and the price is cut immediately. Moreover, you can use this for any type of pet, not just cats and dogs. The cheap overall price of the service combined with the wide coverage does make it a viable alternative to traditional pet insurance in our eyes, though the mileage may vary for you.
---
Pet Assure America's Veterinary Discount Plan
Petplan Pet Insurance
Hereditary Isn't so Scary
Like it or not, breeding has left us with some fabulous-looking pets that, unfortunately, suffer from a slew of hereditary ailments that may pop up in their lifetime. While it's likely that your pup will be cute as a button for its whole life, the dangers of hip dysplasia and other similar conditions should not be overlooked. That's why we recommend signing up for the Petplan Pet Insurance, one of the few services to offer extensive coverage on all hereditary illnesses that haven't been diagnosed in the pet.
All you need to do is pass a vet exam in the two months before you sign up and, once any preexisting conditions are determined, you'll get a quote and, should any new ailments pop up later, they will be covered pretty much completely. Just make sure nothing happens in the so-called "trial" period, the 30 days after you sign up for the coverage. It shouldn't be a real risk unless your pet is old or already in poor health though.
These broader benefits do come at a cost and it seems like the price has grown over the last few years, eliciting quite a few complaints. We wouldn't call it that much of a problem, really, as the cost isn't too far above the competition and you do get a bit more worth for your money. Sure, the coverage isn't exactly watertight as a few minor things such as teeth cleaning, neutering and vaccinations are omitted but it shouldn't be much of a trouble, especially since the pricier procedures will all be reimbursed.
Widest Coverage on the Block
It's tough to deny that most insurance companies like to take their sweet time getting you the reimbursement even on the most minor of issues. The Petplan Pet Insurance for dogs and cats does spend a few days reviewing your claims and getting everything ready but your money should get back in 5 to 15 days, with the longer period reserved for illnesses where the company has to examine the cost and the likelihood of additional expenses. All in all, a pretty speedy recovery, especially compared to the insurance for humans.
We also don't like talking about a subject as unpleasant as pet illnesses but, since we've already mentioned the things that the Petplan doesn't cover, it's only fair to talk about the ailments that it takes care of. Once your pet passes the vet exam and falls under the company's protection, the service will reimburse medical costs incurred by treatments for dental problems, cancer, chronic illnesses, purchase of prescription medication, and scans, including CAT and MRIs. Honestly, your pup or kitten will be safe from pretty much anything that has the potential to threaten its life and, since the premiums don't increase depending on insurance claims but only based on how high you want the reimbursement to be and how much money you may need to receive in any given year.
For Your Precious Friends
Choosing the Petplan Insurance company means getting extensive coverage for illnesses both regular and hereditary, which is a great choice for those that put their pet's safety first. However, it's tough to deny that the steep price level might scare off some customers, especially since the company seems to increase their rates with every passing year. It all comes down to how worried you are about your dog or cat's well-being and whether you have the disposable income for this insurance. We also recommend keeping up on your vet visits before trying to sign up for the coverage as any conditions that are first found during the service's initial check-up won't be covered. Overall, a pricey choice with quality to match, truly a premium-grade insurance for the most precious pups and kittens.

---
Petplan Pet Insurance
Healthy Paws Pet Insurance
A Moment of Charity
Let's be honest, no matter how smart your dog or cat is, accidents happen and there's no limit on how often your little buddy might need to visit the doctor. That's why sometimes it's worth it to pay more but get actually unlimited coverage with no caps. Thankfully, that's exactly what the Healthy Paws Pet Medical Insurance service offers.
If you'd prefer to save some money while still offering your furred buddy the best care possible, you can go a lower payment option that provides the same medical services but lowers the reimbursement rates. So you'd be paying less, getting equally good doctors for your pet, and receive reimbursements in the range of 70-90%. That's an astute choice on the company's part as not everybody can afford to pour cash into the service but all kittens and pups deserve to be healthy.
Speaking of which, we simply cannot ignore the fact that the Healthy Paws company also donates money to animal shelters from every payment you make. This means that every time your pup or cat goes in for a check-up, a poor little kitty somewhere gets a bit of care as well. Also, if you become unable to care for your pet for one reason or another, the company will even take on your little friend and offer them a good home, making sure that your buddy is always happy even if you might not be around.
Reasonably Fast Reimbursement
We also like the Healthy Paws veterinary pet insurance service because it's hassle-free unlike many of its competitors. After your pet gets their treatment, you just take a photo of the invoice and submit it on the site or via the mobile app to get an instant claim. You do have to wait for a couple of days before it's processed but you won't have to take any extra steps, which is always nice.
It's a shame that, despite offering flexible pricing options and customer-oriented services, the Healthy Paws does limit its reimbursement list to a pretty average array of procedures. For example, therapy for behavioral issues isn't' covered at all despite it being a pretty common issue for younger pets. Alternatively, older pups are more accident-prone and yet some of the injuries and the resulting medical procedures will have to be covered out of your own pocket. It does make a bit of sense as your rates would simply skyrocket otherwise but it's something you should read up on to make sure that the problems particular to your pet are actually covered. Thankfully, the website offers an extensive list that's quite transparent about their services.
We do recommend taking your pup or cat to a vet before you sign up for the service. Firstly because it's actually a requirement for animals aged 6 and above. Secondly, because that way you will know how healthy your buddy is at the moment and which coverage tier is worth paying for in your case.

Something for Every Pet
If you aren't ready to settle for anything less than the best healthcare for your furred buddy, the Healthy Paws Pet Insurance service is the right choice for you. It doesn't have to be too costly if you're willing to lower your reimbursement rates and the coverage, while not the most extensive, is broad enough to be viable for pups and cats of all ages and breeds. The wait for a claim to be reviewed is pretty low compared to many of the competitors, and the prices, while above average, are still far more reasonable in terms of the benefits you get. Couple that with the lack of cap for accidents and treatments and what you get is a highly reasonable insurance service that will keep your pet safe and happy.
---
Healthy Paws Pet Insurance
Infographics
---
What Is Pet Insurance?
You're likely no stranger to the concept of insuring your life, property, or well-being. However, you might be surprised to find out that the industry does, indeed, offer the same services to your four-legged buddies. Well, they're not going to have property insurance since they don't have property but the rest is available to your feline and canine companions. Depending on the service used, you can get the company to take care of veterinarian visits, medical operations, and cover accidents. Some companies even offer insuring services for more exotic pets such as reptiles and insects as they're usually quite valuable and, sometimes, rare. When choosing a service that's best for your pet, you need to account for payments and deductibles as well as coverage options since it's not always necessary to spring for the highest tier. The more complete tiers are usually best when saved for older pets that may actually require regular medical care and not everybody is looking for insurance for their puppy.
While you're on the way to the veterinarian, you might want to use a pet car protector to keep the seats clean and scratch-free. Alternatively, if your pet is small enough, try a pet cage for transportation with no hassle.