Have no opportunity to set a gas or charcoal grill? An electric grill can become a solution to this problem! Hopefully, in our review,
you'll find a suitable appliance to use during all your indoor and outdoor barbecue and grill parties.
...
Read more
...Read less
Meco Cart Outdoor Electric Grill
Multipurpose Electric Grill
As a rule, an electric grill is used for grilling meat or warming already done meat. But there are some multifunctional models and Meco, a family-owned American company that produces high-quality grills, offers us one of such appliances. Let's take a closer look at this very model. Due to design peculiarities, the heating element can be shifted to 3 positions. The first position of the heating element is ideal for traditional grilling while the second one is appropriate for grilling medium, rare and well-done meat. And the third position allows cooking meat of fish on a rotisserie (that is sold separately). Nevertheless, the grill's benefits don't end here. The engineers have done their best to provide the customers with exquisite convenience. They have installed folding tables on the sides that come in useful for cutting meat and fish as well as storing grilling utensils. Moreover, there is a drip tray at the bottom of the appliance that really simplifies maintenance. The last but not the least thing to mention is the wheels which make the device portable.
Electric Brazier as a Kind of Electric Grill
Nowadays we can find contact grills on the market where meat is grilled on the grid and a heating element is usually situated horizontally and hidden under the cooking surface. These are a common type of electric grills. Speaking of an electric brazier, it's a noncontact kind of a grill that has a vertical heating element and meat revolves around it. The main advantage of an electric brazier is its dimensions as it's considerably more compact than most electric grills. What is important, such devices are mainly made of lightweight aluminum or steel and there are no additional grids that result in convenient transportation. The other significant feature of these appliances is that the meat constantly rotates and, thus, it's grilled thoroughly from all the sides. This way, owing both these appliances, you will be able to savor your favorite meats regardless of weather conditions.
More Products to Consider
We'd like to draw your attention to TD OFFER meat thermometer best instant read digital thermometer with probe for electric grill. It is an extremely useful appliance for cooking appetizing meat.
Additional Info
---
VIDEO
Meco Electric Grill Demo Video
What customers say about this product
With a 16x12" grilling area, it's smaller than our gas grill was, but it is more than enough for what we cook. Laying out two decent steaks and a bunch of asparagus is a little tight, but even that is doable.
I love the side tables. It is sooo hard to find an electril grill with side tables like this.
It warms up very quickly and cooks meats and fish just like any gas fired grill would. I definitely recommend it to anyone in a similar situation to ours, or who just doesn't want/have the availability of propane or natural gas.
If you use wood chips, put the foil directly on the element (under the grill) or give plenty of preheating time for them to start smoking.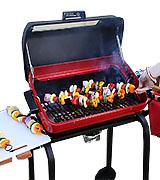 Meco Cart Outdoor Electric Grill
Weber 55020001 Q 2400
Fry Right Out-of-the-box
Pretty often, before using a new appliance, we have to assemble it first, which might be a daunting task, especially if the assembly instruction isn't included. Fortunately, with Weber 55020001 Electric Grill, you can save yourself from the trouble to do it yourself since the grill comes all ready to go right out-of-the-box. All you have to do is just screw the legs to the body. The body and lid of the appliance are produced from cast aluminum while the grilling grid is made of cast iron. Thus, you can be sure of its durability and longevity. We would like to stress that this electric grill is very simple to use; you only need to put food on the grid, set the required temperature and wait until your dish is ready. Due to a large grilling surface, the Weber electric grill is a perfect choice for people who often give parties on a patio and ask a lot of guests over.
Handy Tips for Grill Cleaning
Grilling is usually followed by meat juice and grease that dirty up an appliance. So, let's take a cue from the experienced users how to make cleaning a cinch.
The appliance should be cleaned after every cooking no matter how dirty or not it may look. Cooking on a clean grill is healthy and food doesn't stick or tear.
Since the device operates from the mains, it's also essential to unplug it before cleanup. Besides, it's better to begin cleaning when the grill cools down a little but is still warm. In such a way, the stuck food remnants will come off easier.
Pour some oil on the cooking surface before grilling, it helps take off grilled meat and vegetables as well as facilitates cleanup. Also, you can preheat the grilling grid or plate before cooking in order to prevent your food from sticking.
So, following these simple recommendations, you will have no problems with your electric grill maintenance.
More Products to Consider
We'd like to advise you to purchase the Weber grill cleaner spray - professional strength degreaser - non-toxic cleanser. This cleanser will come in an effective remedy for cleaning not only grills but also ovens and microwaves.
Additional Info
---
VIDEO
What customers say about this product
Follow the directions to let it warm up for 20 minutes before cooking and you will be good to go. Meat chars very well, tastes great.
Quality of build blows away competition (my main point of comparison is the MECO grill which I owned two)
I put a hunk of hickory wood directly in one corner of the grill. I dropped the steaks on the grill and they were the best we've ever eaten.
Cleaning is easy .... The aluminum liners slip out and can be washed separately, although I haven't found it necessary in the first month of use. The drip pan design is very functional and it's easy to change out.
Weber 55020001 Q 2400
George Foreman GGR50B
Grill Just in your Apartment
Do you live in an apartment and have no opportunity to set a gas or charcoal grill? Don't get desperate! The electric grill by George Foreman is an ideal solution for cooking not only on patios but also inside premises! This durable electric grill features all design peculiarities for convenient indoor use. The clever design includes a stand that allows installing the grill on the floor or ground. The bonus? You can remove this stand and place the grill on a table or countertop. Besides, the spill resistant drip tray catches all juices and fats. What is more, the grill features a large cooking surface that is enough for grilling 15 hamburger cutlets in one go. Therefore, on purchasing this popular electric grill in your household, you will be able to cook delicious steaks, fish, and hamburgers in your apartment regardless of the weather.
Approved by World Champion Boxer
A lot of companies widely advertise their products with the aid of famous celebrities and athletes. Salton Inc. is not an exception. In the mid-90s, the company negotiated the partnership agreement with George Foreman who at that time was the Olympic boxing and world heavyweight champion according to the WBC, WBA, and IBF. The close collaboration with the company has brought him profit from grills disposal. Foreman himself made a statement that he would not promote any products if they weren't that good. Thus, he gave a permission to brand these grills under his name. In the course of time, this lasting cooperation allowed for selling nearly 100 million grills. Interestingly, this collaboration has brought Foreman a greater profit than he has earned during the boxing career. Apart from grills, he also advertised company's T-shirts and cleaning products featuring his picture. It's a scorcher as the products no way relate to the boxing that George Foreman has so much succeeded at.
More Products to Consider
If you want to add smoke flavor to your food, you'll definitely need these BBQ smoking chips from WESTERN. They are suitable for electric grills and can bring out the taste of poultry, pork, ham, beef, and sausage.
---
VIDEO
George Foreman GGR50B Indoor/Outdoor Grill
What customers say about this product
One of the best parts is that this grill can be used with or without the stand. We used this grill right on our kitchen table and then just set it on the counter out of the way.
It heats up quickly to grill steaks, chicken, salmon, pork chops, burgers, and vegetables. It really seals in the flavors and everything comes out tasting delicious.
No fuss and very little mess - no running around for charcoal or propane and clean up is easy, especially when you have the convenience of grilling right outside your door vs. your kitchen
This electric grill was the perfect solution for healthy, easy, and personal convenience!
George Foreman GGR50B
Cuisinart CEG-980T
Briefcase Size Grill
If you live in an apartment, it doesn't mean you have to miss out the flavorful grilled meals. Cuisinart is a manufacturer of top-quality kitchen appliances and tools, which offers you one of the most compact electric grills on the market. The model looks like a stainless steel briefcase. Its small size fits perfectly even small-sized places while foldable legs simplify its placing and storage. Despite its small dimensions, the appliance is suitable for three persons. The grill heats up in just five minutes, thereby saving you loads of time. A lid liner helps speed up the cooking process as it reverberates the heat to the food. So, all things considered, we can say that it's one of the best electric grills that will surely come in handy for use both at home and during campings. However, you should keep in mind that the appliance needs a power outlet to operate.
What Meat to Choose for Grilling?
While choosing meat for grilling, you should think of the flavor you'd enjoy most. Speaking of pork, pick brisket or butt pulling back with the maximum thickness of 4/5" is best for grilling. Note that pork doesn't require marination. If you're planning to grill beef, pay attention to cube roll or bone-free muscle that are ideal for steaks. As for veal, it loses moisture during cooking and to prevent overdrying it's recommended to enwrap it in the thinnest pieces of lard and oil it atop. Also, you can grill it at a high temperature for two minutes on each side and then grill it at low temperatures. If you prefer tender meat, you will definitely appreciate mutton, and while choosing it for grilling, fix on a leg-of-mutton piece. However, mutton fat quickly sets congeal and it's better to serve it right after the meat is done. Attention! To keep mutton warm for a longer period of time, the professional chefs recommend preheating the dish you're going to serve it in. For sure, many of us like fish and wouldn't refuse to have a piece of savory grilled fish. The main thing to remember about fish is that it has a delicate structure, especially river fish that might fall into pieces during cooking. This way, sea-water fish will be the best choice for grilling. And you should butter or oil it before grilling. Preheating electric grill is not of less importance either as it prevents meat from sticking while grilling.
More Products to Consider
Consider buying this stainless steel GDEALER BBQ grill brush 18" barbecue grill cleaner to facilitate cleaning.
Additional Info
---
VIDEO
Review Cuisinart Electric Outdoor Grill
What customers say about this product
The grill works perfectly. It is better than what I thought I was getting. The grease cup needs to be a little bigger. I had grease overflowed on the sidewalk.
When grilling it does put the grill lines in the meat. The meat cooks well but don't check it often, because the grill does lose heat when you open the lid. This is not major, you just learn how to cook this way.
The electric grill is easy to clean and store if need be. And, of course, Cuisinart is a name to be trusted.
Also, one of the best features of this unit is that the legs fold completely, making it easy to stow away.
Cuisinart CEG-980T
Char-Broil TRU-Infrared Patio Bistro Electric Grill
Cook Fast and Hassle-free
Is your grilled meat too tough and dry? If so, you should have a look at the first-rate TRU-Infrared Patio Bistro Electric Grill from Char-Broil. For manufacturing electric grills, the company uses patented TRU-Infrared heaters that make food roast perfectly, it's always juicy but never burnt. TRU-Infrared Patio Bistro Electric Grill features a thermal gauge on a removable lid so that you can easily control the cooking. Also, the grill is equipped with a temperature control that helps precisely adjust the temperature (up to 550° F). This super powerful model of an electric grill can be compared with gas and charcoal grills since it distributes heat as evenly as they do. But! With this high-quality electric grill, you will be able to grill on your balcony or patio without unpleasant odors that usually accompany gas and charcoal grills.
The Worldwide Leader of Grills Manufacturing
Char-Broil is a recognized leader offering us the best appliances for grilling. It all has started in the 1960s when the company became a path breaker in gas grills manufacturing. And in the 1970s they produced the first electric grill. During the early 2000s, the company launched the world's first infrared grill at an affordable price and thanks to its special TRU-infrared technology, the company still maintains the leadership in grills production. Importantly, the heat from the heating element is delivered directly to food and as a result, the food preserves all the vitamins and minerals. Apart from retention of nutrients, food is fully sterilized and, thus, contains no harmful microorganisms. Speaking of the generated heat, it's similar to the sun's warmth and is beneficial to our health. That's why nearly 90 % of the leading restaurants give their preference to this well-known brand. So, be sure - Char-Broil electric grill will cook healthy and delicious steaks, fish, and burgers, serving you in a long a while.
More Products to Consider
If you often grill food, picking up meat from a grid when it's still sizzling hot might be the least enjoyable experience. Therefore we strongly recommend buying this red Cuisinart CGS-134 grilling tool set with grill glove and make grilling a less troublesome process.
Additional Info
---
VIDEO
SmokingPit.com - Char Broil Tru Infrared Patio Bistro 180 Review
What customers say about this product
I needed a small but useful electric grill for my third floor condo patio. Assembly was straight forward in about 16 or so steps. The screws and other hardware were of exceptional quality.
I use the grill for simple stuff - burgers, seafood, steaks, chicken breasts. Grill season here is 12 months long. I have it on a screened in patio.
As for cooking, I started with 7 good size burgers and still had some room so I threw on one hot dogs. Next I toasted the buns. Lastly I cooked some boneless thighs. I was able to get 8 or 9 of them on the grill with them spread out.
It has plenty of room for grilling, the handle does not get hot and I like the metal rod for hanging items. The rack between the legs is also nice as I used this to hold the top rack from in the grill when I was not using it.
Char-Broil TRU-Infrared Patio Bistro Electric Grill
What is an Electric Grill
Some of us don't have space for a large gas grill or might be wary of using a charcoal grill. Besides, these grills in their majority aren't appropriate for setting indoors because of the fire and smoke they emit. Luckily now you don't have to refuse grilling food if you purchase an electric grills. Electric grills are designed as closed and safe constructions and therefore, can be installed both indoors and outdoors. On top of that, grilling in an electric appliance doesn't imply using wood or any other fuel but conventional electricity which is also handy for those who don't want to bother with wood boards supply. Electric grills are rather compact as well and often can be placed right on a table.
If you adore hamburgers and grilled meat, look through our review of air fryers for cooking lip-smacking yet healthy fries.
What Features to Compare
To begin with, it's important to consider the Type of electric grill; they can be portable and stationary. If you're going to use it on the balcony or in the garden, you should pay your attention to portable electric grills that don't take much space and are easy to move. Speaking about stationary electric grills, they are a perfect choice for restaurants, cafes, patios, backyards, etc.
Also, electric grills differ in shape and construction. The most widespread appliances are open electric grills that have a simple design with an optional grill gate. Concerning covered grills, they feature a tall lid that can be raised and lowered. As for closed electric grills, they are equipped with a lid liner for frying meat on both sides and allow speeding up the cooking process.
One more significant feature is the Capacity of the appliance that depends on its cooking surface. Hence, the larger the surface is, the more hamburgers or steaks you can grill at a time. If you are looking for the appliance to cook a large number of servings, you should choose the model with the grilling surface of 240 to 300 square inches. If you want to get just a family-sized electric grill, the surface up to 200 square inches will be enough. It's also worth paying attention to the grill power since the higher the power, the quicker the cooking process. The modern models boast the power of 1500 up to 2000 watts. Besides, with an adjustable thermostat, you'll have no troubles choosing the required temperature for every dish.
Conveniences facilitate control and guarantee ease of use. The wheels provide handy transportation while the stay-cool handle allows moving the grill even during cooking. Also, focus your attention on a removable non-stick grid for easy-breezy cleanups. For indoor use, it's recommended to choose models with a drip tray for collecting excess meat grease and juice.