A microwave oven is an appliance most modern kitchens have. It helps us cook and heat food very fast, thanks to the effect of microwaves
that penetrate food and heat it up from the inside. We have selected 5 best and most popular microwave ovens to make your pick easier!
...
Read more
...Read less
Panasonic NN-SN966S
The Ultimate Choice for a Big Family
A microwave is an appliance most people buy as an auxiliary kitchen tool to add to their stove and oven. And let's be honest, many of us hardly use it for something else besides preheating meals and maybe making popcorn. Yet, a top-rated microwave can provide you with much more versatility, and if that's exactly what you need, the Panasonic NN-SN966S can be your best bet.
Two things you will like about the Panasonic NN-SN966S at the first glance are its sleek, modern design in stainless steel and intuitive controls conveniently located on the right. However, these aren't the only merits of the model. In contrast to many rivals that can be used only as countertop models, the Panasonic NN-SN966S provides two installation options - you can both place it on a counter or build it into a wall or your kitchen cabinet.
However, it's not only its easy-to-install design that makes the Panasonic NN-SN966S one of the top-sellers. Other reasons behind its popularity include its capacious cooking chamber, high power, and outstanding functionality. This model boasts a 2.2 cu.ft. cooking chamber capacity that is almost twice bigger than what you get from the range. Add to that a 16-inch turntable and what you get is a microwave with ample room for cooking several servings of food or even baking whole poultry, if you choose. Now, the Panasonic NN-SN966S is not only generously-sized, it is also very powerful. With the power of 1250 Watts under its hood, this model is able to greatly expedite the cooking process, and the patented Panasonic inverter technology will make sure that you get perfect cooking results, regardless of the type of food you place inside it. In addition, the Panasonic NN-SN966S offers 10 power levels and several preset operation modes for cooking, preheating, and defrosting foods. Also included is a "Keep Warm" function.
In all, the Panasonic NN-SN966S has a lot going for it. It's functional, powerful, and cleverly designed. So if you need an appliance that will offer you much more than its rivals, you'll be hard-pressed to find a better choice.
Intelligent Cooking Assistant
All ingredients differ in density and texture. Hence, cooking time and power for different meals and foods also vary. And if you are not much into microwave cooking it might take you a long time and a number of botched dishes until you find a perfect balance between time and temperature settings. The Panasonic NN-SN966S will do this work for you and take the guesswork out of the cooking process. The model features a built-in sensor that will automatically set the needed time and temperature in accordance with the type of food you cook and offers 12 auto cook options with function-specific buttons making food preparation way easier. 
Regardless of whether you're cooking your favorite food or testing some new recipes, with this intelligent microwave from Panasonic you will always achieve fantastic results.
Additional Info
---
Panasonic NN-SN966S
Samsung MG11H2020CT
Functionality
Samsung microwave oven is a mid-sized kitchen appliance with the capacity of 1.1 cubic feet. The maximum power is 1000 Watts, so this unit has everything needed for cooking. The functionality of this microwave is quite typical: precise heating / defrosting and auto cooking. A grill is a useful advantage this microwave offers. It allows you to cook some delicious crispy food - chicken, meat, fish, etc. Actually, this appliance boasts a special feature called "Crusty Plate" - there is a special ceramic plate for preparing crispy food - it heats up to 200 degrees centigrade (due to the effect of microwaves) and acts as a frying pan. All fans of Buffalo wings, homemade potato chips, crispy chili beef, or spicy sausages with a golden crust, will greatly appreciate this option.  This Samsung microwave has something to offer to all barbecue and grilled food lovers. 
Usability
The inner surface of Samsung microwave oven is coated with durable, fat- and heat-resistant ceramics, which is extremely easy-to-clean. All you need to wipe it of oil drops is a soft brush or a wet sponge. When closed, the microwave seems virtually flat thanks to its one-touch sensor control panel. The panel is intuitive in use and features 12 cook options. Like with other electric appliances, we recommend you to read the user manual that comes supplied with the purchase. Though not that difficult in use, you may find there many helpful tips on how to use these functions properly.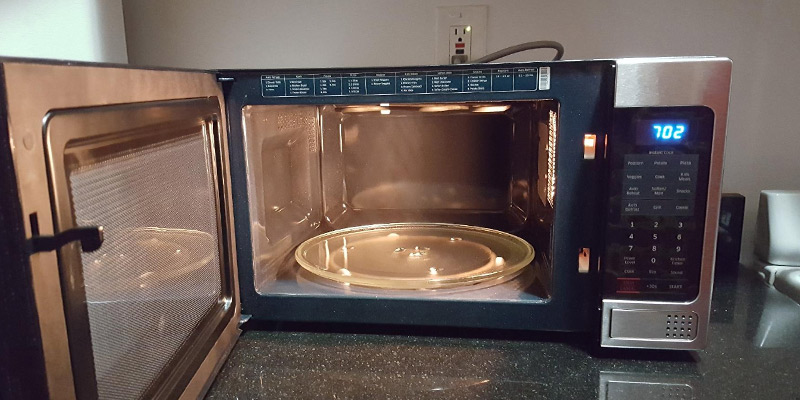 Additional Options
Powerful, functional, and easy-to-maintain, this model from Samsung also offers a number of additional options contributing to its safety and ease of use. Thus, if you think your dish isn't hot enough - use a handy +30s button and the food will be heated for additional half a minute or you can prolong an ongoing cooking process if necessary. A child safety lock option will keep the oven door securely closed and limit your kiddies access to the microwave interior and hot foods. Thanks to the chamber backlighting, you will be able to watch the cooking process and make changes to the current settings. And last but not least, this model has an odor removal function, which means you will need to spend less time and effort on its cleaning. 
---
What customers say about this product
The polished surface makes it by far the nicest looking appliance in my kitchen, ever.
For me personally, this product is just the right size for the foods I cook and offers a lot of flexibility as to how I can cook things.
If you have no interest in the grilling feature you probably wouldn't want to buy this though, because it is definitely more expensive than a stand-alone microwave. If you are only going to use it for microwaving it is overkill.
The control panel is very easy to read, which is a plus. My old Sanyo was almost impossible to read, unless I practically had my nose on it. The push-to-open feature works perfectly. My old one only had a handle to yank open, which caused the microwave to shift position on the shelf.
Outstanding product. Excellent power, performs better than advertised. Included accessories are a great addition & work well.
Samsung MG11H2020CT
Panasonic NN-SN651BAZ
Affordable Power and Technologies
Modern microwave ovens are used not only for heating or defrosting foods. These kitchen appliances help us cook different meals very quickly but there's always that minor issue - uneven heating. Now, you've got a solution! The Panasonic NN-SN651BAZ uses an inverter technology that creates a steady stream of microwaves allowing you to cook foods evenly and boasts a decent power of 1200 Watts to cook faster. Therefore, you will spend less time in your kitchen while cooking delicious meals.
This inverter microwave oven offers 12 Auto Cook options that greatly facilitate the cooking process. The menu with sensor touch buttons doesn't look busy and it's easy to select the needed icon. The Panasonic NN-SN651BAZ being the inverter type provides you one more benefit - unlike with conventional microwaves, this one will defrost food in next to no time.
Having covered Panasonic's NN-SN651BAZ performance, let's turn to its design. We were pleasantly surprised with how the manufacturer managed to squeeze such a cutting-edge hardware into a compact housing with a footprint at 15.8 x 20.7 x 12.2 inches, requiring minimum space on a counter. Thanks to this, it's a sound choice for small kitchens.
Packing powerful performance and innovative technologies that not all expensive models can rival, the Panasonic NN-SN651BAZ is a quality appliance at a very attractive price. 
Your Personal Omelet Maker
As we've mentioned above, the inverter technology will let you cook some delicate dishes you won't be able to make with non-inverter models. Soft muffins, creamy mousses, perfectly cooked fish fillets, and a lot more other dishes will come out from the Panasonic NN-SN651BAZ cooked to perfection, delicious and appetizing. An omelet is one of the most popular breakfast foods. Normally, you would fry scrambled eggs and they might get burned on one side or scorch to the pan. And there is also a risk to overuse oil.
An omelet from an inverter microwave is a kind of a culinary masterpiece. It looks fluffy and perfectly keeps its airy structure. No uncooked areas or hot spots, just ideally tender and smooth texture and excellent taste. All you need is to whisk egg mixture, melt some butter, pour egg mixture over warm butter, and cook it using an "omelet mode". The whole process will take no more than 5 minutes.
With the NN-SN651BAZ, you can cook fresh tasty omelets for the whole family at any time. Meanwhile, by adding different stuffings and fillings and serving it with a variety of sauces, you can greatly diversify this dish. The choice is almost endless, from spicy, juicy, and savory treats to creamy and sweet flavors.
Additional Info
---
What customers say about this product
After three days of use I like it, particularly the reduced power settings that are truly a reduction in microwaves, not just reducing the time that full power is utilized.
I like the simple numbers to set the time. I have gotten used over the years to press 11, 22, 33 seconds and so on, fine tuning the amount of time while minimizing the button presses.
I am looking forward to using the Keep Warm function. That sounds useful.
I love the all white on the front of the microwave (my previous microwave was black in front). I can easily see the food in the microwave while it is running - the light stays on.
It's easy to clean and with 1200 watts, it's one of the highest powered units available.
Panasonic NN-SN651BAZ
Danby DMW077-BLSDD
Extra Functions
There are hundreds of microwave ovens on the market and the only way for the manufacturers to boost sales is adding some extra features to their kitchen appliances. The more extra features a microwave oven has, the more multifunctional it is. The Danby DMW077BLSDD model is affordable but really functional and easy-to-use. For example, the microwave oven allows for one-touch cooking: there are 6 most popular uses such as popcorn, pizza, potato, beverage, dinner plate, frozen vegetable. Thus, you can easily cook your favorite pizza without overpaying for it. But that's not all! This Danby microwave oven also has 6 Express Cook settings - set the time and power level for a certain dish and the appliance will keep it in its memory. No need to mention, you can control the cooking process through the door window. The LED display shows the remaining time when you are cooking something and the clock when the appliance is idling. As for safety, this model has a reliable child safety lock, so don't worry about your small kids - they won't be able to accidentally use the microwave.
As you know, metal dinnerware can't be used in microwave ovens so we recommend you to purchase the one made of porcelain. This material is heat-resistant and totally BPA-free. Cook your favorite food and enjoy it!
Additional Info
---
What customers say about this product
Love the defrost feature. Unfroze 4 frozen sausages in < 10 minutes.
It's 14 inches wide INTERNALLY, has a carousel and it's 8.5" high internally and 14.5" deep internally. Large enough for a good sized lasagna package (point of reference).
You can choose between English and French labels for the control panel. You have two different stickers; super useful for us since we have friends/family coming over.
Seems to cook evenly. Also, has never burned Popcorn on Popcorn setting no kernels unpopped.
Power cord is substantial, unit feels well made for it's price point.
Danby DMW077-BLSDD
Westinghouse WM009
Functionality
This high-tech microwave oven is compact, functional, and very convenient in use. Despite a small size, the appliance allows you to cook quite a lot of dishes, to defrost, and to heat up food. The cavity is quite small - 0.9 cubic feet, which is enough for a family of 2 people. The power of this microwave is 900 Watts, so if you need a device for heating food (rather than cooking) and want to minimize electricity bills, this Westinghouse microwave oven is a reasonable choice. The appliance has 10 power levels, though we advise you to choose the power of 600 or 700 Watts for defrosting and heating.
Usability
Westinghouse WM009 countertop microwave oven boasts an intuitive sensor control panel with an LED display. Therefore, learning how to use the appliance takes just several minutes. The unit has a number of important features. First of all, there are 6 pre-programmed cooking options and 2 auto defrosting settings. Moreover, the appliance is equipped with the 'Cook by weight' function - digital sensors weigh the food up and automatically decide on the necessary cooking time. The inner surface of the cavity is enameled, so it's quite durable and easy-to-clean. Of course, you must never use a wire mesh because it will severely damage the enamel.
Additional Options
Compact Westinghouse microwave oven boasts a number of features that make the use of this appliance very convenient and safe. The child lock blocks the keys on the sensor panel, so small kids can't turn the microwave oven on. Also, there's a '+30 seconds' key that you can push for heating food a bit more. In general, this microwave oven is small and yet functional appliance. It will make cooking as easy as possible. Top-class purchase!
---
What customers say about this product
A good microwave, but holy hell that blue LED light could pass 50,000 lumens easily. Had to put some black tape over it when I'm sleeping because it radiates the whole room in the night. But other than that it works flawlessly. Nice purchase.
It is very pretty and matches my kitchen very nicely. I have three kids who believe in microwaving everything. So it gets used all the time.
Works well enough. Seems more powerful than the wattage says, but I also had an old one that it re[placed, so maybe it's good. Popcorn setting burned the popcorn. With turn table still food is cold in the middle
It works as a microwave should... it heats up our food. Not quite as quickly as our previous monster of a microwave but still well enough to do the job.
This microwave works great and it also looks great too! Purchased this for my new apartment. A friend said not to get anything with less than 900 watts and this one is exactly that and I'm glad I took his advice!!
Westinghouse WM009
What Is a Microwave Oven?
In the following review, we will help you choose the most appropriate microwave oven for your kitchen.
A microwave oven is a popular kitchen appliance, which is used not only at home but even in cafes and restaurants. Today, it is hard to imagine a house without a microwave oven in the kitchen. This appliance helps you cook quickly by just choosing a respective setting (also called a cooking program). Also, you can easily defrost any food within just several minutes. Unlike a conventional oven, a microwave oven heats up food from the inside (that is how microwaves work) and it takes very little time.
If you like to make toasts and some other pastry, we recommend you to consider buying one of the best toasters.
Do you like barbecue? Then, you will surely like our review of the best outdoor and camping grills.
What Features to Compare
There are many microwave oven reviews online but still the choice of this appliance is dumbfounded. Many customers get confused over the technical specification of every microwave and that is why we have made our comparison as simple, yet informative, as possible. We have picked 5 best microwave ovens and analyzed them according to the most important features without going too deep into a tech stuff.
Functionality
If you want to just heat some food up - the simplest microwave oven with a couple of dials will be enough for you. However, if you are going to use this appliance for cooking, you should, first of all, pay attention to the functionality of every model. This criterion depends on 2 major features - capacity and power. Small capacity (under 1 cu. ft.) is suitable for defrosting and heating food. A mid-sized cooking chamber (1-1.1 cu. ft.) is an optimal choice for a small family; many appliances of this kind have a built-in grill, so you can cook some delicious and crusty meals. A large microwave oven with a chamber of more than 1.2 cu. ft. is the best choice for a big family with several kids. Such ovens usually come with a special grate and, moreover, boast such technologies as grill and convection. The power heavily depends on capacity - the higher the latter is, the more power a microwave requires for cooking and heating. No need to mention, all modern microwave ovens allow you to choose the level of power: from the minimum to the highest one possible (it depends on each model). The optimal power for a microwave oven ranges from 700 to 1200 Watts.
Usability
The next important aspect to take into account when choosing a microwave oven is its usability. It goes without saying that one of the most important characteristics about microwave ovens defining their convenience of use is how fast they are able to reheat foods. However, it is not the only thing. Another important factor affecting its usability is how easy it is to maintain it clean. This is where it's important to take your time and learn what inner surfaces can be found in microwave ovens. The most popular one is enameled surface. This one is probably the easiest to clean of grease and dirt. Ceramic surfaces are also popular and will be appreciated by those who seek durability first and foremost. The advantage of a stainless steel coating, on top of its durability and great looks, is that it is also highly heat-resistant, one of the main reasons it's often used in convection microwave ovens and ovens with grills. Aside from the inner surface, the usability of a microwave oven is affected by its controls. You can find 3 types: mechanical, push-button, and sensor. Despite their primitive nature, mechanical controls are very reliable and intuitive in use. Push-buttons look more elaborated. And if you seek a high-tech model, there are sensor type controls that include a sensor panel and a LED screen showing all selected parameters.
Additional Options
The last but not the least, we'd recommend that you consider what other options besides the standard ones are included in the model. Many models may also feature a child lock, providing you confidence that your toddler won't open the oven when you are not at home. Others may include the function of steam purification, facilitating the cleaning part for you. All of these, and other extra functions, add to the convenience of use of a microwave oven.