A microwave oven is an appliance most modern kitchens have. It helps us cook and heat food very fast thanks to the effect of microwaves
that penetrate food and heat it up from inside. We have selected 5 best and most popular microwave ovens to make your pick easier!
...
Read more
...Read less
Samsung MG11H2020CT
Functionality
Samsung microwave oven is a mid-sized kitchen appliance with the capacity of 1.1 cubic feet. The maximum power is 1000 Watts, so this unit has everything needed for cooking. The functionality of this microwave is quite typical: precise heating / defrosting and auto cooking. A grill is a useful advantage this microwave offers. It allows you to cook some delicious crispy food - chicken, meat, fish, etc. Actually, this appliance boasts a special feature called "Crusty Plate" - there is a special ceramic plate for preparing crispy food - it heats up to 200 degrees centigrade (due to the effect of microwaves) and acts as a frying pan.
Usability
The inner surface of Samsung microwave oven is coated with durable, fat- and heat-resistant ceramics, which is extremely easy-to-clean. You just need to use a soft brush or a sponge for removing grease from the cooking cavity. Next, the ceramic coating is quite scratch-resistant. Therefore, this microwave oven is far more durable than the models, having an enameled interior. When closed, the unit looks pretty much like a flat rectangle (mostly thanks to the sensor buttons), so it makes cleaning the unit trouble-free. Samsung microwave oven has lots of auto cook options, so you can cook a certain food with a single push of a button. Of course, you should carefully read a user manual, which contains detailed descriptions of all of the available auto cook options. If you think your dish isn't hot enough - use a handy +30s button and the food will be heated for additional half a minute.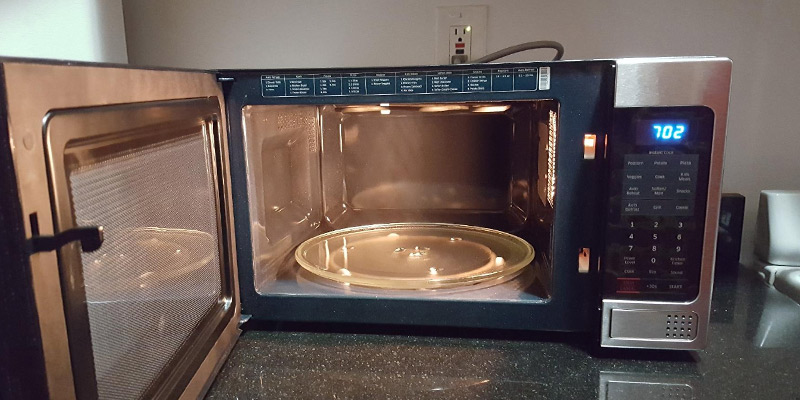 ---
What customers say about this product
The polished surface makes it by far the nicest looking appliance in my kitchen, ever.
It heats food great. It pops our popcorn. It toasts a loaf of bread without turning it to rubber. It does everything it should and you don't have to think about it. I should add that for the price, there is no room for complaint!
I love the grilling feature!! The best of both worlds. Microwave and Grill all in one! I really like the ceramic interior. It's not plastic, so clean up is going to be easy.
The functionality of the control pad is solid and there are plenty of features that make the appliance a convenience to use like the +30 seconds button.
Outstanding product. Excellent power, performs better than advertised. Included accessories are a great addition & work well.
Samsung MG11H2020CT
Sharp ZR559YK
Functionality
This is the best microwave oven if you have a really big family with lots of kids to feed. The reason is simple - this appliance has a huge capacity, 1.8 cubic feet. You can cook or heat a lot of food at a time. For example, it's possible to cook the whole goose in this kitchen appliance! Of course, the unit yields sufficient maximum power - 1100 Watts, though you will need it only for grilling. Whereas a quick heat-up will require from 700 to 900 Watts of power output. A grill is certainly a handy add-on since you can enjoy the crusty food.
Usability
SHARP microwave oven has an enameled inner surface. This type of coating is quite simple in cleaning and, moreover, heat-resistant. Of course, we recommend you to keep the cavity clean, so, do a clean-up every week. Or you should use a plastic cover to prevent grease splashes. The push-button electronic controls are simple. Also, all the buttons are placed on a uniform panel, so no tiny crevices to accumulate dirt. You can use a handy Sensor Cook Menu that has the following modes: potato, frozen entree, popcorn, beverage, and some others. Thanks to these buttons, a single push is required to prepare the meal. If you worry whether you can put a plate or a tray with food into the oven, allay your fears since the turntable is huge - 15 inches in diameter. Therefore, you can place even a fairly big ceramic plate with your favorite dish.
Additional Options
This extra-large microwave oven can be used either as it is, or you can build it into your kitchen furniture. If you prefer the latter, you will be able to save up a lot of space in your kitchen. However, you should plan the layout of kitchen furniture in advance. As for the features this microwave oven has, we should mention a useful +30 sec option - you can heat your food or drink a bit longer if it hasn't got hot enough. Finally, this microwave has as many as 3 different defrost settings: meat, poultry, and fish.
---
What customers say about this product
Good solid performer. Simple easy to understand controls.
It is a little bigger than I expected, but still fits very well in the corner counter of my kitchen.
Some nice new features I didn't have before... Preset times etc. Basic but nice... No complaints here.
This sucker is big and heavy, which is to be expected for a microwave with this many cubic feet. It took a quite a big heave-ho to get it onto my microwave cart. The white color is attractive and doesn't show fingerprints. So far it's been a dependable, solidly-built microwave.
It fits the limited space we had available, and is quite large inside. It is high powered, and cooks things fast and evenly.
Sharp ZR559YK
Panasonic NN-SN651BAZ
Inverter Technology
Modern microwave ovens are used not only for heating or defrosting food. These kitchen appliances help us cook different meals very quickly but there's always that minor issue - uneven heating. Now, you've got a solution! We recommend you to use the Panasonic NN-SN651BAZ since this appliance has an inverter technology that creates a steady stream of microwaves allowing you to cook food evenly. Therefore, you will always be able to cook delicious and appetizing meals for you and your family. Moreover, the inverter technology is utterly helpful for cooking delicate foods (like muffins, for example). This inverter microwave oven offers 12 Auto Cook options that greatly facilitate the cooking process. This function picks the right time and power settings for cooking soup, oatmeal, pizza, pasta, vegetables, and so on. Moreover, the inverter technology is also used for defrosting food - press the Inverter Turbo Defrost key on the control panel and frozen foods will be thawed in no time!
Also, we would like to draw your attention to a small footprint of this microwave oven. Panasonic engineers managed to squeeze all the cutting-edge hardware into a compact body of this unit. Thus, this amazing inverter microwave oven requires little space on a counter. Great for small kitchens!
If you don't want to damage the surface of your counter or kitchen table with sizzling hot cookware, make sure to use a pot holder.
Additional Info
---
What customers say about this product
After three days of use I like it, particularly the reduced power settings that are truly a reduction in microwaves, not just reducing the time that full power is utilized.
We like Panasonic because of the inverter technology: When you set the power level, the actual power level changes, rather than the power going on and off. This helps avoid spills and overcooking.
Overall I am happy with this microwave. The Sensor Heat works as I expected.
This microwave is lighter weight than my old microwave too, which is a plus for me as a 76 year old woman living alone.
The power has been increased from 900W in our previous model to 1200W, so everything cooks faster.
Panasonic NN-SN651BAZ
Danby DMW077-BLSDD
Extra Functions
There are hundreds of microwave ovens on the market and the only way for the manufacturers to boost sales is adding some extra features to their kitchen appliances. The more extra features a microwave oven has, the more multifunctional it is. The Danby DMW077BLSDD model is affordable but really functional and easy-to-use. For example, the microwave oven allows for one-touch cooking: there are 6 most popular uses such as popcorn, pizza, potato, beverage, dinner plate, frozen vegetable. Thus, you can easily cook your favorite pizza without overpaying for it. But that's not all! This Danby microwave oven also has 6 Express Cook settings - set the time and power level for a certain dish and the appliance will keep it in its memory. No need to mention, you can control the cooking process through the door window. The LED display shows the remaining time when you are cooking something and the clock when the appliance is idling. As for safety, this model has a reliable child safety lock, so don't worry about your small kids - they won't be able to accidentally use the microwave.
As you know, metal dinnerware can't be used in microwave ovens so we recommend you to purchase the one made of porcelain. This material is heat-resistant and totally BPA-free. Cook your favorite food and enjoy it!
Additional Info
---
What customers say about this product
Love the defrost feature. Unfroze 4 frozen sausages in < 10 minutes.
The design is pretty slick. Not noisy at all. This is a microwave, of course, there is a background noise when you reheat something, but nothing major.
You can choose between English and French labels for the control panel. You have two different stickers; super useful for us since we have friends/family coming over.
Other features are defrost by weight, potato, pizza, drink settings. They are very self explanatory, but the instructional booklet helps explain things nicely.
700 watts is completely adequate for me. My dinner plate leftovers heat up in 3 minutes or less.
Danby DMW077-BLSDD
Westinghouse WM009
Functionality
This high-tech microwave oven is compact, functional, and very convenient in use. Despite a small size, the appliance allows you to cook quite a lot of dishes, to defrost, and to heat up food. The cavity is quite small - 0.9 cubic feet, which is enough for a family of 2 people. The power of this microwave is 900 Watts, so if you need a device for heating food (rather than cooking) and want to minimize electricity bills, this Westinghouse microwave oven is a reasonable choice. The appliance has 10 power levels, though we advise you to choose the power of 600 or 700 Watts for defrosting and heating.
Usability
Westinghouse WM009 countertop microwave oven boasts an intuitive sensor control panel with an LED display. Therefore, learning how to use the appliance takes just several minutes. The unit has a number of important features. First of all, there are 6 pre-programmed cooking options and 2 auto defrosting settings. Moreover, the appliance is equipped with the 'Cook by weight' function - digital sensors weigh the food up and automatically decide on the necessary cooking time. The inner surface of the cavity is enameled, so it's quite durable and easy-to-clean. Of course, you must never use a wire mesh because it will severely damage the enamel.
Additional Options
Compact Westinghouse microwave oven boasts a number of features that make the use of this appliance very convenient and safe. The child lock blocks the keys on the sensor panel, so small kids can't turn the microwave oven on. Also, there's a '+30 seconds' key that you can push for heating food a bit more. In general, this microwave oven is small and yet functional appliance. It will make cooking as easy as possible. Top-class purchase!
---
What customers say about this product
I love that the popcorn button on it is absolutely perfect. Every microwave I have ever had the popcorn button either doesn't cook it long enough or burns it. For me that is a huge plus.
It is very pretty and matches my kitchen very nicely. I have three kids who believe in microwaving everything. So it gets used all the time.
We rarely use it - we just needed one that works and has basic functions. If you need a microwave for similar reasons, purchasing this one is fine.
The door sounds reasonably solid when you open and close it. Additionally, unlike the Panasonic I was considering for home, the light goes on when you open the door.
This microwave works great and it also looks great too! Purchased this for my new apartment. A friend said not to get anything with less than 900 watts and this one is exactly that and I'm glad I took his advice!!
Westinghouse WM009
What Is a Microwave Oven?
In the following review, we will help you choose the most appropriate microwave oven for your kitchen.
A microwave oven is a popular kitchen appliance, which is used not only at home but even in cafes and restaurants. Today, it is hard to imagine a house without a microwave oven in the kitchen. This appliance helps you cook quickly by just choosing a respective setting (also called a cooking program). Also, you can easily defrost any food within just several minutes. Unlike a conventional oven, a microwave oven heats up food from inside (that is how microwaves work) and it takes very little time.
If you like to make toasts and some other pastry, we recommend you to consider buying one of the best toasters.
Do you like barbecue? Then, you will surely like our review of the best outdoor and camping grills.
What Features to Compare
There are many microwave oven reviews online but still the choice of this appliance is dumbfounded. Many customers get confused over the technical specification of every microwave and that is why we have made our comparison as simple, yet informative, as possible. We have picked 5 best microwave ovens and analyzed them according to the most important features without going too deep into a tech stuff.
If you want to just heat some food up - the simplest microwave oven with a couple of dials will be enough for you. However, if you are going to use this appliance for cooking, you should, first of all, pay attention to the Functionality of every model. This criterion depends on 2 major features - capacity and power. Small capacity (under 1 cu. ft.) is suitable for defrosting and heating food. A mid-sized cooking cavity (1-1.1 cu. ft.) is an optimal choice for a small family; many appliances of this kind have a built-in grill, so you can cook some delicious and crusty courses. A large microwave oven with a cavity of more than 1.2 cu. ft. is the best choice for a big family with several kids. Such ovens usually come with a special grate and, moreover, boast such technologies as grill and convection. The power heavily depends on capacity - the higher the latter is, the more power a microwave requires for cooking and heating. No need to mention, all modern microwave ovens allow you to choose the level of power: from the minimum to the highest one possible (it depends on each model). The optimal power for a microwave oven ranges from 700 to 1200 Watts.
The next important aspect to take into account when choosing a microwave oven is the Usability. Of course, the faster an appliance heats the food up, the simpler it is to use it. However, any microwave oven requires care and maintenance. First of all, you should always keep the appliance clean, particularly inside. And the easiness of regular clean-ups depends on the coating of the cooking cavity. As usual, manufacturers use enamel, ceramics, or stainless steel. An enameled inner surface is very popular and it's quite easy to remove grease and dirt from it. A ceramic coating is durable and highly scratch-resistant. All grease drops are quickly wiped out with any sponge or kitchen brush in a single pass. A stainless steel coating looks great and ensures superb durability; moreover, such surface is very heat-resistant. That's why a stainless steel inner surface is often used in microwave ovens having convection or a grill. Next, the controls should be intuitive so that you don't spend ages deciding which cooking mode to choose. There are 3 major types of controls: mechanical, push-button, and sensor. Mechanical controls are very reliable and simple. Such microwave ovens have a couple of mechanical dials that you turn to select the power level and the cooking time. This type of microwaves is suitable for elderly people and kids. The next type is push-button controls: you need to pick the type of food and its weight while the software of an appliance will do the rest. You can see all the necessary information on a handy LED display. Next, such sophisticated appliances very often have memory cooking support. Finally, there are sensor controls, which are the same as push-button ones in terms of convenience, but you configure the settings, using a sensor panel.
And the last step in your way to the best microwave oven is to consider all Additional Options each model provides. If many appliances are more or less the same in terms of power and capacity, their capabilities might differ a lot. For example, some appliances have a special child lock - your toddler won't be able to open the door of the oven if you lock it. And some microwaves provide steam purification of the cavity - all bacteria are killed by a high-temperature steam.