A microwave oven is an appliance most modern kitchens have. It helps us cook and heat food very fast, thanks to the effect of microwaves
that penetrate food and heat it up from the inside. We have selected 5 best and most popular microwave ovens to make your pick easier!
...
Read more
...Read less
Panasonic NN-SN686S
A Combo of Stylish Design and Impressive Cooking Power
Need a microwave for a high-tech, industrial, minimalist, or contemporary kitchen interior? If so, you'll hardly find a better option than the Panasonic NN-SN686S that, we dare assume, will come to your liking at first sight. This microwave looks high-end and has nothing extra that could make its interface look "busy". Featuring a mirror glass door with an electronic control panel and a steel strip at the bottom, the Panasonic NN-SN686S can seamlessly blend with facades of any kitchen cabinets. Furthermore, it has no handles, buttons, or dials that would extrude breaking the design integrity. Another thing in favor of the NN-SN686S is its small footprint taking up little of your kitchen space.
Small size and cute design aren't the only strong suites of this model. Panasonic is the brand name that's best known for manufacturing smart and high-quality products. And the NN-SN686S is not an exception. This Panasonic microwave comes packed with the impressive power of 1200 Watts and has a number of options creating an exceptional cooking experience for you. The oven in question boasts 14 auto cook modes, 3 Popcorn cooking options as well as food defrosting and reheating modes so you can cook your favorite foods across a wide range of cooking techniques. It has a smart sensor which determines the exact cooking power and temperature so that the food will not be overcooked at the end. Also, it uses Panasonic inverter technology for even and consistent results. Thanks to all these, the food retains maximum juices, flavors, and nutrients while taking considerably less time to be cooked.
So whether you are an experienced cook or an amateur, having the Panasonic NN-SN686S microwave will help you achieve consistent up-to-par cooking results, requiring little to no effort.
Quick Defrosting and Cooking
Among other useful features, this microwave oven is fitted with inverter technology. Thanks to the advanced inverter turbo defrost you won't be waiting long hours until your food is ready for cooking. It will take you only a few moments, even if you have just taken them out of a freezer. In addition, this model is fitted with built-in sensors that allow you to keep food warm. Moreover, they adjust the time and power of cooking depending on the food. Plus, thanks to these sensors you don't have to worry about overcooking delicate dishes since the microwave is able to distribute the energy so that the food will only be slightly simmering.

All in all, the Panasonic NN-SN686S microwave oven is a convenient and helpful device with many useful features. It comes at a reasonable price and will become a perfect addition to your kitchen both design- and function-wise.
Additional Info
---
Panasonic NN-SN686S
Samsung MG11H2020CT
Functionality
The Samsung MG11H2020CT microwave oven is a mid-sized model with a capacity of 1.1 cu. ft. and 1000 Watts of power. Although these numbers aren't the highest possible, for most households it's more than enough to ensure optimal heating and cooking. Regarding the functions included, you get everything typically featured on microwave ovens from a similar price range: heating, defrosting and auto mode. Aside from the standard functions, it also has a grill mode, providing you with the opportunity to cook a variety of meats. And the "Crusty Plate" feature allows achieving the perfect results each time. It heats up to 200 degrees centigrade due to the effect of microwaves emitted inside the appliance and acts as your regular frying pan. So, if you're a fan of Buffalo wings, homemade potato chips, crispy chilli beef, spicy sausages or anything else having that nice golden crust, the Samsung MG11H2020CT might be the right choice for you.

Usability
The inner surface of this Samsung microwave oven is coated with durable, fat- and heat-resistant ceramics, which is extremely easy-to-clean. All you need to wipe it off oil drops should they be there is to use either a brush with soft bristles or a simple wet sponge. With regard to the exterior, thanks to its thin one-touch sensor control panel, the microwave goes almost flush with the wall, requiring very little of your countertop space, which makes it a perfect option for small kitchens. Despite 12 cook modes, the panel of the oven is easy in use. But if you have any difficulties with figuring out how to use these functions, the manufacturer supplies the oven with a user manual where you'll find detailed instructions.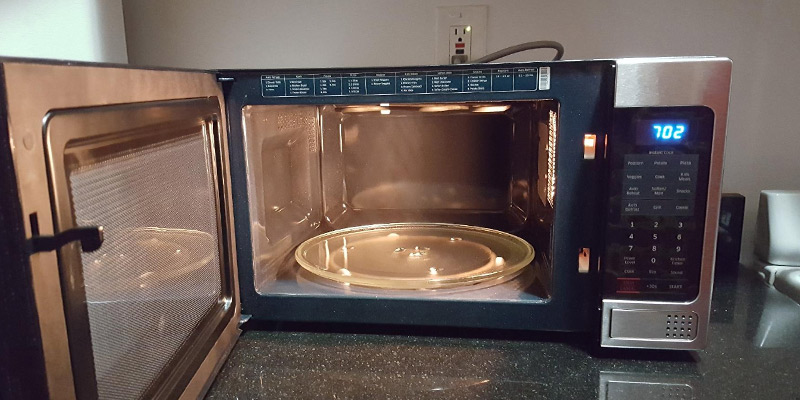 Additional Options
Powerful, functional, and easy-to-maintain, this model from Samsung also offers a number of additional options contributing to its safety and ease of use. Thus, if you think your dish isn't hot enough - use a handy +30s button and the food will be heated for additional half a minute or you can prolong an ongoing cooking process if necessary. A child safety lock option will keep the oven door securely closed and limit your kiddies access to the microwave interior and hot foods. Thanks to the chamber backlighting, you will be able to watch the cooking process and make changes to the current settings. And last but not least, this model has an odor removal function, which means you will need to spend even less time to clean it.
---
What customers say about this product
Adding to the weight is a metal exterior that uses a heavier gauge of sheet metal than the vast majority of stand-alone microwaves on the market. The reason for this is pretty simple. To keep people from burning themselves when coming into contact with the appliance.
Love the ability to turn off the sound mode on this Samsung model. Works great. Haven't used the toaster oven mode yet. It just seems too involved.
If you have no interest in the grilling feature you probably wouldn't want to buy this though, because it is definitely more expensive than a stand-alone microwave. If you are only going to use it for microwaving it is overkill.
The control panel is very easy to read, which is a plus. My old Sanyo was almost impossible to read, unless I practically had my nose on it. The push-to-open feature works perfectly. My old one only had a handle to yank open, which caused the microwave to shift position on the shelf.
Outstanding product. Excellent power, performs better than advertised. Included accessories are a great addition & work well.
Samsung MG11H2020CT
Toshiba EM131A5C-BS
Branded Quality at a Reasonable Price
When it comes to electronic appliances, Japanese manufacturers are indisputable leaders. Toshiba is one of the most popular and top-selling Japanese brands known worldwide. Though kitchen appliances are not their major profile, taking their best technologies, they've created a range of microwave ovens distinguished by branded quality. The EM131A5C-BS microwave is one of them. It stands out for a combo of solid quality and thought-out functionality offered at a reasonable price tag.
First things first, with 1100 watts under its hood, this model is at the higher end in terms of power, which means you can cook fast and the appliance will cope with literally any cooking task. Add to this 10 variable power settings and a built-in timer, and you'll have an opportunity to precisely customize the cooking settings to the recipe you have at hand. Besides, a One-touch start option will let you turn on the microwave at full power for 1 to 6 minutes at a press of a button for some quick and easy recipes.
In addition to individually adjustable cooking programs, the Toshiba offers several preset modes for commonly microwaved foods like popcorn, pizza, potato, rice, vegetables, or frozen entrees. You can also defrost foods or reheat pre-cooked meals for breakfast or late dinner. To maximize the cooking performance, this model is also fitted with a Sensor cook feature that will automatically adjust the unit operation. So, all your dishes will come out appetizing and tasty.
Speaking of the appliance design, it is moderate and straightforward. The body in a dark brushed steel finish will blend with any kitchen style. A large digital display is easy to read and intuitive controls make the unit operation a breeze. Meanwhile, a 1.2 cu.ft. capacity will let you cook both single-serve dishes and larger portions.
Forget About Messy Cleanups
Some technological perks are the forte of all Japanese appliances. Often minor at a glance, they really work in practice and add convenience. This Toshiba microwave is not an exception. Just like many other models, it has an enameled interior surface, which is pretty much typical for microwaves. However, what sets it apart from the others is the brand-specific EasyClean™ coating. Interior cleaning is by far the biggest issue about microwaves. Oily splashes and spills stick to the inner surfaces and are really hard to remove over time making microwave cleaning one of the most tiresome, time-taking, and boring kitchen tasks, hence, one of the least favorite ones. Yet, it won't be the case with the Toshiba. Thanks to that specific coating, the spills are easy to clean with a damp cloth, with no scrubbing or rubbing needed. Besides, the coating helps prevent foul odors build up inside the oven.
To put it in a nutshell, once again, let us state that with the Toshiba, you'll get a reliable microwave with a decent set of functions at a price that won't hit your budget too much.
Additional Info
---
Toshiba EM131A5C-BS
Hamilton Beach 700 Watt
A Match for Space-limited Kitchens
If your kitchen is limited in space, you are also limited in a number of appliances you can fit into it. However, a microwave is one of the modern kitchen must-haves and something that makes cooking really convenient and hassle-free. So, if you look for a full-fledged microwave for a small kitchen, we recommend turning your eyes to the Hamilton Beach.
With dimensions of 17.3 x 13.4 x 10.2 inches, this appliance is noticeably more compact in size than many other models. Hence, it will take less countertop space and featuring no extruding handle, it can be even put onto an overhanging shelf or built into a cabinet. Due to smaller dimensions, the Hamilton Beach has a somewhat lower capacity and offers only 0.7 cu.ft. instead of habitual 1 or 1.2 cu.ft. Yet, it still has a 10-inch turntable that can accommodate pizza or a pretty large cooking pan or bowl. Thus, the model is ideal for singles or couples and will even suit the cooking needs of a small family as well.
Packing 700 watts of power, the Hamilton Beach will still let you cook in a fast and efficient way. Meanwhile, it will consume less energy and won't add much to your electricity bills. When it comes to functionality, the appliance is in no way inferior to larger rivals. It will allow you to cook meals, defrost foods, and reheat precooked treats. Fitted with an integrated timer and 10 power settings, the unit can be precisely set to cook any dish, be it some simple quick dinner or a sophisticated dessert. Besides, a bunch of preset modes with pre-programmed time and power settings are great for making popcorn for a movie night or pizza for a quick nosh, melting frozen veggies or reheating your cold cup of Joe to bring back the original flavor of your hot drink.
Fitted With Some Minor Yet Meaningful Details
This compact microwave from Hamilton Beach is fairly simple and doesn't have an abundance of bells and whistles you'll come across in premium-class models. But let's be honest, we don't even use many of those add-ons. As simple as it is, the Hamilton Beach is also fairly affordable. With its price tag far below $100, it will fit even a stringent budget.
On the other hand, though, the model still has some minor details that enhance its convenience and safety. Thus, a child lock will prevent your kids from changing the settings and from opening the oven door during operation. Not only will this protect your little ones from burns but also will keep your meal intact. Besides, the turntable is made of tempered glass resistant to temperature changes and easily enduring heavy loads. On top of that, the plate is dishwasher safe taking every strain off out of the cleaning process.
In a word, if every inch of your kitchen countertop counts, yet, you want a functional microwave, you'll be hard-pressed to find a better compact model than this one from Hamilton Beach.
Additional Info
---
Hamilton Beach 700 Watt
Farberware Classic FMO11AHTBKD
A Choice for Creative Cooks
With a whole variety of cooking techniques and a myriad of different recipes, cooking today is kind of fine art. Meanwhile, modern kitchen appliances and different cooking gadgets allow creating restaurant-quality dishes right in your home kitchen. If you are one of those who drastically lack time on cooking, yet, still want to be able to create culinary masterpieces in your kitchen, the Farberware microwave will cover your needs.
To deliver an exceptional cooking experience and help you realize your boldest culinary ideas with ease, this model offers pre-programmed and custom cooking options combined with relatively high power of 1000 watts. Thus, you are free to choose among 6 preset menus to make a bucket of popcorn almost in a blink of an eye, cook pizzas and potatoes for a gathering with friends, quickly bake some veg to serve with steaks, quickly defrost a chicken, or simply reheat a dinner plate when you are not eager to cook at all. All these functions can be activated at a touch of a button and simplify cooking to the maximum allowing you to make some quick and easy treats and snacks for any occasion.
And if you like experimenting with ingredients or trying out new recipes, the multi-stage cooking feature is just what you need. This option allows programming the sequence of functions and the unit will automatically control them to be accomplished in proper order. It's a real find for complex and sophisticated recipes with numerous instructions to be followed. Yet, with the Farberware stage cooking, you will achieve excellent results from the very first time and with minimum effort.
... and a Stylish Piece of Kitchen Equipment
Along with on-par functionality, the Farberware boasts a sleek design that can't be overlooked. A moderate black control panel combined with a framed glass door perfectly fits into a brushed metal front panel in light bronze color. An exquisite handle of the same bronze color completes an elegant look, meanwhile, remaining fully functional and adding convenience when opening and shutting the door. Overall, such refined design will suit any kitchen interior style, be it modest classics, minimalistic high-tech, or a modern loft.
Stylish look aside, the Farberware is distinguished by a perfect balance of outer dimensions and inner capacity. Thus, pretty compact from the outside, the unit provides a generous interior capacity of 1.1 cu.ft. So, it easily accommodates a 12.4-inch turntable and allows using most baking pans, larger plates and food savers.
Summing up, the Farberware microwave will come in handy in any family kitchen and will become a perfect helper for cooking both simple quick meals and sophisticated dishes for special occasions.
Additional Info
---
Farberware Classic FMO11AHTBKD
What Is a Microwave Oven?
In the following review, we offer you the selection of the most popular microwave ovens so you can choose the most suitable one for you.

A microwave oven is a popular kitchen appliance, which is used not only at home but even in cafes and restaurants. Today, it is hard to imagine a house without a microwave oven in the kitchen. This appliance helps you cook quickly by just choosing a respective setting (also called a cooking program). Also, you can easily defrost any food within just several minutes. Unlike a conventional oven, a microwave oven heats up food from the inside (that is how microwaves work) and it takes very little time.
If you like to make toasts and some other pastry, we recommend you to consider buying one of the best toasters.
Do you like barbecue? Then, you will surely like our review of the best outdoor and camping grills.
What Features to Compare
With hundreds of reviews being written about microwave ovens it might be really difficult to find one offering enough explanations as to what aspects to consider when choosing an oven for yourself. What's more, it seems that many people have a problem figuring out what all those tech specs mean in layman's terms and how it's best to select a suitable oven. Hopefully, our guide will make it a bit easier for you. We've already selected five of the best microwave ovens available on the market right now so you can compare them, see how they stack up against each other and choose the one that best fits your needs without having to dig into tech specs that much.

Functionality
If you want to just heat some food up - the simplest microwave oven with a couple of dials will be enough for you. However, if you are going to use this appliance for cooking, you should, first of all, pay attention to the functionality of every model. This criterion depends on 2 major features - capacity and power. Small capacity (under 1 cu. ft.) is suitable for defrosting and heating food. A mid-sized cooking chamber (1-1.1 cu. ft.) is an optimal choice for a small family; many appliances of this kind have a built-in grill, so you can cook some delicious and crusty meals. A large microwave oven with a chamber of more than 1.2 cu. ft. is the best choice for a big family with several kids. Such ovens usually come with a special grate and, moreover, boast such technologies as grill and convection. The power heavily depends on capacity - the higher the latter is, the more power a microwave requires for cooking and heating. No need to mention, all modern microwave ovens allow you to choose the level of power: from the minimum to the highest one possible (it depends on each model). The optimal power for a microwave oven ranges from 700 to 1200 Watts.
Usability
The next important aspect to take into account when choosing a microwave oven is its usability. It goes without saying that one of the most important characteristics about microwave ovens defining their convenience of use is how fast they are able to reheat foods. However, it is not the only thing. Another important factor affecting its usability is how easy it is to maintain it clean. This is where it's important to take your time and learn what inner surfaces can be found in microwave ovens. The most popular one is enameled surface. This one is probably the easiest to clean of grease and dirt. Ceramic surfaces are also popular and will be appreciated by those who seek durability first and foremost. The advantage of a stainless steel coating, on top of its durability and great looks, is that it is also highly heat-resistant, one of the main reasons it's often used in convection microwave ovens and ovens with grills. Aside from the inner surface, the usability of a microwave oven is affected by its controls. You can find 3 types: mechanical, push-button, and sensor. Despite their primitive nature, mechanical controls are very reliable and intuitive in use. Push-buttons look more elaborated. And if you seek a high-tech model, there are sensor type controls that include a sensor panel and a LED screen showing all selected parameters.
Additional Options
The last but not the least, we'd recommend that you consider what other options besides the standard ones are included in the model. Many models may also feature a child lock, providing you confidence that your toddler won't open the oven when you are not at home. Others may include the function of steam purification, facilitating the cleaning part for you. All of these, and other extra functions, add to the convenience of use of a microwave oven.