Bluetooth headsets are extremely popular nowadays - you can talk on the phone, listen to music, and you do not need any wires. We
have picked 5 best Bluetooth headsets for you so go ahead and choose one of them.
...
Read more
...Read less
X
This site is a free online resource that strives to offer helpful content and comparison features to its visitors. Please be advised that the operator of this site accepts advertising compensation from certain companies that appear on the site, and such compensation impacts the location and order in which the companies (and/or their products) are presented, and in some cases may also impact the scoring that is assigned to them. The scoring that appears on this site is determined by the site operator in its sole discretion, and should NOT be relied upon for accuracy purposes. In fact, Company/product listings on this page DO NOT imply endorsement by the site operator. Except as expressly set forth in our Terms of Use, all representations and warranties regarding the information presented on this page are disclaimed. The information which appears on this site is subject to change at any time. More info
Plantronics Voyager 5200
More Comfortable Routine
The introduction of a mobile phone into everyday lives of virtually the entirety of human population led to a variety of changes to the average person's lifestyle and a shift in expectations regarding the said person's ability to stay in touch at all times. Of course, nobody has been affected by this sudden shift in societal landscape more than citizens of large metropolises involved in the world of business or advanced producer services one way or the other. Now more than ever they were required to constantly keep their finger on the pulse given the kind of means a mobile phone, and later a smartphone with an internet connection, provided in that regard. 
Obviously, while a handy device, a modern smartphone has its drawbacks like any other piece of technology. Given the size and the amount of time some individuals have to spend on their phone talking to people, constantly having to hold the device next to your ear can prove to be strenuous both for the hand and for the ear. This is where producers and distributors of peripherals decided to step in to provide some ever so required assistance introducing the world to a Bluetooth headset, a perfect solution to the aforementioned problem. If you seek to find some additional comfort to your everyday life, the Plantronics Voyager 5200 should serve as a great starting point.
Loud and Clear
The Plantronics Voyager 5200 Bluetooth Headset is an over-the-ear type of model meaning that it only occupies one of your ears leaving the other one free to multitask by listening to other sources of sound. With a 2.2-inch behind-the-ear unit and a 2.8-inch boom microphone, this device should be comfortable to wear regardless of your complexion. There's an on and off switch located on the back of the device and a couple of accessible volume buttons on top of it.
Without a doubt, one of the most important features a Bluetooth headset should possess would be a top-notch noise-canceling technology. These devices are used outside more often than not and that means your call's recipient is going to have to deal with a cacophony of unpleasant sound coming out of your speaker if your headset is not up to par in that regard. Fortunately, the Plantronics Voyager 5200 features an exclusive Windsmart technology. It is constructed in a way that four microphones work together in order to remove disturbing noises and wind from the equation.
Roam Free
The device has been built with an idea of everyday use in mind and part of it serves this purpose - from identifying a caller to controlling the level of your voice. The model is fairly easy to recharge with a handy and portable charging case. If you'd like some additional hours of power, a docking stand will solve that issue for you (although you're going to have to purchase it separately). And in case you were still wondering whether you should acquire this headset, its Bluetooth range extends up to one hundred feet so you wouldn't have to worry about roaming away from the source. So get one now and enjoy the comforting feeling of freedom and convenience.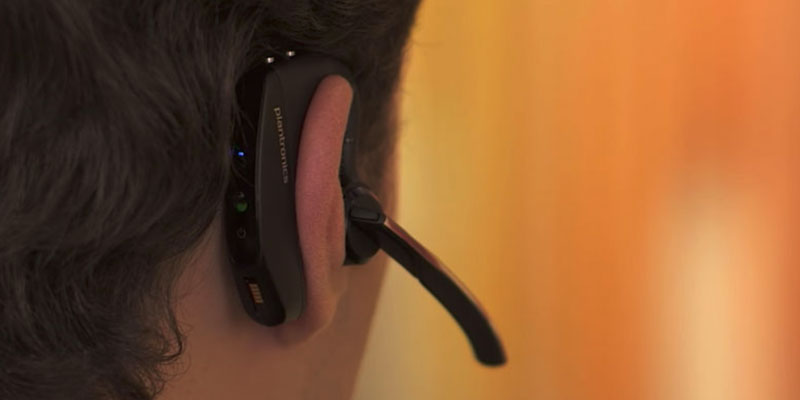 Additional Info
Last updated price

$

94.22

Stock
In stock
ASIN

B01H2RBQUG
---
What customers say about this product
This has the best noise cancellation by far compared to the dozens I've tried.
About the only good thing is that it can be charged by my previous microUSB charging cables and fits around the ear like the Voyager Legend.
The noise cancelling and wind blocking on this headset is amazing. The controls are easy and the Windows/Android software is great. Get the charge case for it as well. You won't be disappointed.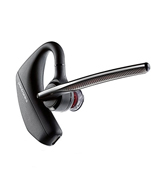 Plantronics Voyager 5200
LG Tone Pro
More Control
You don't get to get away with putting a "Pro" in the name of your product and not delivering on the promise. But we can't say that this is the case with LG Tone Pro. While an ambiguous title, the model has enough going for it to justify that title.
To start with, let's talk about jog buttons. They seem simple and, on a certain level, they really are. But they're also far more sophisticated than their traditional counterparts. The fluid volume and music controls just offer so much more flexibility compared to your typical volume up/down buttons, as well as the fast forward/rewind buttons.
The spin control doesn't just streamline these interactions but also gives you, well, more control over the headset, which is never a bad thing as far as we're concerned.
Manage Two Calls
So, the model is more convenient and practical than the majority of similar options, which is all well and good. But does it deliver on the functionality front? Well, we would say that it does. We might even go as far as to call this Bluetooth headset a powerhouse of features, as the sheer number of them here is impressive enough.
Of course, we aren't going to highlight all of them, but there are a couple that we would like to discuss. The first one is definitely the Advanced Multipoint feature. Just like Simple Multipoint, it connects the headset to 2 different phones. When one of these phones rings, the device automatically detects the right phone and puts you though. It works with Android phones as well as it does with iPhones.
But unlike its simple counterparts, Advanced Multipoint doesn't drop the first call for the second one. It puts the first one on hold and returns you to it the moment you're done with the second call. On top of that, it will allow you to switch between calls without dropping either one of them.
Quad-Layer Speaker
Aside from the Advanced Multipoint feature, the model comes equipped with the usual array of functions, including but not limited to the voice prompt, vibrating call alert, battery status alert, and the auto-reconnect function.
But, at the end of the day, none of it would be worth a dime without an appropriate sound quality. In this case, the manufacturers have implemented their own take on the quad-layer speaker technology, a technology that reduces distortion and delivers a deep and robust bass.
On top of that, it also provides a crisp treble and clear voice, making the device equally suitable for music and everyday conversation purposes. It may not be the loudest microphone but it is definitely up there.
All things considered, the LG HBS-760 Tone Pro definitely deserves the "pro" title. Aside from all the standard features, the model packs a few virtually exclusive technologies. The sound quality is great and the controls are practical and convenient.
Additional Info
Last updated price

$

0.00

Stock
May be out of stock
ASIN

B00WE1QYX0
---
What customers say about this product
I am pleased with the sound quality - probably doesn't cut it for an audiophile, but good enough for jamming out to some tunes or listen to some podcasts.
Easy pairing with my primary Android v6.0.1 smartphone and secondary Android v6.0.1 tablet
Very nice, light weight and comfortable
And the battery life is AMAZING! I generally go 5 days between charges
LG Tone Pro
Plantronics Explorer 50
Type
Plantronics Explorer 50 is a mono Bluetooth headset that you can wear on either ear. It supports Bluetooth 3.0 version and it's designed primarily for talking on the phone and for voice commands to your smartphone. Of course, you can listen to music but it isn't the best idea since listening to it with only one ear is uncomfortable and even harmful for your hearing. Those who need a wireless Bluetooth headset for music should get a stereo gadget. Plantronics Bluetooth headset is compact and doesn't cause any discomfort to a user.
Battery Life
This wireless Bluetooth headset has a rather high-capacity battery that provides enough power for talking all day long. The talking time reaches 11 hours. No need to say, not everybody talks so much every day and that's why a headset should have enough charge to remain active for as long as possible. Plantronics engineers have equipped this Bluetooth headset with a special DeepSleep mode - the gadget hibernates if it isn't used for too long. In this mode, the Bluetooth headset will be active for up to 3 months. Therefore, this is a helpful gadget for those who go on a trip.
Usability
It's easy to start using Plantronics Bluetooth headset since it takes very little time for configuration. It's very ergonomic and the earloop swivels and rotates so that you can wear the gadget on either ear. It isn't hard at all, so you can wear it for a long time without any problems. All the buttons are placed in such a way so that you easily control the calls and volume. Remember that even if your ear gets tired, you can quickly wear the gadget on another ear.
Extras
This is a small Bluetooth headset but it has a lot of features that make it superior over most its counterparts. For example, if you are in a noisy place, the person you are talking to will still be hearing you well owing to the efficient background noise reduction system. Multipoint technology allows you to connect 2 different smartphones to this Bluetooth headset, so you will be able to receive calls on either of them. It's an advantage for people who use several phones at home or at work. Next, Plantronics 50 Bluetooth headset will stream GPS directions - a handy feature for drivers. If you miss the moment when you need to recharge the headset, Plantronics will tell you about it by sound alert. Finally, Bluetooth technology has its operational range beyond which it doesn't work, but this Bluetooth headset will tell you when you are out of range.
Additional Info
Last updated price

$

79.00

Stock
In stock
ASIN

B00W3TAMG8
---
VIDEO
Plantronics Bluetooth Headset Review Explorer 50 / E50 / Plantronics Explorer 50
What customers say about this product
The call button will work with Siri so could make use of voice controls.
The sound quality is good but could be a bit louder. It is easy to operate and talk time is good.
When it does need charging I only have to plug it in for 30mins -1hr and I get back my 11hrs talking time!
Plantronics Explorer 50
Mpow Jaws Gen-4 (MPBH025BB-3)
Light Enough
The idea behind the Mpow Jaws Gen-4 Bluetooth headset's design was a simple one. The manufacturers weren't trying to chase the usual numbers that often drive the marketing force. You won't find here an array of unnecessary features with questionable value. As far as we can tell, there are no gimmicks here. This thing works and it works great.
For the most part, what we like about this product is just how comfortable it is. The silicone neckband has a pretty sleek appearance. But it really isn't about the appearance. The neckband is comfortable, and that's the important part. The whole thing weighs no more than 1.2 ounces, so you might just end up forgetting half the time that you even put the headset on.
The battery is no joke either. On a single charge, it will give you up to 13 hours of talk time. And, in the Standby mode, it will last for more than 2 weeks, which isn't bad at all if we do say so ourselves.
Superb Speech Transmission
Bluetooth headsets were designed for phone calls first and foremost. Which is why the audio quality still remains one of the most important aspects of these devices. If you don't get to hear the person on the other end of the line loud and clear enough and the said person can barely discern the words, then there isn't much of a point to a gadget like that.
And that brings us to the CVC 6.0 noise reduction technology and the CSR 8635 chip. Both of these components do a bang-up job of filtering out and minimizing the surrounding noise so that you get to enjoy a high-quality sound and the person talking to you a clear voice. The improved speech transmission alone makes this device one of the most attractive options in its price range.
Take It on the Road
People get Bluetooth headsets for their convenience, which is why you wouldn't be able to achieve any kind of commercial success in this segment of the market without making your product as practical as possible. And we'd say that the people behind this model have been able to do just that.
There is a decent number of buttons on the headset that will allow you to control the music and every aspect of the phone calls, all without having to reach for your phone. From the ability to switch the track and adjust the volume to the options of picking up and dropping the call, all of the basics are there.
The magnets inside the headset attract each other, making it easy and more convenient to transport the device. Speaking of which, the model comes with a hard protective carry bag, the sort of bag that will keep your headset safe on the road.
To sum all of it up, we like the Mpow Jaws Gen-4 for their practicality and convenience. We also like how comfortable and reliable the headset is. From listening to music to taking phone calls without having to reach for the phone, there is quite a lot this thing will do for you in exchange for a pretty reasonable price.
Additional Info
Last updated price

$

0.00

Stock
May be out of stock
ASIN

B075ZV96X6
---
Mpow Jaws Gen-4 (MPBH025BB-3)
TOORUN M26
Busy Lifestyle
The TOORUN M26 takes more of a classic approach. Since what we have here is an over-an-ear headset, it won't give you that stereo sound. So, naturally, while you can use it to listen to music, it really isn't that great of an option for that kind of purpose. This is a headset for people who require hands-free communication, a perfect solution for drivers or simply those individuals whose job requires them to constantly stay on the phone.
And it isn't just a functionality case either (though we will get to that in a moment). One of the things that make this product such a fitting choice for the aforementioned crowd is the lightweight construction. The whole headset weighs just 0.28 ounces. It looks pretty good too.
Though the elegant design isn't something that everyone cares about, the extremely lightweight construction will definitely appeal to anybody. You can wear it for hours and you won't even notice it's there.
Voice Commands
Now, as far as functionality is concerned, the headset is definitely no slouch. The first thing we would like to point out is the so-called Advanced Multipoint technology, a feature that will allow you to connect the device to 2 cell phones at the same time. You will be able to put one call on hold and resume it whenever you'll be done with the second call.
This isn't a bad option for the Apple crowd either. The headset will allow you to activate the Siri function. You can put the company's virtual assistant to good use and deactivate its voice recognition capabilities without touching your iPhone.
While we're still on the subject of voice commands, you'll also be able to activate voice reminders that will inform you of the battery status, provide an audio cue whenever you turn it on and off, as well as notify you when the device pairs with the phone and when you connect or disconnect with the caller.
The Right Mic
Though there are still a couple of functions we would like to talk about, there are a couple of things that pertain to the model's construction and performance that we would be remiss not to mention.
In terms of the former, this mono headset incorporates music controls. You'll be able to skip the song or go back to the previous one, as well as pause the music and put it back on again. It isn't much on paper but, considering that we're talking about a tiny gadget that weighs third of an ounce, these controls aren't a given either.
As for the model's performance, the high-sensitivity microphone picks up your voice even when you whisper standing next to it. The sound quality isn't too bad either. The usual CVC 6.0 noise reduction technology does a pretty good job of minimizing background noise and distortions.
So, with all of that in mind, we would say that this is easily one of the better budget options on the market for hands-free communication purposes. The long range of the mic and its sensitivity will prove to be equally effective while riding a bike or sitting in a crowded office.
Last updated price

$

16.85

Stock
In stock
ASIN

B01JA9J6UQ
---
TOORUN M26
What Is a Bluetooth Headset?
This review will tell you about 5 best Bluetooth headsets that make our daily phone talks easier and safer while listening to music gets very pleasant thanks to these gadgets. Bluetooth headsets can be connected to any mobile device that has a Bluetooth support - a smartphone, an MP3 player, a laptop, or even a computer. Therefore, you can also use Bluetooth headsets as headphones with a microphone.
The advantages of Bluetooth headsets against their wired analogs are quite clear: since the connection is wireless, you can freely move within 10 meters from a cell phone (or another gadget). Also, the best Bluetooth headsets can be connected to any device with a Bluetooth support.
All Bluetooth headsets are divided into 2 major types: mono and stereo. Mono Bluetooth headsets are those you wear on an ear and, therefore, provide a mono signal. This type of headsets is ideal for people who need this gadget for talking mostly (businessmen, etc.). Stereo Bluetooth headsets provide the sound for both ears so they are more versatile and can be used for listening to music.
If you want to enjoy the best quality of audio signal when you listen to music, do not skip reading our wireless headphones reviews.
What Features to Compare
You need to consider several important features when you are going to make a choice of the best Bluetooth headsets. There are many Bluetooth headsets reviews on the Internet, yet we have done our best to provide you with the detailed, clear, and useful comparison.
Type

The first feature you need to pay attention to is the type of Bluetooth headsets. We have already mentioned above that there are 2 main types of these gadgets: mono and stereo. If you want to get rid of wires and be flexible - pick a small mono headset. Many businessmen choose them in order to be always in touch. However, if listening to music is your priority - then you had better choose stereo Bluetooth headsets. Also, you need to remember about a type of Bluetooth - they are different and the newer the version of Bluetooth is the better the sound quality is. The best Bluetooth headsets go with Bluetooth 3.0 and higher (4.1 is the latest one).
Battery life

The second important feature you must find out is the battery life or the period of time your Bluetooth headset will work without a need of recharging. The exact capacity of batteries will not tell you much, so we will provide you with the precise time of autonomous operation of every Bluetooth headset. Here is what you need to know: a talk time, a music listening time, and a standby time.
Usability

Next, you must take the usability into account. You are going to wear your Bluetooth headset every day and that is why you must feel comfortable. Choose the design according to your preferences and make sure to pick the headset with an optimal weight. However, remember that the smaller the weight of a Bluetooth headset is the smaller is the battery and, therefore, battery life.
Extras

Finally, consider all the extras every Bluetooth headset provides. Here you need to know what profile is supported by your Bluetooth headset. There are 2 major profiles available: A2DP which supports stereo sound and is great for music listening, and AVRCP which is also perfect for music listening but provides more additional capabilities. As usual, AVRCP headsets have Play / Stop / Pause / Answer buttons and are better in terms of phone calls. Also, some Bluetooth headsets go with an APT-X codec which produces a high-quality signal. However, keep in mind that the more features a Bluetooth headset contains the more expensive it usually is.