Bluetooth headsets are extremely popular nowadays - you can talk on the phone, listen to music, and you do not need any wires. We
have picked 5 best Bluetooth headsets for you so go ahead and choose one of them.
...
Read more
...Read less
Plantronics Voyager 5200
More Comfortable Routine
The introduction of a mobile phone into everyday lives of virtually the entirety of human population led to a variety of changes to the average person's lifestyle and a shift in expectations regarding the said person's ability to stay in touch at all times. Of course, nobody has been affected by this sudden shift in societal landscape more than citizens of large metropolises involved in the world of business or advanced producer services one way or the other. Now more than ever they were required to constantly keep their finger on the pulse given the kind of means a mobile phone, and later a smartphone with an internet connection, provided in that regard. Obviously, while a handy device, a modern smartphone has its drawbacks like any other piece of technology. Given the size and the amount of time some individuals have to spend on their phone talking to people, constantly having to hold the device next to your ear can prove to be strenuous both for the hand and for the ear. This is where producers and distributors of peripherals decided to step in to provide some ever so required assistance introducing the world to a Bluetooth headset, a perfect solution to the aforementioned problem. If you seek to find some additional comfort to your everyday life, the Plantronics Voyager 5200 should serve as a great starting point.
Loud and Clear
The Plantronics Voyager 5200 Bluetooth Headset is an over-the-ear type of model meaning that it only occupies one of your ears leaving the other one free to multitask by listening to other sources of sound. With a 2.2-inch behind-the-ear unit and a 2.8-inch boom microphone, this device should be comfortable to wear regardless of your complexion. There's an on and off switch located on the back of the device and a couple of accessible volume buttons on top of it.
Without a doubt, one of the most important features a Bluetooth headset should possess would be a top-notch noise-canceling technology. These devices are used outside more often than not and that means your call's recipient is going to have to deal with a cacophony of unpleasant sound coming out of your speaker if your headset is not up to par in that regard. Fortunately, the Plantronics Voyager 5200 features an exclusive Windsmart technology. It is constructed in a way that four microphones work together in order to remove disturbing noises and wind from the equation.
Roam Free
The device has been built with an idea of everyday use in mind and part of it serves this purpose - from identifying a caller to controlling the level of your voice. The model is fairly easy to recharge with a handy and portable charging case. If you'd like some additional hours of power, a docking stand will solve that issue for you (although you're going to have to purchase it separately). And in case you were still wondering whether you should acquire this headset, its Bluetooth range extends up to one hundred feet so you wouldn't have to worry about roaming away from the source. So get one now and enjoy the comforting feeling of freedom and convenience.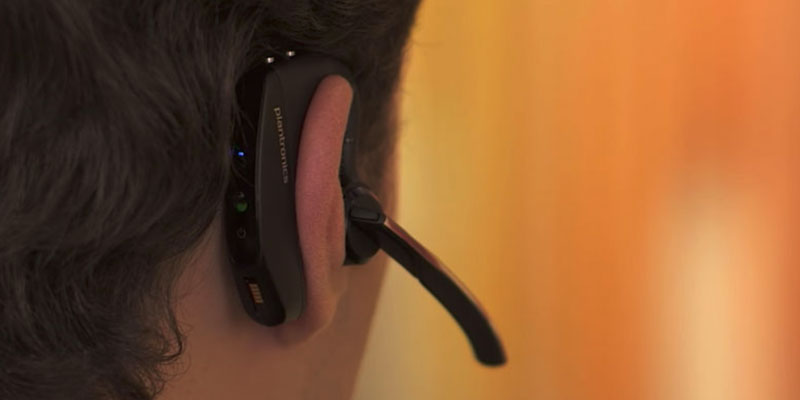 Additional Info
---
What customers say about this product
Decently-long talk time, about 5 hours on a full charge. Fairly easy-to-use controls with buttons that are large enough to find. Charges with any micro-USB cable. Easy to pair. Can connect two devices at the same time.
Charges with any micro-USB cable. Easy to pair. Can connect two devices at the same time.
Volume controls on the top of the earpiece are now raised buttons which are easier to find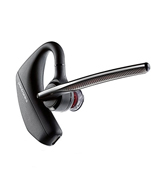 Plantronics Voyager 5200
LG Tone Pro HBS-750
Type
This is a stereo Bluetooth headset which provides an awesome sound quality and can be used by anyone. For example, it is very convenient to use it while riding a bike, jogging or simply working. The gadget supports Bluetooth 3.0 version which is not the latest one but provides awesome compatibility.
Battery Life
LG Tone Pro Bluetooth headset is popular partially due to its awesome battery life. You can talk for up to 15 hours, listen to music for up to 10 hours. In a standby mode this gadget remains active for up to 21 days (3 weeks!). The charging time is less than 2 hours and you can quickly recharge the headset when you need to.
Usability
This is an around-the-neck (or neckband) Bluetooth headset. It weighs just around 1.3 oz. (or 36 grams), so you are unlikely to feel any discomfort. This model has a lot of controls for music listeners: you can skip the tracks forward or backward, there is also a volume control button, a Play / Pause button.
Extras
It is a music-oriented best Bluetooth headset that is compatible with APT-X. Also, this gadget supports Google voice integrations which means a voice control is available to you; you can easily call who you want or carry out other commands without even moving a finger. And it takes just around 2 hours to charge the battery of this Bluetooth headset.
Additional Info
---
VIDEO
LG Tone Pro Wireless Bluetooth Stereo Headset HBS-750
LG Tone Pro HBS-750
Plantronics Explorer 50
Type
Plantronics Explorer 50 is a mono Bluetooth headset that you can wear on either ear. It supports Bluetooth 3.0 version and it's designed primarily for talking on the phone and for voice commands to your smartphone. Of course, you can listen to music but it isn't the best idea since listening to it with only one ear is uncomfortable and even harmful for your hearing. Those who need a wireless Bluetooth headset for music should get a stereo gadget. Plantronics Bluetooth headset is compact and doesn't cause any discomfort to a user.
Battery Life
This wireless Bluetooth headset has a rather high-capacity battery that provides enough power for talking all day long. The talking time reaches 11 hours. No need to say, not everybody talks so much every day and that's why a headset should have enough charge to remain active for as long as possible. Plantronics engineers have equipped this Bluetooth headset with a special DeepSleep mode - the gadget hibernates if it isn't used for too long. In this mode, the Bluetooth headset will be active for up to 3 months. Therefore, this is a helpful gadget for those who go on a trip.
Usability
It's easy to start using Plantronics Bluetooth headset since it takes very little time for configuration. It's very ergonomic and the earloop swivels and rotates so that you can wear the gadget on either ear. It isn't hard at all, so you can wear it for a long time without any problems. All the buttons are placed in such a way so that you easily control the calls and volume. Remember that even if your ear gets tired, you can quickly wear the gadget on another ear.
Extras
This is a small Bluetooth headset but it has a lot of features that make it superior over most its counterparts. For example, if you are in a noisy place, the person you are talking to will still be hearing you well owing to the efficient background noise reduction system. Multipoint technology allows you to connect 2 different smartphones to this Bluetooth headset, so you will be able to receive calls on either of them. It's an advantage for people who use several phones at home or at work. Next, Plantronics 50 Bluetooth headset will stream GPS directions - a handy feature for drivers. If you miss the moment when you need to recharge the headset, Plantronics will tell you about it by sound alert. Finally, Bluetooth technology has its operational range beyond which it doesn't work, but this Bluetooth headset will tell you when you are out of range.
Additional Info
---
VIDEO
Plantronics Bluetooth Headset Review Explorer 50 / E50 / Plantronics Explorer 50
Plantronics Explorer 50
AYL 4009152
Type
AYL V4.1 is a wireless stereo headset that supports Bluetooth 4.1 connection. Thanks to this latest version of Bluetooth, this headset minimizes interferences caused by LTE networks (this standard is used for providing portable devices with high-speed Internet). AYL headset has a sophisticated adaptive technology - if there are interferences on some frequency, it automatically chooses another one. All in all, this fantastic wireless headset provides extremely reliable connection. To be more exact, the LTE standard causes interferences in 75% cases for Bluetooth 4.0, the same rate for Bluetooth 4.1 is just 25%.
Battery Life
This Bluetooth headset is designed not only for wireless phone talks but also listening to music. Therefore, a battery life really matters. Thus, it is great that the battery of this gadget gives you up to 7 hours of continuous music experience. If you don't use the headset, it will remain ready-to-use for 7 days or around 175 hours. Overall, the polymer battery (80 mAh) is rather good, particularly for such a compact headset.
Usability
This AYL V4.1 Bluetooth headset is designed specifically for active people, so it's very compact and convenient. The whole construction is made in such a way so as to not cause any discomfort. An owner doesn't even notice the gadget - you can easily go jogging, do a workout at your local gym, go cycling, and so on. If you are worried about sweat, there's also nothing to worry about - AYL is sweatproof. The headset won't fall out of your ears, so you can do anything you want and as long as you want!
Extras
AYL V4.1 Bluetooth headset allows you to switch tracks without using your cell phone (or other portable devices), answer incoming phone calls, adjust the volume, etc. Moreover, the gadget boasts the CVC 6.0 digital noise reduction technology that maximizes the sound quality. If you have a couple of cell phones, you can connect this Bluetooth headset to both of them. That's a truly helpful feature for busy people. Speaking of operating systems, this headset is compatible with Android and iOS.
---
VIDEO
QY8 V4.1 Bluetooth Headphones Review
What customers say about this product
I am extremely happy with the AYL-QY8 Bluetooth headphones. I work out at the gym 5 - 6 days a week and need a reliable earbud/headphone. I was so tired of being plugged in, getting hung up on the treadmill or tangled while lifting weights
The battery life is decent - 1 week depending on my activity level (1 hour a day, 6 days a week)
The sound is amazing and clear, no distortion and easy to change volume or advance to next song or pause by a quick press of button on right ear bud!
They came with a handy vinyl bag for transport. I use it for holding the numerous ear size adapters.
AYL 4009152
Motorola H720
Type
It's a small on-ear Bluetooth headset which is designed for busy people who need to talk a lot on the phone without any problems. Of course, this gadget shows a typical maximal operational range for this type of devices - up to 20 feet or 1 wall. Therefore, if you leave your cell phone in your office and go to another part of the building - you will have no connection. However, most people rarely leave their cell phones and other gadgets and are online nearly any time.
Battery Life
Motorola Bluetooth headset shows a sufficient battery life. You have up to 8 hours of talking time which is enough to discuss all your business issues. If you don't use a headset, it will remain active for up to 11 days. Controlling the battery level is simple thanks to an LED light: it's blue when the battery is full, it's purple when you have between 4 and 7.5 hours of talking time, and it's red when less than 4 hours of talking are left.
Usability
Motorola wireless Bluetooth headset is very easy in use and convenient thanks to its on-ear design. The gadget is really small - just 0.5 oz., so your ear won't get tired. All the necessary buttons are easy-to-access. There's a call button, volume controls buttons, and an indicator light we've already mentioned. The light tells you about calls you missed, battery life, etc.
Extras
Any on-ear wireless Bluetooth headset is designed for people whose work depends on phone talks: businessmen, call center operators, etc. That's why any gadget of this kind has to provide as good sound quality as possible and Motorola has done its best for that. Motorola H720 earphone has an efficient combination of an advanced noise reduction and echo-cancellation technologies. This cutting-edge tandem lets you speak with other people without any problems and you might miss some parts of conversation only if you are in a really noisy and crowded place.
---
VIDEO
Motorola H720 Bluetooth Unboxing
What customers say about this product
Flip to talk makes answering calls relatively easy. Its Comfortable. Noise canceling works very well while on calls.
Since this model can be left on yet activated and deactivated by flipping the boom it eliminates the pocket dialing problem and the answering quickly problem. This is the main feature that keeps me coming back to this model.
The charge lasts a long time and it charges back up quickly.
Motorola H720
What Is a Bluetooth Headset?
This review will tell you about 5 best Bluetooth headsets that make our daily phone talks easier and safer while listening to music gets very pleasant thanks to these gadgets. Bluetooth headsets can be connected to any mobile device that has a Bluetooth support - a smartphone, an MP3 player, a laptop, or even a computer. Therefore, you can also use Bluetooth headsets as headphones with a microphone.
The advantages of Bluetooth headsets against their wired analogs are quite clear: since the connection is wireless, you can freely move within 10 meters from a cell phone (or another gadget). Also, the best Bluetooth headsets can be connected to any device with a Bluetooth support.
All Bluetooth headsets are divided into 2 major types: mono and stereo. Mono Bluetooth headsets are those you wear on an ear and, therefore, provide a mono signal. This type of headsets is ideal for people who need this gadget for talking mostly (businessmen, etc.). Stereo Bluetooth headsets provide the sound for both ears so they are more versatile and can be used for listening to music.
If you want to enjoy the best quality of audio signal when you listen to music, do not skip reading our wireless headphones reviews.
What Features to Compare
You need to consider several important features when you are going to make a choice of the best Bluetooth headsets. There are many Bluetooth headsets reviews on the Internet, yet we have done our best to provide you with the detailed, clear, and useful comparison.
The first feature you need to pay attention to is the Type of Bluetooth headsets. We have already mentioned above that there are 2 main types of these gadgets: mono and stereo. If you want to get rid of wires and be flexible - pick a small mono headset. Many businessmen choose them in order to be always in touch. However, if listening to music is your priority - then you had better choose stereo Bluetooth headsets. Also, you need to remember about a type of Bluetooth - they are different and the newer the version of Bluetooth is the better the sound quality is. The best Bluetooth headsets go with Bluetooth 3.0 and higher (4.1 is the latest one).
The second important feature you must find out is the Battery Life or the period of time your Bluetooth headset will work without a need of recharging. The exact capacity of batteries will not tell you much, so we will provide you with the precise time of autonomous operation of every Bluetooth headset. Here is what you need to know: a talk time, a music listening time, and a standby time.
Next, you must take the Usability into account. You are going to wear your Bluetooth headset every day and that is why you must feel comfortable. Choose the design according to your preferences and make sure to pick the headset with an optimal weight. However, remember that the smaller the weight of a Bluetooth headset is the smaller is the battery and, therefore, battery life.
Finally, consider all the Extras every Bluetooth headset provides. Here you need to know what profile is supported by your Bluetooth headset. There are 2 major profiles available: A2DP which supports stereo sound and is great for music listening, and AVRCP which is also perfect for music listening but provides more additional capabilities. As usual, AVRCP headsets have Play / Stop / Pause / Answer buttons and are better in terms of phone calls. Also, some Bluetooth headsets go with an APT-X codec which produces a high-quality signal. However, keep in mind that the more features a Bluetooth headset contains the more expensive it usually is.