Need an energy boost to increase your exercise performance? Want to improve fat loss and grow lean mass? Need to reduce muscle damage
and soreness after hard workouts? With one of these best BCAA supplements, you'll be able to achieve this goal. Proceed to read our review on the 5 top-selling brands and take your pick!
...
Read more
...Read less
X
This site is a free online resource that strives to offer helpful content and comparison features to its visitors. Please be advised that the operator of this site accepts advertising compensation from certain companies that appear on the site, and such compensation impacts the location and order in which the companies (and/or their products) are presented, and in some cases may also impact the scoring that is assigned to them. The scoring that appears on this site is determined by the site operator in its sole discretion, and should NOT be relied upon for accuracy purposes. In fact, Company/product listings on this page DO NOT imply endorsement by the site operator. Except as expressly set forth in our Terms of Use, all representations and warranties regarding the information presented on this page are disclaimed. The information which appears on this site is subject to change at any time. More info
Optimum Nutrition 1000mg, 400 Count
Top-quality Products for Your Best-ever Training Results
Optimum Nutrition is a leading sports nutrition brand and by far the most popular one among professional athletes and trainers. And for a good reason. Running their own production facilities (unlike most competitors), the folk behind Optimum Nutrition strongly focus on the quality of their products and impose strict requirements towards raw materials so that they meet the company's high standards. Meanwhile, the manufacturer laboratories carry on continuous tests and research to maintain those quality standards and find perfectly balanced supplement formulas. The same is true for the Optimum Nutrition BCAA supplement.
Many users think that all branched-chain amino acids are the same and what brand produces them isn't important. However, this way of thinking is definitely wrong. Though BCAAs are not medicine, they can still impact your health. With BCAA supplement from Optimum Nutrition though you don't need to worry and can be 100% sure that you get a premium quality product. It combines meticulously selected amino acids so you can achieve exactly what you strive for, causing no harm to your health.
The supplement follows a 2:1:1 of leucine to isoleucine and valine ratio (which is considered a golden standard) and comes in a capsule format. A single serving is composed of 2 capsules and contains 1000 mg of BCAAs. Thus, a pack of 400 caps equals 200 servings and will last nearly 3 months if you follow the manufacturer recommendation of taking 2 servings per day. A serving in the morning and another one before/after your workout will augment your daily diet with just the right amount of BCAAs and keep you fueled all day.
So if what you want is to get the most out of your body potential without suffering from muscle cramps afterwards, the Optimum Nutrition supplement should be down your alley.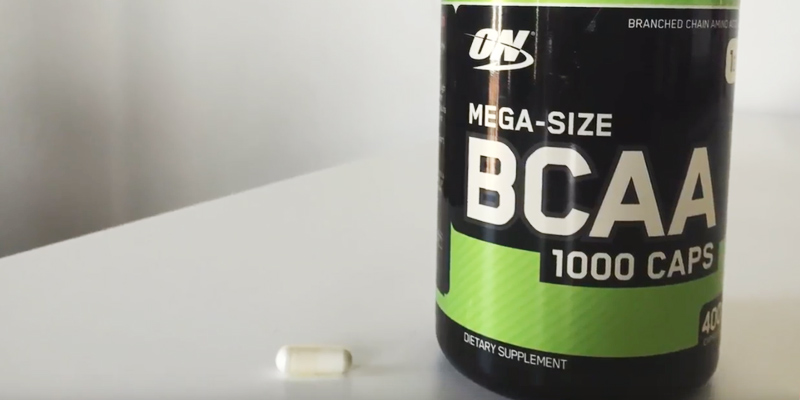 Take It as You Wish
Many athletes say that capsules are the most convenient form of supplements. They are dissolved and absorbed almost as quickly as powders but can save you the trouble and mess of having to mix powders into drinks. Moreover, an oblong shape and soft gelatin shell make capsules easy to swallow. Small Optimum Nutrition capsules are not only easy to swallow. Unlike many other supplements that come in the form of capsules, these ones take very quick to dissolve in liquid completely. This means you can safely add them to most any of your favorite drinks, including protein shake, smoothie, milk cocktail, and more. Flavor-free, the capsules will blend instantly and won't affect the taste of your drink.
Last updated price

$

26.84

Stock
In stock
ASIN

B000SOXALE
---
Optimum Nutrition 1000mg, 400 Count
Scivation Blue Raspberry, 30 Servings
Get an Immediate Energy Surge
It often happens that customers find some nutrition supplement ineffective and virtueless. Mainly, it is due to the fact that most supplements, especially those produced in solid forms, provide rather a cumulative effect which can be noticed only after a certain period of regular intake. Yet, not all supplements are the same. The Scivation BCAA powder will deliver an immediate energy boost with the very first serving. It comes in a form of a fine powder that smoothly dissolves in water and instantly releases essential BCAAs. Just scoop, shake, and drink the mix before the workout and you will feel more energized than ever.
What is notable about the Xtend powder is that, while featuring a standard 2:1:1 ratio of leucine, isoleucine, and valine, one serving contains 7 g of BCAAs instead of 3 to 5 g commonly found in other brands. And though the 416g pack isn't big and equals only 30 servings, it will last you a month if you stick with the recommended dosage of 1 serving a day (that's how much you need for intensive training).
A combo of an easy-to-absorb form with a high BCAA content is what brings a swift stimulating effect and makes the Xtend BCAA powder from Scivation extremely popular among world-class athletes, champion bodybuilders, experienced powerlifters, and training enthusiasts alike.

More Than an Energy Supplement
Unlike big solid pills difficult to swallow and powders with weirdly unpleasant tastes, the Xtend dry mix converts into a tasty nutritious cocktail. It comes with a scoop allowing you to accurately measure the right amount of powder to achieve a delicate flavor and necessary BCAA intake. This supplement is available in a whole range of flavors - from simple flavors like orange, grape, blueberry, ginger, lemon, strawberry, watermelon, and apple to more exotic ones such as margarita, pina colada, lemonade, strawberry mango, strawberry kiwi, and tangerine. Though the drink tastes sweet, it is sugar-free and zero carb, which makes it an ideal match for a low-calorie diet and those who try to lose weight.
The Xtend supplement is not only the essence of BCAAs and some excipients. In addition to branched-chain amino acids that help optimize muscle protein synthesis, reduce muscle soreness, and enhance endurance, the blend is enriched with glutamine for gut health, citrulline for improved circulation, vitamin B6 to retain muscle and slow down catabolism, and a special electrolyte combo to induce hydration.
With the Scivation Xtend BCAA powder, you'll get a well-balanced complex of amino acids and nutrients that will help you get through your grueling gym sessions, efficiently burn fat, grow your lean mass, and feel rather energized than exhausted after exercising.
Last updated price

$

19.92

Stock
In stock
ASIN

B00LALNIOI
---
Scivation Blue Raspberry, 30 Servings
Crazy Muscle 1000mg, 120 Pill
Maximized Formula for Maximum Training Results
For many people, a lean athletic body with ideally contoured muscles is not a natural gift but rather a result of a strict diet paired with hard work and regular harassing exercises. Yet, the beauty has its price and every pain you take during workouts will be fully paid off with perfectly shaped body contours. For men, it's a masculine torso and six-pack abs, while for women, it's lifted buttocks and flat belly. It's not a secret that BCAAs can make those gym pains less painful and more resultative. The question is why some trainees who take BCAAs enjoy quick accomplishments and others run in place for months? The answer is: it all depends on the supplement potency and BCAA dosage in it.
The company with a symbolic name "Crazy Muscle has derived a BCAA supplement formula that will help you achieve maximum training results within a maximum short timeframe.
The company still sticks to a 2:1:1 of leucine to isoleucine and valine ratio, a fine line proved and supported by numerous researches and a rule of thumb for all sports nutrition manufacturers. They haven't increased or changed the ratio, although that wouldn't provide any wow effect. What they did is maximized the content of BCAAs per serving. While most pills, capsules, and even powders provide from 1000 to maximum 2000 mg of BCAA per serving, the Crazy Muscle offers 3000 mg which is close to the most potent premium powders. 1500 mg of leucine will trigger muscle growth, 750 g of isoleucine will support protein build up for higher energy levels, and 750 g of valine improve muscle metabolism to promote quick tissue repair. Take 3 pills before your workout to squeeze out the maximum from your sets and reps and 3 pills after to fix the result.
Though some users complain that pills are big and somewhat difficult to swallow, for many people it's still more convenient than having to carry a jug all the time and mixing drinks on the go.
The Crazy Muscle BCAA supplement will help you maximize your training outputs and build a strong and beautiful body much more quickly. And you'll get a good mood and improved stamina as a positive side effect.
Pharmaceutical-grade Quality
Nutrition supplements are not medicinal products. Their content and production are normally not regulated by FDA. Hence, material and production quality control is an entire responsibility of the manufacturer. The Crazy Muscle really excels in this. The company outsources research work and production of its products. But it should be noted that their BCAA supplement is formulated in an FDA registered laboratory and manufactured in a GMP certified facility. It means that the quality of raw materials, as well as all production processes, is strictly monitored and checked to meet the highest standards adopted for the pharmaceutical industry. So, you can be 100% sure that you'll get a pharmaceutical-grade product the quality of which is second to none.
Last updated price

$

16.82

Stock
In stock
ASIN

B06XZL49WV
---
Crazy Muscle 1000mg, 120 Pill
MET-Rx BCAA 2200 (180 count)
Created to Achieve Ambitious Sports Goals
While for some people sport is a way of keeping fit, there are also professional athletes who do sports for a living. They train heavily on a regular basis and always strive to improve their results, competing with themselves. The odd thing is you may work hard, exhaust yourself daily, and still see no result. Many people face up to this problem but not all of these people have enough patience to keep on training, some just slack off and go with the flow. If this sounds familiar, what you need is a good booster that will kick-start your body forces. Something like the MET-Rx BCAA supplement. Designed specifically for athletes and bodybuilders, this training fuel will provide you with enough energy and let you reach all your goals.
The supplement comes in the form of soft gels. These are gelatin capsules with a liquid BCAA concentrate inside. Though pretty big in size, soft gels are easier to swallow than solid pills and much more convenient to take than messy powders. A single pack contains 180 capsules that equal 25 servings. Given that you should take 4 soft gels at a time, it is not too much. However, considering the price of the serving, it's a good value for money. Besides, you can always get another pack.
A single serving will deliver 1200 mg of leucine, 500 mg of isoleucine, and 500 of valine accordingly, which slightly deviates from a 2:1:1 ratio. However, there is a reason for that. Leucine is an amino acid involved in fat metabolism and a human body needs this acid in much larger proportions compared to isoleucine and valine to efficiently break down fat and reveal additional energy. An increased leucine content helps burn fat faster and further enhance a boosting effect.
Whether you are a fitness enthusiast with personal high objectives and expectations or an experienced athlete striving to hit ambitious sports goals, the MET-Rx BCAA supplement will not disappoint you. 
Packed With Extra Vitamins
Despite a fairly affordable price tag, the MET-Rx soft gels offer you the advantage you will not often find even in leading premium brands. In addition to a combo of branched-chain amino acids, the supplement is packed with vitamins E and B6, the former serving as a medium to suspend amino acids and the latter helping to enhance BCAA metabolism. This and the brand-specific NitroGel technology ensure a faster delivery of amino acids making sure your body absorbs and ingests BCAAs better and quicker.
Apart from the functional purpose, these vitamins provide additional health benefits. Thus, the vitamin B6 helps your body restore proteins as it regulates the metabolism of the nitrogen, one of the main protein blocks. Meanwhile, the vitamin E provides an antioxidant effect, supports the immune system, and maintains the skin health. A winning solution.
Last updated price

$

0.00

Stock
May be out of stock
ASIN

B000XH6PUE
---
MET-Rx BCAA 2200 (180 count)
BulkSupplements 2.2 pounds
Enjoy the Purest Benefits
Produced by one of the leaders in sports nutrition and replacement supplements, the quality of this BCAA powder is out of question. You can be sure that taking this supplement during workouts will do you nothing but good. When it comes to convenience, it also shines. Dissolved into a drink, it's easy to swallow, quickly absorbed by your body, and provides almost immediate effect. 
Yet, the quality and ease with which this supplement can be taken are not the only its strong points. What we find particularly great about this supplement is that it comes in the pure form and contains nothing but branched-chain amino acids in a standard 2:1:1 proportion. Unlike most capsules, pills, soft gels, and flavored powders which contain tons of excipients, emulsifiers, sweeteners, and chemical colorants, the Bulk Supplements BCAA powder has no additives at all, which means it can be safely used even by allergic customers. The only negative is that because it has no sweeteners, not everyone might like its taste.  This problem can be easily fixed though. If you don't like its taste that much, you can simply dilute it with juice, smoothie, or fruit puree. 
In all, if you're looking for a source of pure energy that will help you change the way your exercise and unleash your physical potential to the maximum, this sports supplement is definitely worth a try.
The Best Bang for the Buck
This supplement is certainly a good value for the money, which might not seem that obvious from the first glance. However, once you look a bit closer and make a few calculations you'll see what we mean. In comparison with most brands providing about 50 servings per pack, Bulk Supplements offers as many as 667 servings per 2.2 lbs pack, the amount enough for a few months of use! Not only that. If you calculate the price per serving by BCAA content, you'll see the same thing. Compared to many other powders, this one offers one of the highest BCAA content. All this makes it a better value all around.
Last updated price

$

39.96

Stock
In stock
ASIN

B00E7GV6GA
---
BulkSupplements 2.2 pounds
What Is a BCAA Supplement?
Today, more and more people are getting into a healthy lifestyle, and physical exercises are part and parcel of healthy living. Besides professional athletes who go in for sports seriously, every other person is involved in some kind of workouts or fitness activities, so the fitness industry is booming, offering a myriad of products to help people maximize their training abilities and achieve their fitness goals. The product range varies greatly - from protein bars and detox teas to ready-made diet plans and complex nutrition supplements such as whey proteins, testosterone boosters, and amino acids.
Branched-chain amino acids or BCAAs supplements, as they are also called, are one of the most popular sports nutrition supplements that were called so due to their close resemblance with the acid chemical structure that looks like a branched chain.
There are three essential amino acids: leucine, isoleucine, and valine. The reason they are called essential is that they are not produced by a human body and can be taken only from food. So BBAs play an important role in protein synthesis and muscle maintenance. They help metabolize fat into energy, boosting your physical forces for more intensive training, and help quicker muscle recovery, allowing you to experience less pain and soreness in your body after workouts. All this makes BCAAs a great pre-workout and post-workout supplement suitable both for 
gaining muscle mass
and for
burning excessive fat
.
What Features to Compare
Product Form
BCAA supplements are available in a variety of forms, namely pills, capsules, soft gels, and powders, so you can choose what suits you better. Many people prefer powders as they are the quickest and easiest to absorb. When added to water, they almost instantly release essential BCAAs, plus they offer the highest content of amino acids per serving. These are probably two main reasons why so many people stick to them.
Pills, capsules and soft gels, on the other hand, are much more convenient to take on-the-go. You can simply fetch one or two servings and tuck them in your purse or bag, not risking to spill them. Unlike powders, with solid forms, you don't need any bottles or containers to mix the drink. Having some water is enough to swallow a pill. The only drawback of pills is that they offer a lower BCAA dosage, meaning that one serving may be composed of several pills, making them quite an expensive option.
BCAA Content per Serving
As the result of numerous studies, experts have derived an ideal BCAA formula that allows for achieving a maximum effect. It contains leucine, isoleucine, and valine in proportion of 2:1:1 accordingly. This formula has become a standard for many manufacturers which they stick to, varying the amount of BCAAs only in milligrams. This explains why powders contain a higher amount of BCAA and solid forms have a lower dosage. Just to give you some numbers, the content of BCAA for powders usually ranges from 2 to 7 g per serving and makes only 1-3.5 g for solid forms. Now you see why pills can be more expensive.
Other Ingredients
Besides BCAAs substrate, supplements may contain other ingredients and elements, depending on what form you choose. The commonly added ingredients are emulsifiers, solidifiers, colorants, and flavorings (for flavored drink mixes). Some of these side ingredients may cause allergic reactions though, so if you're prone to allergies or/are sensitive to any substances listed in the contents, you'd better choose a different supplement. There are many powders that offer the pure essence of BCAAs without any additives. Aside from excipients, many BCAAs may contain vitamins and other amino acids, important for protein synthesis. So, you have many options what supplement to choose.
Did you know?
Dieting Can "Kill" Your Muscles
Exercising helps sculpture your body and improve its contours. Yet, exercising is not effective without a proper diet. Hence, both those who try to gain some weight and those who want to become slimmer usually combine exercising with a specific diet. However, this diet should be perfectly balanced and developed taking into account your individual body needs and peculiarities of your metabolism. Simply drastically cutting the carbs and fats intake is an inherently wrong way, especially if you want to keep lean muscles or even gain some muscle mass. Surprised? But have you ever think that a low-calorie diet could be a muscle killer?
Let's be honest, our body is reluctant to lose fat. Thus, we have to work really hard to get rid of excess stocks. Yet, when we banish the overstock, the body will strive to keep the minimum fat store for a rainy day. For that reason, the slimmer you get, the more likely you will lose your muscle mass than the remaining fat. The body will derive muscle protein to turn it into energy. When training, you need even more proteins, and if there is no fat, the body will turn to muscles. So, unless you replenish the protein input and bump up the protein synthesis, you'll hardly be able to grow muscles. That's why a protein-rich diet combined with a BCAA supplement might become a success formula for all slimmers and bodybuilders alike.
BCAAs Benefits and Side Effects
Some say that BCAA supplements are useless and one can get all the necessary BCAAs from foods while others claim that BCAAs are irreplaceable helpers for gaining skeletal muscles. So many men, so many minds. But the truth is that BCAAs are essential for a human body and BCAA supplements have been proven to be efficient by many fitness trainers, experienced athletes, and bodybuilders worldwide. Along with significantly improved exercise performance and post-workout recovery, BCAAs provide a bunch of health benefits you might be not aware of.
BCAAs reduce blood CO2 levels and increase oxygen intake by inducing better lung ventilation;

BCAA supplementation bumps up the albumin level in the blood that maintains and improves liver health;

BCAAs minimize the risk of heart failures since they stabilize heart rate, support heart function, and boost mitochondrial function;

BCAA supplements improve insulin resistance and lower blood sugar levels at type one diabetic patients;

Supplemented BCAAs help combat sleeping disorders and improve the quality of your sleep.
However, BCAA supplements are not a magic elixir or a cure-all remedy and they also have some side effect.
Taken in the form of supplements, BCAAs might cause hyperammonemia (abnormally high ammonia level in blood) that in its turn leads to increased fatigue;

Bumped up BCAA levels can result in amyotrophic lateral sclerosis due to neurons being excited up to dangerously toxic levels;

BCAA supplementation is known to inhibit absorption of other amino acids.
To avoid the occurrence of these side effects, it is recommended to take BCAA supplements moderately and after consultations with your doctor.