Trying to lose a few pounds and looking for a magical diet that will give you fast results? You definitely need a planned and structured
approach. Below we've selected the top five comprehensive diet plans that can help you achieve your weight-loss goals not only quickly but also in a healthy way.
...
Read more
...Read less
DIET PLAN OPTIONS AND DURATION
X
This site is a free online resource that strives to offer helpful content and comparison features to its visitors. Please be advised that the operator of this site accepts advertising compensation from certain companies that appear on the site, and such compensation impacts the location and order in which the companies (and/or their products) are presented, and in some cases may also impact the scoring that is assigned to them. The scoring that appears on this site is determined by the site operator in its sole discretion, and should NOT be relied upon for accuracy purposes. In fact, Company/product listings on this page DO NOT imply endorsement by the site operator. Except as expressly set forth in our Terms of Use, all representations and warranties regarding the information presented on this page are disclaimed. The information which appears on this site is subject to change at any time. More info
Diet.com Meal Plans
User Settings
With this online diet service, you can choose a diet and workout plan according to your current physical condition and weight-loss goals. Simply fill out a registration form and answer quiz questions to get a free custom weight loss plan tailored to your personal needs. After registration, you will get a 3-day access to eight lifestyle-based meal plans for the 1200-1500 calorie levels. For a full version of the program, you'll need to upgrade your account to Premium monthly subscription. There is a diet recipe library with over 1000 delectable, healthy recipes that you can search by keywords, meal, and cuisine types or nutrition information. The same goes for the weight loss workouts. First, you can try sample workouts for different fitness levels, and after you register, you'll be able to design your workout plan.

Useful Tools
This online service offers a great number of unique tools which can help you design your custom weight loss plan and keep track of your progress. Here you'll find diet tracking, meal planning as well as monthly fitness and motivation calendar with tips and personal challenges for staying motivated in the long-run. Besides, there is a variety of easy-to-follow recipe and workout videos. Online support includes message boards where you can discuss diet topics and start a buddy chat with people who have similar goals, sharing your experience of weight loss.

Plenty of Information and Support Available
Diet.com offers lots of information, including expert blogs that you can filter by topics and get recommendations on your health condition along with a personalized diet and workout program. In a huge A-Z library, you can find more information about diet and fitness programs. This online weight loss service has got everything to make it easy for you to achieve your weight-loss goals and quickly get in shape.
Keep Track of Your Physical Activity
When you're outside, a fitness tracker will come in handy to track your gradual progress towards your weight-loss goals by monitoring your physical activity. The tracker measures the steps you take each day, hours slept, and calories burned. So, it's an excellent device for maintaining good health and wellness.

---
Diet.com Meal Plans
Nutrisystem Online Diet Service
Simplify Your Weight Loss Journey
Losing weight can be easier if you address this issue to the Nutrisystem. The Nutrisystem will help plan your meals the smart way by determining portion sizes, advising you what and when to eat, preparing and delivering meals to your address. It makes for the calorie restriction and tried-and-true dieting strategy. The Nutrisystem's basic concepts are meal planning and portion control. The crux of the diet lies in the glycemic index that is a measurement of carb-containing foods and their impact on the level of your blood sugar. The diet is rich in protein with an emphasis on healthy carbs, such as veggies and whole grains. They are metabolized more slowly, which makes you feel full for longer. The secret that has helped millions of people lose weight is simple - balanced nutrition, portion control, and frequent meals.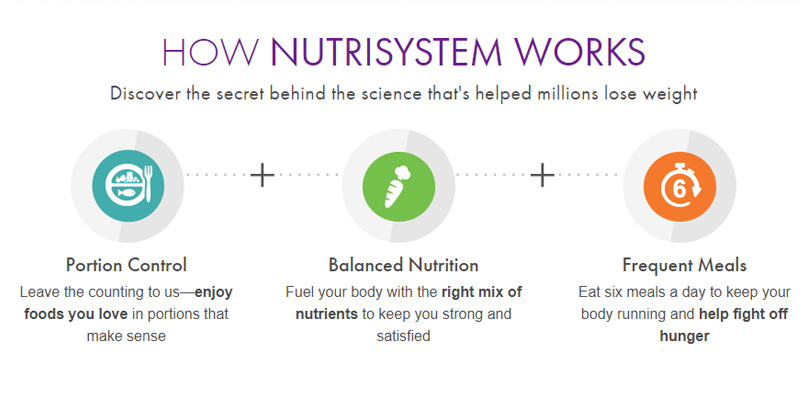 Everything You Need to Know Aout the Nutrisystem Diet
Start your weight loss program with Turbo Take Off Week. During this week you are going to eat about 1000 calories per day consuming Nutrisystem entrees and shakes, rich in protein, probiotics, and fiber. Yet, you can't avoid the supermarket completely. You'll have to buy the obligatory protein, vegetables, fruit, and dairy products to supplement your Nutrisystem's meals. There are gender-specific programs for seniors and adults, as well as diabetics, and vegetarians. The program can also be customized to correspond to DASH diet recommendations for increased intake of whole grains, fruit, veggies, and low-fat dairy. Besides, there is a revolutionary NuMi weight loss plan which provides dieters with the health platforms and fitness devices for successful weight loss. It also runs The Leaf website, where you can find recipes and tips on the Nutrisystem meals. By following the meal plan, you will boost your weight loss with less effort.
How Nutrisystem Works
Choose from a plethora of plans available according to your lifestyle and personal needs.
Pick your meals from Custom Menu or Favorite Pack of popular foods.
You'll get your order in 4-10 business days.

Leg Injury Prevention
To avoid leg injuries during your training sessions, we suggest you wear compression socks. They stimulate better blood circulation, alleviate swelling, and prevent blood clots in your legs.

---
Nutrisystem Online Diet Service
Beachbody Diet&Fitness
Create a Fitter, Stronger, and Healthier You
Are you dreaming about losing weight and burning extra calories? Try the Beachbody On Demand. This online service offers a large library of online fitness programs that will help you fully transform your body and get the desired results. Over 600 workouts will help you get into fighting shape. With so many workout options, you'll definitely find a program that will work perfectly for you. Choose from a wide variety of workouts the plan which caters to your fitness level and interests - yoga, resistance, strength, and cardio training. Additionally, you'll get access to lots of tools including Exclusive Super Trainer workouts, detailed fitness and nutrition guides, personalized meal plans, workout calendar, and a new Fixate Cooking Show. What is more, you can communicate with well-known trainers like Autumn Calabrese, Tony Horton, Sagi Kalev, and others via live chats. The Beachbody diet plan has helped millions of people of different ages and physical levels get in their best shape ever.

Mobile-friendly Workouts
Today, people who want to get in shape, don't need to go to the gym. They can exercise in the privacy of their own homes by getting a membership at Beachbody on Demand. This service is designed to help people achieve their best bodies, no matter how busy they are. Choose from a plethora of the world's most acclaimed workout videos, namely INSANITY, Hip Hop Abs, and P90X. The videos are available for streaming, so you can take your Beachbody On Demand programs wherever you go, streaming your workouts from any device - phone, tablet, laptop, or TV irrespective of time or location. What is more, every month new programs are added to the library. After you sign up to Beachbody on Demand, you'll be able to watch hundreds of popular workout videos via your electronic devices. You can also get a free, 30-day trial offer and test it out for a full month.

How to Relieve Your Sore Muscles?
Feeling post-workout soreness? Sore muscles usually mean that you have pushed yourself too hard during your workout. Here are easy ways to reduce delayed-onset muscle soreness:
1. Stretch
Stretching after a good workout is a highly recommended practice. When you exercise, your muscles are contracted, and your muscle fibers get shorter. Stretching helps loosen up your muscles and joints, promoting muscle recovery.
2. Eat right food for fast recovery
Make sure you get enough proteins, fats, carbohydrates that play important roles in promoting muscle repair. Your muscle recovery increases a few hours after a workout and during your sleep. Beachbody Performance Recover includes a pomegranate extract which helps reduce post-workout pain. Beachbody Performance Recharge overnight protein supplement includes tart cherry extract that helps reduce muscle soreness and promote recovery.
3. Consume favor fatty acids
Consume foods that are rich in omega-3 fatty acid, namely salmon, flax, avocado, walnuts, and free-range meat that help reduce muscle inflammation after overexertion.
4. Keep moving
When everything hurts, moving is the last thing you want to do. Though this is exactly what you need. This kind of activity is called active recovery. The Beachbody program comes with recovery workouts that are designed to aid post-workout soreness and can be used anytime you need. An easy hike or a gentle yoga class is also a good option.

Improve Your Performance
A muscle stimulation has excellent therapeutic and athletic benefits! Integrate a muscle stimulator into your day-to-day exercise routine to speed up muscle recovery after intensive training sessions and rid yourself of the feeling of fatigue.
---
Beachbody Diet&Fitness
Paleo Plan Meal Plans
Find out What Benefits You Could Get
Meal planning can be quite a difficult task, from looking for healthy and nutritionally balanced recipes to calculating what to buy. Doing the right thing for your body is like a full-time job.
The Paleo Plan Meal Plans will help you plan your meals in a smart way. This weekly meal planning service offers:
- A fresh Paleo menu for two delivered weekly to your inbox (three meals a day and a snack).
- All recipes are gluten-free, vegetable oil-free, dairy-free, grain-free, and legume-free.
- Easy-to-prepare and kitchen-tested recipes created by Paleo chef and a nutrition therapist.
- Flex menu, which includes one cheat day each week. The idea of a cheat day is simple: you get a free pass to eat whatever you want, without sticking to your diet. A cheat day is particularly useful for those who have just started a new eating plan and needs a little wiggle room in their diet or if you have a weight loss plateau.
- Food substitutions, if you suffer from an allergy or don't like a certain food.
- Complete meal prep and shopping lists to save you time and cut food waste.
- Customized meal plan based on personal needs and preferences
A Complete Meal Planning System
The Paleo meal plans give you complete control over the meal planning process.
Many of the recipes include food substitutions if you can't find an ingredient or simply don't like certain foods.

New delicious recipes are regularly introduced to diversify your diet and help you stay efficient in the kitchen.

Menus are thoroughly planned to use all the ingredients you buy, without wasting food and money. There are also some nutritious, tasty meals that use up your leftover ingredients.

Each shopping list is designed for small or big households.

Start Meal Planning in 3 Steps
Step 1: Identify your pain points
Before you solve the problem, you should identify it. To make an effective meal plan, find your pain points. A pain point is a problem that trips you up and destroys your good intentions.
For example:
- You have no fridge at work, so eating fast food is the only way out.
- You come back home very late and have no time to cook, so you end up ordering takeout.
Step 2: Find your planning style
Then you should find your planning style, which addresses your pain points. If your pain point is "I have no time for cooking", then a diet plan with complicated dinners isn't going to be effective. Thus, you need to find a meal planning style that is best for you.
Here are some suggestions:
Good for: "I come back home late and I'm too tired to cook all these fancy Paleo recipes".
You need: A planner or calendar, shopping list, and a computer.
How it works: Find simple Paleo recipes every week. You can also try some delicious meals that use up your leftover ingredients, so you don't have to always cook something new. Write down these recipes in your planner and add the necessary ingredients to the shopping list. You need to shop once a week to always have something easy and quick to make.
You can experiment with various methods until you find the one that works and then you can modify it until it fits you properly.
Step 3: Work out your own meal planning system
Reading meal planning tips won't help. You need to work out your own meal planning system. Don't get upset if your system isn't perfect enough. It's a lifestyle change, not a "two-week diet", so you have enough time to improve your system. You can start with a sample 14-day plan, modifying it to meet your personal needs or copying it exactly.

A Natural Remedy to Improve Your Digestion
If you have any digestive problems, probiotics will help your body work the way it should. Probiotics are live bacteria which promote a healthy balance of gut bacteria. They naturally boost immune systems and even fight obesity.

---
Paleo Plan Meal Plans
HealthyWage Make your weight loss bet today!
What Motivates You?
The HealthyWage offers people the chance to earn money for losing weight. Founded in 2009 in New York, the objective of HealthyWage is to provide innovative methods to have a measurable impact on the increasing obesity. So they use cash incentives to encourage healthy behaviours and make the difficult task of losing weight an exciting, fun event. However, it's not just about individuals, as HealthyWage also specializes in challenges for large private- and public-sector employers and other organizations in the US and throughout the world. The HealthyWage programs work great for companies, which are interested in jump-starting new wellness programs, reducing sick days and healthcare costs, and increasing employee morale. They offer financial incentives to help employees maintain their weight for a year and continue after the program ends.
For many people weight loss is one of the hardest tasks to accomplish on their own. Such elements as teamwork and competition in the program provide the social support you may need to make your weight loss successful. The teamwork also adds a bit of fun to the process.

HealthyWager Challenge Rules
How does this program work?
1. Sign up
You need a few minutes to sign up on the website and win money.
2. Place your wager
Choose how many pounds you want to lose, the number of months to achieve your goal and the sum of money you want to wager. Then the HealthyWager algorithm will offer you a prize amount.
3. Lose weight
To win money, you should achieve your weight goal by the last day of the wager. If you lose your weight earlier, you should maintain your result or lose more weight. In case you don't lose the selected weight during your wager, you won't win any prize.
4. Increase your prize
Your prize can be increased by $40 for each person you refer. It's a win-win offer. You get paid only if you win the HealthyWager and only for those who sign up via your referral link. You get money even if the people you refer lose their bets. However, you won't get your referral bonus if the people don't pay for participation or accept a referral by other participants before you referred them.
5. Inform about your weight You should inform about your weight weekly on the website, but it's not compulsory. You will not be disqualified for it, but if you constantly miss weighing in, then the referee may disqualify you.

The Effect of Financial Incentives on Weight Loss
It was proven that people are more likely to lose weight when receiving financial incentives. Participants are paid different amounts of money for achieving their target weight. Money really motivates and boosts your weight loss success! The HealthyWage uses cash-based challenges to encourage your perseverance in losing weight.

Success Stories
You can read the success stories of real people at HealthyWage. Get inspired by the people who overcame a variety of obstacles towards achieving their weight loss goals. If you have a competitive nature, then the HealthyWager is for you.
Many people, trying to lose or maintain a healthy weight, rely on the bathroom scale for measuring their progress. You can measure your body fat, muscle/bone balance, heart rate, body mass index, and other important parameters for monitoring your body condition.

---
HealthyWage Make your weight loss bet today!
What Is a Diet Plan?
To keep fit and control the weight, nutritionists recommend people to stick to a balanced and healthy diet, although these aren't the only reasons why people need to eat healthily. A lot of diet plans (gluten-free, dairy-free, etc.) have been created for people suffering from different health conditions such as food allergies, diabetes, etc. and there are many of those that have been created for people who do not eat meat. For whatever reason, if you've decided to go on a diet, there are certain things you should do. First of all, you need to make sure that your daily menu contains all essential nutrients that are important for the organism (even if your goal is to lose weight), and secondly, you should make a habit of counting calories. Another option available today is to use online diet plans services which can help you improve the overall quality of your diet and make it easy for you to track the calories intake. Based on individual preferences and lifestyle of users, these services craft diet plans that are meant to suit and work for them. Thousands of people from all over the world have already managed to achieve incredible results using these plans. Now the time has come for you to change, too.
What is the best way to monitor your weight loss progress? With bathroom scales, you can regularly measure your weight and keep track of your vital health parameters, such as body fat, muscle and bone mass. Some nutritionists recommend incorporating detox teas into your diet that may help you not only lose weight but also remove wastes and toxins out of your body.

What Features to Compare
Purpose and Diet Plan Duration
Most diets are designed for weight loss, yet people may choose to eat or avoid certain foods depending on their nutritional needs that change throughout their lives. For example, there are situations when people are unable to properly digest certain nutrients. Women nutritional needs also change during menopause, pregnancy, or breastfeeding. Anyway, before making any radical changes to your existing diet, consult your nutritionist who will help you choose the diet that meets your lifestyle and health needs best. Your doctor will help you find out if you have a food intolerance and determine how many calories you need to burn, so you can make smart food choices. Also, pay attention to the diet plan duration. If you want to lose weight faster, you can try express diets. However, if you lose weight faster than your body is ready for, the lost pounds are more likely to come bounding back like it or not. The truth is that rapid weight loss works well for a short period of time. For those who want to take a big step towards a healthier lifestyle and change their eating habits in the long run, slow and steady weight loss is the best approach. Following a healthy diet plan, you will be able to design your own weight loss plan to keep your weight off for good.
Specific Features and Exercises

Also, you need to take into consideration the specific features of the diet according to your daily routine and lifestyle. In some cases, special dietary supplements can be added to your diet for enhancing the weight loss effect or compensating the lack of vitamins. There are services that offer meals delivered directly to your home or office that is very convenient if you have no time for cooking. Also, some diet plans may include a workout program which can help achieve your weight loss goals while others only recommend combining the diet with a regular exercise program, not telling which one exactly.
Extras

Many services offer a choice of weight loss tools that are meant to help you adopt healthy habits and change your lifestyle. Some weight loss services offer special motivation journals and diet plans that can help you stay motivated while making it easier to keep track of your progress. Some larger services offer calculators and fitness trackers which you can use to monitor your weight loss by counting calories and recording exercises.

FAQ:
Q: What time is it better to do the workouts?
A: The studies seem contradictory. Some people can burn more calories when exercising in the morning while other people are more likely to burn more calories when working out later in the day. So, you should determine the most convenient time for you. It should be noted that morning workouts are their preferred choice for the majority of people. Put the workouts in your planner, making them a part of your daily schedule. That way, you won't make excuses for skipping your workouts.
Q: Does "Results with Lucy" offer diet plans for vegetarians and vegans?
A: Results with Lucy has a wide range of diet plans to suit different dietary requirements. The meal plans help you craft tasty, nutritious meals, whether you are vegetarian, vegan, gluten-free or have serious allergies.
Q: Where can I find advice on nutrition, fitness, and using Beachbody products?
A: If you are not a member yet, you should sign up for the Team Beachbody Club. Click on "about" and select "join" to create your own account. You will get a personalized meal plan, interactive fitness and diet tools, exclusive discounts, VIP access to celebrity trainers, and more. Also, a free membership is available if you want to try TeamBeachbody.com before joining. This will give you access to some tools, such as Live Chat, Message Boards, and WOWY SuperGym™, the virtual gym, where you can plan your workouts, keep track of your progress, and connect with other dieters. On the Message Boards, all club members can ask questions and share their opinions on everything related to Beachbody products and services. Then the staff of Fitness Advisors posts answers in the nutrition and fitness forums. The common experiences and support of Message Board members make them true friends.