Do you feel like the audio editing options that your software has is not enough, and you need something more professional to work
with sound effects on a higher level? Or maybe you are looking for your first music editor and wish to get your money's worth? In this review, we have selected the five best audio editing and music production programs that can help you design music like a Pro.
...
Read more
...Read less
Editing Tools and Effects
X
This site is a free online resource that strives to offer helpful content and comparison features to its visitors. Please be advised that the operator of this site accepts advertising compensation from certain companies that appear on the site, and such compensation impacts the location and order in which the companies (and/or their products) are presented, and in some cases may also impact the scoring that is assigned to them. The scoring that appears on this site is determined by the site operator in its sole discretion, and should NOT be relied upon for accuracy purposes. In fact, Company/product listings on this page DO NOT imply endorsement by the site operator. Except as expressly set forth in our Terms of Use, all representations and warranties regarding the information presented on this page are disclaimed. The information which appears on this site is subject to change at any time. More info
MAGIX SOUND FORGE Pro 12 Suite
A New Level in Sound Production
Magix Sound Forge Pro 12 is an improved DAW for professional music creation both at home and in a studio. It combines all those well-loved features that older versions had with improvements that help take music creation to a new level.
You can still produce audio, mix and master it, but now, the process is much simpler and more efficient. With the 64-bit architecture and the one-touch recording function, you can forget about having tons of windows on your desktop while mixing and mastering. This edition allows you to process up to 32 simultaneous channels on the main screen without annoying latency issues. The import and export of Direct Stream Digital (DSD) audio files is another pleasant addition to Sound Forge Pro. It lets you work with PCM formats, Super Audio CDs, and archive your audio in higher quality. We also can't avoid mentioning the full VST3 effect support that improves the performance of the program greatly. Though it was developed in the far 2008, not many DAWs can boast its availability today.
Editing is also a pleasure with this professional audio creating software. In addition to basic editing options, you get the SpectraLayers Pro 5 that lets you not just hear but also see the spectrogram of your audio track and edit every sound separately, repair damaged artifacts and many more. You also have the opportunity to edit a new audio file with the Sound Forge while your completed soundtrack is being processed and rendered. Quite a time-saving option, isn't it?
For utmost convenience and, consequently, increased productivity, the manufacturer has made this software customizable. You can arrange windows you are working with according to your taste so that you could focus on the work only instead of switching between windows.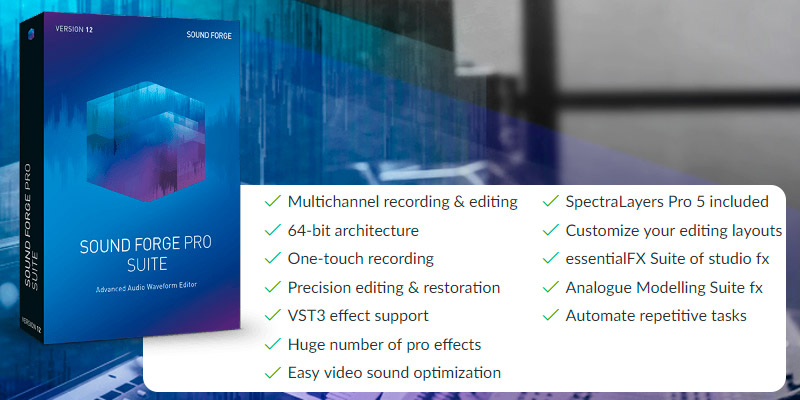 Find Your Individual Sound
In addition to a quite extended arsenal of effects that you get with the Sound Forge Pro 12, you can definitely benefit from the 3 new effects by SEQUOIA (DeHisser, DeClicker / DeCrackler, and DeClipper) and the Wave Hammer 2.0. The DeHisser will eliminate low-level "white" noise, DeClicker will remove clicks and similar digital errors from your old vinyl, while DeCrackler will clear more continuous irregularities; and DeClipper will help you improve recordings from live interviews and concerts.
As for the Wave Hammer 2.0, it gives you more control over your audio since it offers you 4 independent frequency bands that you can adjust to make the sound deeper, compress the peaks, maximize the volume, etc. You can also select from existing presets from the menu or save your own presets to use them in the future.
The Sound Forge Pro 12 is also equipped with the iZotope RX Elements (an independent audio editor and 4 real-time plug-ins inside the Sound Forge). It allows you to remove any unwanted background from your audio track effortlessly. iZotope Ozone 8 Elements plug-ins offer you 75 professional presets and the Mastering Wizard for better operation.
Professional Music Making
Obviously, the Sound Forge Pro is mostly created for music designers, the users who need not just conventional audio editing software, but a feature-rich program that can help them manipulate the sound in every sense of the word. It doesn't mean this DAW won't be helpful for music editors. On the contrary, we believe that making a ringtone or mixing several songs together may be pretty exciting work. Plus, a very intuitive UI allows even a novice to master this software with ease.
---
MAGIX SOUND FORGE Pro 12 Suite
Adobe Audition CC
Your Trustworthy Assistant in Audio Creation
Indeed, there are very few people out there who haven't heard about Adobe. The Adobe Photoshop is rightfully called the world's best imaging and design app, not mentioning their Adobe Acrobat Reader that is installed on every other PC to work with PDF files. But these programs are only a drop in the bucket in comparison to the variety of options this company offers to its customer. It actually doesn't matter what your goal is, whether you need to create an audio or a web page, Adobe has professional software for any taste.
This review, though, is focused on audio so we would like to give the most of our attention to the Adobe Audition CC. This is a great DAW with a comprehensive arsenal of audio mixing, recording, and mastering options. In other words, there isn't much this audio editor won't do.
If you often work with different podcasts, a multitrack recording will be quite helpful for you. It allows recording several voices at a time and then leveling and editing them individually with EQ. You can also apply the necessary effect to the whole audio track or to an individual audio clip. With the latest Audition CC version, you also get the dynamics effect. It includes an expander, compressor, noise gate and limiter for more professional and time-saving editing.
Improved Audio Processing
Among all the helpful features that Adobe Audition CC supports, it provides the user a sound remover, preview editor, Noise Generator, Pitch Manager, roundtrip editing workflow, and ITU loudness metering.
These features may seem not the major or the most important developments, yet they definitely improve the working process. For instance, the sound remover will scan your audio track and fix it for you automatically. You can check all the modifications in a multiple file section and make a quick change before saving the final version if the need be.
The roundtrip editing will also optimize your workflow greatly. It lets you send your projects from Adobe Premiere Pro to Adobe Audition CC while editing it. As for the ITU loudness metering, it is a radar panel that displays your audio tracks in a visual manner so that you could find those passages that need to be fixed and lower their volume level.
Benefit from the "All Apps" Package
The Adobe Audition CC is a monthly paid program that will cost a user $20 a month on an Annual Plan. At the same time, the company offers customers its Creative Cloud for only $50 a month on an Annual Plan. This is quite a bargain, isn't it? This package includes all the Adobe programs for audio, video, image, and website creation. That is to say, if you use video editing software, Photoshop, and other content creating software, buying the all-in-one package, you buy at a profit.
By the way, the good news is you don't have to pay straight away. You can install Creative Cloud and try the programs you are interested in for free. Such a trial will differ with the type of software you choose. Adobe Audition CC offers 7-day free trial. This is not all that much, true, and you will probably have not enough time to explore the app far and wide but a week is more or less enough to decide if you at least need a further subscription.
---
Adobe Audition CC
NCH Software WavePad Audio Editing Software
The Best Audio Editing Software
If you are looking for a comprehensive audio editor, feature rich and reasonably priced, then WavePad is right up your alley.
This is not a DAW, so you won't be able to actually produce music. It does support a bunch of needed tools and effects to transform an audio track to professionally-sounding music, though. Being designed primarily for editing, this program does the job perfectly.
In addition to the basic tools (cut, auto-trim, compression, and many more), you can level audio with one of the many editing effects such as EQ, reverb, envelope, amplifier, normalizer, etc. You can also work with voice recordings by changing speed, pitch, or by applying a telephone effect; plus, this audio editor allows you to record streaming audio and audio files. Besides, the WavePad supports the DirectX and VST plug-ins that offer even more useful tools and effects.
The creator has also thought about more demanding users and added some more complex features. For example, the spectral analysis (FFT) lets you analyze and fix separate parts of an audio file. Voice changer and speed synthesis (text-to-speech) give you more options on voice audio editing. There are no limits to specific types of file formats either, so you can work with almost any format including M4V, MOV MP4, MPG, DIVX, DV, WMV, etc. Plus, it can extract audio data from any video file with ease.
The WavePad isn't designed for a PC only, though it works on Windows 10 and earlier versions as well as on Mac OS x 10.5 and above. The app lets you process your music right from your smartphone, thanks to the compatibility with Android 2.3.3 and higher. That is to say, your WavePad audio editor is always at your hand wherever you are.
Mix with Ease
Without a doubt, in audio processing, the opportunity to work with several tracks at a time is a pretty valuable option. Every DAW, as well as most of the audio editing software, allows for that. With the WavePad, if you are going to mix several audio files into a soundtrack for your video or jogging playlist, you will need to use the MixPad Multitrack Recording Software. It allows you to record and edit multiple tracks simultaneously without switching between windows. You can also produce your own beats with the beat designer or apply one of the thousands of effects from the music library. Or you can switch to VST plug-in. The latter gives you plenty of studio effects and instruments, by the way.
After your masterpiece is ready, all the changes are done, and you are pleased with the result, it's time to select the file format for your soundtrack. And frankly speaking, you've got plenty of options here, too. You can choose any file format starting from MP3s to WAV files with studio quality. If you wish to share your project, the software allows you to upload it to Google Drive, Dropbox, or SoundCloud.
Your Personal Software Library
When you install the WavePad you get something on top of it – the NCH software suite. This is a software library that includes a bunch of different programs for video and audio editing, graphics design, and more. As we have mentioned before, you get MixPad Multitrack Mixing Software, Tone Generator Software, and SoundTap Streaming Audio Recorder in addition to your audio editor, all in one package. In case you wish to expand your opportunities, you can get any program from this source instead of searching it on the Internet. Quite handy, right?
All, the WavePad is a pretty good audio editor that can help users of just about any skill level complete a set of particular audio editing tasks. It offers not only editing options but also a lot of advanced features that can be quite interesting for both novice and professional.
---
NCH Software WavePad Audio Editing Software
Image Line FL Studio 12 Producer Edition
Improved Interface – Improved Workflow
Over the last 20 years, the Imagine Line has been trying to program software that would meet the individual needs in music production and processing of as many users as possible and, at the same time, would stay comprehensive even for a novice user. The improvements were made, and now, we have got the modern FL Studio 12 - the one of the most downloaded DAWs worldwide that gives its user almost unlimited opportunities in music production. So if you are looking for the audio recording and mixing program that you can count on, this DAW is definitely worth close consideration.
The graphical interface is what you notice first when opening the program. For starters, the producer has made it scalable, so you can change the size of the whole DAW or just some of its elements without annoying blurring effect in the end. This feature is especially helpful when you mix tracks. The mixer is very flexible and easy to scale using either a mouse or your fingers. Yes, this does mean you can download the FL Studio for your smartphone or tablet and mix on-the-go.
We also can't avoid mentioning the multi-touch support function. With this option and a touchscreen display, you will take your workflow to the next level. There is no need to use your mouse anymore, produce and mix in minutes just using your fingers. Indeed, this option is a gem for a music designer.
More Advanced Options
Better UI is not the only improvement that you get with the FL Studio 12. Imagine Line gives you tons of recording, editing, mixing, and mastering options. Suchwise, you get the multi-track mixer that lets you produce effects chains, advanced automation, sidechain control, plugin delay compensation, etc.
With the updated browser and playlist, you can add notes and audio to your tracks. This means you can not only process as many tracks as you wish in one playlist, you can arrange songs as needed and render one track or the whole group afterward.
The Piano Roll is more intuitive in use and lets you add time markers for looping and labeling. You can also choose from a lot of plug-ins including VST, Buzz and Rewire, and DX, or arrange plug-ins you like the most at one place and then find them quickly when creating a new soundtrack. Editing is also improved with this release and the new version offers you more than 40 effects such as limiting, delay, maximization, compression, distortion, filtering, chorus, EQ, and many more.
No Need to Pay Twice
Without a doubt, the FL Studio 12 has many strong sides. In spite of all the advanced improvements that have been applied to this model, it still remains comprehensive enough for a user regardless of their experience in music production.
There is one more thing that we would like to mention, though. Buying this DAW by Imagine Line, you get the lifetime free updates. This means you don't need to pay to update your program version to the newer edition. This option is completely free of charge. This is quite a bonus especially considering that the program is pretty affordable as it is.
By the way, you don't have to pay for the FL Studio right away, you can use the free unlimited version until you decide it suits your audio production needs. It has some feature limitations, yet it is informative enough to make a decision. Nice option, isn't it?
---
Image Line FL Studio 12 Producer Edition
Steinberg Cubase Pro 9.5 Edu WIN/MAC
Pioneer in Music Creation
Steinberg is one of a few companies that took part in the development of modern audio creation and design. They were the first who incorporated Virtual Studio Technology (VST), the technology that is used in the majority of audio editing software and DAWs now. Without a doubt, today, as well as 30 years ago, they are tough competitors on the market.
Their Cubase 9.5 is a top-tier DAW that becomes better with every edition. Indeed, with the 9.5, you get a lot. In order to speed up workflow and make the work area more convenient and easy to navigate, the producer has added the metering section with the master and loudness meters on the right side of the screen. It is not a floating window anymore, which is quite a handy improvement since it eliminates what was a distraction. You will also find a file browser for quick access to your libraries in the metering section that adds to the ergonomics of the UI a bit.
With the 64-bit mixing engine, you don't have to compromise in quality of your projects or workflow. Such an improvement guarantees you more accurate audio processing and higher dynamic range. Also, the most popular VST processors (the Tube Compressor, the Vintage Compressor, and the Magneto 3) have been represented with new user interfaces. It's not the biggest improvement of this version, but still, their modern look and more convenient operation are quite appealing.
Finally, Steinberg has produced their Cubase 9.5 with a new Metronome that allows an audio designer to add patterns with up to 4 accent levels and the opportunity to either load your own sounds or apply the pre-installed ones. This definitely adds more effectivity to the workflow.
Design Music with Pleasure
With the Cubase 9.5, you can enjoy automative workflow to the fullest. Thanks to the automation editing option, creating smooth transitions has become simpler; you just need to create a curve on an audio section. With the range selecting tool, you can choose the size of an edited area with a single click of a mouse.
You also get 16 inserts with this edition. This is an irreplaceable feature in sound design since it allows for creating longer chains. The Cubase 9.5 also supports direct offline processing. You can create a VST plug-in chain offline and apply it for the current project or save it for the future. This is a very helpful option for frequently used processes that saves the CPU of your computer.
The HALion Sonic SE 3 and the FLUX wavetable synth are a pretty good bonus to this software. They offer you about a 100 of presets including basses, leads, pads, effects. You will also find more than 70 exclusive waves in the library that will help you create your own patches and sounds with ease.
The DAW To Rely on
Without a doubt, the Cubase 9.5 by Steinberg is a power horse in the world of DAWs. This feature-rich program has plenty to offer for musicians regardless of their experience in audio production. Extra sampling features, a lot of effects, quality instruments, fast and ergonomic user interface, this and many more is what you get with this software to actually enjoy the process of music making. That is to say, if you are looking for the program that you can count on in every sense of the word, the Cubase by Steinberg is an inspired choice.
---
Steinberg Cubase Pro 9.5 Edu WIN/MAC
What Is Audio Editing Software?
Audio processing is accessible for everyone today. Seriously, it was a long time ago when recording an audio track and processing it afterward was available to a few. Today, it doesn't matter whether you are a music enthusiast or a professional audio and video editor, you will find a lot of good-to-go editing programs to meet your requirements and taste.
Just think about it, only 30 years ago, a novice audio producer had to buy a mixing console, audio converter, control surface, data storage, and a lot of other expensive equipment for music production. Now, you just need your laptop, reliable software, and a pair of high-quality headphones to get yourself started. Of course, you can still opt for professional audio creation equipment, but this is more like an optional decision than must-have hardware, especially for a beginner.
If you have just started to explore the world of audio processing, you might get confused by the variety of programs and the differentiation between audio editing software and digital audio workstations (DAW). The main difference between them is in the number of options they offer. Music editors support basic options for audio processing such as voice setting, noise reduction, trimming, etc. A DAW, at the same time, is a more complex piece of software that allows you to not just edit but also produce audio on your computer by using your mouse and keyboard as input devices or with the help of an external MIDI control lab. You can also mix multiple tracks and master your soundtrack afterward with a DAW.
The good news is that as well as all DAWs have basic editing options, all professional music editors offer their user various DAW-like functions. On this account, the best audio editing software for you will mostly depend on your personal needs and workflow.