Wireless networking and Internet access have been an absolute boon within the last decade. Being able to use the internet with a
mobile device from anywhere in your home is one of the modern conveniences we enjoy. However, those of us who require a little more wireless signal strength than what most wireless routers provide could use something like a Wi-Fi Booster. Read our reviews for five of the best wi-fi boosters available.
...
Read more
...Read less
Access and Data Protection
X
This site is a free online resource that strives to offer helpful content and comparison features to its visitors. Please be advised that the operator of this site accepts advertising compensation from certain companies that appear on the site, and such compensation impacts the location and order in which the companies (and/or their products) are presented, and in some cases may also impact the scoring that is assigned to them. The scoring that appears on this site is determined by the site operator in its sole discretion, and should NOT be relied upon for accuracy purposes. In fact, Company/product listings on this page DO NOT imply endorsement by the site operator. Except as expressly set forth in our Terms of Use, all representations and warranties regarding the information presented on this page are disclaimed. The information which appears on this site is subject to change at any time. More info
NETGEAR EX7300
Smart and Seamless Roaming
We really aren't the biggest fans of the term "smart" as it pertains to technologies and electronics. Especially considering the fact that the term has been thrown around so much lately that it is beginning to lose most of its meaning. That said, this is still the word we would use to describe the AC2200, the mesh WiFi extender from NETGEAR.
There are a couple of reasons for that. First, there's the device's Smart Roaming system. As the name suggests, the technology will allow you to freely roam around the home without worrying about being disconnected at one point or the other. It does so by automatically handing off your connection between the router and the extender.
By the way, it doesn't have to be a house. As the model boasts a coverage area of up to 10,000 feet, this is an equally suitable device for an average office. It may not give you enough range to cover the largest office out there but the extender will most certainly be able to keep the most sizable house connected via a strong wireless signal.
Another point in the extender's favor is the universal compatibility of this model. Simply add it to your network and sync to the existing router. The AC2200 is compatible with just about any router, gateway, or rented ISP gateway.
Improved Communications
One thing that we always liked about NETGEAR's network solutions and the model is no exception is the ability to combine all of the visible WiFi networks into a single entity. This way, you can have it all under one WiFi name and security password, which is a lot more convenient than what you'd usually get from a different company.
Of course, the WiFi extender isn't devoid of the usual technologies that aren't inclusive to NETGEAR. For instance, the device incorporates MU-MIMO, a technology that improves the router's "communication" with multiple devices over the same WiFi band. In layman's terms, the technology maximizes the performance of every device connected to the network.
There's also the Smart Connect, a system that operates in a different way but brings the same solution to the table. Again, without diving into the technical mumbo-jumbo, this technology intelligently chooses the most optimal WiFi band for every device connected to the network. Thanks to the latter, you won't end up in a situation where one gadget is pulling more data than necessary and the other isn't getting enough.
But, considering what it has to offer bandwidth-wise, the WiFi extender should be able to cover all of your devices, with a 5 GHz channel that offers a maximum speed of 1733 Mbps and a 2.4 GHz channel that caps at 450 Mbps.
Again, we don't really care that much for the "smart" title when it comes to consumer electronics, but the NETGEAR AC2200 deserves it more than any other WiFi extender. The model isn't just impressive from a technological standpoint but also much more convenient and practical than most of its peers.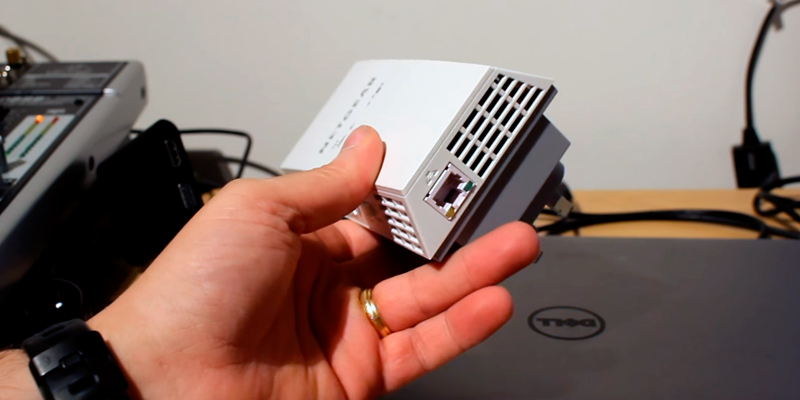 Additional Info
Last updated price

$

149.99

Stock
In stock
ASIN

B01D6JEMWS
---
What customers say about this product
Very good speeds double to what i had on 2.4ghz and 5 g is 4x the speed. Highly recommend.
Easy to use and set up and is small and unobtrusive. Great buy that really works well.
Comes with a nice little app to see who else is using channels around you and relative signal strengths. Good piece of kit.
NETGEAR EX7300
NETGEAR EX6920
Ideal Wi-Fi Booster
Anyone with a large house or office can tell you how irritating it is to run into issues with your wireless network. Carrying a laptop or other mobile device from one area to another is easy to do, but maintaining Internet access during that trip can be quite tricky. Wi-Fi signals tend to only cover a relatively small area, so when the edge of that area has been reached, problems tend to crop up, such as slow Internet access or frequent signal drops, which can wreck havoc on anyone trying to do anything online. For situations such as these, this is where you need an ideal wi-fi booster for maintaining a strong and consistent connection.
The NETGEAR EX6920 WiFi range extender is one such solution to your wireless networking problems. Created as a wi-fi range extender, it works by providing a new network SSID to connect to instead of utilizing your original SSID. This helps clear up problems that can crop up with such range extenders that only use the original SSID, such as signal interference or slow network speeds. Having your own fast channel to the Internet with a range extender such as this ensures that you'll always have a great, fast connection, as well as a much larger area that is covered by a wireless Internet signal.
Strong, Clear Signal
This Netgear Wi-Fi range extender utilizes the latest network technologies to help maintain a strong, consistent signal, supporting both the 2.4GHz IEEE 802.11 b/g/n and 5GHz 802.11 a/n/ac standards, with throughput speeds of up to 1200Mbps. Unlike many other wi-fi boosters that support these same standards, however, it is able to utlize both simultaneously. This means that devices that support only one standard or the other won't hamper the network speeds or range for other devices on the same network. Anyone with a game console, mobile phone, tablet, laptop, or other home media devices that connect to the network will always enjoy full speed access.
The wall-plug design of the device ensures that you can connect it virtually anywhere with a power outlet, and makes for easy side and wall mounting. It has two external antennas that work in conjunction to provide a strong signal over a wide coverage area. The indicator lights on the body of the device are quite bright and easy to see, although they can be a little annoying at night. However, this is quite a small gripe. Anyone who values having the best wireless signal possible over a wide area will find a lot to love with this model.
Additional Info
Last updated price

$

39.79

Stock
In stock
ASIN

B014YN7LVE
---
NETGEAR EX6920
TP-LINK RE200
Great Budget Wi-Fi Booster
Over the past decade, several companies have risen to the top of the pack in regards to wireless networking technology, and several are very well known, especially the companies from which the previous two reviewed wi-fi signal boosters have come from. However, in the last few years, another name has joined that list, having very quickly risen up the ranks of having the best wireless products. TP-Link has really been making a name for themselves lately, with providing great wireless products for very affordable prices, and this great budget wi-fi booster is a good example of this.
Despite being a budget product, the TP-Link RE200 Dual Band WiFi Range Extender provides all of the features that can come to be expected from a wifi booster. Supporting dual-band technology, this wifi range extender supports both the 2.4GHz and 5.0GHz bands at AC750, ensuring strong and fast connectivity for virtually any wireless devices in range. The dual-band support extends to supporting both bands simultaneously, something which is not often found in other wifi signal boosters. This means that devices that utilize both bands can connect simultaneously without impacting performance.
Fast Speeds and Plenty of Features
It isn't very often that people would expect to find a full list of features to come from a budget product, but this TP-Link wifi extender has plenty of extra features. With the dual-band support, this wifi range extender supports both extending your wifi signal as well as acting like a bridge, which means you can configure the device to work in either method. The bridge support also extends to the included RJ-45 Ethernet port on the device, which means you can connect a wired device such as a home media player or older desktop computer and have it work on the wireless network without any kind of adapter.
Setup for this device is actually very simple and not at all complex, something which is often not true for such types of devices. The indicator lights on the front can give a good indication of the strength of the wireless signal from your router, which helps in finding the ideal spot for the range extender. The internal firmware is also easily accessible and provides a clean, easy to understand menu for configuring the device. For anyone who wants to expand their wifi coverage in their home on a budget, there are few other options that can match both the price and performance of this model.
Additional Info
Last updated price

$

29.99

Stock
In stock
ASIN

B00NR2VMNC
---
What customers say about this product
With the extender, its a solid 30mbps with perfect signal. Given our internet speeds the extender is operation 100% perfectly.
It is small and unobtrusive - I had one member of my family convinced it was a nightlight for a minute or two - and yet it is a powerful tool.
The Tether app that comes with it lets me see if anything needs to be tweaked for the best overall performance.
TP-LINK RE200
BrosTrend 1200Mbps
Great For High Internet Traffic
Do you have tons of smart devices in your home that all connect to the Internet for various purposes? Also just a few years ago this wasn't really common, today this has changed quite a bit. Just about everything now has some kind of "smart" functionality that requires the device to connect to the Internet. On top of that, anyone with a large family will most likely have quite a few different people using the Internet at the same time, which can often cause performance issues, namely due to their router having problems with handling all of that traffic at one. A good way to avoid this problem is to use a good Wi-Fi booster such as the BrosTrend 1200Mbps WiFi Booster.
Just like most of the other devices in this review, this Wi-Fi booster can help extend the range of your network in order to help avoid any Wi-Fi dead zones in your home or office. However, this particular device has also been made to work well even with heavy network traffic, meaning that all of the devices in your house will have a clear, strong Wi-Fi signal at all times, while also getting the best network speed possible. This will allow your whole family to do whatever they want without anyone running into network performance issues.
Smart Design
We can't say that this is the easiest Wi-Fi signal booster to set up. Unfortunately, the instructions are a bit on the technical side for the average user, meaning that the setup process may be a bit confusing. However, once the device is set up and running, you'll run into no issues at all. The whole design of this unit exhibits an extremely well-thought-out construction that makes it quite a convenient device. The compact size of the unit lets you place it on any power outlet without it protruding far, or getting in the way, meaning you can easily hide it should you not want it to be visible. Furthermore, the device's case has plenty of ventilation to allow for sufficient cooling of the internal components, so overheating issues won't occur.
On the technical side, this signal booster supports all of the latest high-speed wireless networking standards, so any of your recently-made devices can connect to it at maximum speed. The two external antennas ensure maximum coverage for the wireless signal, and it even includes a LAN port should you need to connect a device or computer that doesn't include wireless capabilities. When all is said and done, this Wi-Fi signal booster will be a great addition for any home or office that often requires a heavy-duty device that can handle multiple devices at once.
Last updated price

$

41.99

Stock
May be out of stock
ASIN

B07L4BMD34
---
BrosTrend 1200Mbps
Blueendless 300 Mbps
Powerful WiFi for the Price
Purchasing additional devices to help extend the range of one's home wireless network is not something that many people really expect to do. However, it does from time to time turn out to be a necessary evil, as there is often no telling just how well a wireless router will work by itself until it is purchased and installed. In times like these, it doesn't hurt to go for one of the cheapest options around. The Blueendless 300 Mbps WiFi extender signal booster would be one of the best options in this case, as this WiFi signal booster provides a powerful WiFi experience for the low price of the equipment.
This dual-antenna signal booster may be cheaper than most of its contemporaries, but that doesn't mean it is less powerful, or even less loaded with features. Providing 300 Mbps network bandwidth, you'll find this signal booster to offer plenty of bang for the buck, giving you a smooth and fast WiFi experience for whatever devices you need to connect to it. What is also nice is that this unit includes an Ethernet port which can allow you to connect computers or other devices that don't have built-in WiFi, letting these devices seamlessly connect to your home network without any additional hassle.
Three Mode Operation
One of the biggest benefits that you will get from this WiFi signal booster is the fact that it offers you three different operating modes that help you get connected and stay connected with a powerful wireless signal: Repeater Mode, AP Mode, and WPS. The Repeater Mode expands your existing Wi-Fi network, allowing your devices to see this signal booster as just part of the existing WiFi network instead of having to create a new one. AP mode is designed to cover a wired network for devices that need to connect through Ethernet instead of WiFi as mentioned above, and the WPS mode serves to simplify the process of setting up a wireless network without having to enter a password, which is very convenient, especially for those who tend to use complex WiFi passwords.
Setup of the device can be a bit tricky at first, but users that pay attention to the instructions shouldn't have any trouble with it. Also, the device supports all of the latest WiFi security protocols, so you won't run into any security issues with getting your devices connected. What matters most to everyone, though, is the fact that this powerful WiFi signal booster gives you an easy and powerful boost for your home network for no more than the price of a meal.
Last updated price

$

7.40

Stock
In stock
ASIN

B08P4VCY18
---
Blueendless 300 Mbps
What Is a Wi-Fi Booster?
A Wi-Fi booster, sometimes also called a Wi-Fi range extender or a wireless repeater, is a device that is used to help extend the signal range of an existing wireless access point. All wireless routers have a specific range that their own signal is able to reach, but often, in areas such as large homes or offices, the coverage area of the wi-fi signal isn't able to sufficiently cover the entire area. In such a situation, a wi-fi booster acts as an extender of the wi-fi coverage area, providing a strong, clean signal to an area that can't be sufficiently reached by the wireless access point.
Wi-Fi boosters work by connecting to your existing wireless network, usually through a wired connection with an RJ-45 Ethernet cable or a USB cable, but they can also connect wirelessly. Once it is connected, it basically rebroadcasts the wireless signal from your router. These devices should be placed somewhere between the wireless router and the area that needs the boosted wi-fi signal. In very large areas, more than one wi-fi booster may be needed, especially if the signal needs to be boosted to areas on opposite sides of the router. In a large house or building that is two or more stories, the wi-fi booster may need to be placed on a story above or below the wireless router.
If you are needing a new wireless router along with a wi-fi booster, then take a look at our reviews for the
5 best wireless routers for home and office use
.
What Features to Compare
Wi-Fi boosters often come with similar features, but not all devices will have the exact same feature sets. Some devices may only support certain security protocols, while others may only support certain wireless standards. When looking for a Wi-Fi booster, please keep the following information in mind:
Connectivity method - Make sure that the wi-fi booster is able to connect to your router in the way that you want it to. If it needs to connect through USB, make sure that your wireless router has an available USB port. NOTE: Most wi-fi boosters do not support USB connectivity. The most common way of connecting a wi-fi booster is wirelessly.
Range extension - Not all wi-fi boosters work by extending the range of the existing wireless signal. Some may only support being set up as separate access points, which means that it essentially looks like a second wireless router in your area instead of looking like the original network.
Standards compatibility - Some wi-fi boosters may be limited in the different wireless and security standards that they are compatible with. Wireless standards are of the IEEE 802.11 variety and will have a suffix for the different standards in that protocol (a,b,c,g, etc.). Security standards are which security method is used (WEP, WPA, etc.). Make sure that the wi-fi booster you get supports the same standards utilized by your router.
Mounting method - Most wi-fi boosters are made to be plugged directly into a wall power outlet. This is often seen as the most common and convenient way of mounting an access point. However, there are some models that are not made like this. If this is a feature that you want, then make sure that you buy a model as such.
Additional features - Many wi-fi range extenders are pretty simple devices, but there are many more that contain extra features. Some wi-fi range extenders have enough additional functionality to work as a wireless router, whereas others may be made to automatically optimize network traffic to ensure that you are getting the fastest speeds possible. Carefully check the additional features that are provided for your wi-fi range extender of choice to ensure it provides everything that you need.
While there are certain other features of wi-fi boosters that differ, these are the most important ones to remember. Paying extra careful attention to these will ensure that you are getting the best wifi range extender available for your needs.
Did you know?
Placement of Your Wi-Fi Range Extender
Most wi-fi range extenders include some basic instructions about how to setup and configure the device, but many of them lack much in the way of useful advice on how to determine the best placement for it. This is most unfortunate, as often the placement of the wifi signal booster will largely determine how well it is able to extend your wifi range. Placing it in a bad location can make it near useless. Here are some tips for finding the best location to set up your new device.
Place your range extender in a location where it is able to receive a good wireless signal from your router. This is by far the most important aspect of placement, as a range extender that can't reliably communicate with your router is useless. This can often be done by testing the wireless signal strength to your router by using your laptop, smartphone, tablet, or other wireless devices in the same location and checking the signal strength indicator. For best results, make sure that the area of placement is getting better than 50% signal strength at a minimum. Anything less than this can result in an intermittent or slow connection.
Any location for placement should logically be somewhere between your wireless router and the area that needs a better wireless signal. Locating the areas where you need a better signal, and then placing the wifi booster roughly midway between that area and the router is usually a good idea, depending on the signal strength in relation to where it is placed.
Try to avoid having any obstacles such as thick walls or large metal objects in between your wireless router, signal booster, and the area that needs a better wireless signal. Of course, in most houses, it is nearly impossible to accomplish this without having to go through walls, but placement location can still be key. The best location for the wifi booster would be in an open area, without a wall immediately between the booster and the area with a poor signal. Placing it so that the signal can pass through doorways is often a good idea.
Don't mount your signal booster on the floor, even if you are needing to strengthen the signal to a lower floor. Most wifi range extenders are made to plug directly into a wall outlet, which provides some open area between the signal booster and the floor, so plugging directly into a power outlet is ideal. However, if this simply isn't possible, then try to mount a power strip vertically so that the range extender can have some space between it and the floor. Floors can often cause interference or obstruct signals, and a wireless signal needs some room to "breathe" in order to get the best results.
Keep your wifi range extender away from other electronic devices. Many electronic devices produce a radio field that can cause interference with a wireless signal. Devices such as microwaves, baby monitors, stereos, refrigerators, and cordless phones often produce a signal in the same frequency range as wireless networks, and placement close to any of these devices can wreck havoc on the wireless signal.
Many different types of wifi range extenders have their own quirks, and the instruction manual should have some specific instructions on how to get the best signal strength possible. However, the above tips are ones that are important for any wifi range extender, regardless of the manufacturer. Keeping these tips in mind should help you get the best performance possible from your new device.
FAQ:
Q: How does a Wi-Fi Booster work?
A: Wi-Fi Boosters can work in several different ways, depending upon the specific device. Most wi-fi boosters connect to an existing wireless network either as a bridge, or as an extension of the network. They will either connect wirelessly or through a wired network connection to the existing network, and then broadcast their own wireless signal as a connection to that same network.
Q: What is the difference between a Wi-Fi Booster and a Wi-Fi Range Extender?
A: There is virtually no difference between them, as most devices that go by either name work in almost the exact same way. Although some devices may have some differences in their features and abilities from others, these names can apply to any and all devices that are meant for providing a boosted wireless network signal.
Q: I am using a Wi-Fi Booster, but instead of showing my own home wireless network, it is showing a second network as well. Which network should I connect to?
A: If you are using a Wi-Fi Booster, and need to connect from an area that wasn't receiving a good wireless signal before, make sure you connect to the SSID of your Wi-Fi Booster instead of the one for your existing wireless network.
Q: Why does my Wi-Fi Booster show a new network instead of using my existing wireless network?
A: Your Wi-Fi Booster is not showing a new network. it is configured to use your existing wireless network, then it is simply showing a new access point for the same network.
Q: Can I configure my Wi-FI Booster to just use the same SSID as my wireless router?
A: This will depend on the capabilities of your Wi-Fi Booster. Most Wi-FI Boosters provide this capability. However, it is usually recommended that you use a different SSID for your Wi-Fi Booster, as using the same SSID can cause interference and performance problems on your wireless network.
Q: What does SSID mean?
A: SSID (short for Service Set Identifier) is a method used for a wireless network to identify itself by providing a name for the network. When connecting a wireless device to a wireless network, the SSID is simply the name of the network that you connect to.
Q: What is the difference between a Wi-Fi Router and a Wi-Fi Booster?
A: Wi-Fi Routers are devices used for providing a wireless bridge between your home network and your Internet connection. Most wireless routers are connected either to an Internet modem or directly to the physical Internet connection, depending on the type of router and home internet connection that you have. Wi-Fi Boosters, on the other hand, are devices meant for providing a strong access point to an existing wireless network.
Q: Can I use my Wi-Fi Booster as a Wi-Fi Router?
A: This will depend entirely on the capabilities of your WI-Fi Booster. Most Wi-Fi Boosters are not meant for working as a wireless router. However, there are some models that do have this capability.