CucinaPro

190

Imperia Titania Pasta Maker w Easy Lock Dial and Wood Grip Handle

General Specifications
The Imperia Titania Pasta Maker is a chrome-plated steel pasta machine precision engineered in Italy. Sturdy and built to last, this machine produces a 150mm leaf in 6 thicknesses which is then cut to 2mm for tagliatelle or 6.5mm for fettuccine.
Norpro 151
Norpro 1049R
MyLifeUNIT Stainless
Willow0214 Manual Pressing
Yontree Stainless
CucinaPro 190
Marcato Atlas 170
CucinaPro 160
Artemio 23008001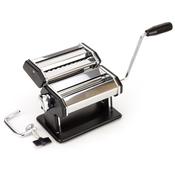 Cucitella P-150
Ovente PA515S
Merske MK10001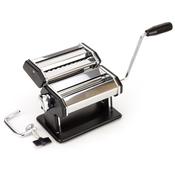 Cucitella P-150
Generic 7'' Pasta Maker
Globe House Products Noodle Pasta Maker
LIU NA YAU-001
CucinaPro 190
Libertyware PM6
Home Start HST5018
Gefu 28230
OxGord KAPM-01
Danesco 6633054CR
Fante's 3540
LIU NA YAU-001
Deluxe Deluxe 7'' Pasta Maker
Marcato Atlas 170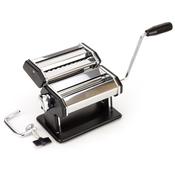 Cucitella P-150
CucinaPro 190
BETHEL BE-8000
Webetop Automatic
Generic 7'' Pasta Maker
Prime Pacific PPD002
Shule 20171
Libertyware PM6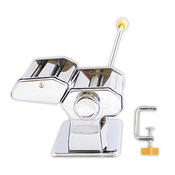 Manno Italiano Manno Italiano
Kuchenprofi Compack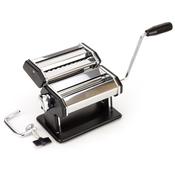 Cucitella P-150
Prime Pacific PPD001
CucinaPro 190
Generic 7'' Pasta Maker
Imperia 190
Roma "6"" Pasta Machine"
Officine Standard Pasta Machine 260 mm Deluxe
Norpro 1049
What customers say about "Size & Weight"
This is not a light weight, tin-plated wanna-be. It is heavy, well built and solid.
Nice weight to the unit. Feels solid.
Pro- It rolls out pasta sheets beautifully. It is stainless steel and very durable looking.
The all steel design seems quite sturdy, and should give service for years to come.
My main gripe about this product is that the plastic inside that houses the spinner is not durable. It broke after 5 months of sparse use.
It looks solid, well made all metal pasta maker, and it is made in Italy. However, inside it has a white plastic roller that could easily break.
Features
Number of Thickness Settings
Metro Fulfillment House QF-150 Silver
Norpro 1049R
Fante's 3540
Gefu 28300
CucinaPro 160
CucinaPro 190
Home Start HST5018
Omcan PM-IT-0210-M
Imperia Restaurant Manual 010
Uniworld UN-JSL180E
Prime Pacific PPD002
What customers say about "Features"
Easy to use and very even thickness on the dough rolled.
This kitchen tool does his job, can roll dough easily to the thickness you like.
This particular cutter makes spaghetti and fettuccini noodles but I use a pizza slicer to make lasagna noodles as well.
My only complaint is that you cannot put it in the dishwasher.
This model only has 6 thickness settings, whereas others have 9. The pasta still comes out paper thin, but with fewer passes!
What customers say about "Accessories"
The fettuccini and spaghetti cutters worked perfectly, cutting gorgeous strips of pasta that look like they came right out of an Italian kitchen.
It comes with a spaghetti and fettuccini attachment. The fettuccini works wonderfully or I roll it out and cut it by hand.
The machine attaches securely to the countertop with the included clamp
The crank work okay to good.
I haven't had any lucky with the spaghetti attachment as it mostly clumps back together rending the final product useless.
Diffiuclt to clamp to many couner types
Warranty / Certifications
Lello 2720
CucinaPro 190
KULL& 100
KULL& 200-ORANGE
KULL& 200-WHITE
KULL& 200-RED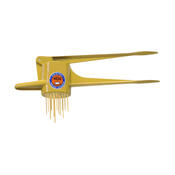 KULL& 200-YELLOW
KULL& 200-GREEN
Marcato Pasta Fresca Machine
Imperia 150
Marcato Atlas 150 Roller (8340)
Best Choice Products SKY1107
CucinaPro Pasta Maker Machine (177)
Fante's 3540
Homemaker FPF1000
Danesco 6633054CR
CucinaPro 178
CucinaPro 190
CucinaPro 150
CucinaPro 152
CucinaPro 160
People who viewed this item also viewed
CucinaPro 190 Imperia Titania Pasta Maker w Easy Lock Dial and Wood Grip Handle
VIDEO
Using the Imperia Pasta Machine