If you've got a sewing machine and want to bring your projects up to a pro level, then a serger is a must! With the help of an overlock
machine you'll be able to prevent clothes edges from fraying and fix many another issues that often lead to ruining your clothes.
...
Read more
...Read less
Adjustable presser foot pressure
Janome CoverPro 1000CPX
Time-Saving Option
The Coverpro 1000CPX is a revolutionary machine that offers sewers all the power and features of commercial-grade sewing machines. It has been designed to give users great versatility, help save their time, and allow them to make garments, accessories, and home decor elements with additional flair and finished appearance. It is a coverstitch machine that is far less complicated than any other type of overlock machine you can find today and is far easier to thread than a sewing machine or a serger. That said, we wouldn't really compare them since the Coverpro 1000CPX is mainly meant for topstitching and pintucking fabrics and is limited to use only on the following fabrics: natural fibers, fine pieces of fabrics, knits, synthetic kinds of blends and fabrics, upholstery, twill, and canvas.

As we have just mentioned, threading the 1000CPX is an easy job. Thanks to the color-coded threading guide and setup illustrations on the machine itself, you can quickly figure out how to set up the tension dials and position needles correctly. In the front side of the machine, you can also find graphics on how the machine performs different stitching options. All this makes the 1000CPX coverstitch machine a great assistant for home sewers who want to achieve professional results easily and quickly.

What's So Special?
The 1000CPX can work with up to three needles and use up to four spools of thread simultaneously. It offers three types of stitching options and has a free arm, an additional table for large projects, a differential feed, and a built-in thread cutter. The machine also comes with a generous set of accessories that are meant to assist users in completing their projects. The kit includes an adjustable seam guide, hemming guide, three types of presser feet, elastic gathering attachments, additional needles, tweezers, a screwdriver, and a needle threader. There's also a casing for all these accessories included.

Yet, the main benefit of the 1000CPX is the STS (Seam Tightening System), an exclusive feature found only in Janome's sewing machines. While other coverstitch sewing machines use a standard looper to keep the tension tight, the STS relies on a spring. As a result, the 1000CPX machine produces amazingly tight and smooth stitches. Due to the implementation of the STS, the machine can be used even on thick fabrics like denim or wide wale corduroy. This feature makes the machine one of the most user-friendly models you can find on the market.
So, if you need a universal machine combining the functions of a serger and a traditional sewing machine, the Janome Cover Pro 1000CPX is a sound choice. Due to its long detachable arm, it is ideal for working with small as well as large décor projects.

Additional Info
---
What customers say about this product
Heavy & fast & feeds well like a good serger, but the extra room is good for top stitching and maneuvering in general. I use the chain stitch a lot for basting, really easy to pull out if you don't anchor it.
This machine works beautifully. It is easy to thread.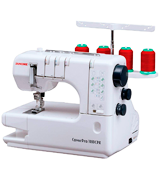 Janome CoverPro 1000CPX
SINGER 14T968DC Professional 5-4-3-2 Thread
5-thread Stitch Machine
If you would like to get an overedging machine and a reliable helper in pursuing sewing goals all in one, the SINGER 14T968DC will definitely meet your demands. The combination of technical performance along with the company's time-proven reliability makes this device a real workhorse on all levels. The SINGER serger combines the features of an overlock and a cover stitch machine in one neat device.
To begin with, the SINGER 14T968DC is the only model on our shortlist that features 5-thread stitch capability, ensuring a perfect seam with rolled hems, cover hems, chain stitching, and other built-in stitch patterns on different fabric types, making all your garments look professionally done.
Such high-efficiency machines are mainly used for a commercial apparel manufacturing, yet it is not the reason not to buy it for home use. Wondering how the 5-thread stitch looks like? Look at how the pockets on your jeans have been edged and you'll be able to recognize it right away the next time.

Designed for Comfortable Work
Besides the unique 5-4-3-2 thread capability, the SINGER serger machine features a wide variety of extras to make sewing an easy job. First of all, we'd like to draw your attention to a fully automatic self-adjusting tension system that ensures perfect seams on all types of textile. You should simply turn a dial to select the chart, and the machine will automatically adjust tension settings for that stitch.
Secondly, threading the serger is as easy as a pie owing to the automatic looper threader and a color-coded lay-in threading system. The color-coded diagram ensures easy threading even for novice users.
With no shade of a doubt, you'll give justice to an attachable clean pocket on the machine that will capture all trimmed bits in it, leaving your working place clean and neat.
What's more, the SINGER overlock machine offers 20 built-in stitch patterns to choose from and 7 different presser feet that can be snapped on in accordance with your sewing needs. While working with different types of fabric, you'll have an option to adjust the width and the length of a stitch, fitting all clothes you've got to edge.
In sum, this is definitely one of the most versatile and adaptable overlock machines. Owing to the 5-4-3-2 thread capability and other nifty features, it'll deliver you very professional-looking results.
---
VIDEO
Singer 14T968DC-How I Demystified -5 thread Safety Stitch(1/3)
SINGER 14T968DC Professional 5-4-3-2 Thread
Brother 1034D Overlock
Great Adjustability
If versatility and intuitive operation are the main things you look for in an overlock machine, you may be interested in the Brother 1034D Serger. Designed for finishing edges on a vast range of fabrics, this machine can become a great addition to any sewing room.
With the differential feed ratio from 0.7 to 2.0, the Brother 1034D delivers professional edge finishing on any type of fabrics including formal wear, linen, and even very thin or stretchy materials. The machine can help you easily create ruffles, join laces, serge narrow sleeves, and give a finishing touch to decorative edges or spaghetti straps.
Yet, the main perk of the Brother overlock machine is that it features 22 stitch functions with 4-thread overlock, 3-thread overlock, narrow, rolled hem, and ribbon lock stitches. Also, the stitch variety includes specialty functions for formal and bridal wear, home decor, crafts, heirloom, and reinforced tape applications. The stitch width can be adjusted between 5mm to 7mm.
The machine ensures up to 1300 stitches per minute, thus, saving you a lot of time on your projects. With its great speed, a variety of built-in stitches and differential fabric feed, the 1034D Serger will help you achieve a professional finish on any kind of fabric.
So Easy to Use
Although you may think that such a sophisticated machine may be too hard to get used to, it's not the case. Owing to the color-coded upper thread guides with lower looper threading system, threading will be an easy process even for beginners. In addition to that, the snap-on presser feet lets users make a seamless transition to each desired stitch.
To help novice users get started, the machine comes with a manual and instructional video just in case you find printed instructions a bit unclear. Also, the manufacturer kindly provides free phone support for the whole life of the product.
What you'll also appreciate is that the machine is already shipped with two snap-on feet, a foot controller, soft cover, and needles. By the way, it uses standard sewing machine needles, so you won't need to buy special needles if you lose the supplied ones.
To sum it all up, the Brother 1034D is a simple, quick, customizable and efficient machine. It will serge like a dream in the hands of both professionals and beginners.
Additional Info
---
Brother 1034D Overlock
SINGER 14CG754 ProFinish
The Best Model For Beginners
Right out of the box, the SINGER 14CG754 ProFinish Overlock machine comes already threaded and ready-to-use, and that's what you'll definitely like about it right away. It is also the reason why this model is so popular among beginners looking for a simple-to-use appliance requiring no long learning curve. Interesting enough, while being so easy-to-use, the Singer 14CG754 is big on features, providing all the essentials expected from a high-quality appliance.

In the Singer 14CG754, all sewing components are adjustable, giving you flexibility in terms of fabrics that it can be used with. And it has a high presser foot lifter which besides giving a spacious working area allows placing more than one layer of cloth, a feature that is practical and helpful for quite a big number of sewing jobs.

Though rather intuitive in use, the Singer 14CG754 comes with easy-to-understand manuals: a DVD disc and a printed version. They both give users very detailed and comprehensive instructions on how to thread and adjust the machine. So, in case you have difficulty figuring out how to use the device, the instructions will come to help.

All in all, the Singer serger is a perfect machine for beginners who want to unleash their imagination and creativity in sewing projects.
Inventor of Genius
Isaac Merritt Singer is an inventor of Singer sewing machines that are currently recognized as the most popular sewing machines on the market. The reason for such immense popularity of Singer sewing equipment is explained by the introduction of innovative sewing methods no one has used/seen before. Understandably, at the time Singer sewing machines cost a fortune and few people could afford them. Things have changed when the prices decreased, adding appeal to Singer's product line and bringing it upfront of the competition. Another reason would be the professional skills of Isaac Merritt Singer. Not only did he invest one of the best sewing equipment in the world but also he was the first one who started to promote it by cooperating with other sewing companies.

Additional Info
---
VIDEO
SINGER 14CG754 ProFinish 2 3 4 Thread Serger With Machine Intro DVD
SINGER 14CG754 ProFinish
Brother 2340CV Cover Stitch
Entirely Different Serger
A cover hem stitch machine or cover lock is another device of sewing equipment. This type is mainly used for binding cut edges and stitching them at the same time. 
Unlike overlock machines, cover lock ones are never used for trimming fabric. Still, the popularity of cover hem stitch machines is really immense and everyone is familiar with what it does. All our T-shirts and sports clothes are sewed by a cover lock. The cover stitch can also provide incredible elasticity you wouldn't achieve with any other device, and that's another reason why this machine is so favored by people.
Sounds really good? If so, it's high time to try the Brother cover hem stitch machine that works at 1100 stitches per minute. Naturally, it isn't the fastest speed out there but it will still suffice most sewing jobs including circular stitching of collars, cuffs, sleeves, pants, skirts, dresses, etc.
So, if you're mainly working with stretch fabrics, the Brother 2340CV cover hem stitch machine is what you need. It'll let you create a wide range of cover stitches on a wide variety of different types of fabric. Also, you'll be able to make both constructive and decorative applications with the Brother 2340CV serger.
Technical Peculiarities
When using this cover stitch machine, all seams can be done with either 1, 2 or 3 needles. And a looper will make 2-3 parallel rows on a cloth face and a solid seam on a backside. It is the looper stitch that gives sewing durability and strength, locking seams properly and preventing them from getting loose. That's also the reason why looper stitches are used for basting too.

Some of the other advanced features of the Brother 2340CV include wide and narrow cover stitches, tri-cover stitch capability, and an easy looper threading system.

Moving on, along with the variety of stitches, the machine features a differential feet option, allowing for edging elastic textile. Also, you'll be able to adjust the feeding speed and produce a wave-like effect when needed. A variable presser foot pressure makes it easier to work with thicker types of fabrics, giving you the option to produce high-quality projects with even and tight seams.

All this makes the Brother 2340CV Cover Stitch machine is a strong performer on the market. It will help you create a wide variety of cover stitches on multiple fabrics with ease.

Additional Info
---
VIDEO
Brother 2340CV Coverstitch Machine First Impression
Brother 2340CV Cover Stitch
What Is an Overlock Machine?
Overlock machines were originally used for industrial sewing. Today, however, thanks to the progress and advanced technologies they've made their way to the houses of regular people. So, what is a serger and why do we need one? Let's answer these questions. A serger, or an overlock machine as it's also called, is a device used to overlock stitches and enclose raw edges of materials to prevent them from fraying. A serger is also used to trim off excess seam allowance eliminating the need for you to do it manually later, when the sewing is done. Sergers do a great job of edging, hemming, and seaming, and are used to add a professional look and finish to your clothes. Though you could argue that a regular sewing machine can do the same thing, it would not be completely true. Unlike sewing machines, a serger uses loopers to feed several thread cones, and it also makes stitches much more elastic, which is essential if you want your clothes or some decorative elements to serve you longer.

With that said, a overlock machine is still not a stand-alone machine, and some projects simply cannot be done properly without using a sewing machine. So if you haven't got one or you wish to upgrade your old model to a more advanced one, make sure to look through our brand-new selection of sewing machines.

What Features to Compare
Sewing Capabilities

Before you decide on any particular model of overlock machine, you should firstly determine what you are going to use it for. If you need a device for home use, we recommend you to opt for a serger that can be used with 2, 3, and 4 threads. Such models show great results in stitching light and medium weight fabrics and accept almost all tread types. But you should look for a 5-thread machine if you need it for commercial use. These are considered to be the most professional and sophisticated machines in the industry. They create strong seams required for lacing heavyweight fabrics and also eliminate the need to reinforce the seams with a sewing machine additionally.

Sewing Speed and Usability
If compared to sewing machines, overlockers operate at higher speeds, reaching 1300-1500 stitches per minute. And obviously, the faster the serger is, the quicker it can complete its tasks. However, it shouldn't be out of blue that such high-performing machines are usually more expensive, too.
Also, we recommend you to opt for a serger equipped with lower looper threaders and needle threaders. They will make the process of feeding threads to the machine easier and quicker.

Technical Peculiarities

An adjustable differential feed function is what differs overlock machines from other sewing equipment and allows users total control over the speed of feeding fabric through the needle area for the best results. This feature is of utmost importance when stitching stretch fabrics and is a guarantee of no wave-like effect on the edges.

Extras
Lastly, don't overlook the features that can make using the machine more enjoyable. Opt for models that come with a generous range of accessories. It's nice when a bundle includes both a blindstitch foot and a gathering foot at least. Other welcome additions are sets of needles, screwdrivers, tweezers, nets, spool holder caps, lint brushes, needle threaders, accessory boxes, and the like.
A built-in color-coded threading guide will be a helpful addition for novice users. It'll provide precise stitching and ensure a high-quality finish each time.

Did you know?
The Brief History of Sewing Machines
The first sewing machine was invented in 1790 by the English inventor, Thomas Saint. The sewing machine was meant to be used on canvas materials and leather. It used a single thread to make stitches in the fabric. However, Thomas Saint couldn't market his invention, since it required steady improvement. It was in 1874 that William Newton Wilson, a sewing machine manufacturer, finally built a successful machine. He found Saint's drawings and made some improvements to the looper.
The first electric sewing machine was manufactured by Singer Sewing Co and introduced to the mass market in 1889. It was just a standard machine with a motor strapped on its side. After some time, the motor was embedded into the casing. By 1905, electric sewing machines were widely used at homes and factories.
Overlock stitching was created in 1881 by the Merrow Machine Company. This stitching technology became a starting point for the invention of an overlock machine. The first one was patented by the owner of the same company, Joseph Merrow, in 1889.
Interesting Facts About Sewing
The archaeological records show that people sewed some pieces of fur, skin, and bark together to make clothing about 25,000 -30,000 years ago. They used thin strips of animal hide to stitch together large pieces of fur.

Sewing appeared even before weaving. Actually, it's the first form of textile art.



The earliest needles were made from bone and ivory, while e

arly pins were made from fish bones. It was not until the Bronze Age that metal needles and pins were invented in Europe.



During the 20th century, over 4,000 different sewing machines were produced.

An average lifespan of cotton fabric is somewhere about 100 years.
China is the leading fabric producer and exporter in the world. It's followed by India, Italy, and Germany.
Originally, zippers were invented for shoes and boots. They could speed up the buttoning process, which was

especially important for

the laboring

class. Soon after, zippers were adapted to pants, skirts, and jackets.



The Singer company has always been

creating

the most successful sewing machines compared to competitors. The secret of their success lies in the superior

durability of their sewing machines. And here is an interesting fact - the first Singer sewing machines made of

cast iron were some of the strongest machines ever invented. The Singer company worried that their machines might serve for several hundreds of years and be passed down for generations, which could lead to the loss of revenue. That's why the company began to produce flimsier sewing machines.

Singer also launched a buyback program for their cast iron machines and then destroyed them with sledgehammers.



A recent survey in the USA has shown that 51%

of sewers

own

as many as three sewing machines, and overlock is one of them.