If you want to ply needle and sew beautiful, outer clothes for yourself or your family, you should acquire a decent sewing machine.
In our review we've presented the best sewing machines for home and professional use so you can find the right one for your needs.
...
Read more
...Read less
Janome HD3000
Best Entry-level Sewing Machine
The HD3000 is a beginner sewing machine from the Janome brand for those who plan to either go pro or otherwise exploit the creative sewing. It is well-stocked with features that will satisfy many if not all professional seamstresses yet it is exceptionally easy to master.
The model is equipped with a top-loading bobbin system known as a more convenient one when it comes to setting and changing the bobbin as well as controlling the thread. With a top-loading system, you will see it when the thread is getting close to its end so that you can replace it in time. At the same time, the system is jam-proof, preventing you from running off the edge. The automatic needle threader will help you preserve your eyesight since you won't need to strain to put the thread into the needle.
With this model, you can adjust the presser foot to the most comfortable and convenient level with ease—using the dial right before your eyes. There are two of them on the front of this Janome sewing machine: one for the foot pressure and another for the stitch width adjustment. The latter can be set between 0 and 6.5 mm with a stem of 0.5 mm and the former is up to 4.
The free arm is a highly useful feature for household sewing. With it, sleeves and pants legs of your clothes will always look neat.
So Easy to Master and Use
This Janome beginner sewing machine makes 860 stitches per minute, which is admittedly not the fastest sewing possible but is still considered a fairly high speed.
The 18 built-in stitches are quite enough for a household use and for professional use if you have a separate embroidery machine. What makes this model a great choice for beginners, though, is that there is a "cheat sheet" on the machine itself as to what each stitch pattern looks like and how they are made. You will see it on the inner side of the top cover, the sewing guide for each pattern, with full settings, from the foot you need to use to the foot pressure and stitch width you need to set. It is much more convenient than sneaking a glance on the manual you put on a book stand at the side.
Besides the manual, you will also see the stitch you are using on the front panel of your Janome sewing machine: all the 18 stitches are painted there with the small lights beneath each. The lights turn on when you select a stitch.
Like most times with the Janome brand machines, this one comes with the package full of tools and supplements, including a selection of feet (Blind Hem "G" Foot, Overedge "C" Foot, Rolled Hem "D" Foot, Zipper "E" Foot, Buttonhole "B" Foot, Automatic Buttonhole "R" Foot), 2 packs of leather needles and 1 of universal ones, 2 screwdrivers (traditional and small), 2 spool holders (large and small), a lint brush and more. Practically everything needed for work and maintenance is there.
Additional Info
---
What customers say about this product
The presser foot adjustment was a plus and not as common on machines these days.
Drop-in bobbin, see-through plate. Really useful to be able to see the bobbin as it runs out.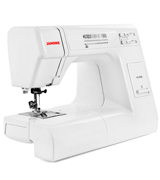 Janome HD3000
SINGER 9960
Efficient and User-Friendly
The SINGER Quantum Pro 9960 is a highly efficient sewing machine that will meet or even exceed your expectations. The number of preinstalled sewing operations in this machine is nothing short of impressive: it can make up to 600 stitches, including stretch, overcast, blind hem, and various decorative stitches. This is four times more than the next highest number of built-in stitch patterns on our list. Moreover, choosing your favourite pattern is absolutely a breeze thanks to the OneTouch™ Stitch Selection. The SINGER Quantum Pro 9960 can also boast of an extremely high sewing speed. It is able to make up to 850 stitches per minute. This makes the sewing process quick and effective.
This model comes with several convenient features, such as self-adjusting tension control, automatic needle threader and thread cutter. What this means is that you won't need to stop to do alterations - the machine will do them for you. Plus, the threader is fast enough to thread the entire machine in just a few seconds. In addition to this, it has 13 built-in 1-step buttonholes, which makes this model stand out from its rivals. What is also great about this sewing machine is that it has a horizontal loading bobbin system the winding of which requires from little to no effort. While being so easily operated, the SINGER Quantum Pro 9960, however, is more than performing and is able to cope with most complicated sewing tasks. 
Well-Thought Design
The SINGER Quantum Pro 9960 sewing machine can please its owner with smart and intuitive design that will make a sewing process comfortable and effortless even for an inexperienced user. The machine comes in a set with numerous adjustments and additional feet and has a bright LCD screen that shows what stitch pattern (as well as its length and width) has been chosen. It also alerts the user of errors in case such occur during the process. In addition to the handy screen, the SINGER Quantum Pro 9960 sewing machine is equipped with two LED lamps that help light up the sewing area. This makes it possible to use it with ease and comfort even in poorly lit conditions.
The SINGER Quantum Pro 9960 sewing machine is ideal both for professional and beginner users. Depending on your experience and skills, you can adjust a sewing speed with a lever located on the front of the machine, with a foot control, or by pressing the "start/stop" button whereby switching it to a slow speed. You also have an option to remove part of the table, by that adjust your appliance for arm-free sewing. In doing so you will be able to reach all hard-to-get places and sew them perfectly without putting in much effort. Plus, you will also be able to easily sew in any directions thanks to the adjustable feed dog.
Additional Info
---
What customers say about this product
Beautiful buttonholes. I tried several types and they all came out really nice. Quite simple to do. Just put the button in the buttonhole foot button holder, select the stitch, press start and it just does it's thing.
There are a LOT of different feet included. They are labeled with either a letter or number designations. When you select a specialty stitch, the computer will tell you which foot to use.
SINGER 9960
Brother CS6000i
Jack of All Trades
What can be better that an endless stock of sewing and quilting projects? Maybe the ability to materialize your ideas and create garments and accessories that truly match your style? All you need to work your look is to opt for Brother CS6000i Feature-Rich Sewing Machine that will definitely help you become Jack of all trades in sewing. This model offers the great number of sewing and quilting features that it would be easier to enumerate the options that the sewing machine doesn't have than those it offers. Brother company has launched a really great, easy-to-use and versatile sewing machine that meets the requirements of both novice and pro needlewomen. This model will help you start sewing easily due to its automatic features and will come in handy over time with more advanced options. In order to prove our point, we'd like to specify some really astonishing features we like most in this model. Brother sewing machine is designed with a backlit LCD display where you can see the stitch you've chosen and it is rather a convenient feature since the model has 60 built-in stitch patterns! With this machine, you'll be able to sew garments using different fabric types for sure. We should also note the sewing machine is designed with convenience in mind. The oversized table and free-arm are meant for sewing and quilting large-sized projects or tailoring narrow items such as sleeve cuff or trouser leg. Additionally, this model is perfect for sewing in poor lighting conditions or tailoring dark fabrics owing to super bright work area thus, you may be sure that you won't suffer from eyestrain. All in all, we're really surprised with how versatile, efficient and ease-to-use this machine is. For sure, the manufacturer knows what a quilter or tailor needs to create a real masterpiece with ease and great relish.
Have Trust in Brother
Brother keeps up with the times in its innovative technologies at the market of sewing and embroidery machines. What's more, this company is known and valued for the high-quality of turned out goods. The sewing and embroidery machines are perfect for both at-home and industrial use since the manufacturer has many years' experience in "sewing industry" and thus, is sensitive to the changes in consumer's demands and needs. It means that Brother company always knows how to keep in with their customers and which product to put forward. Moreover, even the most affordable machines are easy-to-use, offer the number of sewing features and have a really catchy design.
More Products to Consider
A cutting mat will protect your bag table from scratching and damaging during cutting out the fabrics.

Additional Info
---
VIDEO
Brother CS6000i Feature-Rich Sewing Machine
Brother CS6000i
SINGER 4423
Sewing Capabilities
If you're looking for an inexpensive, heavy-duty sewing machine, then Singer is just what you need. Thanks to a powerful motor, this model works at a speed of up to 1100 stitches per minute. So, SINGER is a way more powerful sewing machine in comparison with other models in our review. SINGER offers 23 built-in stitch patterns: essential, stretch and decorative. This model also features an automatic 1-step operation buttonhole creation. It is obvious that garments tailored on this machine will be of high quality.
Type of Shuttle
A horizontal shuttle and a heavy duty metal frame ensure almost whisper-quiet operation. The SINGER 4423 sewing machine has a clear view cover and a top load drop-in bobbin system. Thus, it is easy to insert a bobbin in a shuttle and keep track of thread supply. You can be sure that this sewing machine will last for years. It's got a powerful motor, stainless steel components and parts and heavy-duty metal construction for extended use and durability - all you may need to sew quickly, professionally and enthusiastically.
Additional Features
The SINGER 4423 is a universal, heavy duty sewing machine for professional users who'd like to sew through various types of fabric and tailor high-quality clothes. From casual dresses to shoulder bags, it will do a nice piece of work and ensure excellent results. The SINGER 4423 comes with a rich set of accessories and presser foot attachments for sewing on most types of fabric regardless of their thickness and quality. It's a great device to use for finishing edges, trimming and decorating clothes with elaborate stitches. All this makes it one of the leading sewing machines on the market, and not without reason. If you're looking for a professional unit to do hand-tailoring, mending and sewing clothes, there's hardly a better choice.
---
VIDEO
Singer Heavy Duty Sewing Machine 4423
SINGER 4423
Brother HC1850
Decent Functionality
Even though the Brother HC1850 sewing machine is a budget-friendly option, compared to some other models on our shortlist, it can give professional heavy-duty appliances a good run for the money. While being easy to use and operate, this computerized sewing machine has quite a number of decent functions on it, making it an attractive choice for experienced seamstresses and beginners alike. However you choose to operate this machine - with a foot pedal or using automatic controls - you will have no troubles. Convenience is the word that would best describe it. As for the functionality, the Brother HC1850 offers 130 built-in stitches and runs at a speed of up to 850 stitches per minute, which are very good numbers for a sewing machine at this price tag. This means once you get the hang of the controls you'll be able to accomplish your sewing projects in rather short time. 
Next, the Brother HC1850 features 8 one-step auto-size buttonhole styles with which you will be able to experience when creating buttonholes for your garments. And it features a horizontal loading bobbin system, which makes it easy to set up and thread even for a first-time seamstress. Similarly to the other sewing machines that we reviewed, the Brother HC1850 has a LED for sewing on darker fabrics and in dimly lit conditions.
In conclusion, the Brother HC185 is a great sewing machine that, despite its below-par price, doesn't lack functionality and can meet the needs of both professionals and inexperienced users. Whether you work on a budget or are simply not ready to invest in a premium model just yet, the Brother HC185 can be your best bet.
Perfect for Quilting
This computerized machine from Brother is perfectly suitable not only for simple sewing tasks but also for quilting and embroidering. The built-in monogramming sewing font includes letters from A to Z, numbers from 0 to 9, 7 punctuation marks and 8 special characters, which gives you plenty of options for decorating your clothes and other items. All of these patterns are easy to choose via an LCD screen that makes the process extra comfortable.
Speaking of quilting, it is also a piece of cake. The Brother HC1850 comes with a special quilting foot for decorating clothes and is fitted with a wide detachable table whereby you can quilt on large and thick pieces of garments. The table is not only detachable but also extendable and has a special compartment in which you can keep additional accessories and adjustments without worrying about a storage place.
For those looking for an appliance that will allow you to realize your design skills without being too hard to get the hang of, this sewing machine by Brother will be the best choice. Versatile, functional and user-friendly, it is a worthy acquisition for any household.
Additional Info
---
Brother HC1850
What Is a Sewing Machine?
Sewing machines were invented in the late 19th century and since then rung up the efficiency and productivity of the clothing industry worldwide. The operation of those machines required considerable efforts while the end products still missed the desired quality. Today, a sewing machine has become not only the first assistant of many people but also an easy-to-use and straightforward device. Modern sewing machines are engineered with a built-in motor, thereby simplifying and speeding up a working process on the whole. Having got a proper sewing machine, you may tailor garments for yourself or for sale and with additional features and different stitch patterns, you can take an innovating approach in sewing.
If you're fond of sewing and handiwork, you may also benefit from purchasing a scrapbooking cutting machine, about which you can learn more here.
What Features to Compare
Sewing capabilities
Before you decide on any particular model of sewing machine, you should firstly determine what for you are going to use it. And, in accordance with your requests, you can choose a device with suitable sewing capabilities. If you are a beginner or just about mending clothing, you don't need a computerized marvel. It would be enough to purchase an ordinary sewing machine that offers only several stitches. However, if you are a qualified tailor, it is doubtless that you need to opt for a heavy-duty multifunctional device. Professional sewing machines offer up to 25 built-in stitches for different types of fabrics and clothes. For example, some models feature stretch stitches that are perfect for sewing stretch and elastic fabrics and don't make them ravel. So, it is obvious that the more features a sewing machine has the more capabilities it provides. This also directly affects the price. Professional sewing machines are usually more costly than that with basic functionality.
The sewing speed which is measured at a number of stitches per minute will tell you how fast you'll be able to sew. Different models work at different velocities and their sewing speed usually varies from 200 to 1100 stitches per minute. Some sewing machines offer adjustable sewing speed so that a user can change it during the process. It is also preferable to choose a device that creates a wide variety of buttonhole styles, so you may attach a button of any form to your clothes. Sewing machines offer automatic, semi-automatic and manual buttonhole sewing types. An automatic type requires a one-step operation to create a buttonhole while a semi-automatic type works in a 4-step operation pattern and hence takes more time for sewing.
Type of shuttle
You should also pay attention to a type of shuttle as it is one of the most important components in a sewing machine. A shuttle is engaged in the process of stitch forming. The most widespread type is a horizontal shuttle that features a top load drop-in bobbin system. This type is notable for a convenient bobbin placing due to a built-in shuttle. To start working you only need to do drop-in a bobbin and pull the thread through the slot. Sewing machines with a horizontal shuttle also feature a clear cover so that you can see when the thread is running low. A vertical oscillating hook offers a front load bobbin system and has a dismountable shuttle. So, to start using a machine, firstly, you need to spool the thread on a bobbin and drop the bobbin into the shuttle. Secondly, you need to pull the thread through the slot and set the shuttle into a shuttle race. Sewing machines also differ in the type of fabric and thread they accept. Machines with a horizontal shuttle work more efficiently with fine threads while devices with a vertical oscillating hook accept threads of any thickness. It should be mentioned that a vertical oscillating hook requires permanent lubricating to prolong the life span of a sewing machine.
Additional features
The last but not least feature to consider is additional features that ensure a comfortable and efficient working process. It is preferable to consider a machine with a twin needle setting, so you can make hemlines on your cloth without an overlock machine. With the reverse option, you can reinforce the stitch. Some sewing machines feature an automatic needle threader and a bobbin winder. These options are meant to simplify the working process. There are also machines that allow free-arm sewing if you need to tailor narrow items, for example, sleeves, cuffs, trousers. Sewing machines may also include different presser feet that also increase working efficiency. The quality of tailored clothes depends on a sewing machine adjustments either. Owing to adjustable stitch length and width, it's easy to trim your clothes. This also comes in useful when working with different types of fabric. Certain types of fabrics also request specific thread tension, therefore manufacturers offer both automatic and manual thread tension control. Although other sewing machines have a dial to adjust the tension manually. It is not the full list of options that sewing machines can offer, every model has its own peculiarities and benefits. But we do hope that our review will help you choose the right sewing machine for your specific needs.