If you need to do some small sewing work, but taking out your big bulky sewing machine does not seem so appealing at the moment,
you might want to give a handheld sewing machine a try. Check out our top picks if you want to make your sewing process quick and effortless.
...
Read more
...Read less
Janome Handheld Sewing Machine
Simplicity and Convenience
The Janome handheld sewing machine is a convenient little device that is easy to use and doesn't require a lot of storage place. It will become an irreplaceable assistant for doing small household tasks or creating things from thin fabrics.
One of the biggest advantages of this model is its simple yet convenient design. As the black housing that it comes in isn't easily soiled, this handheld machine doesn't require any additional cleaning. Because it is so lightweight, fitting perfectly in a palm of your hand, it takes no effort to make even stitches on small and hard-to-reach parts. It is also extremely easy to set up. Even if you are holding this appliance for the first time, it will take you only a few moments to figure out its controls.
With this device, you can start sewing immediately. This handheld machine works on four AA batteries that conveniently come in a set. Moreover, the other attachments required for a sewing, such as a thread, a needle, an extension spindle, and a threader, can also be found inside the kit.
The Janome handheld sewing machine will become a great assistant in your household chores. Your sewing will be easy and quick, and the results will be more or less of the same quality as with a professional full-size sewing machine.

---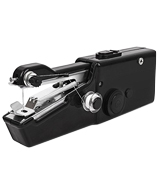 Janome Handheld Sewing Machine
Royalsell Handheld Sewing Machine
Efficient and Easy to Use
With the Royalsell sewing machine, your sewing process will become a breeze. Even though this tool is very small and compact, its size doesn't affect its performance in any way. If you need to make a quick repair or a small alteration, this device is an ideal assistant. The portable handheld sewing machine is a great appliance for working with the edges of curtains or torn clothes. This little device makes the sewing process so much faster and way more efficient compared to using a hand sewing needle. Moreover, thanks to the tight plate clamping, the stitches come out fairly even.
The major plus of this device is that it is incredibly simple. You don't have to spend a lot of time trying to figure out how to work with it. Just stock up on four AA batteries, and you are ready to sew. It also can be switched to a power adapter if you don't require that extra mobility. Thanks to the tension control function, the tightness of the stitches will be adjusted automatically. Being that simple in exploitation, the Royalsell handheld sewing machine can even become your kids' first sewing machine if they have a passion for handmade crafts.
All in all, this convenient contraption will spare you from a long sewing process and make the stitches even and durable.
---
Royalsell Handheld Sewing Machine
HAITRAL Handheld Sewing Machine
Great Option for Traveling
If you are about to go on a trip and you are afraid that you might accidentally rip your clothes or some of your fabric stuff, then taking a little sewing machine with you is a no-brainer. On that note, the heavy-duty handheld sewing machine from HAITRAL is a great combination of mobility and effectiveness.
This appliance will become an irreplaceable assistant on a trip. If you need to fix some of your clothes immediately, there is no better way to sew them on the go then with the help of a handheld machine like that. Your stitches will be neat and even, plus extremely durable. You won't have to do much to start sewing: just put the batteries in, press the button, and the machine will do most of the work for you. Since it works on batteries, you won't have to look for sockets to do your repairs.
What is more, this tool won't take too much space in your bag or suitcase. It is very lightweight and has a convenient ergonomic design, making it a perfect option for carrying around. And you won't have to worry about losing any needles or a thread since they'll be secured in your device.
With the HAITRAL handheld sewing machine, you will be able to hem the edges of your trousers, fix a ripped pocket, or patch a T-shirt wherever you go. It is a worthy investment that comes at a reasonable price.

---
HAITRAL Handheld Sewing Machine
Stingsew Handheld Sewing Machine
Works with Any Fabric
If you are passionate about designing and creating things and enjoy sewing, but full-size sewing machines are too rich for your blood at the moment or you are simply tired of their massively inconvenient size, you might be pleasantly surprised by this device from Stingsew. The pleasant part of that surprise lies with this little tool's functionality. It might not seem like much due to a small and compact size, but the model's performance is actually quite impressive.
A major perk of this model is that it can work with a slightly thicker layer of fabric compared to the other handheld sewing machines in our shortlist. It can deal with various kinds of materials, from silk to denim. It will work neatly with delicate fabric and make durable strong stitching on the dense ones. If you need to hem the edges of your jeans or sew a new cotton piece of clothing, this machine will prove to be incredibly handy. Your stitching will look nice and neat, and the quality of it won't disappoint you either.
The Stingsew handheld sewing machine is a great catch for those who enjoy creating things with their own hands. Make yourself new clothes, house decorations, or toys for your kid as quickly and effortlessly as possible with the help of this appliance.
---
Stingsew Handheld Sewing Machine
Arespark Handheld Sewing Machine
Reliable Sewing Assistant
The Arespark handheld sewing machine is a great appliance for amateurs who enjoy sewing or simply need a machine like that around the house.
First off, we would like to draw your attention to the mobility of the device. This tool is able to work both with the help of the power adaptor and on four AA batteries, which allows you to move freely around the house or even take it with you on a trip. It is a perfect cordless option for stitching the edges of your blinds since you won't have to take them off the ledge. Just do it on the spot and forget about long hours of hand sewing. Furthermore, this machine can help you fix your home textile. Unlike the countertop sewing devices, the model can easily access all the hard-to-reach parts. This tool gives you an ability to work on different types of fabric with the same excellent results.
This handheld sewing machine comes with an extended warranty, so a prolonged service is guaranteed. This makes the Arespark handheld sewing machine a better and much smarter investment. If you want to get the most out of your device and create your own stuff, check out the manual for extra tips and instructions. It comes with clear explanations, moreover, the manufacturer can provide you with a video for even easier understanding.

---
Arespark Handheld Sewing Machine
What Is a Handheld Sewing Machine?
With the appearance of the so-called DIY culture, more and more people enjoy creating various handmade accessories for themselves and their home. This allows you to show your skills and imagination by using various crafting techniques. Being a popular and relatively easy hobby, a lot of people go for sewing as their favorite leisure time activity. But no matter if it is just your hobby or you do it professionally, sewing machine might become a handy appliance in your household. There is a wide range of such devices on the market, and they all come in various shapes and forms. Unfortunately, a lot of customers cannot afford a regular-size machine given the limited amount of space they're dealing with. Which is why so many people opt for handheld sewing machines.
Being able to fit in the palm of your hand, this little tool makes the sewing process quick and easy. It is perfect for doing small works like stitching edges or creating little home decor details. Moreover, you don't have to waste time and money by taking clothes to the tailor shop if they don't fit you perfectly. It will take you only a few minutes to do it yourself thanks to a machine like that. So, if you want to demonstrate your craftsmanship and or simplify certain aspects of your life, a handheld sewing machine is a perfect fit for you.
But if you do have the money and space for a full-sized option, you might want to check our reviews of regular sewing machines and sewing threads.