If you need to do some small sewing work, but taking out your big bulky sewing machine does not seem so appealing at the moment,
you might want to give a handheld sewing machine a try. Check out our top picks if you want to make your sewing process quick and effortless.
...
Read more
...Read less
X
This site is a free online resource that strives to offer helpful content and comparison features to its visitors. Please be advised that the operator of this site accepts advertising compensation from certain companies that appear on the site, and such compensation impacts the location and order in which the companies (and/or their products) are presented, and in some cases may also impact the scoring that is assigned to them. The scoring that appears on this site is determined by the site operator in its sole discretion, and should NOT be relied upon for accuracy purposes. In fact, Company/product listings on this page DO NOT imply endorsement by the site operator. Except as expressly set forth in our Terms of Use, all representations and warranties regarding the information presented on this page are disclaimed. The information which appears on this site is subject to change at any time. More info
DUTISON Handheld Sewing Machine
Useful Set of Accessories
Seamstresses who seek a solid device that can provide professional results and is also convenient in use should take a closer look at the DUTISON Handheld Sewing Machine.
First of all, this machine provides you with durable and even stitches on any fabric. It is easy to guide in the required direction and it doesn't mess up the fabric since the fastening plate securely holds any material. The device also works in 2 power modes for quick or more precise sewing. The other cool thing about this model is its set. Apart from all the necessities for the sewing machine, it also features a number of useful accessories like a measuring tape, a pair of scissors, and a set of pins. These additions will always be handy for professionals and for amateurs.
This handheld sewing machine may not be the smallest model you can find: its weight is 10.6 oz and the size is 4.6" x 8.8" x 2.1". Yet, it is still way more convenient for sewing little pieces and quick touch-ups than a full-size machine. To power it, you need 4 AA batteries, or you can purchase a power adaptor.
In conclusion, with the DUTISON Handheld Sewing Machine, you will be able to sew any clothes and home decorations you want. It is functional enough to satisfy the needs of professionals and has a handy set for beginners.
Last updated price

$

9.99

Stock
In stock
ASIN

B07ZX3VS5C
---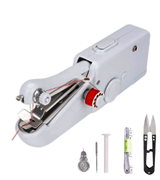 DUTISON Handheld Sewing Machine
W-Dragon Handheld Sewing Machine
Affordable Choice For Beginners
We consider the W-Dragon Handheld Sewing Machine the best choice for beginners who want to learn how to sew like a pro. It is comfortable in use and comes at a budget-friendly price.
What makes it such a good option for people without sewing experience is the automatic moving feature. Thanks to it, your stitches will come out perfectly even on the first try. If you do mess up a little bit, starting over will be easy as well. Since the machine doesn't create knots, just cut the thread and pull the end. The other feature that adds convenience is the fastening plate that holds the fabric while you are sewing.
This basic machine includes almost all necessary things for operation in a set: 3 bobbins with thread, 1 needle, 1 needle threader, and a spindle. The only thing the set lacks is a power source.
Lastly, the device allows you to control the tension and adjust the rotary wheel for the best results on different kinds of fabric. Note that the thickness of the material you are working with should not be more than 0.07 inches.
In the end, if you are a sewing beginner or your kid wants to tackle minor DIY projects, this machine from W-Dragon is what you need to buy. With its help, sewing will become quick, easy, and fun.
Last updated price

$

0.00

Stock
May be out of stock
ASIN

B0858SK9JS
---
W-Dragon Handheld Sewing Machine
Litthing Handheld Sewing Machine
Great for Any Material
If you are a sewing enthusiast but sometimes you just don't feel like using a full-size sewing machine, the Litthing Handheld Sewing Machine can become a good alternative.
This handheld appliance has 1 stitch pattern and can sew fabric with a thickness of 0.07 inches. Hence, you can create projects out of different materials like silk, wool, denim, and many more. You can manually adjust the tension and the rotary wheel depending on the type of fabric you are working with.
Next, we really like that this device comes with lots of accessories that are necessary for beginners and will be a good addition to professionals' equipment supplies. You get lots of colorful threads that will help you complete any project and things like bobbin cores, a set of sewing needles, scissors, and a measuring tape. The quality of scissors could be a bit better, but we don't consider it a major flaw.
Note that you will need to buy the batteries separately. When powered by batteries, the machine becomes portable, which makes it extra convenient to use around the house: for example, if you need to hem the curtains, you don't even have to take them off the curtain rod. But you also can use a power adaptor.
So, we consider the Litthing one of the best handheld sewing machines on the market. It is robust and makes high-quality stitches so your hand-made items will last for a long time.

Last updated price

$

0.00

Stock
May be out of stock
ASIN

B07ZGC5X7R
---
Litthing Handheld Sewing Machine
CHARMINER Hand Sewing Machine
Portable Sewing Assistant
Those who travel a lot and want to always look neat should purchase the CHARMINER Hand Sewing Machine. This handheld stitcher will quickly fix any holes, rip-offs, and other problems that may happen with your clothes on the road.
First of all, this machine is super lightweight and compact, so it won't take much space in your suitcase. The dimensions of the device are 2.7" x 8.3" x 2" and it weighs only 8.1 ounces. The other thing that adds portability is that the machine works not only off the mains via a power adaptor but also on disposable batteries.
Moving on, we would like to mention that this appliance is suitable for any type of fabric. You can sew delicate materials like silk, cotton, and chiffon or easily sew tough ones like leather, canvas, or denim. As you can see, this sewing machine is pretty universal and will not only fix clothes but home decor pieces as well.
Also, if you have no experience using such a device, have no worries: the model comes with clear instructions and is generally easy to operate. Plus, you get one exercise cloth included in the set.
All in all, with the CHARMINER Hand Sewing Machine, sewing and fixing clothes will be super easy. You can use it at home or take it with you while traveling. It is pretty robust and comes with a 1-year warranty.
Last updated price

$

0.00

Stock
May be out of stock
ASIN

B081YH27BC
---
CHARMINER Hand Sewing Machine
Jeteven Handheld Sewing Machine
Nice Gift Idea
If you or one of your relatives or friends is really fond of sewing, the Jeteven Handheld Sewing Machine will be a worthy investment. It comes with a rich set of useful accessories, so even amateurs will be able to create professional-looking crafts.
When it comes to sewing, this model seems pretty basic since it offers only one sewing pattern. Yet, it is able to make just as high-quality and durable stitches as a tabletop sewing machine. With it, you can not only fix and hem things but also complete a simple sewing project from scratch. But we want to warn you that you may experience some vibrations during use.
As for the set, apart from the machine, it includes an extension spindle, sewing needles, bobbins threader, measuring tape, bobbin sewing threads, safety pins, and scissors. We also want to say a few words about the design. Not only is it ergonomic and fits in your hand nicely, but it also looks cool in its bright-pink body. The controls are intuitive, so you shouldn't have any complications during use.
The Jeteven Handheld Sewing Machine is a good investment for sewing enthusiasts and it can be a good gift idea as well. Even if you don't enjoy sewing, it will become handy for repairs around the house. It is robust and you get a 180-day exchange and money-back guarantee.

Additional Info
Last updated price

$

9.92

Stock
In stock
ASIN

B07WT4BBF9
---
Jeteven Handheld Sewing Machine
What Is a Handheld Sewing Machine?
With the appearance of the so-called DIY culture, more and more people enjoy creating various handmade accessories for themselves and their home. This allows you to show your skills and imagination by using various crafting techniques. Being a popular and relatively easy hobby, a lot of people go for sewing as their favorite leisure time activity. But no matter if it is just your hobby or you do it professionally, sewing machine might become a handy appliance in your household. There is a wide range of such devices on the market, and they all come in various shapes and forms. Unfortunately, a lot of customers cannot afford a regular-size machine given the limited amount of space they're dealing with. Which is why so many people opt for handheld sewing machines.
Being able to fit in the palm of your hand, this little tool makes the sewing process quick and easy. It is perfect for doing small works like stitching edges or creating little home decor details. Moreover, you don't have to waste time and money by taking clothes to the tailor shop if they don't fit you perfectly. It will take you only a few minutes to do it yourself thanks to a machine like that. So, if you want to demonstrate your craftsmanship and or simplify certain aspects of your life, a handheld sewing machine is a perfect fit for you.
But if you do have the money and space for a full-sized option, you might want to check our reviews of regular sewing machines and sewing threads.