A knife is one of the most important utensils for any cook. The best hand tool increases productivity in a kitchen and
provides great cooking results. What about the whole kitchen knife set that will help you raise your kitchen skills to a new level? Go purchase your best set.
...
Read more
...Read less
Henckels International Forged Premio 18-Piece Block Set
Premium Class Knives Everyone Is Eager to Have
If you want to delight your family with the tastiest dishes you definitely need to cook with great relish. You might think that cooking skills or good mood are crucial features for making tongue breaker but there is more. The best knife set is also a key to success. Henckels is a premium class set that would become your right hand in any cooking task. The whole set includes 18 items made of high-quality materials using sophisticated technologies. Here you will find 7 knives with blades ranging from 3 to 8 inches in length. These knives are made of stainless steel and perfect for hashing and mincing the ingredients. What's more, there are 8 steak knives with serrated edges that are able to cut through rare, medium or well-done steaks and other ready-made meals with ease. All the slices will be even and appetizing like never before. The included knives are not only as sharp as a razor; they are also really durable. Forged stainless steel blades are fixed to the handle with 3 rivets (metal pins that hold the scales to the tang). This fixing method is known to be the most infallible one in the present-day manufacturing. If you take a closer look at the metal end cap you will see the JA Henckels International logo on it. This engineering solution is meant to do both decorate knives and provide excellent balance. Be sure that with this knife set you will be able to control all cutting processes - chopping, dicing, slicing, mincing, etc. easily and will never have a hand or wrist fatigue no matter how much stuff you need to cut. On purchasing Henckels International Forged Premio 18-Piece Block Set you will also get a 9'' sharpener provided to maintain the sharpness of the blades. The whole set comes with a solid wooden block that would definitely become a catch on any countertop. The manufacturer engraved its logo on the front side of the block to show its proudness of a product. And they do have a reason to be so.
Knife Evolution
Archaeological excavations prove that our ancestors used knife-like tools made of rock or flint back in the Paleolithic period. These materials could be easily scaled to the required shape and re-scaled to make a new edge. It wasn't really handy to hold a piece of stone in a hand and thus, later in the history, people attached handles to knife-like tools for convenience of use. Frequently our ancestors used to make a knife-like tool from bones or wood, but they were too fragile. With the advent of metal processing methods, they started to produce knives out of copper and bronze. Such tools were highly valued for their durability and super sharp edges. Believe it or not, but knives made of gold were also found and were belongings of rich people. The first clasp-knives appeared in the 19-th century in the years of the Industrial Revolution and right away gained incredible popularity among people. They had a compact and safe design and could fit in a pocket with no injury risk. Today, manufacturers constantly advance technologies and production methods in the race to the top so that now we've got a wide assortment of knives on offer to choose from.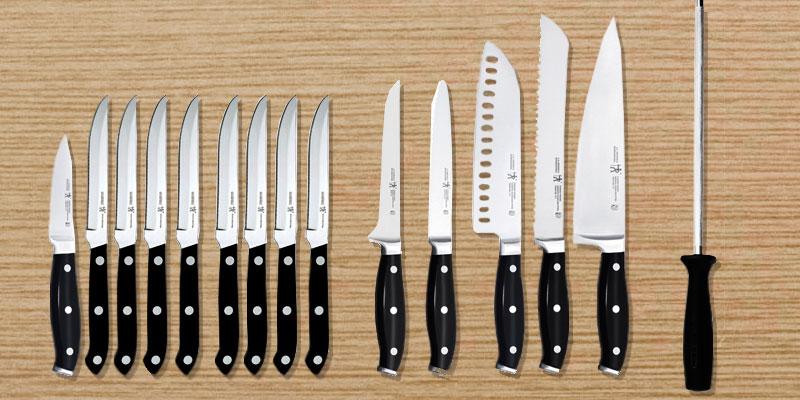 More Products to Consider
As much routine as eating can be, it can also be a pleasure if served right. For aesthetic enjoyment and smart presentation, we'd recommend you to get this amazing J.A. HENCKELS International 65-piece alcea flatware set.
Additional Info
---
VIDEO
J.A. Henckels International Forged Premio 18-Piece Block Set
Henckels International Forged Premio 18-Piece Block Set
Chicago Cutlery Fusion 1119644
For Challenging Tasks
Chicago Cutlery knife set has sparked our interest because it comprises 18 items: 16 knives, a wooden block, and an 8-inch stainless steel knife sharpener. Let's specify the intended purpose of each knife so that you can get the most out of them when dealing with everyday cooking tasks. With no shade of a doubt, a 7.75" chef knife will become the most frequently used item from the whole set, for it's been designed to cope with a variety of food. It's got a long and extremely sharp blade to cut through soft and tough meat, fish and poultry. A 7" santoku knife will help you fillet fish and dice vegetables with ease. To slice bread accurately without making it crumble, use a 7.75" bread knife. You'll also find a peeler and amazingly sharp steak knives in the set. As you can see, this knife set is truly complete and will suit for most daily cooking tasks. Chicago Cutlery knives are designed under exclusive Taper Grind™ edge technology that provides optimum sharpness and maintains edges sharpness in a long while. All in all, this knife set with block will turn cooking into the fascinating and less time-consuming process.
Perfect Performance
We're admired with the sharpness of the items included in the set. The high-carbon stainless steel forged blades won't go blunt for a long time and will serve you for years. 8 knives in the set are designed with mounted handles made of non-slip soft touch material for a comfortable grip to prevent accidental slipping out of your hand. The other knives feature a one-piece forged design and ergonomic handles. The knife block is made of pine wood seasoned under a special technology to be water-resistant. It's also been designed to look nice and embellish kitchen interior. You can set it on the countertop within easy reach and have all items at hand. The manufacturer of Chicago Cutlery set recommends hand washing only in order to prolong the lifespan of the knives, so, make sure to take precautions.
More Products to Consider
If you need to grate lemon or hard cheese, a knife might be not the best tool for this purpose. Here, Yoheer(TM) micro bladegrater and zester would come in handy. With Yoheer you will be able to grate cheese, ginger, garlic and chocolate with ease. What's more, this stainless-steel grater doesn't let bacteria proliferation and is rust-resistant.
---
VIDEO
Chicago Cutlery 18-Piece Knife Block Set
What customers say about this product
No broken handle issues nor discoloration on the knife blades here. All in all a good set for the $.
Good weight, solid blade that stays sharp and cuts smooth, wasy to resharpen.
Chicago Cutlery Fusion 1119644
Mercer Culinary Genesis M20000
Transition of Knife
The first knife-like tools used in the Paleolithic period were made of rock or flint since these materials could be easily scaled to the required shape and re-scaled to make a new edge. Later in history man attached a handle to a knife-like tool for added convenience and previously used rocks and flints were replaced by bones. With the advent of metal processing methods (approximately in the 5th century BC) our ancestors produced knives from copper and bronze. A knife was highly valued among different nations as both a tool and cold arms. For example, in the course of archaeological excavations in South America scientists found the knives made of gold! The 19th century was marked by the Industrial Revolution where the main focus was on going from hand production methods to machines to cheapen the production of goods. During that period the first clasp-knives appeared and at once become highly valued for both their compact size and safe design. Today, the knives are an important tool for work than for survival as in the past. The manufacturers aim to advance their technologies and production methods in the race to the top, thus you can buy the knives of a high quality in a wide assortment of materials.
The Set Will Decorate Your Kitchen
The knife set includes 6 items only but the knives are thus much multiporpose that you are able to cope with any kitchen task! So, on buying this set you get a chef knife, bread knife, boning knife, utility knife, paring knife, and a holder. A chef knife is one of the most required items in any set since it is perfect for meat dressing along with herbs and vegetable chopping. As regards a bread knife, it offers you an ability to evenly slice the freshest loaf of bread without crushing it. We should note that Mercer is the only knife set on our shortlist that comes with a boning knife. This item is perfect for removing bones of fowls, meat, and fish quick, efficiently, and effortlessly. To peel some fruits/vegetable or just for day-to-day cooking use a utility or paring knife. As you may see you'll get the right utensil for any cooking task. What is more important - a block, which is made of tempered glass and is scratch-resistant making it quite durable. The block is transparent and thanks to this you get a feeling of knives hanging in the air. It looks fantastic, no doubt! We may safely say that if you opt for this knife set you would definitely place it in plain sight.
Genesis Collection - Unity of the Best Properties
Mercer Culinary company have yielded several knife lines and each of them features its own unique characteristics. The very knife set belongs to Genesis line and the manufacturer is really proud of it not without reason. First of all, we want to draw your attention to a patented Santoprene® handle. The handle is mounted to a bolster and additionally fixed with a pin. Such construction is not only quite safe but also very eye-catching. And owing to a material the handles are covered with the knives will never slip out even if your hands are wet! But the composition of this material is held confidential. The next feature we should emphasize on is the precision balance of the knives thus you can fully control the cutting process resulting in evenly cut ingredients. And finally, maybe the most important thing about Genesis knives is that the blades are made of forged high-carbon stainless steel that resists rust, corrosion, and discoloration! You will be astonished of how long the blades stay razor sharp! The manufacturer claims that their knives take your culinary skills to the next level and we are ready to stand by every word. Moreover, the lifetime warranty is the best evidence par excellence!
More Products to Consider
To keep your knives razor sharp you definitely need a sharpener and we recommend you to opt for Mercer Culinary german sharpening steel produced by the same manufacturer as the knife set.
Additional Info
---
VIDEO
Mercer 6-pc Knife set review and test comparison
What customers say about this product
This set has been a great step up for me from those cheap block sets available at the big box retailers. Definitely worth the extra cost and care needed to preserve the sharpness of the blades.
The stand is very modern nicely designed. I like that is glass so you can see everything. Like it's floating. Just a perfect set up will recommend
Mercer Culinary Genesis M20000
Cuisinart 15-Piece Stainless Steel
Functionality
This superb kitchen knife set includes 15 items for different kitchen applications. There are 8" chef knife, 8" slicing knife, 7" Santoku knife, 5.5" serrated utility knife, 3.5" paring knife, 3.5" Bird's beak paring knife, sharpening steel, all-purpose household shears, and a wooden block. On buying this set you will be able to chop meat and fish, grate different ingredients, slice ham and cheese for platters and peel off fruit and vegetables. Be sure that Cuisinart 15-Piece knife block set would become your helping hand for all kitchen needs.
Construction
All the knives in this set are one-piece forged and both the handle and the blade are made of high-carbon stainless steel. As we've mentioned before such steel is one of the most durable materials the best knives are made of. It is obvious that you'll get your money's worth if you opt for this kitchen knife set. Additionally, this set is rather eye-catching due to metallic iridescence. For your convenience, the handles are designed with 2 curves to prevent accidental slippery and of course for optimum comfort during use.
Usability
When it comes to usability, this knife set includes 8'' sharpener that will help you keep your knives as sharp as possible. Therefore, cutting through the toughest food would be a piece of cake. All-purpose household shears that come in the set would also come in a good stead. With this item, you can cut off a fishtail effortlessly or open some packages without tearing them. As regards the knife holder, it is made of wood and painted black to add some style to the whole construction. The block is rather solid and heavy, so you'll not turn it over when pulling out knives. You should also remember that the knives require hand wash only, otherwise the blades may become dull pretty quick.
---
VIDEO
Cuisinart 15-Piece Stainless Steel Knife Set
Cuisinart 15-Piece Stainless Steel
Wamery Ceramic 5-Piece Knife Set with Wood Holder
Discover the Benefits of Ceramic
Wamery Ceramic Knife Set consists of three ceramic knives (just as the name suggests) which look pretty much the same but differ in length and width of the blade. You can assign each of the knives for different cutting needs and do whatever cooking requires with ease - mince, chop, cut, slice, etc. The only job ceramic might not cope well with is dressing too hard meat with bones. It might cut it through but there's a big chance the blade will be damaged, so it's better if you use a different knife for this purpose. Still, ceramic flatware has got a bunch of advantages over stainless steel. As regards to the knives, they don't rust or corrode, they resist bacteria well and they stay sharp for a much longer period of time. Ceramics doesn't oxidize too and this way, can preserve vitamins in the food you've just sliced or cut. Warmery knives have unique handles to avoid the contact of your fingers with the blade and covered with a soft-touch material to ensure an easy and comfortable cutting. In many ways, Wamery Ceramic Knife Set is great, but you better get it to see all the benefits for yourself.
Top It Off
With this knife set, you can skin fruit and vegetable in seconds using the included ceramic peeler. This item is designed with 2 razor-sharp well-angled ceramic blades that don't cut too deeply or shallowly and peel off only skin without fruit's flesh. So, even a ripe mango will be skinned perfectly! The ergonomic handle fits great in your hand and ensures secure use of the item. The peeler sits in the wooden block made of oak. What is important, the block is half the size of an ordinary block thus, you can place it even on the smallest countertop. It has a really unusual and modern open design and it means that the water won't flock inside the block and won't cause plaque formation. The wooden block is ideal to keep knives dry and safe. In all, despite the fact that this knife set has 5 items only, it is still great for literally any cooking task.
More Products to Consider
Any dish should be both tasty and tempting. And if you want to bake a cake or muffins and decorate them with icing, pastry and cake decorating kit would come in handy. The are 10 items included in the set that will definitely level up your decorating skills.
---
Wamery Ceramic 5-Piece Knife Set with Wood Holder
What is a Knife Set
A cooking process is an integral part of our life. Some people perceive it as a routine while others turn this process into the art. All in all, the main goal we all aim for is preparing tasty dishes. Here, the key to success lies in the right knives. Any Chef would tell you that the best knives are meant to speed up the cooking process and make it pleasant and effortless. It should be mentioned that opting for the set of knives is much more beneficial than purchasing each one separately. The reason for that is that the whole set costs less and includes knives of various shapes, length and they are designed for different purposes. Moreover, if you purchase the forged stainless steel knives they would serve you for a long period of time. And finally, the knives designed in a similar style would surely decorate any kitchen!
If you want your knives to stay sharp as long as possible or have one always at hand, we'd recommend you to look through our reviews on knife sharpeners and multi-tools.
What Features to Compare
Functionality
Modern market offers a wide variety of knives that are meant for different purposes. So, before you opt for a knife set with block, think about its Functionality. They differ in the number of included items and may contain not only knives but also blocks, cutting boards, knife sharpeners, scissors etc. It goes without saying, that the more knives come in a set, the more cooking needs they can meet. The knives are available in a broad choice of sizes, shapes and blades. The right knives for your needs depend on the type of cooking you do. Generally, the best knife sets include an all-purpose utility knife, a chef's knife, a Santoku knife, a bread knife, a carving knife, a cheese knife, steak knives, paring knives, pizza knives etc. All the items mentioned above will become a helping hand for every cook and guarantee excellent slicing, chopping or mincing.
Construction
The most important feature that impacts a knife's durability is its Construction. So, a knife consists of 2 main parts: a blade and a handle. Modern knives are mainly made of stainless steel, high-carbon stainless steel, and ceramic. Stainless steel blades go blunt rather quickly and require sharpening every now and then. For the contrast, the high-carbon stainless steel knives are literally the best option. Less carbon content makes such knives harder and ensures a sharper edge for a long time. The high-carbon stainless steel blades won't rust! The ceramic knives tend to be extra sharp and hold its sharpness for a long time. But, the key drawback is that this type is rather fragile. Moreover, the knives can be either stamped or forged. Here, the forged one is more expensive and durable, as both the blade and the handle are forged as a one-piece item from a hunk of metal. The other type is cut from a single sheet of metal. A handle's material is also a crucial aspect. Stainless steel handles are durable and look alluringly but a knife may slip out of your hands if they are wet. The models with plastic handles are grippy, non-slip and durable. Thus, plastic handles are easy in maintenance but less hygienic than stainless steel ones. You should also know that knives differ in the way a handle is fixed to the blade. There are one-piece forged handles (one-piece knife), mounted (a handle is slipped over a tang) and riveted handles (clutch a steel that runs to the very end of the handle).
Usability
It's rather important to opt for a knife set that will work well for you. Remember, that the knives should be kept clean to prevent plaque formation! For safety's sake, the knives should always be stored in a block or on a magnetic strip. It is up to you to choose whether you want a cabinet-type or a wall-mounted holder. They are both comfy if you store the knives properly. A cabinet-type block doesn't take much free-space at a countertop and all the knives are at hand. By contrast, the wall-mounted magnetic strips are real space-savers, especially for small kitchens. Thus, they require installation. Before purchasing a knife set with a block, consider the material it is made of. Wooden models are durable and firm. They'd become a decoration to any kitchen. On the other hand, plastic blocks are not so eye-catching as wooden models, but they may be of a different color and shape. A good basic kit would also include a knife sharpener to maintain knives sharp.
As you can see, knives differ considerably from each other. We hope that our review will help you choose the best kitchen knife set!
Sources:
1. How to Select Quality Kitchen Knives, wikiHow.
2. Kitchen Knife Buying Guide, Consumer Reports. May 2016.
3. Jason Kessler You're Probably Using The Wrong Steak Knife, Food Republic. April 30, 2014.
4. Maryellen Driscoll How to Choose a Chef's Knife, Fine Cooking.
5. Knife, Wikipedia. July 29, 2016.
6. Daniel Gritzer Why Serious Cooks Use Carbon Steel Knives, Serious Eats.
7. The Pros and Cons of Ceramic Knives, Delishably. March 16, 2016.
8. Anna Stockwell How to Safely Store Your Knives (and Keep Them Scary-Sharp), Epicurious. April 6, 2015.