A knife is one of the most important utensils we use regularly in the kitchen. Which is why it makes sense to buy yourself a set
of high-quality knives that will let you prepare first-class meals every time while putting in minimal effort. For this review, we've included five best knife sets available so you can easily get one that will best suit your needs, tasks and budget!
...
Read more
...Read less
X
This site is a free online resource that strives to offer helpful content and comparison features to its visitors. Please be advised that the operator of this site accepts advertising compensation from certain companies that appear on the site, and such compensation impacts the location and order in which the companies (and/or their products) are presented, and in some cases may also impact the scoring that is assigned to them. The scoring that appears on this site is determined by the site operator in its sole discretion, and should NOT be relied upon for accuracy purposes. In fact, Company/product listings on this page DO NOT imply endorsement by the site operator. Except as expressly set forth in our Terms of Use, all representations and warranties regarding the information presented on this page are disclaimed. The information which appears on this site is subject to change at any time. More info
McCook MC69
The Knives Set to Impress
Time to make your kitchen chores a breeze. The McCook kitchen knives block set will impress you with its quality – and let you sharpen the blades right on the spot.
This knives set can be proudly called a comprehensive one. Cutting, chopping, dicing or slicing will be fast and smooth with the durable and perfectly sharp German kitchen knives.
This set comes with 20 pieces, including a chef knife, bread knife, santoku knife, and many more. McCook makes sure that you'll have one for every kitchen need. All knives are hollow-handle and made from high carbon stainless steel (420J2). Naturally, they are also rust-resistant.
Now, let's take a look at the steak block that is included in the package. Its main advantage is that you can detach it from the main block and move to the dining area. In general, taking out any knife will be a piece of cake for you. The only issue with the wooden stand is that it could be more durable.
No problem at all with taking care of the set. The knives as well as the block are very easy to clean. Mind, though, that you must not wash these knives in the dishwasher. Don't forget to clean and dry them at once after washing them by hand.
Fit for Every Purpose
Cutting food with a dull knife is an ordeal. With the McCook set, you won't have to run around looking for fitting sharpening steel. The main block has a slot to bring the knives' blades to perfection. All you need to do is put the knife into a slot and start working on it.
But don't worry; you'll only need to do that after a good deal of using these durable knives. As the edges are tapered, they are very sharp and last that way 3 times longer.

Moving on to the specific knives from the set, the 8" chef knife and 7" santoku knife are easily your best kitchen assistant. The chef's knife has a wider blade, which is perfect for chopping and dicing fruit, vegetables, proteins, and herbs. The santoku knife is thinner and will help you slice and dice carrots, cucumbers, onions – or just about anything prepared in small pieces.
Pizza lovers will certainly enjoy working with a 4.5" pizza knife from the set. It can easily cut even the most resilient pizza, so you'll forget all about your old kitchen knives. Also, the 5" cheese knife is ideal for slicing through cheese with no effort.
Overall, this German knives set by McCook will be an impressive addition to your kitchenware.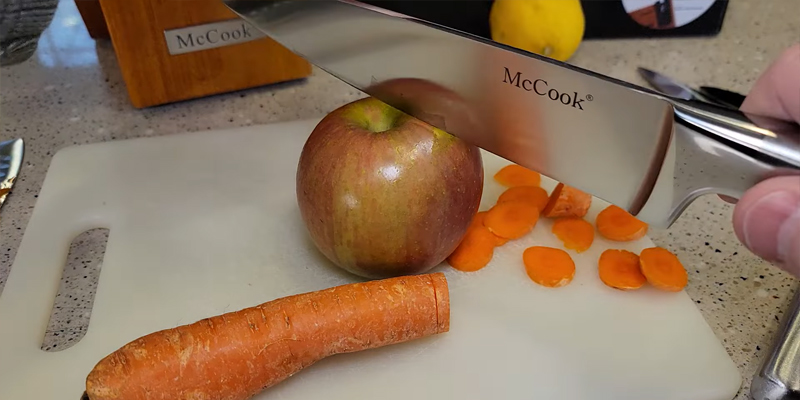 Last updated price

$

0.00

Stock
In stock
ASIN

B093C5TNMC
---
McCook MC69
Cuisinart 15-Piece Stainless Steel
Food Cutting made Easy
It often happens that we are reluctant to cook some dishes due to the tiresome process of ingredients preparation. Especially when it comes to some complex or exquisite recipes engaging a lot of peeling, cutting, carving, mincing, dicing, etc. This is where a good knife or a well-thought set of knives can become a real game-changer and make the food preparation tasks you dislike a lot easier. And a knife set from Cuisinart is just the one in point. 
All the knives in this set are distinguished by a one-piece forged construction that stands out for durability, robustness, and truly long service life since it's resistant to damages and breakage and is meant for extensive use on a regular basis. Both the handle and the blade are made of high-carbon stainless steel which is one of the strongest and most solid materials the best knives are made of. Precision-tapered blades hold fine, sharp edge for pretty long, ergonomically shaped handles ensure comfort while cutting and bolsters are designed for improved control and stability. Additionally, this set is rather eye-catching due to metallic iridescence and will add a touch of modern style to your kitchen. 
Speaking of the functionality, this superb kitchen knife set includes 15 items for different applications. Whether you tend to use bigger knives with hefty handles and wider blades or prefer mid-size or smaller knives with narrower blades and pointed edges, there is something for any taste. You'll get an 8" chef knife, 8" slicing knife, 7" Santoku knife, 5.5" serrated utility knife, 3.5" paring knife, and a 3.5" Bird's beak paring knife. With this set, you will be able to chop meat and fish, grate different ingredients, slice ham and cheese for platters, peel off fruit and vegetables, and more.
With Usability in the Focus
Along with kitchen knives and 6 elegant steak knives, the Cuisinart set comes complete with a pair of household shear, a sharpener, and a wooden block. An 8'' sharpener will help you keep your knives as sharp as possible. Therefore, cutting through the toughest food would be a piece of cake. All-purpose household shears would also come in good stead. With this item, you can cut off a fishtail effortlessly or open some packages without tearing them. As regards the knife holder, it is made of wood and painted black to add some style to the whole construction. The block is rather solid and heavy, so you'll not turn it over when pulling out knives. You should also remember that the knives require hand wash only, otherwise, the blades may become dull pretty quickly.
To round things up, if you seek to facilitate food preparation, be sure that Cuisinart 15-piece knife block set will become an efficient helping hand for many kitchen needs and take the strain off out of numerous cutting tasks. 
Additional Info
Last updated price

$

79.95

Stock
In stock
ASIN

B00GIBKC3K
---
VIDEO
Cuisinart 15-Piece Stainless Steel Knife Set
Cuisinart 15-Piece Stainless Steel
Home Hero 13pcs set
A Standout Design
Home Hero does not compromise on quality of their knife sets. When you buy one, rest assured that you'll get your money's worth. This set is made to transform your kitchen experience to that of a 5-star restaurant.
Let's start with the fact that the Home Hero set will easily cover all your needs. This is a 17-piece set with 13 pro level chef knives, kitchen scissors, peeler, and a modern stand with a 2-stage sharpener. It's versatile and features carving and utility, pizza and cheese, bread, and other knife types.
The design of this set is impressive and will fit a modern kitchen with no problem. Some customers may find the blade décor a bit too much. Others, however, will appreciate the bold, expressive choices and black blades. The stand is rather thin and won't take up much of your precious counter space. While other sets don't really look like their online pictures, this one is exactly what it says on the tin.
As for the materials, these knives are made of pro quality stainless steel. The superior blades are coated with paint that is nonstick, and equipped with ergonomic handles. Overall, the knives by Home Hero are durable, practical, and rust or stain free.
Razor-Sharp, For Your Convenience
Moving on to a very handy feature of this set: a sharpener. It's a premium quality 2-stage model that will keep your knives razor-sharp at all times (mind that they come super-sharp right out of the box). You can sharpen them as part of maintenance or after every use; the choice is yours.
Now, let's see what this set contains – and how it can make you a real chef at home. Out of the 13 pro knives, the 6 steak knives are perhaps the most impressive. They are exactly what you'll need for speedy, precise meat cuts.
Prepping up for a steak dinner or BBQ party has never been that easy. All the six knives are of premium quality, have a great grip, and cut the meat into perfect slices with no effort. Forget about "sawing" through a tough piece; everything will proceed cleanly and smoothly. Get ready to impress your neighbors with a tasty steak that looks right out of a local restaurant.
Fine, but what if you prefer delicious pizzas? Here's the good news: using a Home Hero pizza knife will be way easier than a pizza roller. A surprise to be sure, but a welcome one.
You can get this comprehensive knife set for yourself – or make it a practical holiday gift.
Last updated price

$

0.00

Stock
In stock
ASIN

B075MD55N1
---
Home Hero 13pcs set
AmazonBasics Premium 18-Piece
Approved by Professional Chefs
If you want to cook like a pro, a set of high-quality kitchen knives is a must since proper ingredients preparation is halfway to success, especially when cooking some sophisticated "haute cuisine" dishes. A knife set from AmazonBasics doesn't fall behind professional-grade tools designed for use in restaurant kitchens and has got many loyal customers, including chefs, who are more than pleased with how the knives hold up and how they work.

So, what makes these knives so special? There are quite a few things. First off, it's the construction of the knives itself, which is meticulously thought out to the last detail. Thanks to the full-tang design, all the knives from the set are extremely durable and can be used for heavy-duty cutting tasks. Second, it's the triple-riveted handles. They are extremely steadfast and provide a secure grip which is essential for precision cutting. Further on, the knives are perfectly balanced, thanks to the stock metal in the handle counterbalancing the weight of the blade. All of this makes these knives convenient in use and takes the strain out off using even such large knives as a chef's knife, bread knife or a boning knife.

Moving on, the blades of the knives are made of first-class steel and precisely formed and honed for exceptional sharpness - whatever ingredients you'll slice, the blades will go through them like through butter. As for handles, they are made of BPA-free food-grade plastic. Though not as durable as stainless steel, they are sturdy and won't crack or warp even after extensive daily use.

All Food Preparation Needs Considered
The AmazonBasics knife set stands out not only for material and design quality but also for the ultimate functional versatility. Including as many as 16 knives, this set will help you handle pretty much any cutting task. Along with a chef's knife, you'll also get a Santoku knife great for mincing, dicing, and chopping, a slim slicing knife for smoothly slicing fruit, veg and other soft ingredients, a paring knife for more intricate tasks and fine cutting, and a boning knife for removing bones and skin from poultry and fish. In addition to that, the set contains kitchen shears for snipping herbs, cutting poultry, and opening food packaging. And six steak knives will be highly appreciated by all lovers of BBQ parties and steaks. As a bonus, the package contains a stick sharpener that will help you maintain your knives in a due cutting condition and a wooden block in which you'll be able to conveniently store all your knives within easy reach on the countertop.

All things considered, highly appreciated by professional chefs, the AmazonBasics is a set of top quality long-lasting knives that will perfectly meet the needs of any busy kitchen, no matter if you cook a dinner for a couple or a crowd.
Additional Info
Last updated price

$

62.26

Stock
In stock
ASIN

B00R3Z3ZF2
---
AmazonBasics Premium 18-Piece
Marco Almond KYA36
The Rainbow Marvel
Ever dreamed of a unique kitchen knife set? The one by Marco Almond comes in beautiful rainbow blade colors and offers you the next level of kitchen safety.
The design of this set really stands out among the others. Knife blades are coated with titanium, which creates a one-of-a-kind rainbow look. That's one easy way to impress your party guests – or boost your own mood. Also, your kids will be sure to love these knives – and maybe start learning cooking.
Not only is this set good-looking, but it also features 12 pieces for versatile kitchen needs. Although this is not the most comprehensive knife set, it doesn't disappoint. Included are a chef, slicing, bread, santoku, and some other knife types. A good combination for slicing, dicing, cutting, or other kitchen purposes.
Mind that this Marco Almond set comes with blade guard. It's meant to protect you from cutting yourself when not using the knife. This guard is also good for a family kitchen. Even if your kids get playful with the knives, they won't get hurt. Another function of the guard is to protect the sharpness of the blade.
For Any Kitchen Challenge
Are these knives really sharp? The answer is "yes". Made of high-quality stainless steel, they will last longer – and won't get dull in a flash. This set doesn't offer a built-in sharpener, so you'll have to find and buy one separately. A minor inconvenience, compared to their overall quality.
Don't want to waste your time on hand washing? These knives are dishwasher safe, and it doesn't harm their color. Just remember to dry them at once after the wash-up. If you do want to hand wash them, beware of cuts due to their sharpness.
And now, for those wondering what this set contains. Let's take a closer look at the marvelous 8" chef knife first. Fit for almost any ingredient, it will help you cut through large food pieces with ease and precision. This versatile knife will become your number one kitchen assistant.
What about the bread knife from this set? When you're using it, even the toughest bread becomes a piece of cake. An ultra-sharp serrated edge significantly differs from your old and dull knife models.
All in all, the Marco Almond knife set will tackle any culinary challenge – and do it in style.
Last updated price

$

0.00

Stock
In stock
ASIN

B094Q6BZJW
---
Marco Almond KYA36
What Is a Knife Set?
A cooking process is an integral part of our life. Some people perceive it as a routine while others turn this process into art. All in all, the main goal we are all trying to achieve is to prepare tasty meals. And the key to succeeding in this is to use the right tools. You may ask any professional chef, and they will tell you that it is way easier to prepare a restaurant-quality meal if you have a set of high-quality knives. Without one, you'd have to spend more time and put in more effort to achieve perfection. So, if you want to hone your culinary skills and start cooking like a pro, you should definitely get yourself a set of knives.

You may wonder why choose the whole set if you could just buy a chef's knife? Well, of course, we really are not pursuing you to buy what you don't need, but the advantages are obvious! For one, the price of the whole set is usually much cheaper than if you bought each knife separately. And for two, you get more tools, which means you will be able to prepare more meals as well!

Obviously, even the best kitchen knives will dull over time, so it's essential to invest in a good sharpener as well. And if you often go on camping trips with your relatives or friends, you may be interested in purchasing a multi-tool.

What Features to Compare
Functionality
The modern market offers a wide variety of knives designed to serve different purposes. Which is why it's important to consider what functions you want your knife to perform before selecting one.

When it comes to knife sets, decide whether you want it to include any other pieces besides knives and how much you're willing to pay for it. Of course, with such a range of products available, it might be quite difficult to decide which set is best for you. But generally, most modern sets of knives come including the following pieces: an all-purpose utility knife, a chef's knife, a Santoku knife, a bread knife, a carving knife, a cheese knife, steak knives, paring knives, pizza knives etc.

All of these knives serve their own purpose and will come in handy when cooking first-class meals.

Construction
Next, it's important to consider how durable and reliable the knife's construction is. Most knives are made either of stainless steel, high-carbon stainless steel or ceramic. Let's see how these materials differ.
Stainless steel is usually more affordable; the downside of it is that it dulls quicker and requires more frequent sharpening.
High-carbon stainless steel knives are more durable. For one, they remain sharp longer and for two, they are highly susceptible to rust, making their maintenance a cinch.

Ceramic knives are on par with high-carbon stainless steel knives in terms of sharpness. But unlike them, they warp and break easily.

In addition to the difference in material, knives can have a different design: there are stamped and forged options to choose from. If you don't have a limited budget, we recommend you choose from forged knives since they are more durable and will not fall apart even with years of regular use. Stamped models are not a bad choice either, but they require more careful handling and should be hand-washed.

The material of the handle is essential as well. Although stainless steel looks good and is overall more durable, it does tend to slip in wet hands, so it may not suit for some cutting jobs. The same can be said about knives with wooden handles. These tend to rub the skin if used for a prolonged time, making your experience less comfortable. Plastic handles don't look expensive, but they require low maintenance, and they are easier to grip.

Usability
By this, we mean the ability to store all the pieces of the set in one comfy and safe place. So, consider what type of block comes included with your set. It should look good to blend in with the rest of your kitchen gadgets and it should not take up much space. Plus, this block should not accumulate water to prevent bacteria from spreading inside. Just like knives, storage blocks come in a variety of sizes and styles so it should be quite easy for you to pick one that will meet your requirements best.

Sources:
1. How to Select Quality Kitchen Knives, wikiHow.
2. Kitchen Knife Buying Guide, Consumer Reports. May 2016.
3. Jason Kessler You're Probably Using The Wrong Steak Knife, Food Republic. April 30, 2014.
4. Maryellen Driscoll How to Choose a Chef's Knife, Fine Cooking.
5. Knife, Wikipedia. July 29, 2016.
6. Daniel Gritzer Why Serious Cooks Use Carbon Steel Knives, Serious Eats.
7. The Pros and Cons of Ceramic Knives, Delishably. March 16, 2016.
8. Anna Stockwell How to Safely Store Your Knives (and Keep Them Scary-Sharp), Epicurious. April 6, 2015.