Whether you are a professional cook or a newbie you will need cookware both to make juicy lamb burgers with garlic sauce and to fry
some bacon and eggs for breakfast at home. A cookware set is the best solution for a domestic kitchen that will offer all the pieces a home cook might need.
...
Read more
...Read less
X
This site is a free online resource that strives to offer helpful content and comparison features to its visitors. Please be advised that the operator of this site accepts advertising compensation from certain companies that appear on the site, and such compensation impacts the location and order in which the companies (and/or their products) are presented, and in some cases may also impact the scoring that is assigned to them. The scoring that appears on this site is determined by the site operator in its sole discretion, and should NOT be relied upon for accuracy purposes. In fact, Company/product listings on this page DO NOT imply endorsement by the site operator. Except as expressly set forth in our Terms of Use, all representations and warranties regarding the information presented on this page are disclaimed. The information which appears on this site is subject to change at any time. More info
Cuisinart MCP-12N
Steel Perfection
The first thing to mention about Cuisinart set is the material the cookware is made of. All the pieces feature triple-ply construction of a pure aluminum core bonded in stainless steel. Such design along with Heat Surround Technology will ensure supreme heat conductivity and even heat distribution. This fantastic cookware set is perfect for electric, gas, induction stovetops and is even safe for ovens at temperatures not exceeding 550F. The steel grade 18/10 means that it contains 18% of chrome and 10% of nickel. This material is widely used in many spheres including surgery. The point is that a specific steel structure does not contain micropores preventing bacteria and germs growth as well as filth accumulation. Meanwhile, in the process of cooking the food does not react with steel. It will not only allow you to enjoy healthy meals but also keep cooked food in the pans and skillets. As for the usability, this set is dishwasher safe and tapered rims ensure drip-free pouring. This is one of few sets that has no cons and will bring you maximum pleasure while cooking!
Enjoy Healthy Food
Cuisinart cookware set consists of 12 pieces for hassle-free cooking of your favorite foods and creating several gourmet dishes at a time. And if you are a passionate healthy diet follower you will be surely impressed and delighted with a steam insert to steam scrumptious and nutritious meals. Put the ingredients into the steamer and install it on the 3-Qt saucepan filled with water, broth or whatever you want to steam your food over. Steaming allows cooking calorie-wise treats, sealing in flavors, vitamins, and nutrients. Enjoy healthy food with Cuisinart!
History of Cookware
Cookware history goes back to 24 000 BC. It was a time when people started to use seashells, sticks, and natural clay to make some vessels for cooking, while for food storage and handling they often used some animal parts like a turtle shell. The pottery for liquids handling and cooking appeared when people learned how to control the fire. There is archeological evidence that in about 7 000 BC the inhabitants of Tehuacan Valley carved out stone bowls and heated them on fire while in Asia people covered bamboo vessels with clay to achieve a higher temperature inside. The first prototypes of modern pans were invented in France in the 17th century. Unlike pottery, popular at that time, pans were made of copper and equipped with handles and a lid. Aluminum, steel and enameled cookware appeared at the beginning of the 19th century. Since then and up to the present day production technologies have been improved but the cookware design remains almost unchanged.
More Products to Consider
High-quality utensils for handy hassle-free cooking is a must in any kitchen. Neet® Cooking & Serving Utensil Set includes a solid spoon, solid ladle, slotted skimmer, slotted spatula, Wok spatula and potato masher that will not take too much space on your countertop, thanks to utensil organizer. Made of stainless steel, this set will perfectly match your Cuisinart cookware.

Additional Info
Last updated price

$

299.00

Stock
In stock
ASIN

B009JXPS6U
---
VIDEO
Cuisinart MultiClad Pro Cookware (MCP-12N) Review
What customers say about this product
Set includes a lid that will fit each pan (not all at the same time, though)
The handles are sturdy and made of the same stainless steel. They can be put in the over up to 500 degrees.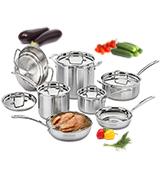 Cuisinart MCP-12N
Calphalon Simply SA10H
Enjoy Your Cooking
Save your time and efforts in the kitchen with Calphalon Non-stick Cookware Set. The set includes 2 small-size saucepans if you need to cook a dinner for 2 or 3 persons, a bigger 3-Qt saute pan for more substantial meals and a 6-Qt stockpot for boiling and cooking a variety of soups. This incredible set is designed with your ultimate comfort and convenience in mind. Measuring marks on some pieces ensure accurate and precise liquid measuring, handy pour spouts guarantee drip-free pouring and straining lids will help quickly and safely strain off the water while cooking. Made of top-class hard-anodized aluminum, the cookware is easy to clean. Though only hand washing is allowed, this process is hassle-free and requires minimum efforts as a dual non-stick coating prevents food sticking and scorching. It is a very useful feature allowing you to roast low-fat foods without oil on one of the two skillets included in the set. To get consistent cooking results you can use this incredible cookware set on electric and gas stovetops or even in the oven to finish the recipe or keep foods warm until you are ready to serve. But mind that pans are oven-safe only to 450 F. Calphalon cookware set is a great combination of durability, quality, and performance that will be highly appreciated by all skilled cooks, cooking enthusiasts and newbies.
Culinary Tips for Newbies
Though these tips and recommendations are initially meant for the entry-level cooks, professional chefs might also get interested.
1. You can always add some ingredients but sometimes you can't take them out once they are in. So, if you have any doubts about the amount of salt and spices you'd better put less and gradually tailor your recipe to perfection. It is especially true with salt.
2. Don't be afraid of failing. Sometimes things do not go as you planned. Even well-known chefs say that there were situations when they had to throw out the food as it wasn't cooked in the right way. And if something is going wrong take it easy. Simply dispose of the spoiled dish and start over again!
3. Listen to the music. A pleasant atmosphere will not only speed up the whole process but also help you relax and focus on cooking. Eventually, you will get better cooking results!
4. Watch cooking TV shows. Recommendations of professional cooks can give you some cooking tips that you can efficiently use while creating your exquisite dishes. Besides, it will get you engaged in the process and keep motivated.
More Products to Consider
If you like treating your friends and family members with homemade pastries, it is important to have high-quality bakeware. We strongly recommend paying attention to Calphalon Nonstick Bakeware Set with a non-stick coating. The set is dishwasher safe making cleaning a breeze. An ideal choice for deliciously fresh pies, breads, muffins, and other pastries!

Additional Info
Last updated price

$

199.99

Stock
In stock
ASIN

B001AS94TY
---
VIDEO
Simply Calphalon Nonstick 10 Piece Set
What customers say about this product
This reasonably-priced set from Calphalon has enough quality and features for the average home chef. The aluminum construction is thick, the handles are riveted, and the lid handles are securely fastened.
Even though I followed the cleanser's directions explicitly I was unable to remove any of the food stains from either the anodized aluminum or stainless steel surfaces.
Calphalon Simply SA10H
T-fal E765SC
T-FAL: 60 YEARS OF SUCCESS
In the far 1954, the engineer Marc Gregoire invented the method of coating aluminum with Teflon to get a famous non-stick coating. Two years after, in 1956, a world-known T-fal company was established in Sarcelles, France. Within a year the company managed to get a production output of 100 fry pans per month. The non-stick cookware became extremely popular and in 5 years the demand for T-fal products increased up to 1 million pieces monthly. Since 1968, T-fal joined SEB Group also owning such brands as Krups, Moulinex, and Rowenta. In 2009, T-fal produced its billionth fry pan. No other company can boast such an achievement and T-fal products are marketed in over 120 countries worldwide. Today the key mission of T-fal is to create unique home solutions to facilitate our everyday life and let us enjoy the cooking process.
KEEPING HEALTH CONCERNS IN MIND
Everyone will agree that the food should be not only tasty but also healthy and nutritious. Having enormous experience in cookware manufacture, T-fal realizes innovational technologies in its top-rated products. A special composition of T-fal internal non-stick coating is kept low key. Owing to a unique non-stick interior, 10.25" and 8" T-fal fry pans allow roasting ingredients without any oil. Besides, all cookware pieces are PFOA-free that means they do not contain any hazardous substances and do not react with food. Cookware components are made of aluminum. Hence, they are suitable both for electric and gas stovetops and can be even used for cooking in the oven at the temperature not exceeding 400 F. Steam vents in tempered glass lids and cool-touch silicone handles contribute to the ultimate usability of this best-ever cookware collection. Moreover, the set comes with a solid spoon and a slotted spatula made of nylon for convenient adding and mixing ingredients. T-fal cookware is always designed you comfort and health in mind. Cook with T-fal to get maximum taste and keep all natural flavors and health benefits of your food.
THE KEY TO PERFECT COOKING
A well-heated cooking surface is one of the essential keys to outstanding and consistent cooking results. If you put ingredients on a fry pan not heated to the optimal cooking temperature, eventually, the food can appear not cooked inside. To avoid such troubles, T-fal invented an unmatched Thermo-Spot® heat indicator. It changes its color from light red to deep red showing you that your pan is optimally preheated to seal in the natural juices of meat, poultry, and fish. With T-fal you will always know the right time to start cooking. A simple and smart solution!
MORE PRODUCTS TO CONSIDER
While cooking some gourmet dishes or even an omelette, you might need some special dishware at hand for mixing ingredients. Pyrex Mixing Bowl Set includes the bowls of 3 different sizes. Made of glass, they do not absorb smells, and are scratch-resistant. Besides, these bowls are suitable for a microwave, oven and even a fridge.
Additional Info
Last updated price

$

110.49

Stock
In stock
ASIN

B004KSN8XY
---
What customers say about this product
Easy to clean! Good non stick pans in which no foods stick to the pan except egg that gets stuck somewhat.
Very durable and non-stick, I can truly cook like a pro chef with this set.
T-fal E765SC
Rachael Ray 11480
Add Shining Colors to Your Cooking Style
At the very first sight, you will be fascinated with a vibrant eye-catching look of this incredible cookware set. A bright orange exterior perfectly matches see-through lids of premium-quality tempered glass. Aluminum cookware pieces are coated with first-class enamel that not only looks spectacular but also prevents bacteria growth owing to its non-porous structure. All components of this immaculate set can be used to cook on gas, electric and even induction stovetops. Besides, they are oven safe up to 350F. It is worth mentioning that Rachael Ray set is a versatile well-thought cookware collection. Consisting of different capacity saucepans, stockpot, sauté pan and skillets, this memorable cookware gives you an unmatched opportunity to cook whatever you want. Anything from sophisticated dishes for a romantic candlelight dinner to a substantial family meal. This set includes all the necessary cookware shapes and sizes to boil, roast, stew and even bake. It will become a colorful accent of any modern kitchen interior and bring you inspiration for realization of your most challenging culinary ideas.
Alternative Storage
Many people think that when not in use the cookware should be stored in a kitchen cabinet. Thanks to holes in silicone handles, you can easily hang your cookware pieces on a wall. Such solution will not only save a valuable space in your kitchen cabinets but also become a stylish addition to your kitchen décor. Meanwhile, a handy 31.5" Wall Mount Rail compatible with this unforgettable set will conveniently accommodate all components of your cookware collection including the lids. Now your favorite pans and skillets will be always at hand!

Mouth-watering Guinness Records
The Guinness Book of World Records can discover a lot of incredible and sometimes even funny records. Below we picked the most interesting world records related to food:
- The largest bowl of porridge was cooked during Flahavan's and Waterford Harvest Festival in the city of Waterford, Ireland. It took place on September 16, 2012, and the total weight of the porridge was 3,042 lb 6 oz.
- Jason McNabb established the world spiciest record when he ate 2.33 oz of Bhut Jolokia chilli peppers. The record was registered on June 19, 2013, in Los Angeles, California, USA.
- Zhan Wang (China) designed a scaled-down model of London using over 1,000 pots, fry pans, and utensils. The London Eye wheel was a ball made from stainless steel wire while the St Paul's Cathedral was a large oven dish. This amazing composition was exhibited in the Universal Experience exhibition at the Hayward Gallery, London, UK within a period from October 6 to December 11, 2005.
More Products to Consdier
If a bright eye-catching design of Rachael Ray cookware set suits your taste, a Rachael Ray Knife Set will fit it as a fiddle. Stylish orange knives handles will complement your cookware and first-class stainless steel blades will efficiently cut any ingredients. The set includes 5 different knives and a bamboo knife block to keep the set together.

Last updated price

$

198.99

Stock
In stock
ASIN

B0056CA77S
---
VIDEO
Rachael Ray Porcelain Enamel II 10 Piece Cookware Set Two Tone Orange - Product Review Video
What customers say about this product
Iinexpensive, variety of sizes, lots of color options, easy to clean.
The skillets cook evenly and get nice and hot, no sticking problems and they wash up like a dream.
Rachael Ray 11480
Cook N Home 15-Piece Non Stick
The Full Set at an Affordable Price
Speaking of Cook N Home cookware collection, we can't but mention that this versatile set contains 15 pieces: along with different capacity pans and skillets, it includes 5 multi-functional utensils made of high-quality nylon. A solid spoon, slotted spoon, slotted spatula, pasta server, and a ladle do not produce any unpleasant smells and flavors in contact with food and will keep a nice look even in years of active use. Made of aluminum and coated with a durable non-stick coating inside and out, this cookware is dishwasher safe and features long-lasting superior performance. Perfect for cooking on an electric or gas stovetop it is not recommended for ovens, though. You will surely like a handy and solid design of the handles: a casserole and Dutch oven have two riveted handles while other pieces come with welded elements fitted with ergonomic stay-cool silicone handles for your safety and convenience. All the handles feature a soft-touch coating that will prevent slipping even if you take the pan or skillet with wet hands. Among other benefits, this all-in-one cookware set offers an affordable price and will efficiently cope with all your culinary tasks.
Culinary Event for Everyone
For everyone who has outstanding cooking skills and seeks to demonstrate the proficiency we recommend paying attention to WFC - The World Food Championships. These are regular competitions determining the best cook in various categories. There is a number of ways to compete for the top award and they are overviewed on the official championships web-site. Here you can also check the next championship date and location. However, if you prefer eating scrumptious dishes rather than cooking yourself you can participate as a judge, volunteer or a visitor to have an opportunity to taste all those delicious treats. There is a place for everyone in this exciting championship that certainly will not leave you hungry!
More Products to Consider
To have a tasty meal it is essential not only to cook it in a high-quality cookware but also to serve it in a nice dinnerware. With a superb Corelle Livingware Dinnerware Set, you can have a restaurant-style dinner at home. This crystal white set is designed for 4 persons and includes 10¼" Dinner Plates, 6¾" Bread and Butter Plates, 18-Ounce Soup/Cereal Bowls and 11-Ounce Stoneware Mugs. Besides, the set is dishwasher safe.
Last updated price

$

72.99

Stock
In stock
ASIN

B003IKMSFE
---
Cook N Home 15-Piece Non Stick
What is a Cookware Set
Cooking is an essential task we have to accomplish every day. Hence, to make this process comfortable to the maximum and to get delicious, appetizing dishes you will need high-quality cookware. As a rule, a cookware set consists of several pans and skillets allowing for quick and efficient roasting and boiling ingredients to realize your most exquisite culinary ideas. Besides, you will surely benefit from a lower cost of cookware in the set as compared to the price of separate pieces. A set is usually designed in a single style and will surely add to the interior of your kitchen.
Additionally, in our knife sets review all passionate cooks can choose premium-quality knives for accurate and precise cutting. And electric burners will become the best solution if you need to cook in the office, on the picnic or during camping.
What Features to Compare
Set
Basically, the number of pieces in a cookware set varies from 8 to 15 including not only pans and skillets but also lids and even utensils. 1-Qt to 3-Qt pans will become a perfect solution for cooking a single meal while higher capacity models will be useful to cook for a family dinner, a party or a get-together with friends. A steam insert is a kind of a pan with steam holes in the bottom that will give you a wonderful opportunity to steam deliciously fresh and healthy treats keeping maximum vitamins and nutrients. Some sets include several skillets to fulfill several culinary tasks simultaneously. And utensils in a cookware set will become an additional handy benefit for adding or taking out some ingredients, turning or mixing the food quickly and easily.
Material
It is essential to choose a cookware material that will best suit your cooking technique. Aluminum is light and durable and boasts unsurpassed heat conductivity ensuring quick heating and cooling. Aluminum cookware is ideal for boiling milk, cooking cereals, and vegetable stews. Stainless steel is the most durable and long-lasting material good for browning and braising. The cookware made of cast iron is extremely durable and will serve you for years. Cast iron is an excellent choice for juicy steaks and meat stews that will melt in your mouth. Ceramic cookware is not that popular today due to fragility and sensitivity to the heat change. However, ceramics is the best option for unbelievably tasty baked foods.The cookware with a non-stick coating will keep an attractive look of your dishes and release even delicate foods including eggs and pancakes. Speaking of pan and skillet lids, most often they are made of tempered glass allowing you to trace down the cooking process without lifting the lid. But you should remember that glass lids are inferior to aluminum and steel lids in terms of durability.
Stove Compatibility
Depending on the material your cookware is made of some sets are suitable only for gas and electric stoves while the others are also suitable for induction stoves. Most cookware sets can also be used for cooking delicious dishes in the oven. But you should always consider the maximum safe temperature to avoid cookware pieces deformation and chemical reaction with foods.
Usability
Usability is the last but not the least factor to consider. If your cookware pieces have cool grip handles, you can hold them without the risk of getting burned. When your kitchen is concise in space, wall mounting will become a handy solution thanks to the holes in the handles. Measuring marks on the pans will always help you pour the right amount of water following the recipe and a spout allows for easy and drip-free pouring. As far as the cleaning is concerned, some models are dishwasher safe while the other sets require delicate hand washing with special cleaning agents.
Sources:
1. Cambria Bold A Guide to the Best Material for Pots and Pans, Kitchn. March 27, 2012.
2. Kitchen Cookware, Consumer Reports. August 2016.
3. Cooking Tips & Techniques, RealSimple.
4. 34 Easy Recipes, BBC GoodFood.
5. Cookware and Bakeware, Wikipedia. August 31, 2016.
6. How to Choose and Buy Cookware, What's Cooking America.
7. Cookware Guide: The Best (And Worst) Materials For Pots And Pans, The Huffington Post. August 31, 2012.
8. Rochelle Billow These Are Pots and Pans You Really Need, Bon Appetit. August 11, 2015.