What's the base for cooking any dish? There is no kitchen without a cutting board and it is known that you need at least 2 of them
for chopping different foodstuff. It is time to find your missing cutting board (or even a set) in our review!
...
Read more
...Read less
X
This site is a free online resource that strives to offer helpful content and comparison features to its visitors. Please be advised that the operator of this site accepts advertising compensation from certain companies that appear on the site, and such compensation impacts the location and order in which the companies (and/or their products) are presented, and in some cases may also impact the scoring that is assigned to them. The scoring that appears on this site is determined by the site operator in its sole discretion, and should NOT be relied upon for accuracy purposes. In fact, Company/product listings on this page DO NOT imply endorsement by the site operator. Except as expressly set forth in our Terms of Use, all representations and warranties regarding the information presented on this page are disclaimed. The information which appears on this site is subject to change at any time. More info
John Boos Reversible Maple Cutting Board
Material and Number
John Boos & Co. is one of the oldest and most trusted manufacturers of a high-quality wooden kitchen equipment such as cutting boards and butcher blocks. The John Boos Reversible cutting board is made of solid maple wood. This tough, durable and hygienic material has antibacterial properties. Furthermore, wood cutting boards will not dull your knives (they just cut into the board). On the other hand, self-recovering features of the wood reduce the cuts. There is only one board in the package.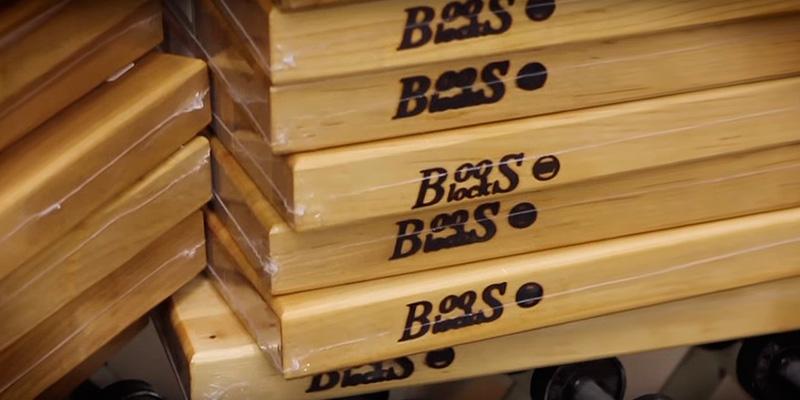 Size and Use
Cutting boards manufactured by John Boos & Co can be found in famous restaurants, the are the best choice both for professional and home use. You can use this reversible cutting board for various foodstuff (for example, to cut vegetables on one side and to chop meat on the other). Just do not forget to clean it after each use. This wood cutting board is rather big in dimensions - 1.5" х 12" х 18". Thus, it has some ample space for chopping large chunks of meat. This cutting board is available in different sizes and of different thickness for you to choose the most suitable one.
Extras
This thick cutting board weighs up to 8,8 lbs. That is why it will balance perfectly without sliding off your countertop even when you chop. In addition, it is 1.5" thick so you can chop even bone-in meat on this wonderful cutting board! It has ergonomic cut-in handgrips on the edges making it easy to lift and transport this hardwood cutting board. Made of high-quality maple wood, this cutting board will serve you for years, just do not forget to oil it periodically.
Last updated price

$

68.95

Stock
In stock
ASIN

B00063QBF4
---
VIDEO
JOHN BOOS MAPLE CUTTING BOARD
John Boos Reversible Maple Cutting Board
OXO Good Grips Utility Cutting Board
Material and Number
The OXO cutting board is made of durable polypropylene. Nowadays, this innovative high-quality material adequately competes with wood cutting boards. This nonporous plastic cutting board does not soak and absorbs no odors. Plus, it resists deep scratches well, thereby ensuring durable use and sharpness of kitchen knives. In addition, it is easy to maintain, just wash it with hot water and some cleanser (this item is dishwasher safe). There is one plastic cutting board in the package.
Size and Use
Owing to a thoughtful innovative design, this polypropylene reversible cutting board can be used for comfortable cutting of different food. The grooved side is perfect for juicy meat and the solid one is good for vegetables. The dimensions of this cutting board are rather big -10.5" х 15", so you can cut big chunks of meat or steaks, and even roll out the dough. The manufacturer offers this cutting board in several sizes (from 7.5"х10.5" up to 15"х21"). You can pick the one you prefer choosing between three available colors: white with black, white with red and bamboo.
Extras
The OXO cutting board has soft tapered handles on its both sides. They prevent sliding off the table and at the same time, ensure easy lift. The juice grooves along the perimeter store the moisture so that it doesn't mess up your working surface and it doesn't take you ages to clean the table after each cooking. Consider reversible surface with one grooved and one flat sides and get a perfect cutting board to help you cope with your daily cooking tasks.
Last updated price

$

0.00

Stock
May be out of stock
ASIN

B000CBOTQ8
---
VIDEO
OXO Good Grips Non-Slip Cutting Boards
OXO Good Grips Utility Cutting Board
Totally Bamboo 3 Piece Cutting Board Set
Material and Number
Look at this high-quality and budget-friendly Totally Bamboo cutting board set! All three items are made of an eco-friendly material that is widely used these days. No wonder, bamboo is known for its strength and density, that is why it was used for manufacturing durable kitchenware. Bamboo cutting boards stand up to moisture. Besides, they absorb odors less than wooden cutting boards. Please note, hand wash is recommended. Don't forget to dry the items after cleaning, oil them periodically, and these bamboo cutting boards will look like new for years!
Size and Use
The smallest cutting board in the set with the size of 6" х 8" is perfect for cutting petite stuff, vegetables, and fruit. The middle size - 8.5" х 11" is good for slicing bread and other ingredients required for a sandwich for example. And finally, the largest size is 9.5" х 13" which is good for cutting meat and fish. The manufacturer provides a wonderful cost-effective opportunity to buy four Totally Bamboo sets at once.
Extras
It is known that one should use separate cutting boards for different foodstuff. That is why this wonderful bamboo cutting board set can be a wonderful choice for your kitchen! Choose this marvelous set and you will have a durable 3-Pieces assorted bamboo cutting boards of different sizes. Two of the items have ergonomic cut handles to carry boards around your kitchen or just hang them on a wall to have them at hand any time when needed.
Last updated price

$

14.99

Stock
In stock
ASIN

B002M782UO
---
VIDEO
Amazon Kitchen Shorts: Carnitas Tacos from Rick Bayless
Totally Bamboo 3 Piece Cutting Board Set
Kitchen Gizmo 2 Sided TPU Anti-Bacterial Cutting Board
It is All About Material
Contemporary cutting boards are often made of polymers. Most people have their own preferences about kitchenware materials. However, this cutting board's manufacturer has used a TPU (thermoplastic polyurethane) to ensure its best performance and durability. They have created a unique cutting board model that can be bent to drop the ingredients into the container. Besides, this TPU antibacterial cutting board can be washed with boiling water that kills 99.6% of the germs. If you haven't been chopping raw meat or fish, you can simply clean it in your dishwasher. In addition, the Kitchen Gizmo cutting board is scratch-resistant, that ensures a long and comfortable use. Moreover, the item is gentle on the knives so you won't have to continuously sharpen them. You can use both sides of this reversible cutting board. Do not worry that any liquid from juicy foods will flow onto your countertop or on the floor, the ergonomic juice grooves will keep it in.
Perfect Cutting Boards Number
How many cutting boards do you use in your kitchen? Usually, there are minimum two, because it is important to use separate cutting boards for raw fish and meat to prevent cross-contamination. Professional cooks recommend separate cutting boards for different foodstuff; otherwise, the odors can mix up and spoil the dish. No wonder there may be up to 12 cutting boards in a professional kitchen, to use a separate one for each kind of food. Certainly, you do not need as many in your home kitchen for everyday use; they all need to be stored somewhere, which is difficult if the room is small. The advisable cutting boards number in your kitchen is 4, (for raw poultry/meat; fish; bread; vegetables, cheese, etc.). If you don't have this many in your kitchen, it is time to get the Kitchen Gizmo cutting board set!
More Products to Consider
For quick and easy chopping, try this wonderful ORBLUE chef's knife!
Last updated price

$

15.69

Stock
In stock
ASIN

B01E7VS8WY
---
VIDEO
Kitchen Gizmo 2 Sided TPU Cutting Board
Kitchen Gizmo 2 Sided TPU Anti-Bacterial Cutting Board
VREMI 5-in-1 Plastic Cutting Board Set
Material and Number
This brightly colored VREMI plastic board set consists of four items. It will become an ultimate accessory in your kitchen! These wonderful cutting boards are made of durable tough scratch-resistant plastic. Meanwhile, these cutting boards are lightweight and easy to maintain. You can clean them either in a dishwasher or in a sink using hot water and cleanser. An ergonomic bamboo holder comes with the set!
Size and Use
It is known that the more cutting boards you have in your kitchen, the better. You need at least two cutting boards to prevent cross-contamination or mixing of flavors. However, it is advisable to get a separate cutting board for each kind​ of foodstuff, and you can only get it from this multifunctional set! It has four cutting boards of comfortable dimensions of 7.5" х 11" to chop all ingredients you may need to prepare your favorite meals!
Extras
Having chosen this wonderful VREMI set, you will get four plastic cutting boards plus a bamboo holder for their convenient storage on your countertop. All the items will be at hand whenever you need them! Besides, they are stored in the holder at an angle that you need! Each slot is separated and distantly placed from one another to provide neat storage of all cutting boards. The cutting boards have a built-in hanging hook and special juice channels near the edges to let the liquid run off. Each of the four cutting boards has its own color and a cute icon of the food you can chop on it.
Last updated price

$

0.00

Stock
May be out of stock
ASIN

B019OV2Q2U
---
VREMI 5-in-1 Plastic Cutting Board Set
What is a Cutting Board
You may think that a cutting board is not the most important utensil in your kitchen. But it is impossible to cook breakfast, lunch, and dinner without using one! It is essential even for preparing simple sandwiches, not to mention meals that require cutting vegetables, chopping meat, rolling out pastry and so on. A carefully selected cutting board will make cooking a pleasure and won't spoil the flavor of the prepared dish. Every professional kitchen should be equipped with ten cutting boards at least. You might not need to have as many at home, though having two or three at hand is surely a must. We've chosen five best cutting boards for you to find the one (or the whole set) for your kitchen.
We also recommend you to look through our reviews on knife sets and knife sharpeners and get a full suite of kitchen utensils to cut through any foodstuff.
What Features to Compare
Material and Number
The first thing you should keep in mind while choosing a cutting board for your kitchen is its material, as well as the number of items included in the set. It is important to use separate cutting boards for different foodstuff. This stops flavors from mixing up while chopping. Moreover, it is essential to have a separate cutting board(s) for raw fish and meat to prevent any possible pathogenic bacteria from getting into your prepared food. If you need more than one cutting board, why not get a set? As for the material, cutting boards are usually made of wood, plastic, and glass. Wood is a traditional cutting board material good at all times. The quality and durability of a chosen item depend on the type of wood. Maple, mahogany, and other hardwood cutting boards are the most durable, moisture and warp-resistant. Moreover, wood is gentler on your knives compared to other materials. Cutting boards made of softwoods wear much quicker and may warp when soaked with water. There are some other materials popular these days. Bamboo absorbs less liquid and odors than wood. Besides, this eco-friendly material costs less. Innovative plastic or polypropylene cutting boards do not warp; they absorb no odor and take longer to wear out. Another contemporary material for making cutting boards is tempered glass. It is a hard material with no pores, which is good, but it can also dull knives, so it is better to use serrated knives to cut on tempered glass cutting boards. Tempered glass cutting boards are not recommended for chopping because they are easy to damage but they are also easiest to clean. These sanitary cutting boards absorb neither odor nor moisture.
Size and Use
There are cutting boards of different sizes. You should choose the size that suits for the foodstuff you are going to cut. For example, a cutting board for slicing bread should be a little bigger than a loaf of bread. You can use the same item for cutting vegetables. Such cutting boards are usually not too thick and have standard dimensions of 8" х 15". Smaller cutting boards are good for slicing foodstuff while cooking your breakfast, lunch or dinner. If you are baking some pastry and need a bigger working surface for rolling out the dough, choose a board that will be 15" х 21" in size at least. In case you are going to chop chunks of meat (including bone-in meat) or fish, you should pick a cutting board 2" thick. It is also the best kitchenware for pounding meat while cooking a strip steak. Make your choice and pick the right board for your needs.
Extras
Cutting board is much more than a simple piece of wood, plastic or other material. Each item has its own peculiarities and conveniences that make cooking easier and more enjoyable. One-piece wooden cutting boards are rather heavy and may not fit for light-duty cooking tasks, though they are definitely the best for pounding meat or fish. Plastic boards are more handy in this sense, they are easy to hang on a wall and clean. Yet, when used too often, their surface may crap up pretty quick. Some boards feature a grooved surface to catch juice from fruit or meat so that it doesn't spread over the table. Wooden boards require more thorough cleaning. They cannot be washed in a dishwasher and they ought to be left to dry out after each hand wash.