A chainsaw is a versatile tool currently used by various specialists, including lumbermen, builders, rescuers and even sculptors.
If you own a country house or a farmstead, you sorely need the chainsaw. We picked 5 best chainsaws and reviewed them to help you choose the right model.
...
Read more
...Read less
Air filter cleaning system
X
This site is a free online resource that strives to offer helpful content and comparison features to its visitors. Please be advised that the operator of this site accepts advertising compensation from certain companies that appear on the site, and such compensation impacts the location and order in which the companies (and/or their products) are presented, and in some cases may also impact the scoring that is assigned to them. The scoring that appears on this site is determined by the site operator in its sole discretion, and should NOT be relied upon for accuracy purposes. In fact, Company/product listings on this page DO NOT imply endorsement by the site operator. Except as expressly set forth in our Terms of Use, all representations and warranties regarding the information presented on this page are disclaimed. The information which appears on this site is subject to change at any time. More info
Husqvarna 455
Opt for Quality
Husqvarna stands for high-quality and reliable tools for household and professional use, and if you're looking for such a chainsaw, the 455 Rancher gas-powered model is worth your attention. Boasting powerful 3.5 HP 2-stroke engine, this tool is relatively light weighing only 12.8 pounds. Thanks to these very features, you can handle heavy workload faster and operate the saw longer without getting tired quickly. By the way, the manufacturer has equipped this tool with a number of features that make its use more convenient. Here are only some of them:
Low Vib System eliminates vibration levels and as a result, fatigue in your arms;
Combined choke and stop control prevents the engine from flooding;
Smart Start technology ensures fast and effortless chainsaw starting;
Ergonomic 7°offset front handle provides a better grip.
Of course, spending several hundreds of dollars on a chainsaw, obviously, you want it to be not only convenient to use but also effective and safe. The Husqvarna tool is just like that. Its 20-inch bar allows you to saw trees that are quite thick in diameter while the inertia-activated chain brake eliminates the risk of injury in case of a kickback. Finally, X-Torq system allows for lower petrol consumption resulting in the reduced amount of harmful emissions emitted into the air.
Good Air Filter System - Proper Operation
The manufacturer of the Husqvarna 455 Rancher paid a lot of attention to air filters of the model to provide its proper operation. The centrifugal air cleaning system removes large debris and dust particles so they don't penetrate into an air filter. This very feature gives you a chance to clean the filter less frequently. Yet, when it comes to cleaning/replacing the filter, you'll be pleased to find out it is fitted with a quick-release system that makes this process as easy as anything.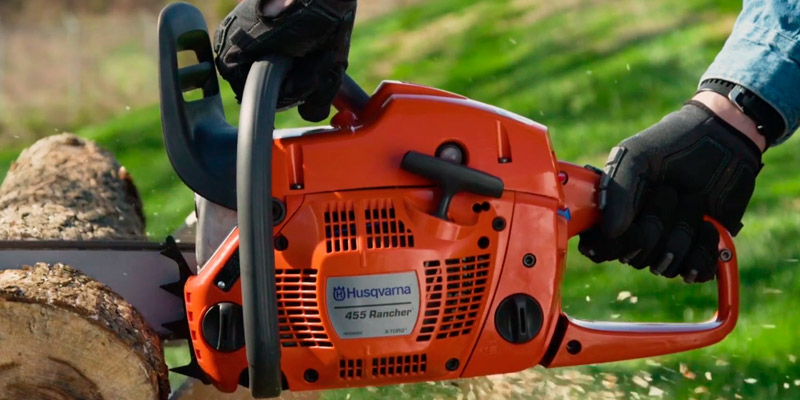 Take Care of Your Safety
Whether you are a professional tree feller or an inexperienced chainsaw user, you should handle the tool carefully. Here are some recommendations you want to follow to avoid possible injuries:
Wear personal protective equipment including eye and ear protection, helmet, face shield, gloves, and chainsaw chaps;
If you're using a saw for the first time, check whether all working parts function properly. Read the instructions and make sure you know how to operate the tool;
Don't use the tool if you find it too heavy or feel sick.
Additional Info
Last updated price

$

489.60

Stock
In stock
ASIN

B00080MIJI
---
What customers say about this product
It's about average on fuel efficiency expect something like an hour (if cutting the whole time) for a full tank of fuel.
Everything on the saw seems to function as it should, the oiler at the medium setting seems perfect, the chain tensioner is easy to use and works good.
I love this saw! It is the perfect size, not to small and not to heavy.
With the 20" bar I can cut close to the ground without putting much strain on my back. The engine makes plenty of power and the saw loves to cut wood.
Husqvarna 455
XtremepowerUS 82100-xp
Great Value for Money
The XtremepowerUS gasoline chainsaw is all about functionality, usability, and affordability. Although this tool isn't a product of a world-renowned manufacturer, it can boast as great performance as the majority of its more expensive counterparts. Let's have a look at its main features. Powerful motor helps you cut even wide trunks of trees fast while the 22-inch bar makes this process convenient. 
Since the weight of this chainsaw is 16 pounds, operating it for a long time might be somewhat tiresome but with an effective anti-vibration design, the load on your arms will be reduced. The XtremepowerUS gasoline chainsaw also has an anti-kickback chain that obviously reduces the chances of a kickback and injury it can cause. 
One more advantage of this tool is its capacious fuel tank of 18.5 oz that saves you the trouble of refilling it too frequently. We'd also like to point out the engine of the tool. It is designed with the application of EcoBoost technology that provides better power and reduced gas consumption at the same time. And the engine clean air-intake system doesn't let the dust get into the motor, thus, prolongs its service life.
If An Engine Doesn't Start
Though very few consumers ever had troubles with starting the XtremepowerUS gasoline chainsaw, chances are, sometimes its engine might not start at once. Worry not! Before calling the manufacturer and complaining about the problem, check the following:
Petrol. Make sure you use appropriate gas to fuel your chainsaw and there is enough gas in the tank to operate the tool;
Engine. If it's cold, you'll need to pull out the choke knob and pull the starter rope. You might have to do it for several times before the motor starts, especially if you use the saw for the first time;
Spark. Spark plug should be wet and the spark should appear when it interacts with metal.
Tips on Proper Storage
Proper storage of gas equipment (be it a gas leaf blower, a gas string trimmer, or a gas chainsaw) is not only a guarantee of its long and reliable service life but also of your safety. Keep in mind several simple rules for storing a petrol-powered chainsaw:
Let the blade and the engine cool down before you cover the tool;
Empty the fuel tank so there are no flammables that can lead to inflammation;
Keep a gasoline chainsaw in a cool and well-ventilated place to prevent petrol vapor that may result in sparks.
Last updated price

$

179.95

Stock
In stock
ASIN

B016X45D9E
---
XtremepowerUS 82100-xp
Remington RM4618
Mean Machine
The Remington RM4618 is pretty mean. We've seen mean chainsaws before but very few match this machine's intensity.
Armed with this massive 46cc full-crank 2-cycle engine, the saw brings more power and less vibration. At the same time, the equally massive 18-inch bar and the low-kickback chain let you quickly and easily cut through even the toughest wood types.
The model's performance details do not end there though. For one, there's also the strong side-access tensioning system that makes sure the chain tension remains consistent for as long as necessary, making the chainsaw especially suitable for extended jobs like storm clean-ups.
Of course, first things first, you have to start the saw. Fortunately, you shouldn't face any challenges on this front. The QuickStart™ tech streamlines the otherwise tiresome pull starts, making it particularly easy to engage the saw.
There's no shortage of powerful gas chainsaws. These saws are seldom all that practical though. That's not the case here. Incorporating a grippy and comfortable cushion-wrap handle and a most effective 5-point anti-vibration system, this model reduces hand fatigue as much as possible to let you comfortably cut for as long as necessary.
Withstands the Most Brutal Tasks
High-output gas chainsaws usually present many maintenance challenges. Again, that's not the case here. First off, the adjustable automatic oiler does an excellent job keeping the chain in top-notch condition. Making sure that the chain always has sufficient lubrication, you'll be able to enjoy smooth cutting without worrying about the chain's health.
Meanwhile, the professional-grade chrome bore cylinder is crucial when it comes to extending the engine's lifespan and increasing the chainsaw's overall durability.
The die-cast chassis is surprisingly lightweight considering its heavy-duty build and efficient performance. Incorporating the most professional-grade components, this model easily withstands the most brutal/prolonged cutting tasks.
Massive Tank
Needless to say, this model does has its flaws. The biggest issue we have with this chainsaw is that the bucking spikes are more ornamental than actually useful.
On the bright side, the 22-ounce fuel tank is pretty massive and will make you waste far less time re-fueling the tank between different tasks.
All things considered, the Remington RM4618 brings much more than mid-range gas chainsaws are supposed to be packing. You'll be able to handle pretty much any task with ease, poise, and efficiency. The saw will handle any job this season.
Additional Info
Last updated price

$

495.99

Stock
In stock
ASIN

B00R861MEM
---
Remington RM4618
Husqvarna 120 Mark II
Reduced Fuel Consumption
The Husqvarna 120 Mark II gives you enough cutting power to tackle pretty much any everyday task.
The 1.88 HP 2-stroke engine is nothing we haven't seen before performance-wise but nothing to complain about too. The best thing about this chainsaw is not necessarily its raw power but rather the model's efficiency.
The company's X-Torq® engine works wonders delivering reduced fuel consumption and minimizing exhaust emission levels to make the saw as eco-friendly and economical as possible.
First and foremost though, this gas chainsaw is compact and lightweight. Measuring 32 x 9.2 x 10.7 inches and barely reaching 10 pounds on the weight scale, this model is as maneuverable as they come. You'll have no issues using the saw for hours, accessing different spots that you could've never reached with traditional bulky chainsaws.
LowVib® System
The model is pretty much as practical as gas chainsaws can be. In addition to its compact and lightweight build, there's also the LowVib® system that's really good at reducing vibration levels, lessening hand fatigue and letting you use the saw for as long as you need.
At the same time, the combined choke/stop control mechanism enables easier starting and pretty much negates engine flooding.

Having said that, some still find the chainsaw relatively difficult/tiresome to start compared to the product's successors, so make of the mechanism what you will.
There are pretty much no drawbacks to the automatic oiler though. This feature makes sure to guarantee a steady chain lubrication supply to extend the chainsaw's lifespan and allow for safe/effective use.
More than Safe Enough
As far as maintenance is concerned, the automatic oiler works wonders but there's also the centrifugal air cleaning system that contributes just as much. Removing larger dust/debris particles before these things reach the air filter, the system reduces air filter cleanings and improves engine life.
On the safety front, the low-kickback and the built-in safety break features are pretty much enough to reduce risk levels as much as necessary, while the relatively simple tensioning system lets you execute quick adjustments while working.
To sum the whole thing up, the Husqvarna 120 Mark II is an excellent gas chainsaw for everyday tasks like tree pruning, firewood cutting, and different hobby work. It is as effective and more efficient than any chainsaw within this price range.
Additional Info
Last updated price

$

305.00

Stock
In stock
ASIN

B07JJML8PQ
---
Husqvarna 120 Mark II
Tanaka TCS33EDTP/14 32.2cc 14-Inch
Powerful Enough
Despite the medium power of the engine, the performance of this gas chainsaw is rather high. The low degree of emissions makes this gas chainsaw environmentally friendly, so the air around you will be clean when you cut branches and twigs in the backyard. The small size and lightweight body of this chainsaw will allow you to work for a long time and cut both soft and hardwood quickly and effortlessly.
The chainsaw comes fitted with this massive 14-inch bar and a chain with a 3.8-inch pitch. Moreover, you can additionally purchase a 12-inch bar and a chain to make this chainsaw lighter and more maneuverable. The length of the bar will allow you to cut long branches. Thus, your garden will always be well-groomed. At the same time, this gas chainsaw is highly efficient and lightweight, so even less physically gifted people will be able to cut the branches and twigs in the homestead.
Anti-Vibration Spring
We've seen safe gas chainsaws before and the product is up there with the safest models. The chain brake will make sure to stop the engine when the chainsaw kicks back or when you accidentally drop the saw onto the ground. As you would imagine, this safety feature will prevent the chain from getting damaged and your body from potentially serious injuries.
Furthermore, the throttle trigger lockout will prevent the chainsaw from accidentally starting. The front handguard will protect the hand from stray wood chips, which will prove especially useful when you'll be cutting deadwood. Meanwhile, the anti-vibration spring and rubber inserts will be able to reduce vibrations and, in turn, the strain on your hands.
About Usability
Usability-wise, we've no major complaints here. The purging of the fuel system will allow you to start the chainsaw promptly. The aforementioned advanced anti-vibration system will make you feel confident and comfortable through the entire cutting process, making sure that you don't get tired even when you work for hours.
Meanwhile, the side case provides you with quick and convenient access to the guide bar, saw chain, and sprocket when the chainsaw requires repair or maintenance. In addition, the side access allows you to easily adjust and tension the chain.
To sum everything up, this gas chainsaw will be perfect for longtime jobs thanks to the lightweight body and effective anti-vibration system. The high-performance engine provides fast and efficient cutting.
Last updated price

$

0.00

Stock
May be out of stock
ASIN

B009LB9J9C
---
Tanaka TCS33EDTP/14 32.2cc 14-Inch
What Is a Gas Chainsaw?
A gas chainsaw is a must-have tool for every owner of a detached house. Cutting dead tree limbs and sawing trees is a routine job of those who possess gardens and yards. Whether you need the firewood for sauna, barbecue or construction works, a gas chainsaw will prove to be an irreplaceable tool.

What makes gas chainsaws so popular between chainsaw users is their power. Delivering way more power than electric rivals, they can handle plenty of work without breaking a sweat, which makes them suitable for commercial use, too.

But to acquire a tool that will be worth spending money, it's important to make sure it offers portability, security, durability and ease of use. Hopefully, our review of the best five gas chainsaws will help you choose the model that will be right for your needs.
Remember that any gas chainsaw can be used only outdoors, as it emits exhaust gases. If you need a tool for indoor jobs, we suggest you take a look at our reviews of electric chainsaws, reciprocating saws, and circular saws.
What Features to Compare
Power and Weight
When selecting a gas chainsaw, first things first, you need to decide what you're going to use it for. If you mostly need to do heavy-duty jobs like chopping tree limbs, it is essential to consider the tool's power and weight. The more powerful the engine is, the better and quicker the chainsaw will be able to cope with the task. On the other hand, if the scope of work you need to do isn't that big, you can easily opt for something less powerful.

All gas chainsaws have a 2-cycle engine, a fuel tank and a separate tank for oil to grease the gear and bar.

Bar and Chain
Other parameters that are worth checking out are the bar and the chain of the saw. The length of the bar determines what kind of trees the tool can actually saw. For example, models with an 18" bar will be able to handle a tree up to 15 inches thick. Take note that it's prohibited to use a bar from different tools; otherwise, you can damage the engine of your chainsaw. Not only should the bar be of the right length, but also it should be tightened properly.

The chain is also important. Before selecting a tool, check the chain pitch (a distance between the nearest pitches) to see how effectively the chainsaw will be able to do the job. The minimum chain pitch is equal to 0.325"; it is perfect for smaller garden jobs. Tools with such a chain pitch do not tend to produce a lot of noise and almost do not vibrate. Professional-grade chainsaws, in turn, have 0.375" and 0.404" chain pitch. Although they will be louder, they will allow you to finish the job more quickly.

Safety
A gas chainsaw isn't the safest tool out there, so its safety features are important too. For that, make sure it has an inertia brake which will allow you to instantly stop the chain if you get some really hard material in its way. This will help eliminate the risk of injuries and prolong the lifespan of the tool.

Usability
What differs one gas chainsaw from another one is the added extra features. Ergonomic design and light frame will help reduce fatigue and strain in the back. "Quick Start" function will let you trigger the tool almost instantly. Aside from these, chainsaws may differ in technologies used. Automatic oil supply and reduced vibration contribute to the usability of the tool as well, making its use even more convenient.