In these latter days, a lot of people deal with the woodworking where a saw is an essential tool. The handsaws are the most common,
though the engineering does not stand still. As a result, here are circular saws. We have reviewed 5 best models to help you make the right choice.
...
Read more
...Read less
BEVEL CAPACITY AND CUTTING DEPTH
CUTTING ANGLE (POSITIVE STOPS)
X
This site is a free online resource that strives to offer helpful content and comparison features to its visitors. Please be advised that the operator of this site accepts advertising compensation from certain companies that appear on the site, and such compensation impacts the location and order in which the companies (and/or their products) are presented, and in some cases may also impact the scoring that is assigned to them. The scoring that appears on this site is determined by the site operator in its sole discretion, and should NOT be relied upon for accuracy purposes. In fact, Company/product listings on this page DO NOT imply endorsement by the site operator. Except as expressly set forth in our Terms of Use, all representations and warranties regarding the information presented on this page are disclaimed. The information which appears on this site is subject to change at any time. More info
Makita 5007MG
A TRUE ALL-PURPOSE SAW
Makita has always been a popular choice of professionals simply because their products are generally well-built and almost always have an attractive price tag on them. The Makita 5007MGA is not an exception to this characteristic feature of the company's products. For a start, it is a hand-held saw model that feeds off the standard power sockets.
Aside from the ability to connect it to diesel power engines, this makes it one of the best options for long-term use and tough applications where standard power supply is limited. A high-performing engine allows for cutting through the densest materials as well as wet, hardwood, lumber, and so on. It also works well for framing floors, roofs, and walls. Anything that requires cutting and sawing can be done with a circular saw from Makita.
Powered by a 15-amp engine, this circular saw can generate 5,800 rotations per minute. It can be used for most scrupulous jobs. The rotatory platform allows for variable 0°- 56 ° bevel angle and positive stops at 45°, 50 and 90°. The cutting depth is also good and equals to 2.5" at 90° and 1.75 at 45°. All tech specifications make this Makita circular saw a versatile tool for various applications.
THE TOOL THAT OUTLASTS OTHERS
Moving on, this Makita 5007MGA magnesium circular saw is equipped with a convenient handle that includes soft rubber inserts. Two LED lights are provided to illuminate the working surface, so you can watch the cut and accurately follow the cutting line. The saw comes with a dust blower that purges all wood chips through a special hole. Then, there's the special rubberized lever located above the blade that helps set the cutting depth. The blade replacement is super easy and convenient too as the kit includes a blade wrench attached to the saw.
The safety aspects of this power circular saw include a special lower guard that is designed to cover the blade when the saw is off and protects you from injuries, as well as the rip fence that will not only ensure the desired width of cut but would also protect the user from the wood chips flying off. Moreover, the reinforced power cord will last for a long time and ensure stable power supply. Furthermore, such a reliable cord will prevent voltage drops. As a result, the service life of the saw will be greatly extended.
In the end, if you are looking for a reliable power tool that will last you for years, this circular saw from Makita will be right up your alley. Reasonably priced and packing a punch, it gets the work done, and there's not much else you could ask from a corded saw.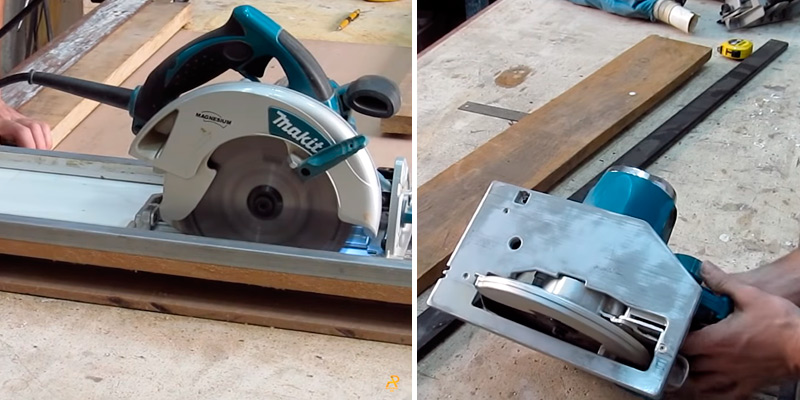 Additional Info
Last updated price

$

159.00

Stock
In stock
ASIN

B000N5SVEY
---
What customers say about this product
Love this saw. Easy to handle, just enough weight to kept it balanced.
This saw is very useful and easy to use! I agree with some of the critics that the blade guard doesn't retract properly when cutting with the blade at angles (blade rotated to the left).
Tons of great features and the cutting guide is a huge bonus...no more getting clamps and a straight edge to just trim a door down!! I owned the predecessor for over 30 years as well!
Makita 5007MG
DEWALT DWE575SB
Tremendous Power
The DEWALT DWE575SB is one of the many corded circular saws that operate upon the connection to the power network. This particular circular saw will let you get to repairs in your house or apartment with ease, however, it's not the only thing that makes it special. Aside from the fact that it will help you to carry out various jobs - from walling to plywood cutting, it will also make performing hard tasks a quick job. Owing to the tremendous power that drives the metal blade of the saw, you will surely complete your tasks fast and in a true hassle-free fashion. On top of that, this circular saw features an excellent compact design which combines power, versatility and outstanding performance all in one package.
Like most of the corded saws, this model is equipped with a powerful 15-amp engine. This particular engine variant provides the blade rotation rates of up to 5,200 revolutions per minute with no load. When you hold the saw perpendicularly to the cut material, you can saw through to the depth of 2.55". It is noteworthy that this is the highest parameter among the other reviewed models. The cutting angle can be set within the range of 0° to 57°. This saw comes with the blade that has 7.25" diameter.
Compact Size
Despite quite a powerful engine, this DeWalt circular saw is one of the most lightweight saws in our review. Therefore, you can use this saw even with one hand. The handles of the saw are made of rubberized material for convenient and comfortable control. In addition, the saw is equipped with a dust blower that will clean the cutting line from annoying wood chips and sawdust. If you need to transport this saw to a distant workplace, this will be an easy job since the kit includes a special carrying bag. Likewise, the replacement of the blade will be simple as well because the onboard blade wrench is always at hand. The spindle lock, on the other hand, will help you replace the blade safely.
Since this circular saw is powered from the mains, voltage drops may occur and lead to failure. To prevent that, the unit is shipped with a special reinforced cord that protects the saw from voltage oscillation. Not only that. In addition to providing protection, this feature also allows extending the service life of the saw. It's also worth mentioning that this saw comes with a built-in electric brake that turns the tool off once you release the trigger, contributing to the convenience of use. Finally, the lower guard will cover the blade automatically upon completion of every cut and keep your hands away from the sharp teeth of the blade.
Last updated price

$

0.00

Stock
In stock
ASIN

B007QUZ16A
---
VIDEO
Dewalt DWE 575 Lightweight Circular Saw
DEWALT DWE575SB
WORX WORXSAW 4-1/2"– WX429L
Usability is Key
Contrary to fully-fledged circular saws, handheld models are offering portable and lightweight packages.
Although the disc diameter of this handheld model from WORX is slightly smaller than in other models on our list, 4.5" is more than enough to tackle most woodworking tasks with relative ease. On top of that, the 24 teeth of the blade make cutting even through the hardest types of wood like cutting through butter, which allows dealing with plywood, engineered wood, chipboard, and even fiberboard without too much of a problem.
When it comes to the actual specifications of the tool, we would like to start with the electric motor that WORXSAW has. Once connected to a standard power socket, this little 4-amp engine can deliver up to 3,500 rotations per minute, which is more than a half of what full-size saws can produce. Combined with half the weight of a fully-fledged circular device, you are getting a highly portable saw that can be utilized in a workshop, on the building site, or at your home.
Extremely Easy to Wield
Moving on, let's take a quick glance at the blade and what it can do. Firstly, the bevel capacity of 45° - 90° makes WORXSAW quite a versatile little saw that can cut boards with thickness ranging from 1.125" to 1.7" without any issues. Secondly, the cutting angle range that goes from 0° to 45° is surely less than that of a regular saw. That said, it is more than enough for most tasks that you can encounter in a workshop. Last but not least, the blade is located on the left side of the tool instead of the right, which can be a bit confusing at first, however, such a design definitely has its uses especially if a standard saw is simply too big to fit smaller boards.
As for the convenience features, the appliance features a dust port that fits standard vacuum hoses and can be connected to the dust extractor if you happen to have one. Thanks to this, you can finally forget about picking up sawdust every time you finish cutting wooden boards and planks. Furthermore, the tool has a soft-grip handle, an alignment indicator, as well as bevel and depth adjustment levers to make your work as precise as it can be.
All things considered, this WORXSAW model from WORX will be an ideal pick for users that seek a compact yet convenient work saw that can be used on a daily basis. It is lightweight, simple in operation, and quite long-lasting when it comes to the quality of the electric motor, which altogether makes it a good option for anything that involves cutting wood.
Additional Info
Last updated price

$

69.99

Stock
In stock
ASIN

B00ZFR4GJE
---
WORX WORXSAW 4-1/2"– WX429L
Black & Decker BDCCS20B
Versatile and Light
Like the majority of Black & Decker tools, this cordless circular saw is driven by the lithium-ion battery to provide the user with enough power to get their projects finished. Consequently, this saw is highly maneuverable and self-sufficient, and you will be able to use it in any place away from the power socket. For instance, you can easily take this saw when you need to work at different construction sites and, therefore, have to move from one object to another without worrying too much about charging it.
The high performance of this saw is powered by a 20V lithium-ion battery. This battery is interchangeable, therefore you can use it to power other Black & Decker tools. The only catch is that you will have to purchase the charger and the battery separately. This saw is not so powerful as the corded models, though, so it is important to keep that in mind upon picking the right tool for your project. Still, it is equipped with a 5.5" blade that rotates at a speed of 3700 revolutions per minute. The platform can be adjusted from 0° to 50°, so you can easily set the cutting angle within the same range.
A Saw Designed for Precise Cuts
As for the other features of the tool itself, the handles of this saw are covered with rubber coating, so the machine won't slip out of your hands even if you work without gloves, switching between different positions. The special spindle lock built into the saw will stop the shaft while you replace the blade, so the injury hazards will be reduced to zero. The special lever will let you adjust the cutting depth depending on the blade diameter and the thickness of the material for added versatility.
Despite the fact that this saw is less powerful than corded models, it can still be dangerous if not operated properly. With that in mind, the manufacturer took great care of the safety aspect and has equipped it with an automatic electric brake. This brake stops the saw blade once you release the trigger. Moreover, the safety of this saw is enhanced by a special guard that covers the blade when the saw is not in use and opens only when you cut.
Wrapping things up, this model from Black & Decker is, perhaps, one of the best cordless circular saws available on the market today. When coupled with a standard Black & Decker battery, it will provide the user with plenty of power within its housing to get the job done, which will make it a solid choice among a plethora of cordless devices with less juice under the hood.
Additional Info
Last updated price

$

45.64

Stock
In stock
ASIN

B00FRMSMRE
---
VIDEO
Blade to Black & Decker 20-Volt Lithium Circular Saw
Black & Decker BDCCS20B
SKIL 5280-01
A Great Middle-Ground Solution
The SKIL 5280-01 SKILSAW is designed as a corded electric circular saw that needs a connection to the power supply. This simple yet reliable design enables using the saw for a considerable time for cutting any hard materials. Likewise, this electric circular saw will let you do any jobs, whether you have an apartment, private house, or summer cottage. So, this corded circular saw will be particularly helpful in construction and cope with timbering, fencing, and arrangement of wooden frames for various structures.
The performance of this metal circular saw is characterized by its 15-amp engine, which is not huge by any means. That said, this rate is powerful enough to spin the 7.25" blade at a speed of 5,300 revolutions per minute without the load. The platform of this saw can be adjusted at various angles. As a result, you can easily set the cutting angle from 0° to 51°. Moreover, the cutting depth can be adjusted with a designated lever, so you will be sure that your cut is deep enough according to your needs.
Safety Without Compromises
This electric circular saw will let you cut with incredible precision. You wonder how? The answer is the Laser Cutline Guide mechanism that will show you the right cutting path. Therefore, your cuts will be always precise. The cutting angle can be adjusted from 0 to 51°. Moreover, the blade can be fixed at 45°, which is particularly useful when you make doorposts or frames for windows or pictures. As in other similar products, the power-on indicator will let you know when the saw is connected to the power network, which can be rather handy in some situations where power supply is limited.
Moving down the list of features, this circular saw is equipped with a safety switch that locks the trigger to prevent accidental start of the engine. For added convenience and power safety, when the trigger is released, the safety switch will be engaged automatically, and the trigger will move no longer. To unlock the trigger, you should press the release button on the handle. Like most of the circular saw models, this one also features a lower guard that envelops the blade once you finish cutting. As a result, the blade and, more importantly, your hands will be safe.
All in all, if you need a budget-friendly saw that can handle the hardest tasks out there and not break a sweat, then the 5280-01 from SKIL will be a right pick for that purpose. Easy to wield and maintain, it is surely one of the sturdiest saws for the price.
Additional Info
Last updated price

$

59.98

Stock
In stock
ASIN

B01BD81BLO
---
SKIL 5280-01
What Is a Circular Saw?
Circular saws are powerful tools designed for quick and convenient cutting literally any material. More often than not, a simple saw features an electric engine designed to propel a spindle with the round toothed blade. Like many other handheld tools, you can choose between corded and cordless models, which both have their pros and cons. Regardless of your pick, every saw is commonly used for straight cutting wood and derived materials like engineered wood (OSB), chipboard, fiberboard, plywood, among others. On top of the regular ones, there are special-purpose blades that are specifically designed for cutting through plasterboard, laminated plastic, and even soft metals.
A simple circular saw will become an irreplaceable assistant for those who're engaged in construction or repair jobs that involve cutting planks, plates, walls, and wooden materials in general.
If you are facing quite a lot of hard tasks at the construction site or demolition jobs, you should consider getting one of the hammer drills that will help you to make a hole in any material. Conversely, you can always pick one of the reciprocating saws that will help to cut various materials in hard-to-reach places.
What Features to Compare
Type
The first feature we take a look at in our review is the actual type of circular saw. If you happen to choose a corded model, you will get an opportunity to cut dense types of wood, due to the high power of such a model. However, the working range will be restricted by the length of a power cord. Should you pick a cordless saw, you get a somewhat limited working range with a tradeoff of a possibility to work in hardly accessible places. Obviously, the runtime will be limited by the battery charge. That said, the modern portable saws are more than capable of carrying you through the whole day of work before they eventually need to be recharged. It should be noted that cordless circular saws are more compact and lighter than their full-sized counterparts, so they can be used in different positions and planes without too much of a problem.
Performance
Performance of a circular saw is quite important. The diameter of a blade is the very first factor that affects the performance. The blade diameter determines the size of the material you can cut. Most modern circular saws are equipped with 7.25" dia blades. Though, you can find some models with 5.5" blades. The performance of a circular saw also depends on the engine power and the blade rotation speed. The higher the power is, the harder wood can be cut. As regards the blade rotation speed, the higher it is, the more accurate and cleaner the cutting will be, and the less is the probability of blade jamming. In addition to speed and power, the performance is influenced by the cutting depth. The cutting depth determines the number of cuts you'd need to make to saw something off. For example, if you need to cut a 2" lath in thickness, the cutting depth of a saw should be at least 2". Otherwise, you will have to cut the plank twice, i.e. from both sides.
Usability
We'd like to draw your attention to one more thing - usability. To make accurate cuts, you should consider the models with the built-in light or laser guide that help control the cutting line. If your saw includes a dust blower, the sawdust will be swept away from the cutting line, so you can see it clearly. Alternatively, some models can be equipped with a vacuum port, which will allow connecting either a vacuum cleaner or a dust collector. Both of these ports aid in keeping the workspace cleaner and mess-free, which contributes to the quality of your work. The rubberized handle of a saw, on the other hand, will let you hold it comfortably and firmly. The models with a spindle lock are worth special attention. This feature prevents the shaft from rotating and allows for secure blade replacement.
Safety
When you use a circular saw, you should not forget about the safety features. An electric brake is the first thing to point as it stops the engine automatically when you release the trigger. A trigger lock will prevent the accidental start of a saw, and thereby protect you from injury. All contemporary saws are equipped with a special guard that covers the blade and protects your hands from its sharp teeth.