All wine connoisseurs know that a good corkscrew is an important wine accessory. Today you can opt for electric wine uncorkers that
come in different power capacities and designs and open wine in the easiest possible way. Our shortlist below will help you choose the model that will suit your needs best.
...
Read more
...Read less
CHARGING TIME/ OPENING CAPACITY
X
This site is a free online resource that strives to offer helpful content and comparison features to its visitors. Please be advised that the operator of this site accepts advertising compensation from certain companies that appear on the site, and such compensation impacts the location and order in which the companies (and/or their products) are presented, and in some cases may also impact the scoring that is assigned to them. The scoring that appears on this site is determined by the site operator in its sole discretion, and should NOT be relied upon for accuracy purposes. In fact, Company/product listings on this page DO NOT imply endorsement by the site operator. Except as expressly set forth in our Terms of Use, all representations and warranties regarding the information presented on this page are disclaimed. The information which appears on this site is subject to change at any time. More info
Brewberry Stainless Steel Electric Wine Bottle Opener
All-in-one set
Are you looking for an automatic wine opener that would not only quickly uncork bottles of wine but also look stylish and modern? The Brewberry electric wine bottle opener is the one you need. This wine opener comprises the features and functionality you'd expect from a top-notch device, and even more. The Brewberry Electric wine bottle opener looks gorgeous and incredibly trendy, owing to a polished stainless steel sleek design, and will surely fit any modern kitchen interior. There are only two push buttons on the body that you need to control. Powered by a built-in rechargeable battery, the opener can be used away from a power source, which is especially convenient for those consumers who often have outdoor parties and for those, looking for a wine bottle opener to use in a bar. For user's convenience of use, there is a handy LED display that shows a current wine temperature and remaining battery charge. 
In our opinion, the biggest advantage of the Brewberry bottle opener is that it comes with a great variety of accessories, which all make it a perfect all-in-one set. In the box, along with a wine opener, you will also find a foil cutter, two stoppers and a vacuum sealer to preserve open wine, and a wine pourer for spill-free pouring. In addition, the set includes a large stand which is used as a charging base and a storage for the accessories when not in use. 
A functional and eye-catching Brewberry Wine Opener set will find place in any kitchen, dining room or home bar. 
For consumers who love outings and gatherings with friends, we'd recommend considering one of the tea makers. With one of these you will be able to prepare refreshing cold tea to chill out on hot summer days, saving wine for evenings.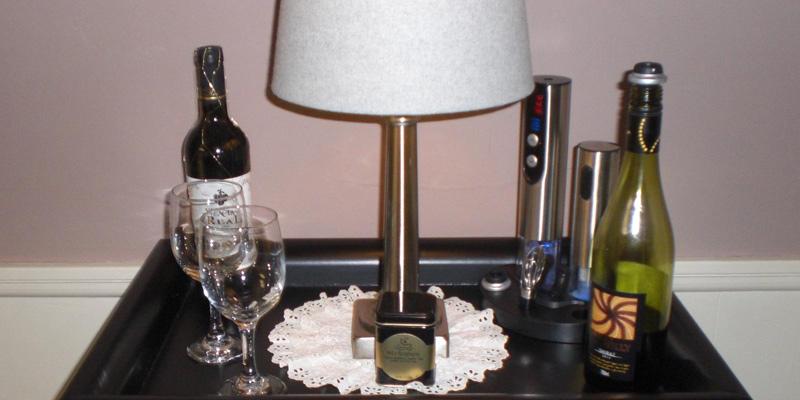 Last updated price

$

0.00

Stock
May be out of stock
ASIN

B01GQIURP2
---
Brewberry Stainless Steel Electric Wine Bottle Opener
LiFu Electric Wine Bottle Opener
An Optimal Size for the Ease of Use
If you're looking for a compact yet reliable and functional electric corkscrew to open bottles of wine in seconds hassle-free, pay your attention to the LiFu Electric Wine Bottle Opener. At the dimensions of 8.7"x1.9", it will fit any palm, offering a firm grip. The LiFu opener can uncork bottle after bottle at a single push of a button. All you need to do is place the switch on the neck of a bottle; the same moment the spiral will twist into the cork and remove it smoothly out of the bottle.
The Li-Fu bottle opener doesn't have a charging base and operates from the mains via a power cable. When comparing this model with similar wine uncorkers we've noticed that it worked much faster than most of them. It also didn't take long to get fully recharged - only 4 hours. The power capacity of the LiFu opener allows opening up to 45 bottles in one go, which is also an impressive result.

The LiFu opener is peculiar for its elegant, modern design that can become a nice addition to any kitchen. It won't take up a lot of space on your countertop thanks to the upright storage. The LiFu is a vivid example of excellent balance between great functionality, practicality and design characteristics. You will like it at the first glance.
Wine is the drink that can be paired with many different appetizers yet it's still associated with cheese. We'd like to offer you to take a look at our review on fondue sets with one of which you could organize fun and cheesy parties with your friends and family.

Last updated price

$

0.00

Stock
May be out of stock
ASIN

B01LW20PN0
---
LiFu Electric Wine Bottle Opener
Oster Cordless Electric
A Perfect Match For Any Bottle
Apart from traditional wine bottles, today your favorite drink may come in a variety of oddly-shaped or novelty bottles. Hence, when choosing an electric bottle opener, go for a model that offers versatility of use. For our review, we've chosen the Oster electric wine bottle opener, a universal model compatible with all kinds of bottles and cork types (wooden, synthetic, etc). 
The Oster wine opener is a cordless model powered by a rechargeable battery and fitted with a charging stand. From a single charge, the opener can work continuously for about 53 minutes and open up to 30 different bottles of wine during this time. What we found a bit frustrating about this opener is that unlike most other models it discharges when not in use, which means, you need to keep it on the base all the time. As for the rest, the Oster bottle opener is a good model which proved to be durable, powerful and easy-to-use. 
The Oster opener features a soft comfortable handle for a secure grip and a single control button. The unit looks solid, reliable and steady. The opener like this can easily be used in public places, like bars, cafes, restaurants, etc. and we'd definitely recommend it to wine buffs who love wine and own expensive collections.
If you love mulled wine or any other wine-based cocktails, you're likely to need to follow certain recipes. In this concern, it'd be a good idea to have a measuring cup at hand. 
Additional Info
Last updated price

$

0.00

Stock
In stock
ASIN

B003YFI0O6
---
Oster Cordless Electric
WineOvation WNO-01 Electric Wine Opener Gun
Kitchen Weapons
Those consumers who're on the hunt for exclusive kitchen accessories should consider the WNO-01 Electric Wine Opener, a unique model designed in a shape of a gun. Should you open bottles of wine or just impress your friends with its fancy look, it will cope with both tasks well. In our opinion, the WNO-01 is one of the most extraordinary and surely one of the coolest electric wine openers we've come across so far. 
The WineOvation WNO-01 is a rechargeable bottle opener that operates just as quickly and efficiently as most corded models. The gun "barrel" fits necks of most wine bottles perfectly well. To loosen the cork, you only need to pull the trigger. The rubberized handle on the opener adds to the realistic design of a gun, offering customers a convenient and firm grip. To store and charge the opener, there's a rubberized charging base in the box. For user's enhanced convenience of use, the package also includes a foil cutter.
This unique electric wine opener from WineOvation will be in the spotlight, attracting attention of your guests all the time, while you yourself will be delighted to show it in action. The WNO-01 can become a great gift for wine connoisseurs, and a stylish addition to any modern kitchen. 
Electric food slicers will help you make ideal appetizers to go with a shimmering glass of wine. You can quickly cut ham, cheese, meat, and veggies into accurate thin slices to impress your guests with delicious canapes and best-ever hors d'oeuvres. 
Additional Info
Last updated price

$

39.97

Stock
In stock
ASIN

B015WUQ5SS
---
WineOvation WNO-01 Electric Wine Opener Gun
Ozeri Nouveaux II
For Big Parties
If you adore to host parties or you own a collection of wine, you need to get yourself an electric wine opener. The Nouveaux II Electric Wine Opener from Ozeri can become a great choice. Powered by a high-capacity, long-lasting battery, it will let you open up to 60 bottles of wine in a row easily. 
To open a bottle, there's a single button you need to push. The task of removing a cork has never been easier. With the Nouveaux II Electric Wine Opener, it's also become much more fascinating as now you can also watch the process of the cork removal thanks to the transparent corkscrew shell illuminated with the soft blue light. 
A cordless ergonomic design ensures a secure grip for comfortable one-hand operation and allows upright storage of the unit without a base or a stand. You can store it on a countertop against the wall or hide in a kitchen cabinet. 
Functional and well-designed, the Ozeri Nouveaux set is complete with a patent pending removable foil cutter, a combination wine pourer, and a wine stopper. It will become an ultimate companion to any wine bottle and a great addition to any bar! 
A glass of good dry red wine is the best pair for the red meat, including veal, beef, lamb and venison. If you aren't so sure of your culinary skills but you'd like to make a perfect roast, purchase a cooking thermometer and you will know exactly when the meat is ready to serve.
Last updated price

$

17.11

Stock
In stock
ASIN

B00455ZZAG
---
Ozeri Nouveaux II
What is an Electric Wine Opener
Needless to say that a glass of good wine with rich aroma can dissipitate the tension and set the mood for any event, gathering or party. If you love wine and you often invite quests around, you should get yourself a wine opener that you will like to show off in front of them. Electric wine openers can offer you the easiest (and obviously, the quickest) way of opening a bottle of wine. Powered by a rechargeable battery or charged directly from the mains, they quickly take the strain out of a cork and remove it from a bottle. The whole process takes mere seconds. Electric wine openers are also very beautiful accessories that can add style into the interior of any kitchen, cafe or bar. You can find wine openers in many different fancy shapes and designs. Most of the models come with a number of additional accessories that can make the task of opening bottles easier. So, keep your eyes open and choose the one that suits you better. We've selected five most popular electric and cordless wine openers to help you make your choice.
Wine tastes much better when enriched with oxygen. Use a wine aerator to expand the bouguet of wine to the maximum.
What you might also be interested in is an electric can opener, a device that will come handy for opening cans and tins.